Ravens Defense vs. 49ers Offense: Who Will Prevail in Super Bowl XLVII?
Use your ← → (arrow) keys to browse more stories
Kevin C. Cox/Getty Images

San Francisco 49ers quarterback Colin Kaepernick has gone from experimental-trick-play/emergency quarterback to unstoppable NFL force. Meanwhile, the Baltimore Ravens defense entered the playoffs more fearsome by reputation than performance.
Can Ray Lewis, Ed Reed and the Ravens defense stop the suddenly unstoppable second-year do-everything machine?
Since being pressed into service during a Week 10 tie with the St. Louis Rams, Kaepernick has led the San Francisco 49ers on a 7-2 run.
Using his strong arm, big brain, large frame and fast feet to varying degrees, Kaepernick has beaten defenses in almost every way imaginable during that stretch.
49ers offensive coordinator Greg Roman has taken a page or 10 from Kaepernick's college playbook, borrowing retired University of Nevada coach Chris Ault's pistol formation and zone-read run plays.
The results have been devastating.
The Ravens finished 12th in scoring defense during the regular season, allowing 21.5 points per game. With a back seven struggling to cover multiple-receiver sets and a pass rush no longer fierce enough to make up for it, how will this defense match up against the new-look Niners offense?
When the 49ers Run
The 49ers offense is built around the power running game. Their outstanding offensive line, led by left tackle Joe Staley, was Pro Football Focus' (subscription required) top-graded run-blocking unit. Behind them, power back Frank Gore racked up 1,214 yards and eight touchdowns at a 4.7 yard-per-carry clip during the regular season.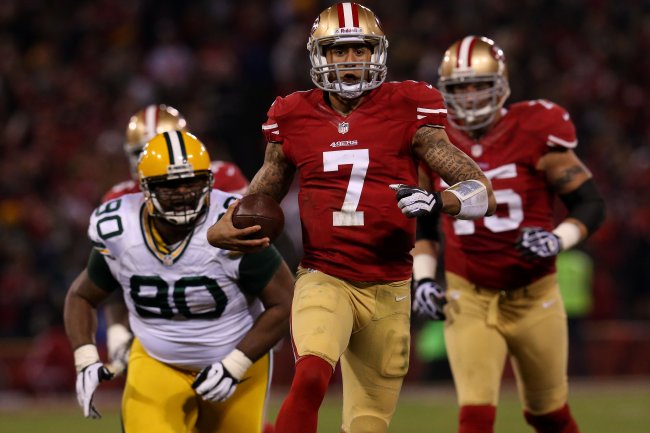 Stephen Dunn/Getty Images
In the playoffs, though, Kaepernick (and the threat he poses) has been just as devastating. Kaepernick has chewed up 201 yards and scored two touchdowns on just 18 postseason runs. Almost all of that came against the Packers, who ignored Kaepernick on zone-read plays.
Just because Kaepernick only carried twice for 20 yards against the Falcons doesn't mean he didn't have an impact, though: The Falcons loaded up to stop him, and Frank Gore ran for 90 yards and two touchdowns in the other direction.
It seems as though the Ravens will have to pick their poison.
They could drop inside linebackers Ray Lewis and Dannell Ellerbe back a little deeper to gain time and space to diagnose the zone read. That strategy would prevent huge gains by the 49ers, but might allow them to move the chains too easily.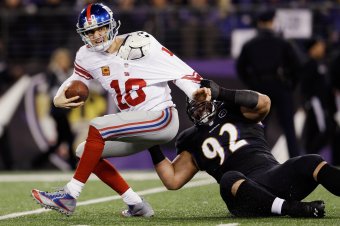 Rob Carr/Getty Images
The best chance the Ravens have to stop the run is for their defensive line to physically overcome the 49ers' powerful run blocking and disrupt their running lanes. This might not be as hard as it sounds: The Ravens run defense earned Pro Football Focus' fourth-best grade this season.
Beastly Ravens defensive end Haloti Ngata has been playing with a shoulder injury; if the layoff between the conference championship game and the Super Bowl has let him regain any strength, he could be a force against Gore and the 49ers.
Keep an eye peeled for 49ers tailback LaMichael James. The rookie ran the zone-read extensively at Oregon and has the wheels to burn the Ravens if he gets to open space.
When the 49ers Pass
Everyone talks about Colin Kaepernick's legs, but in the playoffs, his arm has been even more impressive. Against the Packers, he bombed passes all over the field. When Kaepernick wasn't busy running for 181 yards and two touchdowns, he was throwing for 263 yards and two touchdowns—all at a shocking 15.5 yards-per-completion clip.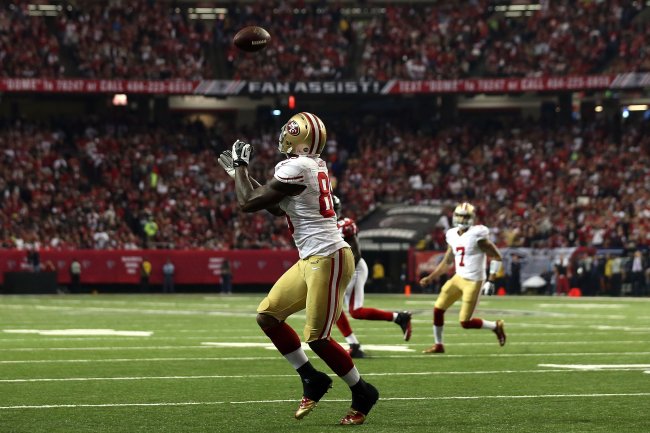 Streeter Lecka/Getty Images
Kaepernick's bazooka arm accomplished all that with artillery-like "close enough" accuracy, as he completed just 54.8 percent of his passes and threw a pick-six on the opening drive.
Against the Falcons, though, Kaepernick was sniper-like, completing 16-of-21 passes for 233 yards—and no interceptions. He did it while keeping it on the ground only twice, proving he doesn't need to paralyze a defense with his running to take it out with his passing.
The game could hinge on tight end Vernon Davis. He hasn't been used much since Kaepernick took over, but he was enormous in the NFC Championship Game, with five catches for 106 yards and a crucial touchdown.
Per Chet Gresham of The Fake Football, the Ravens have almost completely shut tight ends out of the end zone this season:
The Ravens have given up only 2 TDs to tight ends all season, including the playoffs.

— Chet(@Chet_G) January 26, 2013
The Ravens pass rush used to strike fear in opponents' hearts, but the limited Ngata and aging Lewis weren't able to make up for the lack of production from Terrell Suggs. Suggs' incredibly quick recovery from a serious Achilles' injury was as close to "heroic" as can be when discussing a game—but with only two sacks in eight regular-season games, his performance just wasn't there.
As Suggs has gained strength, though, so has the Ravens defense. Suggs had 10 tackles and two sacks against the Broncos in the divisional round. He and fellow outside linebacker Paul Kruger have been outstanding in the playoffs.
All told, the Ravens have allowed just 19 points per game in the playoffs, intercepted five passes and allowed only four passing touchdowns.
If anyone can stop Kaepernick, it's these rejuvenated Ravens.
Keys to Watch in Super Bowl XLVII
Whether the Ravens are attacking Frank Gore or staying home on the zone read
Whether the Ravens pass rush is disrupting Colin

Kaepernick

's accuracy
Whether Vernon Davis is a weapon or invisible
Whether Michael

Crabtree

is beating the Ravens secondary deep
Who Will Prevail?
The Ravens defense has taken its game to another level in the playoffs. Baltimore is loaded with experienced, veteran leadership, and it's entirely possible that the Ravens will be the ones who stop the unstoppable Kaepernick.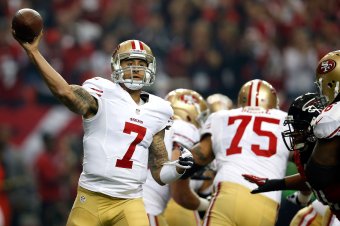 Chris Graythen/Getty Images
But the 49ers have too many weapons to be stopped completely. The Ravens don't have the secondary personnel to shut down the passing game without blitzing or to stop the run without opening up the passing game.
Most likely, the 49ers offense will get caught up in a shootout, as the Broncos did against the Ravens. Just as with that game, the winner of Super Bowl XLVII will be the winner of the offensive drag race.