Oakland Raiders: 2013 Mock Draft, Super Bowl Edition
Meet Ezekiel Ansah, a potential steal of the 2013 Draft
George Frey/Getty Images
Ah yes, another mock draft. For those of you who haven't tired of the early opinions of all the prognosticators of the world guessing on a topic that won't happen until April, welcome!
For the rest of you, welcome! It's not like you're going to get much else outside of Baltimore and San Francisco.
Anyway, I try to look at this not from anyone else's perspective. Meaning, I see guys who fit in Oakland that your Mel Kiper's, Mike Mayock's and other "experts" simply will not.
Value is a fluid term in today's NFL, where guys who seemed to go too high (i.e. Bruce Irvin/Seattle) wound up being impact players. And others, who seemed to land in great situations, did not live up to expectations (i.e. Melvin Ingram/San Diego).
So let's jump into it. You might be surprised, but hey, isn't that the whole point?
Round 1 (via Trade with Arizona): Ezekiel "Ziggy" Ansah, OLB/DE (BYU)

Ezekiel Ansah NFL Player Comparison

Every year in the draft, there is an athletic player who sneaks up on teams in the draft and becomes a hot target. A player starting to warm up is BYU's Ezekiel Ansah.
Actually, he's at a nice boil right now. A solid performance at practice and in this week's Senior Bowl likely assures the phenom from Ghana a spot in the first round.
The Raiders have size, but they lack speed and a game-breaker on defense. Ansah is drawing favorable comparison's to New York's Jason Pierre-Paul because of his frame (6'6", 270 pounds) and his constant motor and raw ability.
For every Mike Mamula, there is a JPP. Ansah has the measurables, the freakish athletic ability and the desire to be a pass-rushing star for whoever gets him.
As a No. 3, he is just too high for the Raiders to take him. But with the right partner, they could position themselves to make a run at a player like Ansah and get some help down the line.
If there is one team who would gladly make the jump up, it would be the Arizona Cardinals. Last year, they couldn't protect anyone, making shaky quarterback play look downright atrocious.
Moving to No. 3 would enable them to go after a player like Luke Joeckel to better protect whoever is under center for them. In return, the Raiders could collect a bounty.
Based on the common chart for draft picks and their value, this move would cost the Cards 650 points. And with the Jets, Titans and Dolphins all likely interested, this is just the spot the Raiders might want to be in to land an impact player like Ansah.
As a point of reference, a No. 1 pick at No. 28 or lower would be 650 points. In other words, the Raiders could turn this No. 3 pick into the No. 7 pick this year, and either a Round 2 pick this year or a first-round pick next year. They would also likely get a mid to late round pick (5th perhaps) as well.
More realistically, the Raiders will likely get Arizona's second-round pick from this year.
Round 2 (via Trade with Arizona): Xavier Rhodes, CB (Florida State)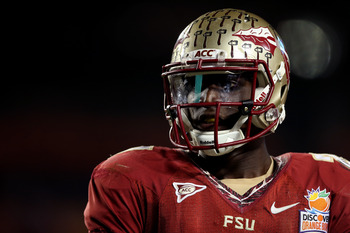 Rhodes would help the rebuild of the Raiders' secondary.
Streeter Lecka/Getty Images
This would be a pick Al Davis would love. At 6'2" and 215 pounds, Rhodes is a big, physical player and has enough speed to play outside.
A redshirt junior, Rhodes exited Florida State early, but he brings credentials. He was the ACC Defensive Rookie of the Year in 2010 and added three interceptions in 2012.
As putrid as the Oakland secondary was in 2012, Rhodes would likely be a starter from day one. Now ask yourself, would you rather have one highly touted defender or two potential starters in this year's draft?
Round 3: Blidi Wreh-Wilson, CB, (UConn)
Wreh-Wilson could also step in and see time early in Oakland.
Rich Schultz/Getty Images
Initially, I had the Oregon Ducks' Kyle Long at this position. The son of Raiders legend and Hall of Famer Howie Long, he is definitely a good choice at this spot if taken, as he would fit the return to a power-blocking scheme and is versatile.
But then, my mind kept flashing back to those games against Denver and Miami, and so on and so forth, where the Raiders' corners were just torched—again and again, consistently.
The Raiders have a chance to get a pair of starters out of the draft with size and speed on the corners. I've been high on UConn's Blidi Wreh-Wilson and already written why I'd love to see him in silver and black.
"A big and physical cornerback with a lot of upside potential, Wreh-Wilson would be ideal for the Raiders in the third round or if they could swing a draft day trade into the second round."
Those were my exact words. I still think they ring true. The NFL is changing rapidly as we speak. With the running game evolving in some ways into a game of chicken and liberal rules to protect quarterbacks and receivers, it is incumbent to have size and speed outside.
Wreh-Wilson and Xavier Rhodes give the Raiders potentially a pair of dynamic, big corners to match up against Black and Decker (a.k.a. Demaryius Thomas and Eric Decker) in Denver, Jon Baldwin and possibly Dwayne Bowe in Kansas City and Malcom Floyd in San Diego.
Round 4: Menelik Watson, OT (Florida State)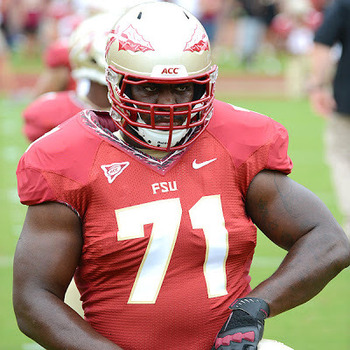 Menelik Watson, Raiders right tackle? (courtesy: http://oaklandraidersdraftwatch.blogspot.com)
Not your typical right tackle, Menelik Watson starred at Florida State via Great Britain. Having arrived in the United States in 2012, Watson emerged as a very good right tackle prospect with the Seminoles after one year at Marist College in upstate New York and a year at Saddleback College in Southern California.
Watson is freakishly athletic and not just for someone his size. The 6'6", 320-pound tackle has been clocked in the 4.7 range in the 40-yard dash. He won the starting right tackle job, despite not having the advantage of spring practice like the rest of the candidates. With his frame and strength, Watson is the ideal NFL tackle.
The downside is that the former boxer and college basketball player is raw. Not quite Bruce Campbell raw, but close. But it is best to recognize how the Seminoles fared in the two games he missed. Against N.C. State and Wake Forest, they allowed seven sacks. The Raiders would be thrilled to land him at this slot.
Round 5 (via Trade with Arizona): Kenjon Barner, RB (University of Oregon)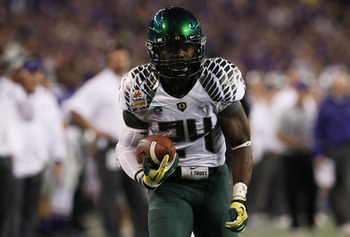 Barner would give the Raiders a versatile big-play threat.
Stephen Dunn/Getty Images
A guy who I think could be an absolute steal in the right place is Oregon's Kenjon Barner. A runner with speed to burn, Barner is the flash-runner the Raiders have lacked since Napoleon Kaufman retired after the 2000 season.
In addition to Darren McFadden, Barner would compete immediately in the return game and could help tremendously on third downs. But make no mistake, Barner can carry the load.
Averaging 6.4 yards per carry, Barner also snagged 20 receptions for 256 yards and two touchdowns. He ran for 321 yards and five touchdowns against USC, but he had some struggles against California and Stanford. The speed back is a threat to score on any carry, but he doesn't compile yards after contact.
So unlike Taiwan Jones, the Raiders could get a proven big-play, big-game, change-of-pace runner to ease the burden on McFadden. In addition, they could focus on using Barner as an alternative to Jacoby Ford in the return game. He would be a real value pick in the fifth round.
Round 6: Chad Bumphis, WR (Mississippi State)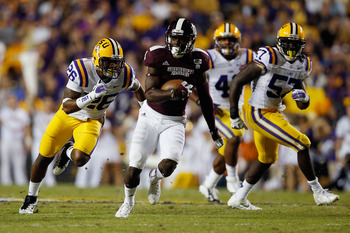 Bumphis could eventually become a slot receiver the Raiders lack.
Chris Graythen/Getty Images
If anyone knows the value of a late-round wide receiver, it is the Raiders. Denarius Moore and Rod Streater were drafted in the fifth round, and well, un-drafted, respectively. And they were the best Oakland had in 2012.
A player who could bring real value to the Raiders late in the 2013 draft is Chad Bumphis from Mississippi State. Last season, Bumphis caught 58 passes for 922 yards and 12 touchdowns for the Bulldogs. He has decent speed (4.49 40-yard dash time), but is explosive and is very good at making defenders miss in space.
The Raiders have lacked an underneath, crossing-route type of wide receiver since Tim Brown departed. Bumphis is a great "phone booth" wide receiver, with the ability to provide a mismatch out of the slot due to his speed and elusiveness. He would be a great player to groom for that role in this offense.
Round 7: Michael Mauti, LB, (Penn State)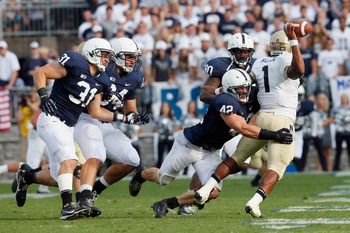 Mauti is a definite late-round sleeper.
Rob Carr/Getty Images
With their final selection as of this slideshow, I see the Raiders taking Penn State linebacker Michael Mauti. A semifinalist for the Butkus Award, Mauti had a tremendous bounce-back year from a torn ACL in 2011. As a leader on the Penn State team dealing with the Jerry Sandusky scandal and firing of Joe Paterno, Mauti was brilliant.
In 2012, Mauti finished in the Top 10 in tackles, interceptions and forced fumbles in the Big Ten. For that, he rightfully earned All-Big Ten first team honors on the season.
While it is obvious that you can't make a leap for a player taken in the seventh round, Mauti is an intangibles guy, and I think he would have an opportunity to stick if taken in Oakland.
Furthermore, his motor and aptitude would fit in nicely with hard workers Philip Wheeler and Miles Burris. Health is an immediate and obvious concern, as Mauti suffered two ACL tears while at Happy Valley. But this late in the draft, it is worth a risk to find someone who can provide potential production at a need area.
Conclusion
Seemed like Te'o was a sure thing not too long ago.
Mike Ehrmann/Getty Images
So there's my proverbial hat thrown in the ring that is my mock draft selection. The Raiders are more than one draft away from being a truly relevant team. But a good draft does help that process (i.e. Jimmy Johnson and the Dallas Cowboys in 1990).
Not too long ago, it seemed as though Manti Te'o would be the safest, most logical choice for a team with a gaping hole at middle linebacker—how quickly things change.
If you noticed, I didn't address that position with this draft. I have a suspicion that Reggie McKenzie will attempt to shore up that position via free agency.
The same could be said of defensive tackle, though again, if the Raiders are not able to trade down, you can expect that to be the position addressed on day one of the draft. This is the early phase of the transition from the Al Davis way of doing things, to the Packer Way (gone west).
Patience is not always a virtue in the Raider Nation, but it is going to have to be most likely the next year or two. With the right moves, the Raiders can improve.
With all the right moves, the Raiders could position themselves to fast track their rebuilding process. That is why we love this time of year: No one truly knows who or what exactly will do that, but it is going to be fun to speculate until April. Let me know what you think.
Keep Reading

Oakland Raiders: Like this team?