10 Players the Oakland Raiders Should Target (Draft and Free Agency)
Streeter Lecka/Getty Images
McFadden and Palmer both have to rise from a lost 2012 for the Raiders
For the Oakland Raiders, the 2012 NFL season was a rough step backwards from the previous two seasons and largely a disappointment to players, fans and team management. The reality though was, with the volume of talent lost and the injuries suffered, it was probably something that should have been expected.
No one wanted to go 4-12, but it allowed general manager Reggie McKenzie and owner Mark Davis a chance to get a hard look at the roster as it begins to turn over and assess who will stay, who will go and most of all, what the Raiders need to do to improve going forward.
There is no quick fix for this team. There are more holes than a pack of sponges and still not a ton of cap space to play with. But unlike last year, there is expected to be slightly more flexibility. That said, the Raiders are not going to be top-tier free agent players. It is just not in the cards in the immediate future. There are players though that can be had.
In addition, the team is in position to have a much more complete draft with picks in every round except the second. While I honestly think this team is at best two years away, the right signings can possibly move that process up with a bit of luck. Here are the 10 players I think the Raiders should target for the 2013 season.
Begin Slideshow

»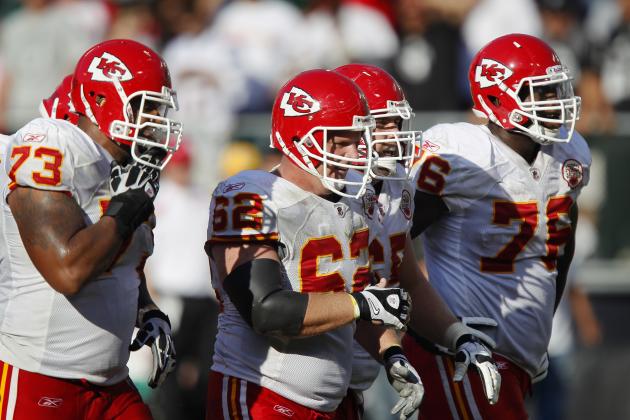 Brian Bahr/Getty Images
Albert (#76) would be an instant upgrade at right tackle
At number 10 is offensive tackle Brandon Albert of the Kansas City Chiefs. Albert is an excellent run blocker and is very balanced overall in protection, both schematically and strength wise. Time has shown that Khalif Barnes cannot start in this league with any tangible success and Willie Smith was a disaster.
The Chiefs are concerned with Albert's back issues, and new head coach Andy Reid may very well take Texas A&M stud tackle Luke Joeckel number one overall in the 2013 draft. With Jake Long and Ryan Clady the cream of the free agency crop at tackle, Albert may be over looked in this offseason, but he would be a solid pickup for a Raider team in serious need of help on its offensive line.
The only issue could be if Kansas City decides to place the franchise tag on Albert, which could be a last resort as they try to re-sign key free agents. That said, the Raiders would be wise to make a run on a guy that would instantly be their best offensive lineman.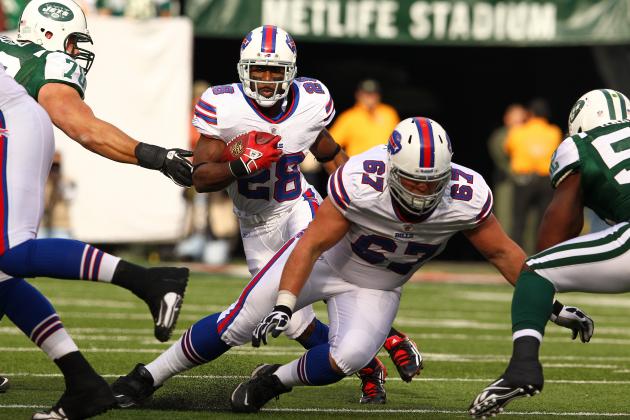 Al Bello/Getty Images
Levitre (#67) would be another solid FA signing for the o-line
Buffalo's Andy Levitre comes in at number nine on the list. Like Brandon Albert, Levitre is a fantastic run blocker and his abilities would help Darren McFadden in the running game. The free agent has started all 64 games in his four year NFL career and would be a major asset to the Raiders.
With Cooper Carlisle likely being gone, Levitre would start at the guard spot opposite the disappointing Mike Brisiel, who will likely be a starter due to the massive contract he received in the 2012 offseason. Levitre is a very consistent performer and would be an absolute steal if the Raiders could acquire him. Put it this way: The money they threw at Brisiel could easily have been justified for Levitre.
Number eight is inside linebacker Andrew Jackson from Western Kentucky of the Sun Belt Conference. With the Raiders likely ready to part with the mercurial (I'm being generous) Rolando McClain, they have a need to fill inside.
Jackson could be that guy. Coming off a productive 2012 campaign, he amassed 109 tackles to lead his conference. Jackson also added 3.5 sacks 17 tackles for loss and an interception. An ideal 3-4 linebacker, he is definitely raw but displays great instincts, closing speed and hitting power. He plays very emotional football and makes plays from the inside.
All this said, there is still some question if Jackson would declare for the NFL Draft with a year of eligibility left. The 260 pounder would likely need to drop about 10 pounds for optimum performance, but unlike other Raider draft picks, that does not seem to be a real concern for Jackson. He would be a very solid pickup in the fourth round.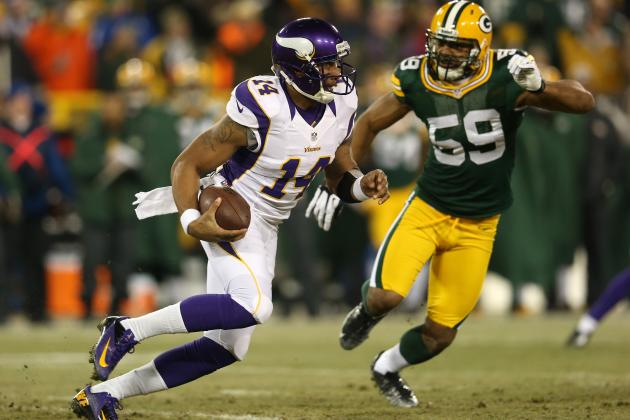 Jonathan Daniel/Getty Images
Jones brings versatility and tackling, two elements missing from Oakland's LB's in 2012
Free agent to be Brad Jones is number seven on my list. The versatile linebacker from Green Bay registered 77 tackles in 2012 despite playing behind both A.J. Hawk and Desmond Bishop for the Packers.
It is no secret that Reggie McKenzie values players from the Packers organization, so I would not be shocked at all if he makes a run at Jones, who would fit nicely on the inside or strong side with the Raiders. His reasonable price is also a big selling point as the Raiders continue to move out of the cap mismanagement of years past.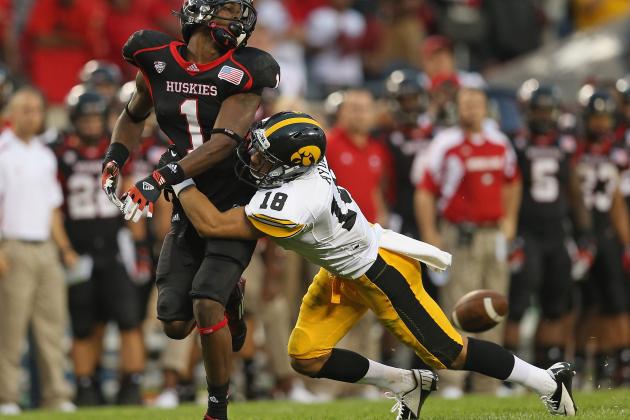 Jonathan Daniel/Getty Images
Hyde is an intriguing prospect at cornerback
The last player on the bottom half of this list is cornerback Micah Hyde from the University of Iowa. Seen by scouts as a bit of a tweener between cornerback and safety, Hyde doesn't have the elite speed or explosive footwork, but he has excellent football awareness. That is something the Raiders lacked in spades in their defensive secondary.
Hyde's major asset is another thing the Raiders did not have: Great ball skills. His instincts are top shelf and while he needs to refine his technique in order to cover on the outside, Hyde's height and length (6'1" and 190 pounds) are great for the position. Another mid-round guy, Hyde's stock could improve with a great showing at the East-West Shrine Game.
For the Raiders, a restocking of their secondary is in order and this represents what would be a promising start. Hyde notched an interception and 11 passes defensed in his senior year at Iowa. But he also showed a willingness and ability to support the run as his 78 tackles demonstrated.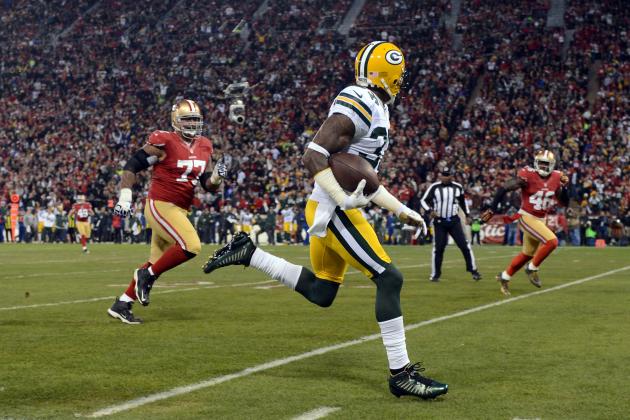 Harry How/Getty Images
Shields will almost certainly be targeted by McKenzie in free agency
Sam Shields starts the top half of this list at number five and is a real intriguing guy this free agency. In just 21 career starts, he has nine interceptions. That means he can play the ball, something the Raiders need. But you can also pick on Shields, as demonstrated in the last three quarters of the Packers blowout loss to San Francisco.
That said, he would be the number one cornerback in Oakland by default. That's how bad the position is right now. My guess is that the Raiders draft multiple corners and likely acquire at least one in free agency. But Shields having that time spent with the Packers and having the propensity to make plays on the defensive side of the ball, you can bet Reggie McKenzie will try to sway the University of Miami vet to the East Bay.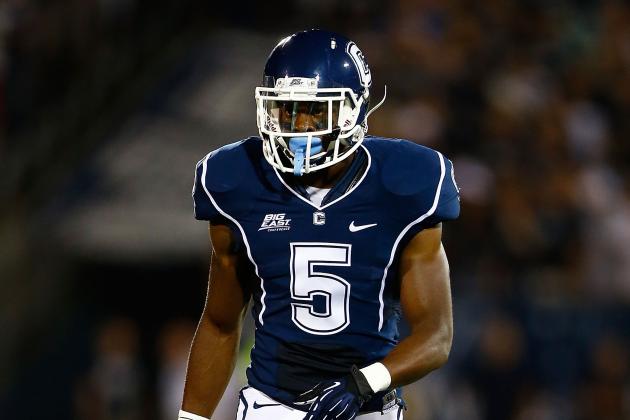 Jared Wickerham/Getty Images
Wreh-Wilson has the size to matchup with the AFC West's bigger wide receivers
At number four is Blidi Wreh-Wilson. A 6'2" cornerback from UConn, he possesses ideal size (think Richard Sherman and Brandon Browner) to battle the best wide receivers of the AFC West (Eric Decker, Demaryius Thomas, Dwayne Bowe?) but is not just gifted physically. Named his team's most valuable player, Wreh-Wilson bounced back from an injury plagued junior season to start all 11 games in 2012.
He had the propensity to play big in big games. This was most evident with his performance against Sugar Bowl champion Louisville. His interception in double overtime paved the way for UConn's upset win.
A big and physical cornerback with a lot of upside potential, Wreh-Wilson would be ideal for the Raiders in the 3rd round or if they could swing a draft day trade into the 2nd round.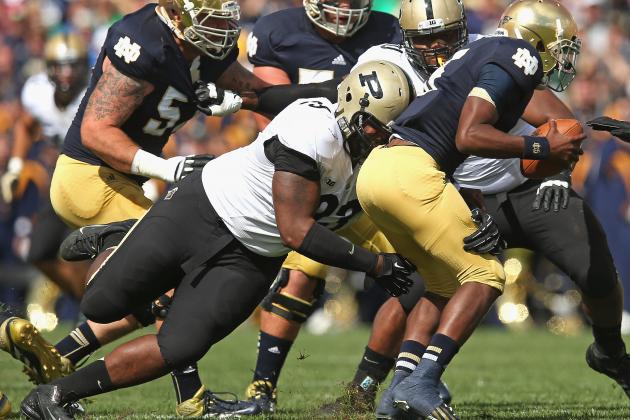 Jonathan Daniel/Getty Images
Definitely not "Short" on talent, the Purdue DT would be a nice fit in Oakland
This slot I have to say first and foremost is predicated on the Raiders making a trade. Kawann Short is rapidly ascending the draft boards for 2013 at defensive tackle and could be a potential late first round pick.
For the Raiders to draft him would mean that they dealt their first pick and moved down in a draft that is much bigger on substance than style. Short fits that bill to the letter. A savvy, but skilled interior lineman, he possesses a wide array of pass-rush moves and was productive in college. In total, Short amassed 12.5 sacks in his last two years at Purdue. He's got the strength to hold his gap, the quickness to get upfield and the motor to pressure the QB.
Watching him against Notre Dame, Ohio State and Indiana, I saw first hand Short's powerful club move knock blockers off balance. He flashes effective swim and spin moves. Above average athlete that can shake offensive linemen with lateral moves. Powerful bull rusher when sinks hips and stays low. Best of all, upon his return to the lineup, Purdue's run defense vastly improved in 2012. He would represent a great pickup for the Raiders.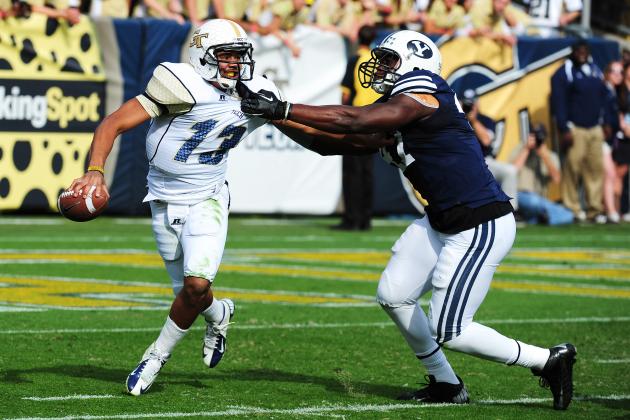 Scott Cunningham/Getty Images
Jason Pierre-Paul v.2? Some think that's not a stretch for Ansah
My number two target for the Oakland Raiders is a player many of you may not have even heard of. But you will. And his name is Ezekiel Ansah. The young man from the African country of Ghana has played football all of two years, but his combination of gifts has him skyrocketing up draft boards at this very moment.
For all the talk of guys like Barkevious Mingo, Sam Montgomery, Damontre Moore, and even Dion Jordan, I honestly think Ansah is the second best prospect in this draft behind Bjoern Werner at the defensive end position.
At 6'5", 270 with a 4.62 40-yard dash time, Ansah has all of the measurables to play a 4-3 end in the NFL. What makes him unique is the ridiculous motor he possesses. I watched BYU play five times and he was a factor in all five games. Never once did I see him stop pursuing the ball. Other attributes include an extremely quick burst off of the line, extremely powerful build, and the versatility to line up anywhere on the defensive line.
His inexperience is definitely the biggest question mark, as well as the inconsistent pad level frequently shown. That said, the Raiders need an infusion of ferocity and relentlessness along with just talent. Ansah has that in spades. While he is not going to be the run stuffer the Raiders would like to add, honestly no one player is going to change that in Oakland. What Ansah would bring is a pass rusher the Raiders have not had at this level since Derrick Burgess in 2005.
The question is how would the Raiders acquire a player anticipated to go late first round/early second round at the latest without that pick. Again, I could see them trading down from their spot to acquire someone like Ansah who would come as one of many in a draft the Raiders have to get right. This would be a big start.
In all honesty, my number one guy is this guy. But the Raiders will not be able to afford an impending free agent defensive tackle entering his prime coming off a Pro Bowl season. Just isn't going to happen. But they do need help on the interior first and foremost. So with no Henry Melton and no Kevin Williams, who is the most realistic defensive tackle that can help the Raiders in 2013?
Well, it will be one that they draft. And that pick ultimately will be Star Lotulelei of Utah in the first round of the 2013 draft. I think Bjoern Werner is a better player and might have a more impactful career, but Lotulelei is precisely the kind of player Al Davis would have been proud of: A freak athlete with great size and excellent versatility.
The beauty with Lotulelei is the Raiders can kick him inside and out, giving them a machine on the line that can help them in a number of ways. I can't see Werner going past number two, unless someone trades up to that spot for a specific need, so the Raiders will likely snap up the best defensive tackle available. That is easily Lotulelei, who gives the Raiders a bona fide block eater on the interior.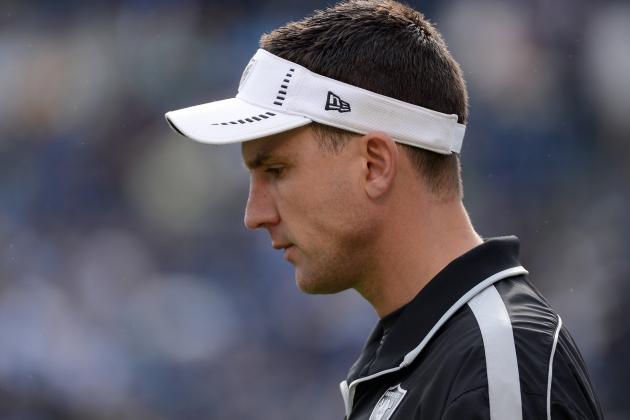 Harry How/Getty Images
Allen will see some of the pantry restocked by training camp
Oakland's needs are numerous and unfortunately, the numbers just don't favor much action in the way of free agency. In a way, this might be a blessing in disguise. No more band-aids for a mortar wound that has been Al Davis' dismissal of the salary cap. The Raiders have to rebuild from the ground up, and that is precisely what this draft will help them continue to do.
Yes, there are plenty of players that have been omitted from this list. Collegiate cornerbacks like Desmond Trufant, Jordan Poyer or even David Amerson for example would be awesome. They're just not likely to be around when the Raiders pick. Such is life huh?
So what I tried to do is look at players the Raiders could realistically go after that could provide more than character and upside. These are the kinds of players that improve football teams with the right kind of system and movement from a fast thinking general manager. The Oakland Raiders might not be an elite team right now, but that does not mean that they have to settle for being a bad one. The opportunity to improve is out there. Now it is time to see what Reggie McKenzie can really do.