Ranking Mike D'Antoni's Biggest Weaknesses as L.A. Lakers Coach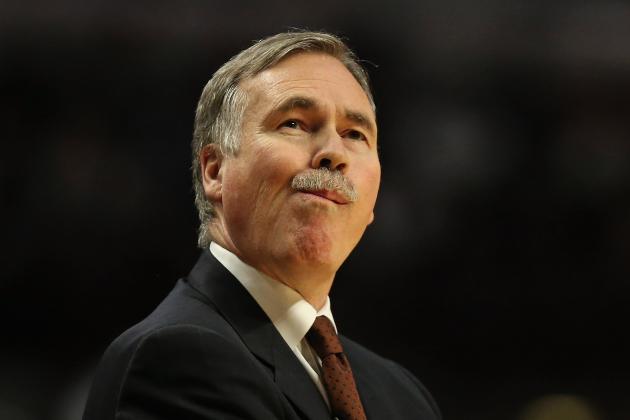 Jonathan Daniel/Getty Images

Perhaps the greatest disappointment in the history of the NBA, the blame for the Los Angeles Lakers' losing record falls on the entirety of the roster. However, the onus of the blame lies with Mike D'Antoni.
Although critics are quick to point out lack of bench scoring, Pau Gasol's regression or Dwight Howard's failure to live up to the hype, it is clear that the Lakers' greatest weakness is the fact that their system is a terrible fit for the talents of their roster.
The only man with the power to rectify this weakness is the coach.
D'Antoni is a man whose reputation revolves around his brilliant offensive mind. However, with the Lakers struggling on both ends of the court, it is clear that the system itself is in need of some adjustment.
Given this point, the fact that the Lakers continue to regress as the season progresses shows that not only are the players losing confidence, the coaching staff isn't making the necessary adjustments in order to right the ship.
Consider the Brooklyn Nets, whose early season struggles seem like a thing of the past since P.J. Carlesimo took the head coaching reins from Avery Johnson and sped up the tempo to coincide with the rosters' athleticism and talent.
If D'Antoni could recognize that the prime reason for their struggles lies in the system itself, he would be able to make some adjustments to his offensive mantra that could benefit the team.
However, D'Antoni has a host of weaknesses that makes it extremely hard for him to create change that would help the Lakers on both ends of the court.
Begin Slideshow

»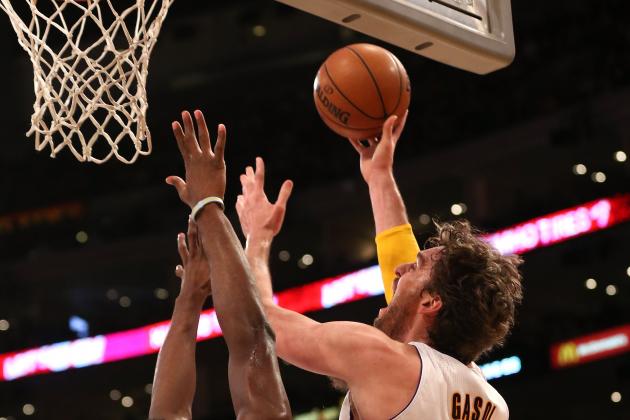 Stephen Dunn/Getty Images

If there's one thing you can say about Mike D'Antoni, it's that he speaks his mind. The man is an honest speaker who says what he wants, when he wants.
When asked about Pau Gasol's benching earlier in the season in favor of Antawn Jamison for the final minutes of the game, his disrespectful disregard for the two-time champion seemed to alienate Gasol.
Consider Gasol's reputation for being a soft player. Despite constant criticisms, Gasol does his best to answer these critics in resounding fashion when he has the confidence of his teammates.
Kobe Bryant knows this, and throughout Gasol's tenure with the Lakers, Bryant has always had his back.
Phil Jackson used to critique and call out Gasol publicly, stating that Gasol's play was not indicative of the enormous amount of talent he possessed. This was a good way of praising a sensitive player like Gasol because it reassured him that Jackson had faith that his talent would right the ship.
Though D'Antoni did praise Gasol's versatility, his disrespectful remarks, and indication that Gasol was benched in order to give the Lakers a chance to win, made it clear that Gasol was the odd man out in this system.
In contrast to his treatment of Gasol, D'Antoni very rarely criticizes Dwight Howard or Steve Nash.
Despite Howard's inconsistency on defense, inability to hit free throws consistently and lack of offensive improvement, D'Antoni has never consistently addressed these issues publicly like he has with Gasol's issues.
This sort of favoritism does little to create the chemistry and cohesion the Lakers need to thrive.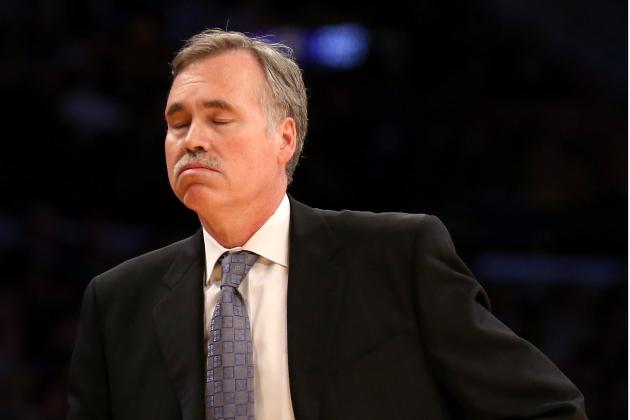 Stephen Dunn/Getty Images

Defense wins championships.
Perhaps this explains why Mike D'Antoni's Phoenix Suns teams could never get over the hump and win the NBA Championship.
Mike D'Antoni isn't a defensive specialist by any stretch of the imagination. Despite this, it is still his job to make adjustments to the defense, which is currently allowing 101.6 points per game on 45.2 percent shooting from the field. This puts the Lakers in the bottom third of the league in points allowed, and in the bottom half of the league in opponents' field goal percentage.
Even to a casual fan, it is clear that the Lakers seem to be a step slow on defense. It is clear that the main reasons for the defensive woes are age and injuries.
On the perimeter, age has slowed down Metta World Peace, Steve Nash and Kobe Bryant.
Nash's atrocious defense has only gotten worse with age, while Bryant is unable to simultaneously carry the Lakers on offense and be a defensive stopper. Metta World Peace remains a decent perimeter defender, but isn't the stopper he once was.
While those three players have been afflicted by father time, Howard and Gasol have been unable to anchor the paint on defense due to their myriad of injuries.
Howard's lingering back pains have kept him from being the defensive juggernaut he once was with the Orlando Magic, while Gasol hasn't been able to clog the paint and create as many stops due to his weakened knees and other lingering injuries.
Because of this, an emphasis on defense is needed in order to help shore up these woes.
Consider the fact that the Lakers are so dependent on Bryant on both ends of the floor. Given the mileage on his legs, Bryant can either lock down his man on defense or keep the Lakers competitive with his high volume shooting. However, he cannot do both efficiently against the better teams in the NBA.
Thus, D'Antoni has to figure out a way to allow Bryant to do one or the other and compensate for the defensive or offensive slippage that goes with having Bryant conform to a particular role for a game.
Although the issues the Lakers have in terms of age and health would be hard for any coach to solve, D'Antoni's lack of concern for defense makes it even harder for them to improve their poor play.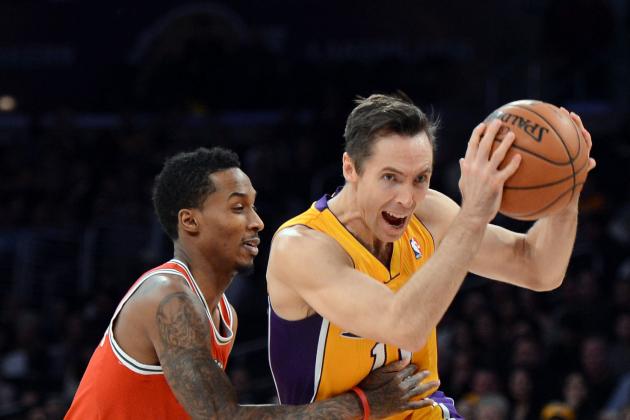 Harry How/Getty Images

Hailed as an offensive genius, there is no doubt that Mike D'Antoni's offensive concepts have revolutionized the run-and-gun style in the NBA.
Before D'Antoni, there was a notion that teams could not win an NBA Championship without a strong post presence.
Consider the champions of the last twelve NBA titles. Every one of those teams had a powerful presence in the post on defense, offense or both.
D'Antoni was the first to really combine the potent, traditional pick-and-roll with a run-and-gun style that made his teams some of the most offensively dangerous in the league, despite not having a true presence in the paint on either end.
His Phoenix Suns teams could neither stop a dominant post presence like Tim Duncan on defense, nor be effective on offense by feeding somebody in the low post.
Now, there are a myriad of teams that are thriving in systems similar to D'Antoni's system.
A prime example of a team that is dominant on offense by compensating for lack of post presence by running the fast break is the Oklahoma City Thunder.
However, despite how innovative and ground breaking this offense is, it is a pretty basic offense.
The point of the offense is to initiate a fast break off of a rebound or even from an out-of-bounds pass and trying to find the best available shot in the shortest amount of time. If no shot is available, the bread and butter of the half-court offense is the pick-and-roll.
With a roster that isn't optimal for this kind of offense, it is very easy for opposing teams to make adjustments and keep pace with the Lakers.
Outside of this offensive structure, D'Antoni is not the kind of coach to draw impressive, out-of-timeout plays the same way coaches like Stan Van Gundy used to do.
The majority of his coaching success has been with Steve Nash as his focal point on offense. Having a floor general like Nash to manage the offense during the entirety of the game, and the crucial clutch moments, is a luxury that not many coaches have.
However, Nash and Kobe Bryant's respective ages are starting to show, and they aren't able to close games the way they are used to. Without Mike D'Antoni to help guide them and motivate them through tough stretches, the Lakers are going to continue to struggle.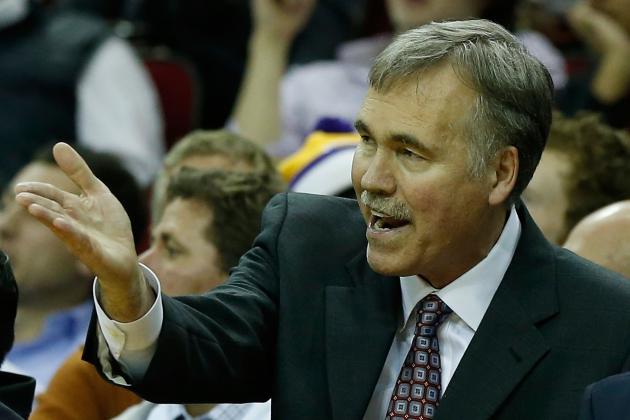 Scott Halleran/Getty Images

Mike D'Antoni is the type of man to stick to his guns.
His tenure with the New York Knicks proved that D'Antoni would rather lose with his players conforming to his system than make adjustments in order to try and fix things.
His current situation with the Los Angeles Lakers is very similar to his terrible tenure with the Knicks.
The Lakers clearly do not fit in well with his system.
The majority of the players on this roster are aging, injured or both. Probably the most well-conditioned player on this team is Kobe Bryant, who is starting to show his age despite his impressive offensive output.
There is no way a roster that consists of an injury stricken Pau Gasol, an aging Antawn Jamison, a fragile Steve Nash and an overloaded Bryant can keep up the same pace D'Antoni's Phoenix Suns teams could a few years back.
With that facet of his offense already mitigated by age and injuries, it is apparent that even his pick-and-roll offense isn't too effective with these players.
Though Nash is still an excellent creator and passer off of the pick-and-roll, it is now apparent that Amar'e Stoudemire is clearly a much better pick-and-roll big man than Dwight Howard.
Howard doesn't roll as hard and as decisively as Stoudemire did, and he doesn't have the jumper to pick-and-pop the way Stoudemire could.
In fact, Pau Gasol, when healthy, may be an even better pick-and-roll big man than Dwight Howard.
With these issues as well as various others, including the lack of a creator off of the bench, the Lakers are in desperate need of some adjustments.
The only way they will be able to improve is if D'Antoni is willing to make these changes. History shows that he is not.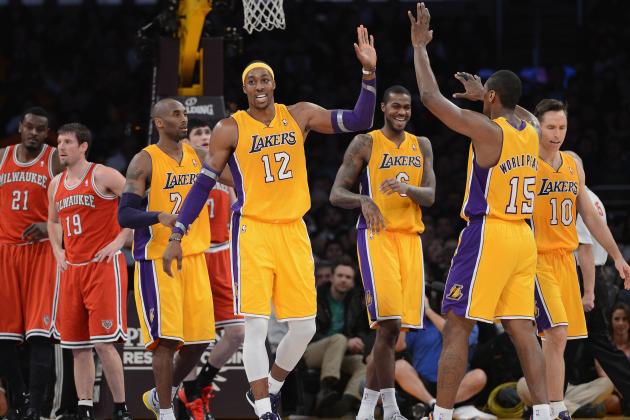 Harry How/Getty Images

Perhaps Mike D'Antoni's greatest weakness is his volatility.
With a hot trigger and a willingness to shake up everything except his system, D'Antoni has shown that he feels the answer lies in finding the right rotation.
This is shown in the way he drastically shifts the minutes around for his supporting cast.
Although Kobe Bryant, Steve Nash, and Dwight Howard enjoy constant minutes due to their overwhelming talent, while Metta World Peace enjoys consistency given the lack of depth at his position, it is clear that the rest of the roster has no stability whatsoever.
Jodie Meeks started off playing limited minutes. However, his range and proficient jumper soon made him a D'Antoni favorite and he was subject to a massive minutes increase.
However, Meeks has only averaged six minutes in the last five games despite doing exactly what D'Antoni wants of him.
Antawn Jamison has also felt the wrath of D'Antoni's volatility. Showing initial interest in Jamison's versatility and shooting range, D'Antoni favored him over Pau Gasol.
However, he began to lose his minutes to Jordan Hill for not being able to keep up with D'Antoni's pace, given his age. As his productivity dwindled, D'Antoni blamed the player rather than the system.
After Jordan Hill's injury, Earl Clark has gotten the nod and has played well for D'Antoni. However, Clark isn't the prototypical D'Antoni power forward. Who knows how long D'Antoni will keep giving Clark consistent minutes.
The lack of stability and a stable rotation makes it hard for the Lakers to build any sort of on-the-court rapport between their first and second units.