Colin Kaepernick: Baltimore Ravens Won't Have Answer to QB's Dual-Threat Ability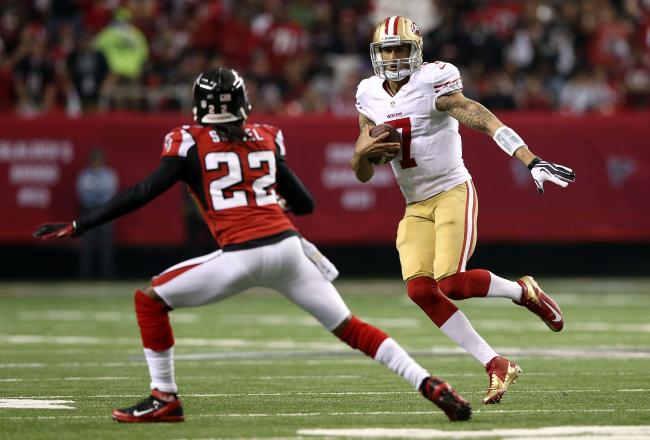 Streeter Lecka/Getty Images
Colin Kaepernick has taken the National Football League by storm and the San Francisco 49ers to an appearance in Super Bowl XLVII.
Since taking over at the helm earlier this season, few teams have been able to stop the second-year quarterback's incredible dual-threat ability of passing and running.
And looking forward to Super Bowl XLVII, the Baltimore Ravens simply aren't going to be able to stop Kaepernick from running roughshod throughout the game.
They won't have an answer to his dual-threat ability.
Baltimore wasn't great at stopping either the run or the pass during the regular season this year, and it has continued that trend into the NFL playoffs.
The Ravens ranked 13th against the rush (allowing 122.8 yards per game) and 19th against the pass (allowing 228.1 yards per game)—numbers that have essentially been mirrored through their games against Indianapolis, Denver and New England this postseason.
In fact, they're probably even a little worse, given the 128 rushing yards and 287 passing yards they've allowed on average in their three playoff games.
Baltimore hasn't been its usual defensive scrooge this season, especially in its front seven, and the numbers are simply reflective of that fact.
That's not to say they haven't played well; it's just to say that they haven't been as strong defensively as other years. This year, they just haven't been great at stopping the ball moving downfield—either in the air or on the ground.
So when they come to a matchup like this one against Kaepernick, the Ravens' lack of defensive pressure will render them useless in stopping the quarterback. If they can't stop either the run or the pass, then there's little to no chance that they're going to be able to stop both.
At the same time.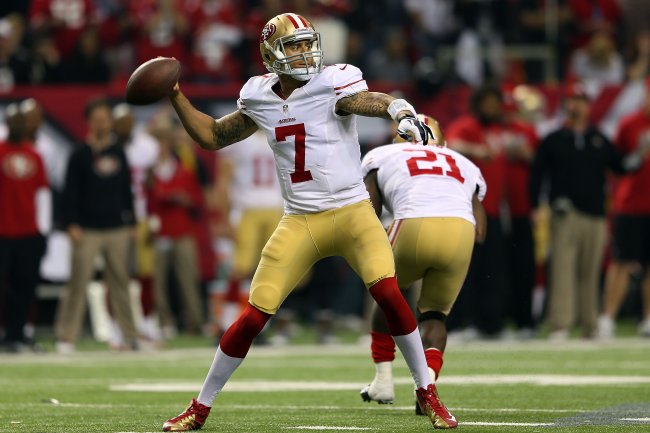 Mike Ehrmann/Getty Images
Kaepernick has the 49ers playing some quality football at the moment, and he is leading a resurgence in the success of the read-option under center.
Backed by a strong offensive line and offensive weapons all around him, the second-year quarterback will take both to the Ravens defense in Super Bowl XLVII, and if he does so correctly, he'll yield great results for his team.
Think about it for a minute.
Kaepernick takes the snap and looks to hand off to Frank Gore. The running back is a strong and dominant runner with the football and has the potential to run all over opponents, unless they send plenty of defensive attention his way.
Especially with the Niners offensive line playing the way it is, Baltimore has to bite on Frank Gore running the football throughout this one.
That opens up the read-option for Kaepernick, who suddenly finds himself with time to either throw the football downfield or run himself. There's simply no way that the Ravens can get to him fast enough here to stop him from having time to either throw or run the ball effectively.
Gore and the Niners offensive line are just too good for that.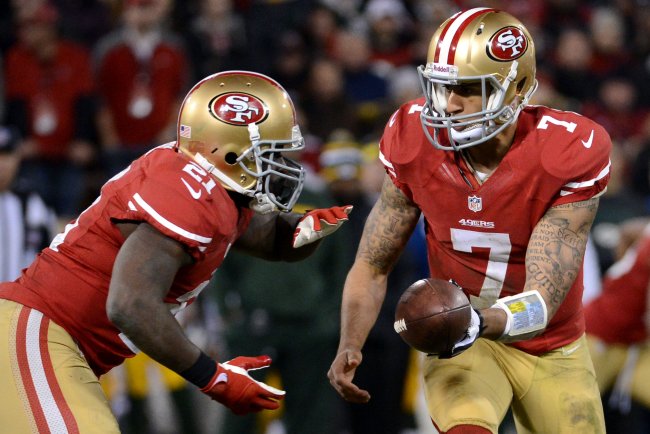 Harry How/Getty Images
Baltimore has really only played one other dual-threat quarterback this year, Robert Griffin III, and they lost to him in overtime during the regular season.
Yet, Kaepernick is playing with more belief than Griffin, better offensive weapons than Griffin and better knees than Griffin to help his running game.
If the Ravens couldn't truly stop Griffin until he was injured (and even then they couldn't really stop him), what chance do they have of containing the most in form, dynamic, dual-threat quarterback in the NFL playoffs this season?
Simply put, they don't have a chance.
Kaepernick is playing in the biggest game of his career with more self-belief and confidence than any other player existent in the league at the moment.
Can Baltimore stop Colin Kaepernick?
Buoyed by the fairytale believers, Kaepernick has the Niners averaging a staggering 36.5 points per game throughout the playoffs. The quarterback has been responsible for over 700 offensive yards in total and five touchdowns, and doesn't look like he's slowing down any time soon.
He just led his team back from a 17-0 deficit to make it to the Super Bowl, and has the full confidence of an entire organization behind him.
He is the hottest quarterback in the game at the moment; he is arguably the best quarterback in the game at the moment. He has everything he needs around him and so much more, and is just one game away from achieving greatness for this franchise.
The Ravens don't have an answer to any of that now, and they certainly won't have an answer on Super Bowl Sunday either.
Will Colin Kaepernick lead the 49ers to Super Bowl success?
Comment below or hit me up on Twitter: Follow @dantalintyre
This article is
What is the duplicate article?
Why is this article offensive?
Where is this article plagiarized from?
Why is this article poorly edited?

San Francisco 49ers: Like this team?