Realistic Best & Worst Case Scenarios for Marc Trestman's First Year with Bears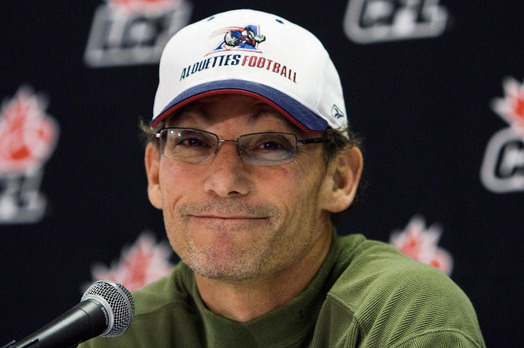 Photo: Canadian Press
The Chicago Bears have selected Montreal Alouettes coach Marc Trestman to replace Lovie Smith and become the 14th head coach in franchise history.
Brad Biggs of the Chicago Tribune first reported the hiring late Tuesday night.
An NFL source just told me #Bears will hire Marc Trestman as the next head coach.

— Brad

Biggs

(@BradBiggs) January 16, 2013
Trestman has spent the last five years in Montreal, where he won over 65 percent of his games and two Grey Cups (equivalent to a Super Bowl in the NFL). Before his trip to the CFL, Trestman was an offensive coordinator for the Cleveland Browns, San Francisco 49ers, Arizona Cardinals and Oakland Raiders.
While Trestman hasn't coached in the NFL since 2004, he's highly regarded around the league for his ability to coach a team's offense and quarterbacks.
In the following slides, we'll break down the various best and worst case scenarios for the Bears' hiring of Trestman as their next head coach.
Begin Slideshow

»
Gregory Shamus/Getty Images

Lovie Smith, the man holding Trestman's new job for the last nine seasons in Chicago, was canned after failing to get Chicago to the playoffs in five of the last six seasons.
The wins were always there for Smith, and he kept the Bears at or above the 7-9 mark in every season but his first. But the lack of playoff trips was ultimately a hurdle he couldn't continue jumping season after season.
The best case scenario for Trestman's first season would almost certainly include a return to the playoffs.
Remember, the Bears started 7-3 in 2011 and 7-1 this season. This is still a team built to win right now, and any result in 2013 that doesn't have Chicago playing football past Week 17 would have to be viewed as a failure.
It's Trestman's job next season to ensure that Chicago's poor finishes under Smith do not continue.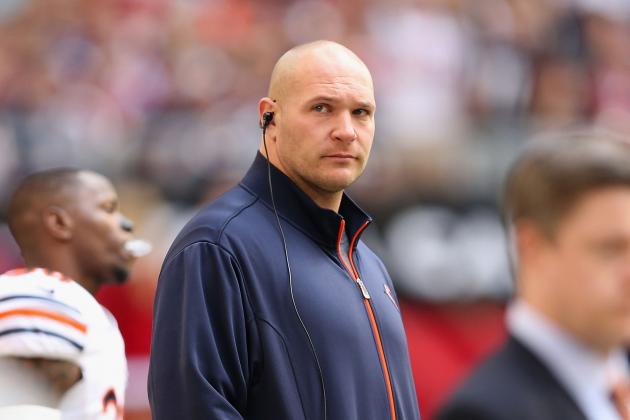 Christian Petersen/Getty Images

The Bears have a roster crawling with veteran players who can still help win football games. But it's worth wondering if the expiration date on this club could be coming sooner than some expect.
A defense that has carried Chicago has aging veterans at key positions. The offense under Trestman should be light years ahead of the one employed over the last few seasons, but are the right pieces in place?
With every new head coach comes a new era. The Bears are Trestman's team now, but the core nucleus will remain the one Smith helped put together.
If the Bears stumble in 2013, the franchise could be looking at the start of a rebuild that has more of Trestman's stamp on it and less of the former head coach. Any move for such a reboot would be a worst case scenario in Trestman's first season.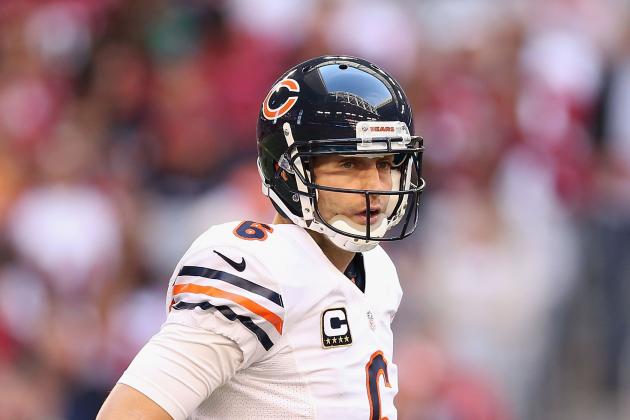 Christian Petersen/Getty Images

Trestman has a strong familiarity with the Bears starting quarterback.
According to his official website, Trestman worked with Cutler before the 2006 NFL Draft as a "quarterback consultant." His tutelage helped Cutler go 11th overall in that draft to the Denver Broncos.
But even without his previous work with Cutler, Trestman brings a long line of successful relationships with quarterbacks at each level he's coached.
Trestman worked with Bernie Kosar at the University of Miami, Steve Young in San Francisco and Rich Gannon in Oakland during his MVP year. Even Anthony Calvillo, his quarterback in Montreal, won back-to-back CFL MVPs.
Cutler has always had elite physical skills, but his ability to throw a football has always been hindered by a gun-slinging mentality that produces interceptions and bad decisions.
With Trestman on board and calling the plays, it's possible we could finally see Cutler at his best.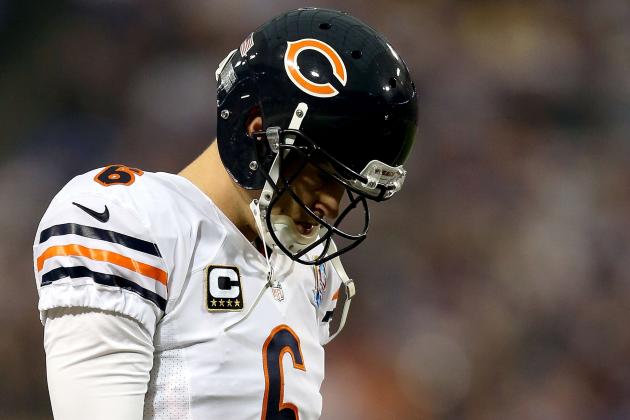 Matthew Stockman/Getty Images

While Trestman brings to Chicago highly regarded quarterbacking acumen, it's worth noting that Cutler has dealt with new systems and coaches in the past.
The results, however, have been mostly the same.
The Trestman experiment with the Bears will likely prove once and for all if Cutler has the ability to be a top NFL quarterback or if his many faults are unable to be fixed.
Certainly, the possibility exists next season for Cutler to continue being the same turnover-forcing, bad decision-making quarterback he's been his entire career.
If Cutler struggles in 2013, the Bears may have to seriously consider making a quarterback change for 2014.
That kind of seismic change would be a worst case scenario for a franchise that has seen its share of quarterback turmoil.
Brian Kersey/Getty Images

The Bears clearly looked to the offense as a focal point in need of change this offseason.
Gone is Lovie Smith, a defensive guru. The same likely goes for Mike Tice, who was a controversial hire at offensive coordinator and suffered through his share of criticism this past season.
According to Ian Rapoport of NFL.com, Trestman is bringing along former New Orleans Saints interim coach Aaron Kromer to be his offensive coordinator. Kromer brings to Chicago an expertise in offensive line play, an area the Bears have obviously struggled with mightily over the last few seasons.
Now, the two must do what is necessary to make the Bears into a consistent, dangerous offense. Trestman will bring play-calling experience, while Kromer can be expected to get more out of the offensive line.
If the two follow up on that promise, the Bears could make a big jump in offensive production in 2013.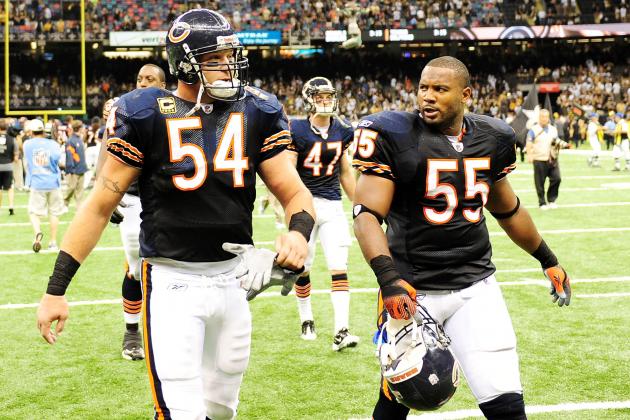 Stacy Revere/Getty Images

With Lovie Smith's departure and an offensive head coach taking over, the end of an era could be fast approaching on the defensive side of the football in Chicago.
Brian Urlacher, Lance Briggs, Julius Peppers, Charles Tillman and Israel Idonije—the core of the Bears defense—are all over 30 years old. Father Time remains undefeated, so it's reasonable to expect this group to start regressing or breaking up in the coming years.
There is still hope, however.
The Bears are reportedly keeping defensive coordinator Rod Marinelli, according to Sean Jensen of the Chicago Sun-Times. The 57-year-old ran a Chicago defense that finished 2012 as one of the best in yards, points and takeaways.
If Marinelli stays on board, this Bears defense could have one great season left in the tank. But it's certainly possible that either Marinelli bolts or the Bears regress to a point where the defense suddenly becomes a liability.
Either situation represents a worst-case scenario for 2013.