5 Ways Tony Stewart Would Likely Dominate the IndyCar Series Today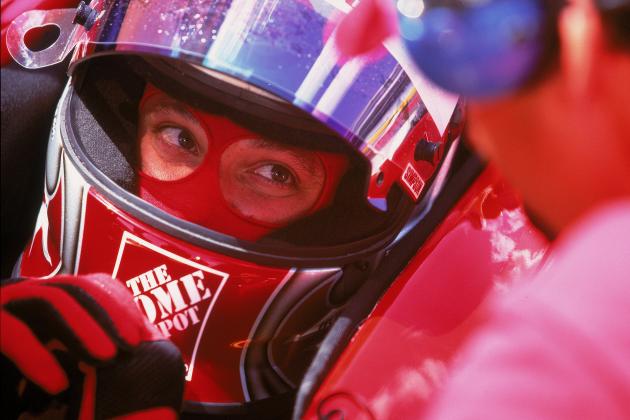 Robert Laberge/Getty Images
Tony Stewart's last appearance in an Indy Car race was the 2001 Indianapolis 500, when he finished sixth.
We all know Tony Stewart is a great NASCAR driver and an almost assured lock to one day be inducted into the sport's Hall of Fame.
He's a three-time Sprint Cup champion, winner of 47 Cup races, a two-time Brickyard 400 winner, and has finished out of the top 10 in the season standings just once (2006, also the only year he has failed to qualify for the Chase for the Sprint Cup) in his illustrious 14-year career.
But for all of Stewart's accomplishments, one thing continues to hound him in the eyes of many of his fans: why can't they give up on the idea of seeing him in an Indy Car again?
Almost like clockwork, fans ask the same rhetorical question: "Will we ever see him run the Indianapolis 500 again?" or "Why can't he try the 'double' again (running both the Indy 500 and Coca-Cola 600 in the same day).
Part of that is due to the fact Stewart came so close to winning the 500 several times, not to mention being the IRL series champion in 1997. Stewart has battled The Brickyard five times in pursuit of Indy 500 fame, earning one top five, two other top 10s and had two DNFs due to engine issues.
Because it's the NASCAR off-season and we like to be a bit creative in our offerings, we thought we'd reflect back on Stewart's Indy Car days and offer five ways Smoke could dominate IndyCar today, if possible.
Begin Slideshow

»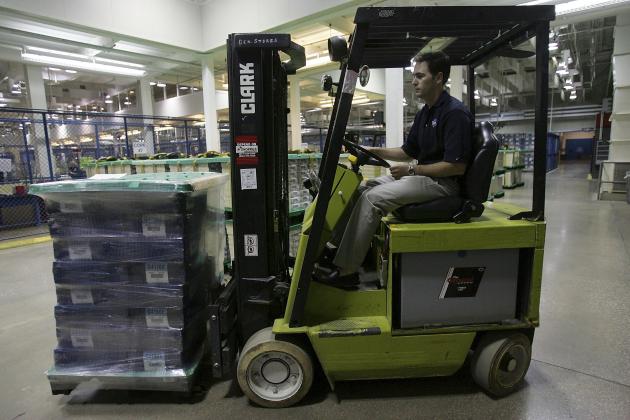 Ronald Martinez/Getty Images
We'd love to see a forklift race between Smoke and JJ (above).
Be it a Sprint Cup or Nationwide Series car, a Camping World Truck, a sprint car, modified, late model and pretty much anything in-between you can name on four wheels, and be it on asphalt, concrete or dirt, Tony Stewart excels whenever he gets behind the wheel.
Oh, did we mention he's back running at the fabled Chili Bowl this week in Tulsa, Okla.? Yep, even though it's NASCAR's off-season, Stewart needs a racing fix.
Heck, we wouldn't be surprised if he got into organized forklift racing. As Burt Reynolds said in the movie "Smokey and the Bandit" (and which Stewart would fit to a tee), "I can drive any forkin' thing."
Stewart turns 42 this May and the window on ever seeing him again at Indy in a sleek open-wheel racer closes a little bit more with each passing season. He has said that he likely will never race an Indy Car again, even passing up an opportunity to race for Roger Penske in this year's 500, but we bet that if the right situation came about, he'd do it.
In fact, don't be surprised that when Stewart calls it a career in NASCAR and "retires" to be a full-time team owner, that the following May he's at Indy because he wants to give earning the fabled 500 trophy one last shot.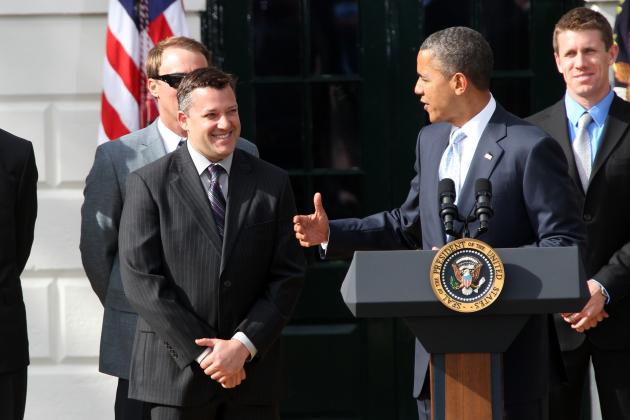 Ned Dishman/Getty Images
Stewart has friends in high places.
This is a touchy subject for many race fans, particularly those that favor IndyCar over NASCAR.
How can you quantify Tony Stewart's driving talent and say he's better than most of the other IndyCar drivers of today, particularly American-born drivers?
Where's the comparison yardstick?
While it may be like comparing apples and oranges, Stewart's immense talent would likely win out over most open-wheel drivers on the Indy circuit.
Prove it? Well, Tony went from being an IRL champ in 1997 to a Sprint Cup champ five seasons later, a feat he would repeat two more times in 2005 and 2011. 2011 was the closest championship battle in NASCAR's history, with Steward winning by one point by virtue of a tiebreaker for having more wins than eventual runner-up Carl Edwards.
By comparison, look at every other driver in the last decade that has tried to follow Stewart's footsteps from open-wheel to NASCAR. Jacques Villeneuve couldn't cut it. Patrick Carpentier couldn't cut it. Three-time IRL champ and 2006 Indy 500 winner Sam Hornish Jr. has struggled at times over the last five years to make the transition. Mr. Ashley Judd, otherwise known as Dario Franchitti, couldn't make it in NASCAR. And Juan Pablo Montoya is still trying to make it in NASCAR, seven years since he first jumped from open-wheel racing.
Stewart remains the only active crossover driver who was a success in both series—and likely will remain that way for a long time to come.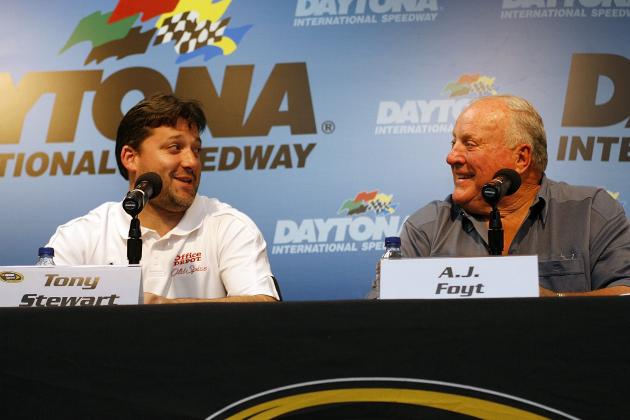 Geoff Burke/Getty Images
You know, they almost do look a little alike.
Stewart has idolized living legend A.J. Foyt for his entire life.
Numerous times over the years, Stewart has regaled reporters with stories of how he idolized Foyt, or how he'd spend every Memorial Day growing up either in-person or watching/listening to the Indy 500, cheering Foyt on.
Foyt is one of only three drivers to have ever won the prestigious "Greatest Spectacle in Auto Racing" four times (others are Al Unser Sr. and Rick Mears). Stewart will never do that, but at the same time, he has accomplished far and away more in NASCAR than Foyt ever did.
Foyt also has another prize that Stewart doesn't – although that could change next month: Foyt has a Daytona 500 win (1972) and Stewart wants that elusive crown as well.
Foyt was the somewhat gruff Texan that let his driving do his talking for him. Stewart is almost a carbon copy, but with a Midwest accent and a baseball cap atop his head, as opposed to Foyt's Texas twang and cowboy hat.
Still, while they're both cowboys of a different era, they are so much alike in their driving styles, talent and personality that many fans have wondered over the years if somehow, some way the two aren't actually related.
Foyt dominated at Indy and, if given more of a chance, we're convinced Stewart would have done so, as well.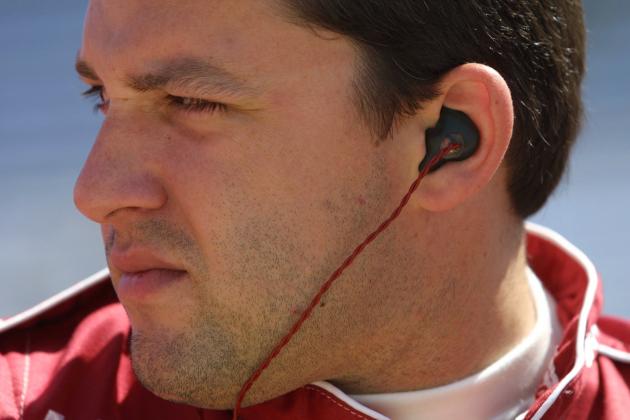 Robert Laberge/Getty Images
Stewart in his IRL days (1999). Can it really be nearly 14 years later?
One label that quickly was hung upon Tony Stewart in his IRL days was his aggressiveness behind the wheel. That's why he's such a natural fit in the NASCAR world. He doesn't mind trading fenders with other drivers.
But back in his IRL days, Stewart had the same penchant that he has in stock car racing: to outrun, out-muscle and out-hustle his open-wheel counterparts.
Granted, Indy Cars are delicate and extremely sensitive machines. Just a slight bump of tires can send two cars careening into the wall. Yet, Stewart in his Indy Car days was never afraid of coming within a whisker of an opponent's car if it meant scaring his rival off or to get out of the gas and onto the brakes.
In effect, Stewart was essentially the late Dale Earnhardt of the IRL. He was such an intimidating force that slower drivers feared seeing him closing in their rearview mirrors.
And now, nearly 13 years after his last full season in the IRL, if Stewart would race In today's IndyCar Series, it's likely he'd be even more of an intimidating force than he was in his first go-round. We wouldn't be surprised to see fans go from calling him "Smoke" to "The Intimidator."
All he'd need to do is grow a mustache, paint his car black and sport No. 3 on the side (okay, maybe we're being a bit facetious about that).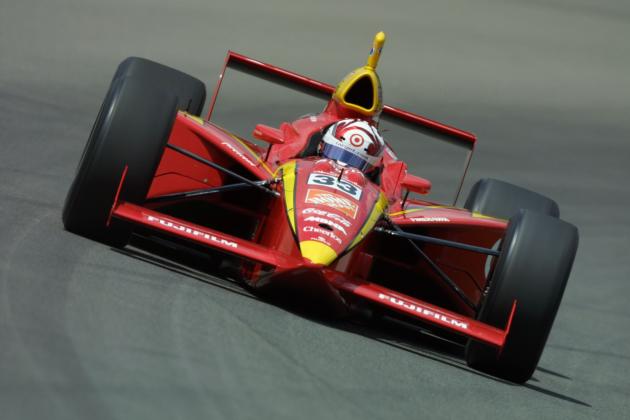 Robert Laberge/Getty Images
Boy, does this bring back memories (Stewart in 1999 Indy 500).
If you include the non-points Duals and Shootout at Daytona in February, plus the Sprint All-Star Race in May, Tony Stewart suits up for 38 races each season on the Sprint Cup circuit.
If he were to come to the IndyCar circuit, he'd have less than half the number of races to run.
As a result, Stewart would be fresher behind the wheel rather than the virtual non-stop go-go-go mode he endures in NASCAR.
Of course, so much more idle time between races on the IndyCar side of things might make Stewart restless for a racing fix—much like this week's Chili Bowl—but somehow, we think he'd adjust just fine.
Follow me on Twitter @JerryBonkowski