UCLA Basketball: Blueprint for Bruins to Win Pac-12 Title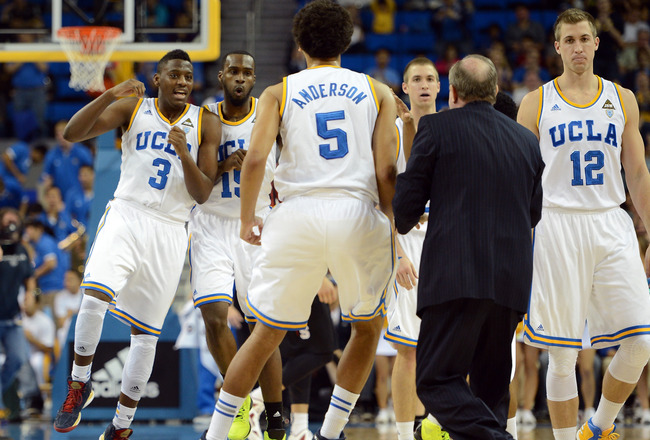 UCLA is on a roll in its first Pac-12 games. Can the Bruins win their first conference title since 2008?
Harry How/Getty Images
This season of UCLA basketball has been a pendulum, swinging freely from high to low as the clapper of a recently tolled bell. Nevertheless, this team has found harmony and forced us to once again consider: Can this team win a Pac-12 title?
The Bruins have risen from an early-season inferno that had head coach Ben Howland on the hot seat and are now on a seven-game win streak that has included a win over then-No. 7 Missouri and two consecutive wins to tip off Pac-12 conference play.
This team, which was highly touted as one of the best teams in the nation in the preseason, has gradually resurrected its hype as one of the nation's premier teams and an NCAA tournament-bound team.
However, before the Bruins can look that far down the road, they have to focus on the task at hand of winning their conference. That task continues this week with their first road games.
As this hot-and-cold UCLA team continues to work toward the program's first regular-season conference title since 2008, let's take a look at what they'll need to do to achieve that goal.
1. Win Their First Conference Road Game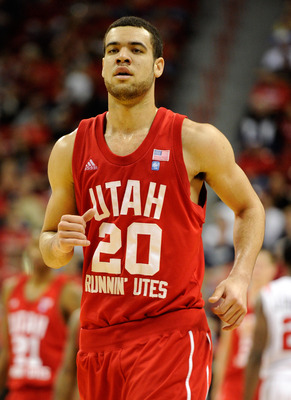 Ethan Miller/Getty Images
While UCLA has won its last seven games, its six previous games have been played at home.
Although the Bruins have played several games on neutral grounds, they have yet to play an official road game, which makes their first Pac-12 road game against Utah on Thursday a must-win.
UCLA has plenty to prove on the road, as all of their non-conference neutral-site games were either losses (Georgetown, San Diego State) or sloppy wins (Georgia, Texas).
The Utes should prove no match for the Bruins, which gives them a good opportunity to establish themselves on the road in the Pac-12 but would also be a disappointing loss that could affect the Bruins' conference title hopes if they can't pull it off.
2. Bear Down on Defense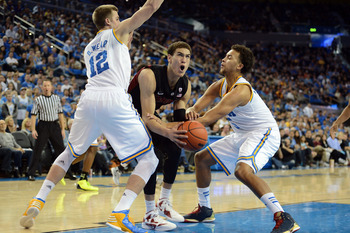 Harry How/Getty Images
The Bruins have dramatically improved their defense since the beginning of the season, but they still have some holes on the defensive end that will need to be patched up before they take on tough Pac-12 foes like Arizona, Arizona State and Oregon.
To his credit, Coach Howland did well in implementing a man-to-man offense after watching his team's 2-3 zone consistently falter in early non-conference play.
However, UCLA still needs to do a better job securing the paint and playing efficient help-side defense in order for it to keep up with the rest of the Pac-12 and keep its title hopes alive.
3. Jordan Adams Finds His Groove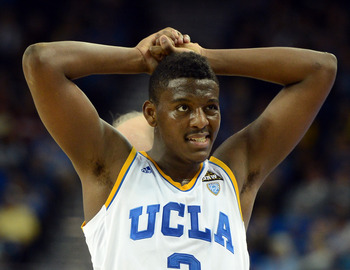 Harry How/Getty Images
Freshman guard Jordan Adams has been UCLA's best all-around player this season since stifling the college basketball world by exceeding all expectations set for him.
While he excelled in the Bruins' non-conference games and was their top scorer until fellow freshman Shabazz Muhammad surpassed him, he has yet to find his groove in Pac-12 play.
Although he has put up a combined 19 points and five assists in his first two conference games, Adams hasn't been the go-to shooter whom he was in non-conference play.
In those two games, the 6'6" sharpshooting guard posted two of his worst shooting nights (2-of-8, 3-of-8) and didn't sink any three-pointers. He also uncharacteristically missed consecutive crucial late-game free throws against Stanford.
Adams' success, especially his outside shooting, is vital to the Bruins' Pac-12 title hopes, and he must get hot and find his groove in order for UCLA to stand a chance at topping the conference.
4. Larry Drew II Continues Amazing Facilitation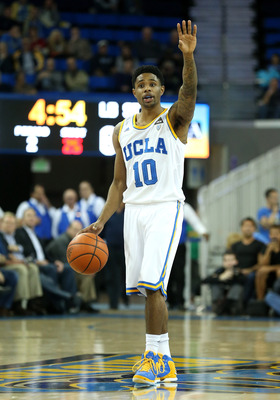 Stephen Dunn/Getty Images
UCLA's redshirt senior point guard Larry Drew II may not be much of a scorer, but he can definitely find his teammates for an open shot—and is incredibly good at doing so.
Drew currently boasts a conference-leading 8.5 assists per game, which ranks him second in the nation in average assists.
With proficient scorers like Shabazz Muhammad and Jordan Adams and even Travis Wear this season, it's integral that the Bruins have a point guard who can get them the ball and find them shots, which Drew succeeds at tremendously.
If UCLA is to continue to win conference games and keep their Pac-12 title hopes alive, Drew must uphold his amazing facilitation.
5. Sweep Arizona Schools at Home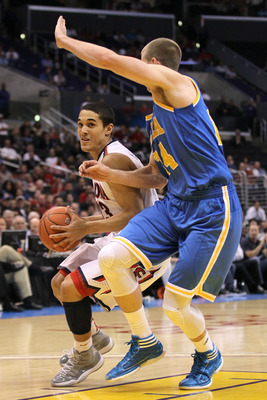 Stephen Dunn/Getty Images
The Bruins have a rough stretch to end the season, facing Arizona State and Arizona at home before concluding Pac-12 regular-season play with a road series against Washington State and Washington.
As the two Arizona schools will likely be vying for the conference title with the Bruins, they must defeat them in these late-season matchups in order to top them in the standings.
Arizona and Arizona State will take on each other for their final Pac-12 game, which guarantees that one of them will lose, which is a positive note for UCLA; however, it also ensures that one team will garner a win from the contest, which will be a crucial win to conclude conference play.
With so much on the line amongst fellow Pac-12 contenders at the end of the conference schedule, it's imperative that the Bruins leave no questions up to fate and determine their own destiny by capitalizing on their home-court advantage against the Arizona schools.
It will by no means be an easy road, but UCLA will have a substantial chance to win the Pac-12 if it can create the perfect combination of the aforementioned elements.
Keep Reading

UCLA Basketball: Like this team?