Arsenal's Lost Boys: An Entire Transferred Arsenal XI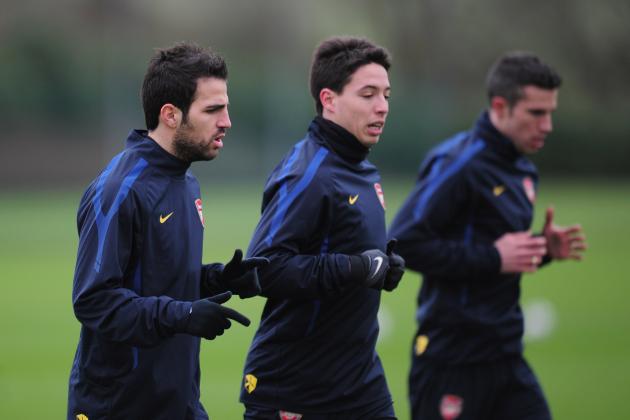 Shaun Botterill/Getty Images

The fact that this article is even being written is something of a fallacy.
Over the past five years, Arsenal has seen enough top-class players leave the club to form a very competitive XI entirely comprised of transferred players.
If football were to equate to life, Arsenal has, over the past five years, lost its job, invested its life savings with Bernie Madoff, seen its dog run over by an Animal Rights van, learned it has colour blindness, contracted a vicious, genital-targeting strain of smallpox, purchased an asbestos-ridden mansion situated next door to Nickelback's recording studio, and discovered its newborn son's eyes are disconcertingly similar to the postman's.
So yeah. It's been a pretty tough time.
If you don't laugh, you'll cry. So prepare a box of tissues (get your mind out of the gutter, filthy reader), take a deep breath, and plunge into the depths of the depressing "what-if's" that make football fanship oh-so masochistic.
Begin Slideshow

»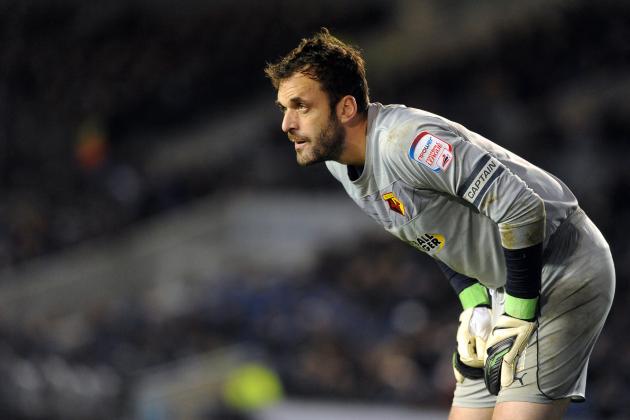 Charlie Crowhurst/Getty Images

Left Club: 2012
Joined: Watford
Fee: Free
Well, this is an optimistic way to kick things off.
Despite playing 109 games for the Gunners in almost 8 years of service, Almunia never threatened to knock Pat Jennings or David Seaman off their plinths among the ranks of legendary Arsenal 'keepers.
The Spaniard's time at Arsenal was characterized by much scorn from the Highbury/Emirates faithful, as the quality that the team possessed at the time was somewhat nullified by Almunia's conspicuous lack of consistent quality in goal.
His first four years at the club were spent in the shadow of the vastly superior Jens Lehmann, and his break following the German's sale in 2007-08 was characterized by a vast discrepancy in performances.
Though Almunia played some outstanding matches—most notably in a 2-2 draw in the 2009-10 Champions' League quarterfinal against Barcelona—they were few and far between.
His poor displays in the 2010-11 season saw the promising Wojciech Szczesny supersede Almunia in Arsenal's goalkeeping ranks, and the latter half of that season saw Arsene Wenger re-sign veteran 'keeper Jens Lehmann to solidify the club's goalkeeping ranks while Szczesny was injured.
The Spaniard's frequent niggly injuries didn't help his cause, and it was with some relief that Arsenal fans saw the back of him at the end of the 2011-12 season—though he has subsequently professed an affection for Arsenal that at least somewhat mitigates his years of profligacy, to this commentator at least.
So yes: Almunia, the starting 'keeper for the Transferred XI, not necessarily a bad start for us Arsenal fans?
Loath though I am to say it, it goes downhill from here…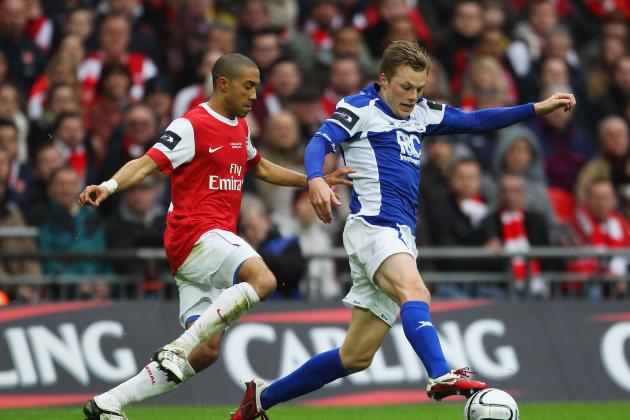 Alex Livesey/Getty Images

Left Club: 2011
Joined: Manchester City
Fee: £7 million
Yes, yes, I know, Cashley Cole, blah blah blah.
Ashley Cole was always going to leave. Bugger him, I'm sick of writing about him, he's a prat who cheated on Cheryl Tweedy and shot an intern with an air gun. Good riddance I say, he'd have been a bad influence on everybody.
And hence the inclusion of Gael Clichy. Though probably not quite as good as Cole, Clichy was nonetheless a large part of Arsenal's future.
The success of Wenger's game is heavily dependent on the quality of his wing-backs—it is no surprise that the manager's greatest success has coincided with solidity and consistency on the defensive flanks—and Clichy had been brought up and nurtured by Wenger from a very young age.
Wenger signed Clichy when the Frenchman (the younger one) was just 18 years old.
After three years of deputizing for Ashley Cole, Clichy cemented the left-back spot in 2007, and immediately produced dividends.
His pace, consistency and stamina were invaluable to an Arsenal squad which was attempting to rebuild following the dispersing of much of the Invincibles squad, and in the 2007-08 season he appeared in 49 matches overall, including every single league match—the only player in the squad to do so.
His progress was hampered by the emergence of a number of injuries in the 2009-10 season, which caused him to miss a large number of games in that period, severely hampering Arsenal's title bid.
In 2011, after indicating that he was not willing to renew his contract, Clichy joined Emmanuel Adebayor and Kolo Toure at Manchester City. Shortly thereafter he was followed to the Citizens by the devious hobgoblin Samir Nasri, and the four players—who together cost City around £73 million, and one of whom remains a key player for the club—celebrated their first league championship with City last year.
If you think 30 pieces of silver can buy a lot, what about 120 pieces of silver? Oh well. Life gives you lemons, you turn them into Kieren Gibbs. His head is very lemon-shaped…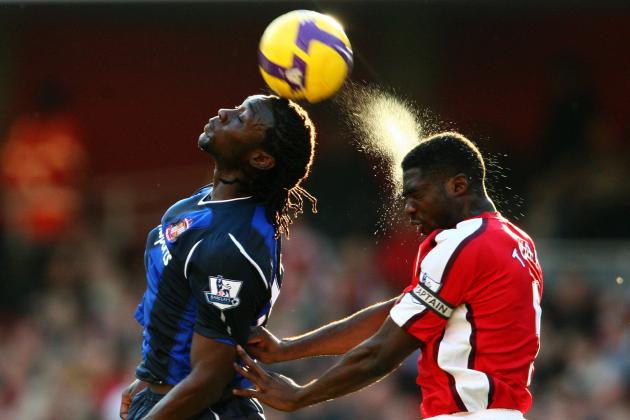 Phil Cole/Getty Images

Left: 2011
Joined: Manchester City
Fee: £16 million
Another casualty of Manchester City's riches, Kolo Toure was originally a shining bastion of everything that was glorious and wonderful about Arsene Wenger.
Purchased in 2002 for just £150,000, Toure was already a full international for an Ivory Coast team that included such future stars as Didier Drogba and Toure's younger brother, Yaya.
Though he didn't make his first-team debut until the following year—and even then as something of a utility player, deputizing at right-back and defensive midfield—Toure's career really took off in the 2003-04 season, when he partnered Sol Campbell in the heart of the defence, and played a large part in Arsenal's undefeated season.
Toure quickly established himself as one of the best defenders in the world. Even after Campbell's departure from the club, he and Philippe Senderos formed a nigh-transcendent defensive partnership in the 2005-05 season, culminating in a stretch of 10 clean sheets, which led Arsenal to the 2006 Champions' League Final.
His importance to the club was such that in 2006-07, Toure signed a four-year deal worth an astronomical £70,000 per week.
In 2009, however, Toure had a bust-up with his defensive partner, and club captain, William Gallas.
This resulted in the Ivorian handing in a transfer request—swiftly denied by chairman Peter Hill-Wood, but the writing remaining on the wall. As it were: Toure was sold to Manchester City in just 2009 for the princely sum of £16 million, around 106 times the amount that Wenger paid for him.
Though his time at City has yielded another Premier League Champions Medal, Toure has never fulfilled the patriarchal defensive bastion role he promised to embody at Arsenal.
With the subsequent purchases of Vincent Kompany and Joleon Lescott, he now finds himself on the fringes at the Etihad, and he may look back on his transfer away from the Emirates with some regret.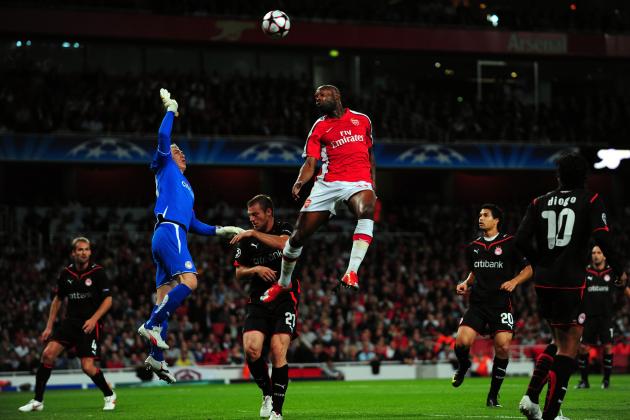 Mike Hewitt/Getty Images

Left: 2010
Joined: Tottenham Hotspur
Fee: Free
I had to put this guy in here, it was him or Philippe Senderos and, well, yeah.
Gallas joined Arsenal in 2006 as a makeweight in Ashley Cole's transfer to Chelsea. A versatile and domineering player, Gallas could play both at centre-back and on the left side of defence.
Gallas was given the number 10 shirt when he arrived at Arsenal, the first player to wear it since Dennis Bergkamp, and originally proved to be a much-needed source of influence and toughness in Arsenal's back four.
In 2007, Gallas was made club captain, and in his early years he performed well in the role, scoring the only goal in a 2007 win against his old club Chelsea.
Gradually, Gallas's assertive and brash demeanor began to create gulfs between him and other members of the squad.
During the 2008-09 season, Gallas gave an interview in November which outwardly criticized many of his teammates, leading to Arsene Wenger stripping him of the captaincy, and signalling a downward spiral in Gallas's Arsenal career.
It was also in this period that Gallas's bust-up with long-serving Wenger project Kolo Toure resulted in the Ivorian handing in a transfer request—something which Toure himself admitted was directly caused by friction with Gallas.
Following prolonged contract negotiations, in which Gallas reportedly demanded £80,000 per week, the Frenchman was allowed to leave the club on a free transfer, ending up at Tottenham Hotspur, and condemning himself to an existence in perennial mediocrity.
Alex Livesey/Getty Images

Left: 2011
Joined: Galatasaray
Fee: £3 million
Ah, Emmanuel Eboue. What a top-notch guy—funny, relaxed, great dance moves. Pity he was a crap player.
This is a position where Arsenal has lucked out, because few in their right minds would rather have Eboue in their team than Bacary Sagna.
Regardless, every team has their weak link, and Eboue is really quite similar in this sense to that loveable bundle of Brazilian tubbishness, Andre Santos: a fan favourite to be sure, but only off the pitch.
Cameroonian Eboue joined Arsenal at the age of 22 in 2005 for a fee of £1 million as a deputy for the established right-back Lauren.
Though he adapted well to the English game, Eboue's progress at Arsenal was hampered by persistent ankle injuries in 2007-08.
Never maintaining a firm grasp on the right-back position, the purchase of Bacary Sagna in 2007 saw Arsene Wenger state his intention to turn Eboue into a more attack-minded right-wing player.
His form dipped dramatically in the 2008-09 season, and this saw many sections of Arsenal fans lose patience with the Cameroonian—at times going so far as to boo him when he touched the ball.
His indifferent form and the emergence of Bacary Sagna at right-back saw Eboue become surplus to requirements, and he was sold to Turkish club Galatasaray in 2011 for £3 million.
However, his legend lives on at Arsenal: his dance moves and appalling shooting; his pretended fluency in Korean; his putting food up his nose, and dressing up like a tiger to frighten teammates.
We might not miss him on the field, but Emmanuel Eboue is every team's dream mascot.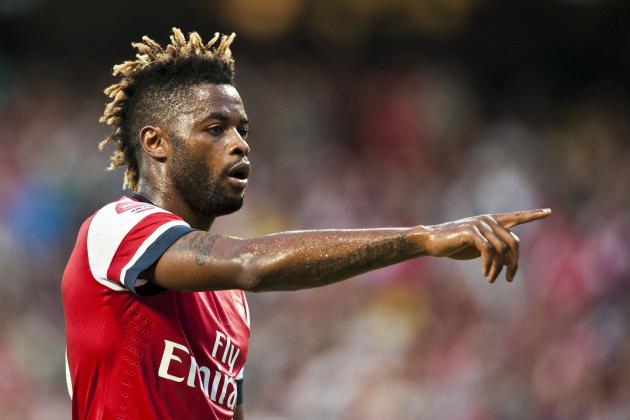 Victor Fraile/Getty Images

Left: 2012
Joined: Barcelona
Fee: £15 million
Alex Song was another triumph of Arsene Wenger. Bought for just £1 million in 2006 from French club Bastia, Song's earlier performances in an Arsenal shirt were clumsy, awkward, and looked as though they'd come courtesy of the Make-a-Wish foundation.
Five years later, Song has been transformed into a strong, confident, box-to-box midfielder who had assisted some of Arsenal's most splendid goals in the 2011-12 season.
Quite why Arsene Wenger decided to sell Song remains baffling. I confess, I was never a fan of Song—I always felt we could do better, that Wenger was somewhat proving a point by persisting with him—but to allow an established player who had just enjoyed his best-ever season to leave for such a relatively small fee is perplexing, and the Gunners have felt Song's absence this season.
It is a shame that Barcelona is such a hallowed name in the minds of footballers. Whether Song's career continues to accelerate at the same rate as he finds himself having to force his way into an established midfield will be interesting to see.
In moving to the green pastures of the Nou Camp, Song is perhaps damning himself to a career of playing second fiddle to Sergio Busquets, Fabregas, Xavi, and Iniesta, and filling in at centre-back from time to time.
Nevertheless, Song is very much an affirmation of Arsene Wenger's powers in the development of youth.
Certainly, Song's game suffered slightly for want of positional discipline, but Wenger's conversion of that graceless teenager into a midfield colossus with excellent natural strength, fitness, and an ambitious and expanding passing game, shows Le Professeur's magical powers remain intact.
Still, making a fifteen-fold profit can't be sniffed at. Can it?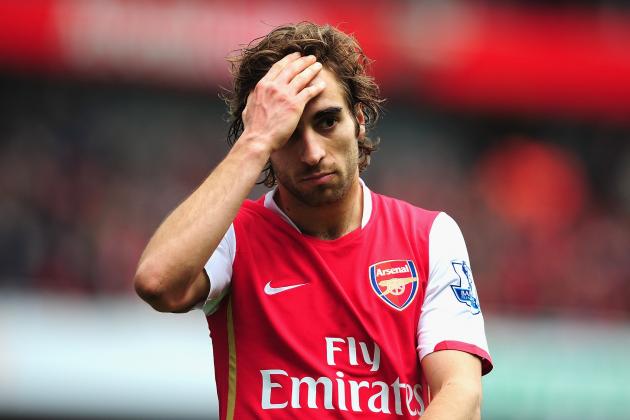 Shaun Botterill/Getty Images

Left: 2008
Joined: AC Milan
Fee: Free
Ah yes, Mathieu Flamini. You know you've made an indelible impression on a club when you have your own effect named after you.
The "Flamini Effect", as it came to be called, occurred towards the end of Gilberto Silva's career.
Arsenal had signed Flamini in 2004 when the player was just 20 years old, and he was never really supposed to be a first-team player, merely backup to the ageless Brazilian.
For three years, the Frenchman toiled away in various positions as a utility player: he covered midfield, holding midfield, and occasionally both full-back positions.
In 2007, dissatisfied with this utility label, he professed a desire to move clubs, but turned down an opportunity to move to Birmingham City.
After a discussion with Arsene Wenger, Flamini retracted his request. Through sheer, dogged determination (and a fortunately-timed injury to Gilberto Silva), he muscled his way into the first team in 2008, forming an outstanding midfield combination with Cesc Fabregas.
Because of Flamini's emergence in the first team, Gilberto Silva and the other defensive utility player, Lassana Diarra, became fed up with a lack of playing time and promptly exited the club.
After his breakout year, Flamini decided to turn heel and refuse to renew his contract. He joined AC Milan on a free transfer and took off to Italy. Arsenal were left with no holding midfielders, and the Alex Song era began.
At Milan he has been plagued by injury problems, and despite joining the Italian club as an established talent, Flamini has played fewer games for them in four years than he did in four years as a backup at Arsenal.
He left Milan at the start of the 2012-13 season following the expiration of his contract, only to rejoin the club weeks later, signing a new one-year deal with a significant wage cut.
Mathieu Flamini is living proof that the grass might appear greener on the other side, but that's only because you're wearing those stupid green-tinted sunglasses Berlusconi sent you.
Just look at this. Shudder...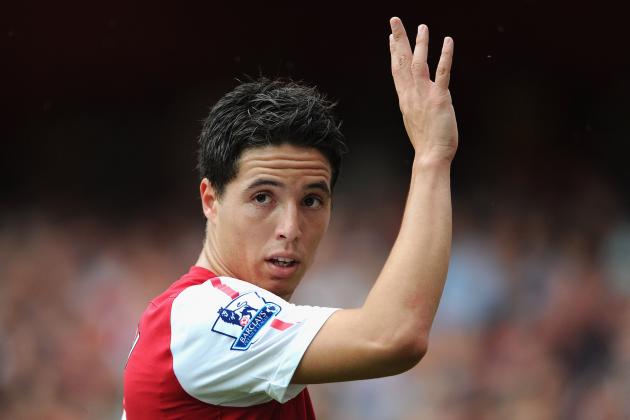 Michael Regan/Getty Images

Left: 2011
Club: Manchester City
Fee: £25 million
By all accounts, Arsene Wenger's managerial style is one of the most liberal in the game.
Rather than rule the dressing room through fear and concrete instruction, Wenger's style is more to encourage freedom of expression and confidence in one's own ability. He guides players rather than instructing them.
When one has a team of dedicated professionals with a hunger and desire to win as a team and play for one another, this philosophy works. It is perfect.
When one has petulant, glory-seeking mercenaries like Samir Nasri in one's team...it doesn't.
I've bagged Samir Nasri so many times on this website that I feel like I'm a broken record, so I shan't spend too much time whinging.
The story is familiar. Nasri joined Arsenal from Marseille for a fee of about £15 million in 2007. After two mediocre seasons, he broke out in 2010, scoring 15 goals in all competitions, and forming a formidable attacking trio with Cesc Fabregas and Theo Walcott.
And then he left. City waved a wad of cash at him, and...mmm. Yes. Well, bye then.
It's a crying shame really. Imagine how good the Gunners could be now if Nasri hadn't been such a money-grubbing rhymes-with-"boar".
Oh well. Good riddance to bad rubbish.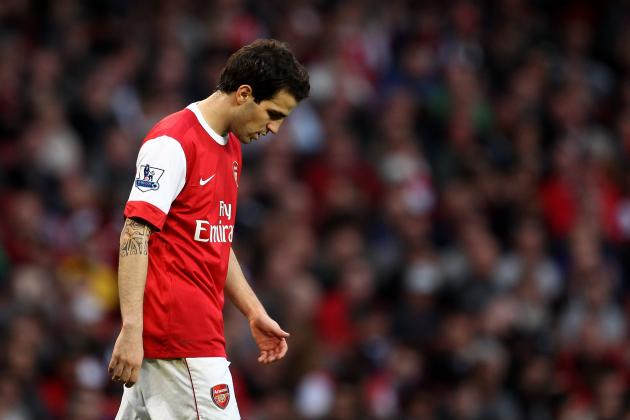 Julian Finney/Getty Images

Left: 2011
Club: Barcelona
Fee: £35 million
In 2012, Cesc Fabregas said in an interview with French magazine L'Equipe, "If Barca had not come in for me, I would have played my whole career at Arsenal. That was certain."
On the surface, that's a lovely, consoling sentiment, which at least somewhat alleviates the bitterness felt by the average Arsenal fan in relation to this excruciating transfer saga. However in the mind of the cynic (pleased to meet you), such a statement invokes what I like to call, The Simile Game. In The Simile Game, one examines a seemingly innocuous statement, changes a couple of proper nouns and possibly a verb or two, looks at the resulting product, and laughs at how ridiculous the end product sounds. Allow me to demonstrate.
"If the Titanic hadn't crashed and sunk, the whole journey would have been a raging success. That's for certain."
"If I hadn't drunk that bottle of Russian Standard Vodka last night, I would still have my left kidney. That's for certain."
"If Charlie Sheen didn't have a debilitating weakness for nose-candy, top-of-the-range Scotch, and Corvette-priced strippers, he would definitely still be polluting our airwaves on Two And a Half Men."
Thus, the birthing of what I would call the Pointless Speculated Truism: a seemingly-encouraging statement which is rendered utterly pointless because, well, the Titanic did sink; you did black out and wake up without your left kidney; Charlie Sheen did have a weakness for strippers and Scotch, and Barca did come in for you, Cesc. I love you, you're beautiful, now shuddup.
Arsenal fans have always been quick to forgive Cesc Fabregas for leaving The Emirates for the hallowed Catalan base of Camp Nou, and this post does an excellent job of highlighting why. Cesc was Catalan, and to Catalans that means something that we as Gunners fans couldn't really comprehend.
There are no easy parallels. We can't compare Cesc leaving Barca for Arsenal, making his name, and then returning to Barca to, say, Jack Wilshere leaving Arsenal in his youth, making his name, and then returning to the Gunners in his later years. We would speaking solely from a love-of-the-club perspective. In Spain, the divide between political Catalonia and political Spain is immense, and the enduring success of Barcelona Football Club is a personification of the autonomy that the Catalan state has claimed so consistently. For a Catalan player to make his name at a non-Catalan club is rare—for him to forsake his roots, unheard of.
Even so, it was hard. Fabregas was shunned by Barcelona at the age of 15, as the club could not offer him the game-time, and not working hard enough to keep him. Over the next eight years, Cesc became the nucleus of an Arsenal team whose slick, up-tempo game was fundamentally based around his skill set. For four years in a row between 2007 and 2011, Fabregas was one of the most complete passers in world football, creating more goalscoring chances in each of those years than any player in any of Europe's top leagues.
He was made club captain at the tender age of 21, and was a shining affirmation of Arsene Wenger's willingness to place his faith and trust in youth. He passed the ball with the languid grace of a clean-shaven Johnny Depp clad in silken boxer shorts and a top hat playing drums at a jazz club. He exploited space with the inherent precision of a savant mathematician reciting pi to three hundred digits. And he fought for Arsenal. He scrapped and he snarled and he shouted, he hugged Arsene, and he screamed when he scored.
And he...
And he...
And he...
We made back his transfer 70 times over. But looking at Arsenal today, and at the entirely-dispersed Arsene Wenger project and all that jazz, you'd be forgiven for thinking in retrospect that Cesc was priceless.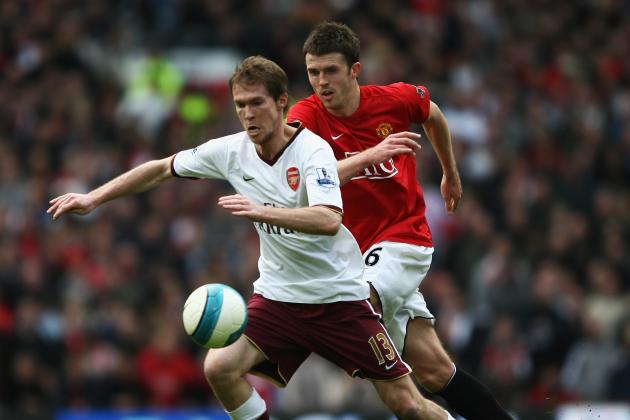 Clive Brunskill/Getty Images

Left: 2008
Club: Barcelona
Fee: Around £14 million
The Hard Way sucks, and boy did Alexander Hleb learn how much the Hard Way sucked when he learned (the Hard Way, no less) that the grass sure isn't always greener on the other side.
Hleb joined Arsenal from Bundesliga club Stuttgart in 2005 for around £12.5 million. He had dazzled the German league with his fluent dribbling, outstanding balance and fluidity, and was living proof that a man with the body of Adrian Brody in The Pianist could succeed in the world of professional sports.
Hleb had led the Bundesliga in assists the year immediately preceding his move to the Gunners, and though he took some time to adapt to the English style of play, 2007 saw the Belarusian have his best season in an Arsenal shirt, notching up 11 assists in all competitions.
This excellent article by B/R Featured Columnist Matthew Snyder explores Hleb's fall from grace in much more depth and knowledge than I could ever muster, but suffice to say that Alexander grew too big for his boots in a very short period of time.
The first approach from the Catalan giants Barcelona was embraced by Hleb, and he confirmed his move to Barcelona in 2008 after just three seasons in North London with the famous last words, "I love this team, I will give my best and I want to win everything with Barca."
Hleb ended up making five starts for the Blaugrauna in La Liga in his debut season, and played 36 games overall, which means Barca paid around £300,000 for every game the enigmatic Belarusian took part in.
Following his freezing-out, Hleb was offered the chance to join Inter Milan as a makeweight in the Samuel Eto'o/Zlatan Ibrahimovic transfer deal, but he instead opted to rejoin Stuttgart on loan for a year, after which Hleb made a return to the English Premier League clad in the mournful blue of Birmingham City.
Ironically, Hleb actually won silverware at Birmingham—the Carling Cup of 2009, in which the Blues defeated Arsenal in a final that Hleb missed through injury.
However, his has been a huge waste of potential, and doesn't he know it.
We'll leave you with some of his post-Arsenal quotes:
"I regret my move from London, but unfortunately nothing can be done about it now."
"For me, Wenger was like a father. I consider him one of the best managers in the world...For such a boss one wants to die on the pitch. Arsene managed to create a smashing team with a wonderful atmosphere inside of it."
"[Since] I left [Arsenal] nothing happened and this may be a point to take me back."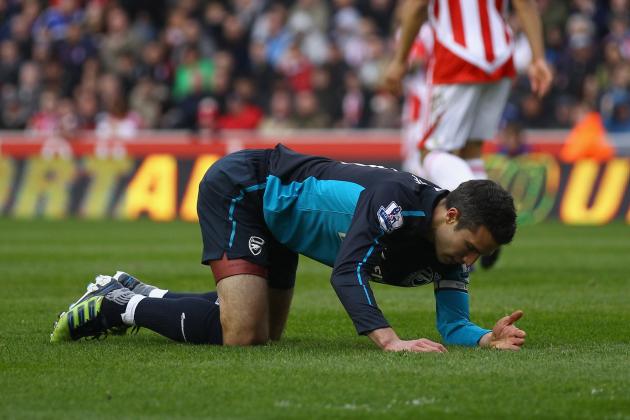 Clive Brunskill/Getty Images