Arsenal History: Where Are They Now? Alexander Hleb Edition
February 2, 2012

Laurence Griffiths/Getty Images
I'm always sorry to see a Gunner leave the club, but the exit of Alexander Hleb affected me more than most.
Perhaps it was because I'd just splurged on his Hero jersey (the '07-08 Herbert Chapman tribute kit, which remains one of my favorite-ever Arsenal shirts) in April '08—just months before his eventual departure for Barcelona in the summer of 2008.
But I think my melancholy was most directly attributed to an inextricable feeling that we hadn't seen the very best of the wily Belorussian with the low-slung socks and conspicuously baggy kit tops. He seemed to be going just as he was starting to make his mark with the club.
He'd had some excellent performances for Arsenal—he was positively superb against Manchester United in the '07-08 league match at Old Trafford, but his three-year career in Ashburton Grove is remembered first and foremost for being short on goals from his position on the left wing (though he would cut in and switch to the right as well, depending on a younger Theo Walcott's inclinations.)
While that might be an unfair assessment—being compared to Robert Pires and Freddie Ljungberg, two of the best at putting in goals from the wing, is never an easy task—it is true that his scoring record was paltry. But then, that wasn't exactly his game. In 137 appearances with VFB Stuttgart, the club that preceded Arsenal in his career, he notched only 13 strikes.
But what was always going to be most difficult was the timing of his move. Hleb came to Arsenal immediately following what would prove to be their last trophy-winning season to date—the '05 FA Cup.
His £12.5 million move from Stuttgart that summer was met with guarded optimism—he was a highly-rated player who had just turned 24, and he possessed the ball skills and tactical savvy necessary to fit in with the club.
He'd been called "The Sorcerer's Apprentice" during his time in the Bundesliga, a nickname derived from his famous mazy runs and impeccable balance even amidst the most stringent defensive pressure.
Arsene Wenger would make another dip into the Bundesliga talent pool just one year later, when he brought Tomas Rosicky in from Borussia Dortmund. And with the recent signing of Thomas Eisfeld from Dortmund, and rumors of a move for Mario Goetze down the line, it looks like he's going back to the well.
Could Hleb hold up to the physical nature of the Premier League? Perhaps that was the most pressing query.
To call the Belorussian "wiry" would be a bold statement. He was downright thin, his 6'1" frame only accentuating his lithe nature.
To his credit, however, he would go on to prove that he could hang in the league, and while his stats weren't eye-popping, he often created the "hockey assist"—the pass preceding the eventual decisive pass, not seen in the post-match statistics, but important nonetheless, and recognized by the managerial staff.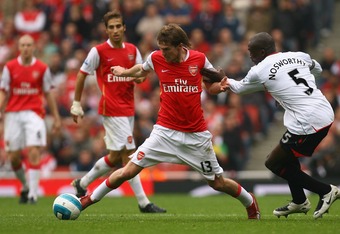 Ian Walton/Getty Images
Hleb was most effective, as the video against Manchester United shows, at linking play up in the midfield. Whether through pinpoint passing or savvy dribbling while he awaited for reinforcements to arrive, he possessed an uncanny sense of how to build an attack. When he was on his game, he truly was a joy to watch.
Hleb's footwork and balance were a breed apart. Graced with superb body control, Hleb had honed those attributes through strenuous years spent practicing ballet (don't laugh, famous San Francisco 49ers quarterback Steve Young practiced ballet as well in order to improve his balance.)
He had an impeccable ability to weave his way through and around opponents all the while remaining on his feet; even as the most unforgiving tackles came crashing in around him was second to none at times. His low center of gravity was incredible.
That first season ('05-06) with Arsenal ended with him making 40 appearances and notching three goals. Not a superb return rate, but compared with Pires's first term with Arsenal, not wholly unpromising (in 2000-01, Pires scored three goals in 33 appearances.)
Obviously, Pires would go on to enjoy some scintillating goal-scoring seasons with the Gunners—he scored 14 goals in three consecutive seasons from 2002-05.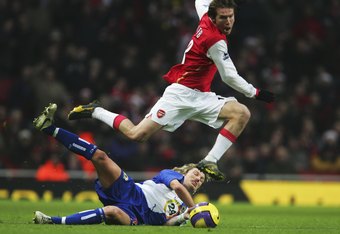 Phil Cole/Getty Images
By the end of his brief tenure, Hleb would only manage seven goals, total. He would chalk up 11 assists in 2007-08 (all competitions) however, yet another indication of his importance in the Arsenal attack.
All said, when Hleb left Arsenal for Barcelona in the summer of 2008 for a fee rumored to be (once more) in the £12.5 million range (with possible benefits), the general consensus among fans was that the move was premature at best and ill-advised at worst.
They were sorry to see him go, naturally, but the loss of Hleb was considered far less damaging than the loss of midfielder Mathieu Flamini, who departed that same summer on a free transfer for AC Milan.
Flamini had supplanted Gilberto Silva as the club's enforcer that previous season, and had provided vital support for a burgeoning Cesc Fabregas, who was thus allowed to float throughout the attacking third.
Since leaving the Emirates, Hleb has tanked. While Flamini's career hasn't exactly skyrocketed either (he was earning call-ups to the French national team during that '07-08 season, but no more), Hleb's always seemed to draw more negative attention.
Perhaps the most telling indication of his malaise since 2008 was an interview conducted with ESPN Soccernet last season, in which the midfielder—then on loan with Birmingham City—incited the considerable rage of his manager Alex McLeish by appearing to say he would "welcome a return to Arsenal."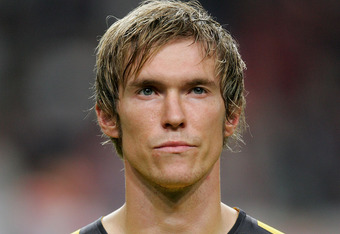 Richard Heathcote/Getty Images
In labeling his decision to leave Arsenal in 2008 a "mistake," Hleb was making the understatement of the century. In 2008-09, he would make only 17 appearances for the Blaugrana, failing to score a goal and adding three assists. He did not manage to make the squad list for Barcelona's Champions League final that season.
He'd gone from regular first-team member to fringe player in the course of a season. And he doesn't look to have recovered since.
Since that wayward season, Hleb has pinballed about Europe on successive loan deals—back to Stuttgart in 2009-10, then onto Birmingham in 2010-11, and most recently settling in at VFL Wolfsburg. Hopes that he might reignite his sputtering career in the familiar confines of the Bundesliga or EPL were unfounded. 
In that past three seasons, he's managed only three total goals and nine assists in 63 total appearances for those three clubs.
After what had seemed like months of no word, Hleb's name popped up during the furious final day of the January transfer window, when a move to Olympiakos looked to be in the offing.
He had been released from his contract by Barcelona just days prior to that, and is currently a free agent. His contract with Barcelona had been set to expire at the end of this season.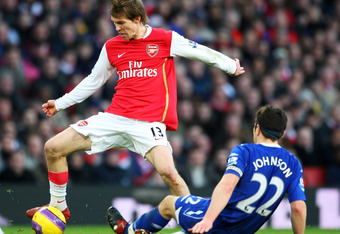 Clive Mason/Getty Images
No deal has been made just yet for the midfielder, but as he is now freed from any club ties, Hleb can join a team at any point—much as Goran Pandev did with Inter Milan in 2009-10, when the Macedonian joined the eventual Champions League winners in early January.
With no transfer fee to deal with, he should be a point of interest for some team willing to take a flier on his services.
Though he is now 30, one would like to think that Hleb could still contribute somewhere. His run of near-futility since 2008 is unfortunate, and his overall lack of fitness in recent seasons is obviously a glaring red flag for any potential suitor. But as they say, class is permanent.
Given the right confines, he should be able to rediscover some snippet of his former self—though it may take some time and some heavy burrowing. It must be buried quite deep at this stage.
Leaving the Emirates may have been the worst decision he ever made, but I'd like to hope there's still some fuel left to fire forward with what remains of his career.
He was one of my favorite players at Arsenal, and I wish him all the best wherever he ends up this season.