Oakland Raiders: The Best Free Agent at Every Position for Raiders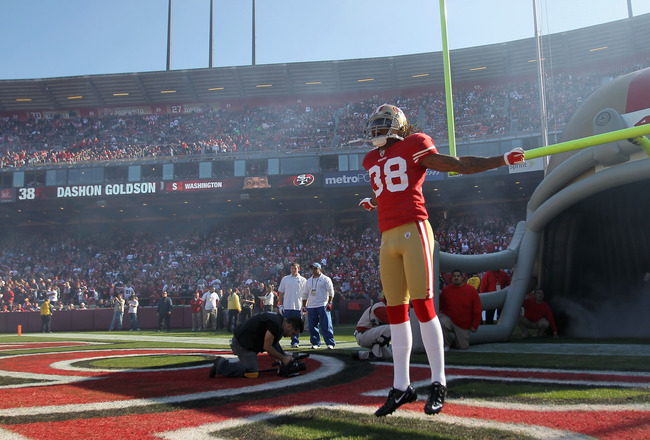 Dashon Goldson would be a great addition to Oakland's struggling secondary.
Ezra Shaw/Getty Images
As the Oakland Raiders look toward the NFL draft in April, there are several free agents that could greatly improve the team.
With a new game plan set to arrive to an already talented Oakland offense, the team's main focus in the offseason needs to be defense.
That doesn't mean that the offense doesn't need to get better, though. Carson Palmer played well in 2012, but the Raiders failed to put up points on a consistent basis.
The defense was a sham for most of the season and some serious needs must be addressed if the team wants any shot at the playoffs in 2013.
It's never too soon to look at free agents, and here are some who would fit well in Oakland.
Quarterback: Joe Flacco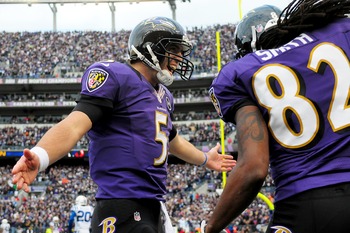 USA TODAY Sports
After winning a postseason game in each of his first five seasons, it is highly unlikely that Joe Flacco won't be re-signed by the Baltimore Ravens in the offseason.
He doesn't put up Tom Brady or Peyton Manning-like numbers, but he's been efficient enough to lead Baltimore to playoff success.
The Raiders got solid quarterback play from Carson Palmer this season and aren't in need of a QB next season.
Flacco is still the most talented of the upcoming free-agent quarterbacks and would be a nice fit in Oakland.
Running Back: Cedric Benson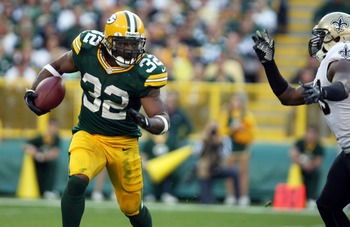 Mary Langenfeld-USA TODAY Sports
From 2008-11, Cedric Benson had four consecutive 1,000-yard seasons for the Cincinnati Bengals.
He was also a pivotal part of the Bengals' passing game that was led by Carson Palmer at the time, and has proven to be a consistent workhorse in the NFL.
Darren McFadden has had his impressive moments in Oakland, but he's proven to be more of a liability than anything else as he's failed to play in more than 13 games in a season since Oakland drafted him in 2008.
Benson would be reunited with Palmer, and the Raiders would have a proven veteran in their backfield.
Tight End: Brandon Myers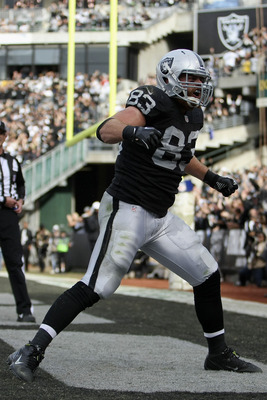 Kelley L Cox-USA TODAY Sports
The Raiders would be wise to hold on to their most consistent offensive weapon in 2012, tight end Brandon Myers.
He finished fourth in the NFL in catches and sixth in yards while being Carson Palmer's favorite target.
Myers was targeted at least 10 times in four games this season and proved to be a key player in Oakland's offense.
Several teams are sure to give Myers some enticing offers after such a breakout season and Oakland is going to need to plead a strong case in order to get Myers to stay.
Wide Receiver: Mike Wallace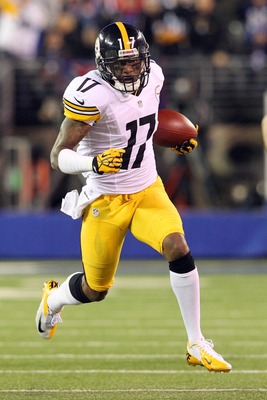 Brad Penner-USA TODAY Sports
The Pittsburgh Steelers' speedy wide receiver will be getting numerous looks from several teams in the offseason.
The Raiders are in need of a proven wide receiver and Wallace comes with plenty of talent as well as playoff experience.
He had a down year in 2012, but is still a "home-run" threat whenever he is on the field.
Oakland has always been known for throwing the deep ball, and there is no better receiver capable of catching the deep ball than Wallace.
Offensive Tackle: Ryan Clady
Stew Milne-USA TODAY Sports
Oakland had a very disappointing offensive line in 2012, and the rest of the offense suffered because of it.
Denver's Ryan Clady is a proven tackle who can protect Carson Palmer and set up holes for the running game.
The Broncos are optimistic of Clady staying in Denver next season, but he would be a great asset to an Oakland Raiders offensive line that underperformed last season.
Cornerback: Dominique Rodgers-Cromartie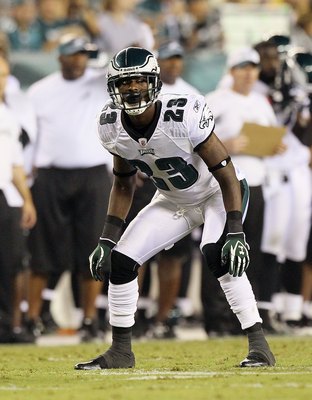 Jim McIsaac/Getty Images
After recording 13 interceptions during his three years as an Arizona Cardinal, Dominique Rodgers-Cromartie only has three interceptions over his last two years as a Philadelphia Eagle.
DRC has been a bust as a member of the "Dream Team," and an exit from Philly to ease the pressure could be just what the doctor ordered for him.
Going from a small-market organization like Arizona to a media-savvy juggernaut in Philadelphia had to have taken a toll on his psyche, but a stint in Oakland would be great for DRC.
The Raiders really can't get any worse in their secondary, and Rodgers-Cromartie is still young enough and talented enough to rejuvenate his career in silver and black.
Linebacker: Anthony Spencer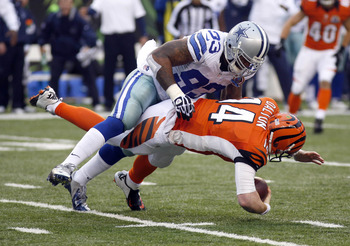 USA TODAY Sports
The Dallas Cowboys had a disappointing season in 2012, but it was not because of anything Anthony Spencer did.
Spencer finished with 95 tackles, 11 sacks and and two forced fumbles for an inconsistent Dallas defense.
The Raiders will be in desperate need of a linebacker if they don't draft one in the first round or fail to re-sign Philip Wheeler.
Spencer is the most talented linebacker in this class of free-agent linebackers. He currently plays in Rob Ryan's 3-4 defensive package but would have to make the adjustment to Jason Tarver's 4-3 style.
I'm sure he could handle it.
Safety: Dashon Goldson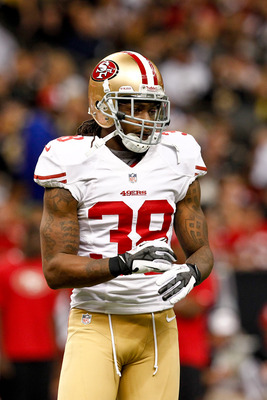 Derick E. Hingle-USA TODAY Sports
As bad as Matt Giordano played at the free safety position this season, the Raiders could use a strong replacement.
That's where San Francisco's Dashon Goldson comes in.
Goldson is one of the best safeties in the entire NFL, and a quick trip to the other side of the bridge would be great for Raider fans.
Defensive Tackle: Henry Melton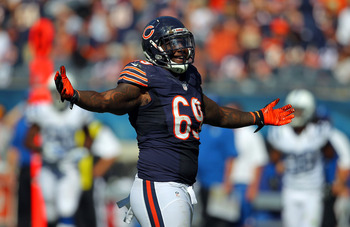 Dennis Wierzbicki-USA TODAY Sports
The Raiders got no production from their two tackles, Tommy Kelly and Richard Seymour, during any part of the season.
The two of them combined for 4.5 sacks, while Chicago's Henry Melton finished with six all by himself.
Both Kelly and Seymour have hefty contracts and failed to live up to anywhere close to them this season.
Melton would bring youth and excitement to an Oakland defensive line that was ancient in the middle.
Kicker: Steven Hauschka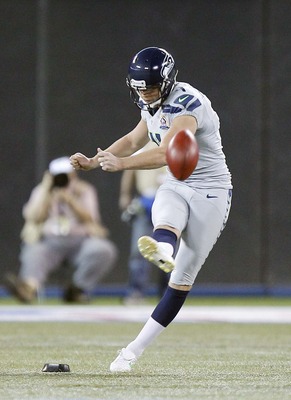 USA TODAY Sports
Sebastian Janikowski is one of the best kickers to ever grace the NFL.
Every season he makes 50-yard field goals look like extra points, and he was the only player to score points for the Raiders in Weeks 15 and 16.
The last thing the Raiders need is a kicker, but I'll go with Steven Hauschka because he has a cool last name, just like Janikowski.
Punter: Shane Lechler
Steve Mitchell-USA TODAY Sports
Shane Lechler and Sebastian Janikowski are the only two players left from the Raiders' 2003 Super Bowl team.
The chemistry the two of them share is incredible and is a big reason they are the best special teams tandem in the NFL.
2012 was a down year for Lechler, but it still doesn't take away from the fact that he has been a vital part of the Raiders for the last decade.
Keep Reading

Oakland Raiders: Like this team?