Game-by-Game Predictions for Colts' 2013 Schedule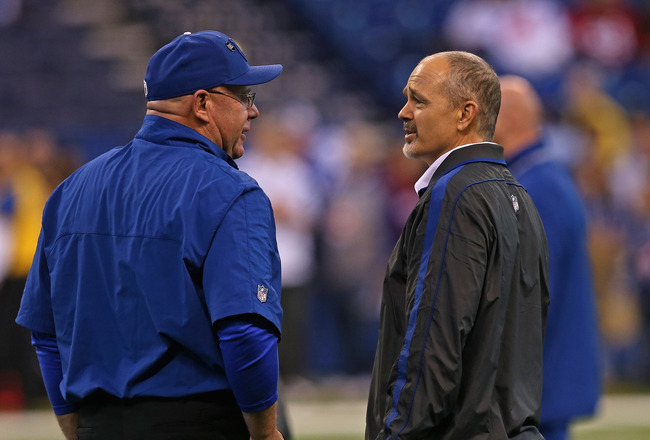 Jonathan Daniel/Getty Images
The Indianapolis Colts are coming off of a surprising 11-win regular season. They endured a storybook Hollywood movie year with emotional highs and lows.
No one gave the Colts much hope in 2012, as nearly every national media talking head only gave them a shot to win three games max. With letting Peyton Manning and every other big-time mainstay go, you can't blame them.
Indianapolis relied on a new coaching staff, a new GM and over 50-percent production from rookies. With being so good so soon and having the rookies grow up another year, this team is going to be a powerhouse.
The Colts have the most cap room in the NFL for free agency in 2013 and have another year to draft needs. The Colts could be among the best in the league in '13.
Here are my predictions on how they will be next year against their opponents.
Tennessee Titans at Indianapolis Colts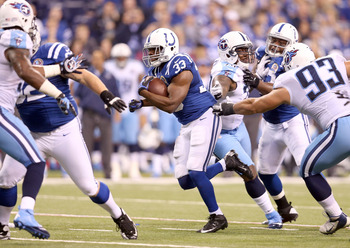 Andy Lyons/Getty Images
The Colts swept the Tennessee Titans in 2012 and should do the same in 2013. The worst-case scenario is they will split.
There's no way the Colts lose at home to the Titans. They've beaten them the last several seasons in Lucas Oil Stadium, and I don't think that changes next year. The Colts are so far beyond the rebuild than the Titans and should win this game easily.
The Colts defense will be built better and should stop the run, as Chris Johnson has struggled on the road in Indianapolis. Give Luck another year to face them, and he should carve them up like his predecessor Manning did.
Prediction: Win (1-0)
Jacksonville Jaguars at Indianapolis Colts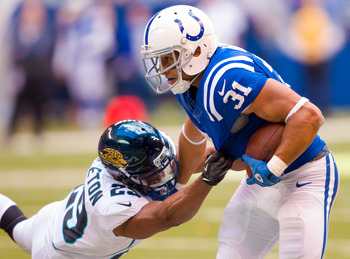 Michael Hickey/Getty Images
The Jaguars won a fluke game in Week 3 to surprise the Colts and drop them to 1-2 going into their bye week. The victory was only one of two on the season for Jacksonville and actually kept the Colts out of winning the AFC South.
Don't look for a Jaguars upset to happen in Lucas Oil Stadium again in 2013.
The Jags won the last two meetings in Indianapolis, but the Colts are going to be far ahead of them in 2013. Jacksonville will be lucky to get to four wins next year, and a victory in Lucas Oil is far-fetched.
The Colts defense alone should get the job done this time, while the offense will thrive.
Prediction: Win (2-0)
Houston Texans at Indianapolis Colts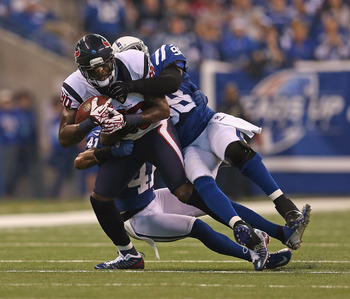 Jonathan Daniel/Getty Images
Look for this game to be on prime time, as it should be for a division crown. The Texans have never beaten the Colts in Indianapolis, as they fell to 0-11 in the final week of the 2012 season.
With Houston likely losing a lot of their star power to free agency and the Colts likely to upgrade in free agency and the draft, I expect the Texans to fall to 0-12 at Indianapolis.
The Texans offense couldn't do anything right in the season finale, while the Colts did anything they wanted to do in all fashions. With the home crowd behind the Colts, expect for them to roll again.
Prediction: Win (3-0)
Denver Broncos at Indianapolis Colts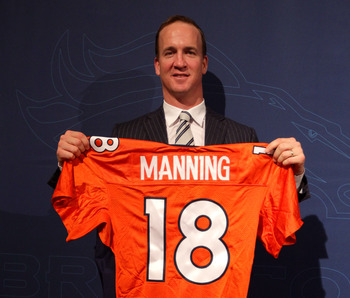 Doug Pensinger/Getty Images
This may be the most-watched NFL game of not just next season, but ever. It's going to be very emotional, as Peyton Manning will visit his old home in Lucas Oil Stadium for the first time ever as a member of the Denver Broncos.
With the game likely being on NBC or ESPN, the Colts 12th man will be among the loudest ever. I don't think the Colts can lose with that behind them. Yes, Manning will come out with something to prove, but so will the Colts.
The Indianapolis defense will have upgraded, and so will the offense by then, and I expect the Colts to pull out a close victory in this game. There's a reason they were 7-1 at home last year, and they should win this one as well.
Prediction: Win (4-0)
Oakland Raiders at Indianapolis Colts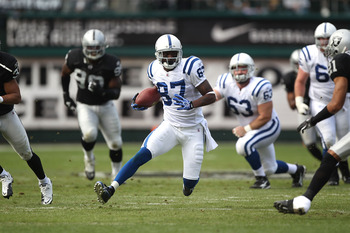 Jed Jacobsohn/Getty Images
This may be one of the easiest games of the season. The Raiders are in rebuild mode still and haven't figured out how to win big games yet. The Colts will be an improved team looking to prove something in 2013.
Mix in the fact this game likely will be the early game, and the Raiders should struggle. West Coast teams always struggle in early East Coast games, and nothing should change here.
Also, the Colts defense has always been good at stopping the run at home, and that won't change either. The Raiders rely on stud Darren McFadden, but he should get shut down in this game, if he's even healthy enough to play.
Prediction: Win (5-0)
Miami Dolphins at Indianapolis Colts
Gregory Shamus/Getty Images
For the second year in a row, the Miami Dolphins will take on the Colts in Lucas Oil Stadium. Last November, the Colts beat the Dolphins and showed that they were ahead of the rebuild over Miami.
The Dolphins fizzled out after their hot start and showed they weren't quite there yet.
Miami will be a little bit better next year, but not good enough to beat the Colts in Indianapolis. They won't have enough upgrades to beat the Colts team from this year, and with Indianapolis upgrading even more, they should win by more than two possessions.
Prediction: Win (6-0)
Arizona Cardinals at Indianapolis Colts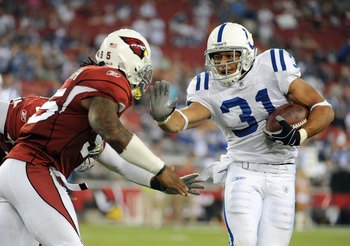 Harry How/Getty Images
This game may be very lopsided, like the Raiders and Jaguars game. The Cardinals are in disarray, as they have no quarterback and really no running game. Their defense should contain the Colts a bit, but Indy will have no trouble scoring 24-plus points.
The Cardinals will struggle to get to double digits in this game and should once again be a West Coast team playing the early East Coast game.
I like the Colts in this one.
Prediction: Win (7-0)
Seattle Seahawks at Indianapolis Colts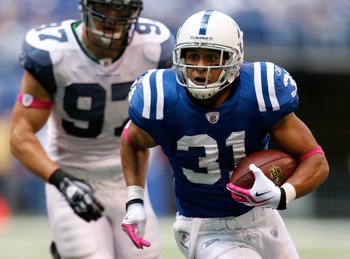 Andy Lyons/Getty Images
This game is going to be a hard-hitting, physical contest. It will be the first time Russell Wilson and Andrew Luck meet, and both should have a hard time in this game.
The Seahawks defense will give the Colts fits. It will be likewise the other way, as Wilson should struggle with the crowd noise and a likely prime-time atmosphere.
Marshawn Lynch will get his, but again, the Colts defense is so good against the run at home. I look for special teams and late heroics to get Indianapolis to win to go undefeated at home in 2013.
Prediction: Win (8-0)
Indianapolis Colts at Tennessee Titans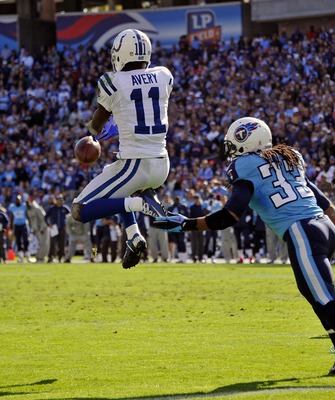 Frederick Breedon/Getty Images
The Colts needed some late heroics in the second half and a huge overtime touchdown run by Vick Ballard off of a screen pass by Luck to beat the Titans in overtime in their late October game. It was Indianapolis' first road win in nearly two years and was the moment when we knew this team could make a nice run.
I don't look for this game to come down to the way the '12 game went. The Colts are far better than the Titans right now and should pull out a road divisional game in the second half.
Prediction: Win (9-0)
Indianapolis Colts at Jacksonville Jaguars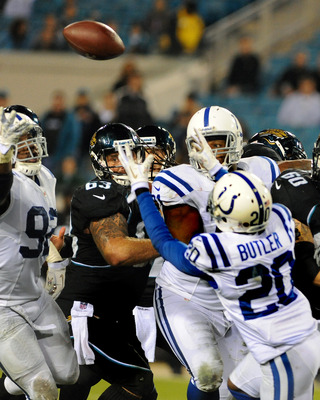 Al Messerschmidt/Getty Images
The Colts dominated the Jaguars on Thursday Night Football in early November last year. I don't expect this game to be in prime time next season, as it should be a blowout win by Indianapolis.
Just like my reasons in the home game, the Colts are just far better than the Jags right now and will be next season. Jacksonville is another two years away from being relevant if they do things right.
I like the Colts to win in the same fashion as they did last year.
Prediction: Win (10-0)
Indianapolis Colts at Houston Texans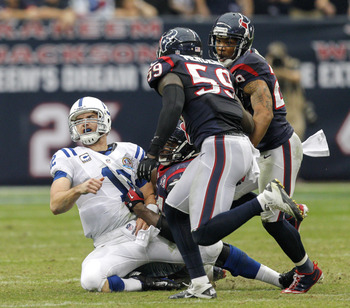 Bob Levey/Getty Images
It depends on when this game falls on the 2013 schedule on whether it will be in prime time or not. The impact this game could have on the division could be huge. The Colts have dominated the Texans at home, as they're 11-0, but have lost the last three years in Reliant Stadium.
Houston is a tough place to play in, and I think the Colts may struggle to win this game. Again, injuries on both sides could sway this game, as it will be close, but on paper the Texans should win this.
Indianapolis can't win them all.
Prediction: Loss (10-1)
Indianapolis Colts at Kansas City Chiefs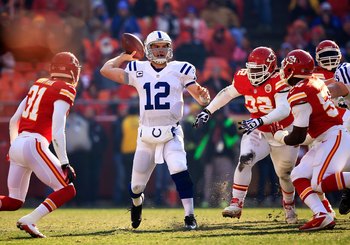 Jamie Squire/Getty Images
This is a rematch of the Week 16 game where the Colts survived a scare to win 20-13 in Arrowhead Stadium and clinched a playoff berth. I look for the Colts to dominate this game next year and not have it come down to the end.
The Colts defense played pretty well all day but will be upgraded big time before they play again next year. The Chiefs are in a rebuild mode with Andy Reid now and are at least a year away from being good.
The Kansas City defense kept them in the game in December, but with another year to learn the offense and gain experience, I look for the Colts to have no problems next year.
Prediction: Win (11-1)
Indianapolis Colts at San Diego Chargers
Harry How/Getty Images
This used to be a game the Colts would lose. For some reason, San Diego would give them fits and always beat Indianapolis. That was before the Andrew Luck and new coaching staff era for the Colts and before the Chargers fired their coaches and defensive scheme.
If you base this game on memory and how scary it was to play San Diego, you may be quick to put an L next to the Colts in this column, but I don't think so.
Indianapolis is far better than the Chargers, and that won't change in the offseason. San Diego will put some points up on the board but will struggle to keep Indianapolis from lighting the bulbs on their side of the scoreboard.
I like the Colts in this.
Prediction: Win (12-1)
Indianapolis Colts at Cincinnati Bengals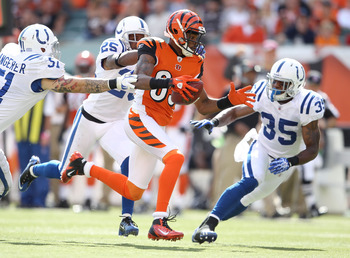 Andy Lyons/Getty Images
This game will put the future of the AFC in an I-74 showdown between the Colts and the Bengals. Cincinnati is good, but I honestly believe Indianapolis prevails in this one.
Andy Dalton and A.J. Green is a dynamic duo, but if the Colts do what my predictions state in Monday's article, they will make it difficult for both of them to connect. The defense will also stop the Bengals from getting any running game going and make it tough for them to move the ball.
On the other side, the Colts offense should put up more points. Cincy's defense is good, but not good enough to slow Indy's. I like Vick Ballard to get going early and Luck to have no problems through the air.
Prediction: Win (13-1)
Indianapolis Colts at San Francisco 49ers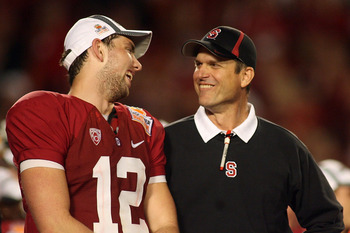 Marc Serota/Getty Images
This will be the toughest game of the season for the Colts, as they will take on one of the best teams in the NFL on the road.
It will also be a Sunday Night Football or Monday Night Football game, as it puts Andrew Luck and Coby Fleener playing near their college Stanford and playing against their former college coach Jim Harbaugh.
The storylines will be as big as the Manning vs. Colts matchup and should be the best game of the year.
I do think the Colts will struggle with the 49ers defense, but the 49ers offense will struggle with Indy's defense. I don't think Colin Kaepernick is a franchise quarterback yet, and he could lead them into struggles in this contest.
In close evenly matched games, I always go to whether this game is played on prime time and who's hosting it. I give that the only advantage to why San Francisco wins this.
Prediction: Loss (13-2)
Indianapolis Colts at St. Louis Rams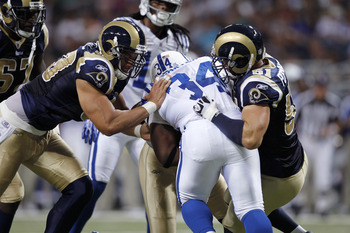 Joe Robbins/Getty Images
The Colts and Rams will surely be a close and fantastic matchup. Jeff Fisher will have his Rams ready, and his defense will give the Colts fits. Sam Bradford will also do enough to keep St. Louis in it, but unless they pick up a big receiver, the offense could struggle to put points up.
This game will be close all day and will be a dogfight, but Indianapolis is just too talented and, as they say, water rises to the top.
I like Indianapolis by less than one possession.
Prediction: Win (14-2)
Keep Reading

Indianapolis Colts: Like this team?