Game-by-Game Predictions for Miami Dolphins' 2013 Schedule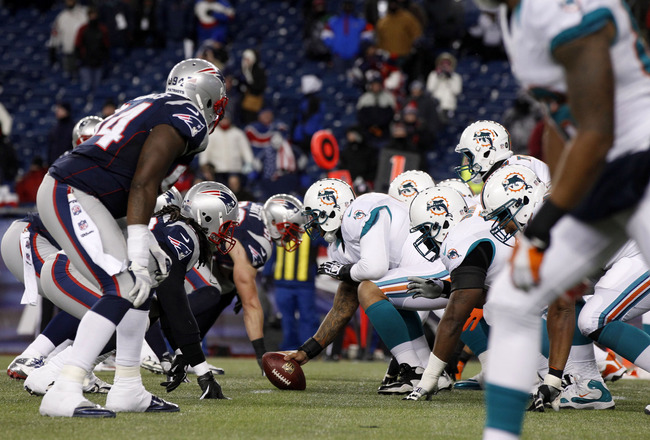 USA TODAY Sports
We have no idea what the Miami Dolphins' 2013 roster will look like next September, but that doesn't mean we can't have some fun.
As the NFL's elite continue vying for a Super Bowl title, Dolphins fans are forced to watch from home and wait for next year. And speaking of next year, it is now known which teams comprise the Dolphins' 2013 slate.
Miami was blessed with a cupcake schedule in 2012, but that's not the case for next year. The Dolphins will play five playoff teams as well as the Saints and Steelers, two teams that will surely be in the playoff race next season.
Until free agency and the draft unfold, it's impossible to even semi-accurately gauge how things will unfold in 2013. But in order to distract you all from the playoffs and the pain of watching from home yet again, here's a sneak peak at what next year holds.
Divisional Matchups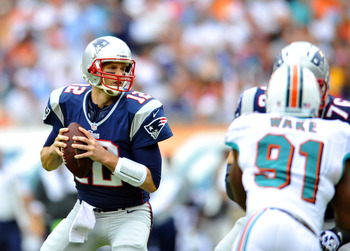 Steve Mitchell-USA TODAY Sports
Opponent

2012 Record
Prediction
Breakdown
Buffalo Bills
6-10
2 Wins

The Bills, like the Dolphins, are stuck in a perpetual cycle of disappointment and turnover. On Sunday, Buffalo hired Syracuse's Doug Marrone as its new head coach. The 2013 season will be one of adjustment for the Bills, especially considering there will likely be a new face under center.

Miami narrowly lost to Buffalo in Week 11 and then won handily in Week 16. Assuming Jeff Ireland doesn't completely botch this offseason, the Dolphins should be a clearly superior team.

New England Patriots*
12-4
2 Losses

Even if Ireland redeems himself for five years of futility with a spectacular offseason, the Dolphins won't be be on par with the Patriots in 2013.

New England exhibited its superiority in a Week 17 shutout, but it only defeated Miami by seven points in Week 13. The Dolphins haven't beaten the Patriots since 2009, and that streak will continue even if they can close the talent gap in 2013.

The Patriots are simply too talented on both sides of the ball.

New York Jets
6-10
2 Wins

Any time you get down about the Dolphins, just remember: You could be a Jets fan.

The Jets have an uncanny ability to match or top whatever dysfunction and disappointment the Dolphins encounter. New York's 2012 season was an embarrassment, and it's handcuffed by Mark Sanchez's monstrous contract.

Miami might be far away from contending, but it's in much better shape than Gang Green.
Home Opponents Breakdown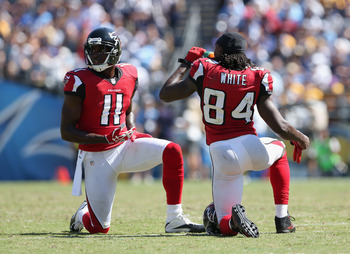 Jeff Gross/Getty Images
Opponent
2012 Record
Prediction
Breakdown
Atlanta Falcons*

14-2
Loss

Regardless of what happens in next week's divisional playoff tilt with the Seahawks, the Falcons will enter 2013 as one of the league's most-feared and talented teams.

Unless the Dolphins make vast improvements to their cornerback corps and upgrade from Chris Clemons, they won't be able to tame Roddy White and Julio Jones.

Baltimore Ravens*
10-6
Loss

Even if Ray Lewis and Ed Reed aren't around next season, the Ravens will persist as a Super Bowl contender. Baltimore's defense is still massive, physical and dominant, and the Ravens rushing attack only figures to improve as Bernard Pierce does.

Plus, the Ravens have outscored the Dolphins 75-32 in their last three meetings. Oh yeah, and all three games were in Miami.

Carolina Panthers
7-9
Loss

You can always count on the Dolphins to inexplicably lose a home game to an inferior team. This year it was Tennessee, the year before it was Denver, the year before that Cleveland and Detroit.

That's not the only reason the Panthers will beat the Dolphins, though. Miami was largely helpless against scrambling quarterbacks in 2012, yielding a combined 127 rushing yards to Jake Locker, Russell Wilson and Colin Kaepernick.

Cam Newton just happens to be the deadliest scrambling QB in the NFL, and the Panthers finished the year on an impressive four-game win streak.

Cincinnati Bengals*
10-6
Win

The Bengals may have won 10 games this season, but they certainly didn't look like a 10-win team when they lost to the Dolphins in Week 5.

Cincinnati's defense is deep and stout, but its offense is largely devoid of weapons and explosiveness outside of A.J. Green. If the Dolphins actually add some viable playmakers, then they should have no problem outpacing the Bengals at home.

San Diego Chargers
7-9
Win

Don't be fooled: The Chargers aren't the perennial contenders we've come to know them as.

San Diego's roster is aging, and its offense is a fraction of what it used to be. The Chargers will enter 2013 under the direction of a new head coach. Combine this transition with a decline in overall talent, and the Dolphins can most definitely have the edge in this matchup.

It's also worth noting San Diego hasn't beaten the Dolphins in Miami since 1981.
Away Opponents Breakdown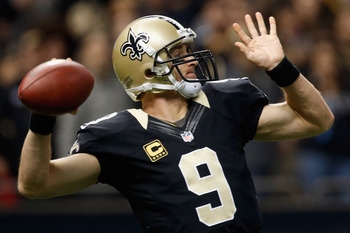 Chris Graythen/Getty Images
Opponent
2012 Record
Prediction
Breakdown
Cleveland Browns
5-11
Win

Believe it or not, the Browns have defeated the Dolphins in their last four meetings. Keep in mind, these were some dreadful Cleveland squads.

Anyway, that streak should undoubtedly come to an end next season. The Browns are still searching for a new head coach. Although there's no shortage of young talent in place, they're years away from contending—mainly due to instability at the quarterback position.

Indianapolis Colts*
11-5
Win

What if Chuck Pagano didn't make an appearance at the Colts-Dolphins matchup in Week 9? Indy clearly received a substantial emotional boost from his presence, and it sneaked by Miami for a three-point victory.

The Colts enjoyed a historic turnaround in 2012, but Sunday's loss to the Ravens exposed them as a team with plenty of work to do. With so much work to be done in the secondary and along the offensive and defensive lines, expect Indy to take a step back next season.

New Orleans Saints
7-9
Loss

While the Colts might take a step back in 2013, expect the Saints to take a gargantuan step forward. Sean Payton will return to the sidelines and lead a team with a serious chip on its shoulder.

After such a controversial and distraction-filled year, the Saints will be eager to reestablish themselves as an elite NFL team, and that's a scary proposition for opponents.

New Orleans' passing attack could have a field day on Miami's shoddy secondary.

Pittsburgh Steelers
8-8
Loss

Speaking of teams poised for bounce-back years, the Steelers are primed to recapture the AFC North crown in 2013.

Pittsburgh was plagued by injuries this season, but it should return strongly assuming it re-signs Mike Wallace (big if). Although the Steelers defense is aging, this franchise never fails to replenish its roster with young talent when need be.

Tampa Bay Buccaneers
7-9
Loss

Tampa Bay quietly made a playoff run this year but abruptly lost five of its last six games.

That's disconcerting, sure, but the Bucs are still loaded with talent. With Doug Martin, Vincent Jackson, Mike Williams and Josh Freeman, this offense can produce fireworks that Miami's can't. Plus, Tampa Bay's defense is also seething with young playmakers like Gerald McCoy and Mark Barron.

With the proper additions, the Dolphins can beat the Bucs, but they're still very far behind in the talent and playmaking departments.
Final Record: 8-8
Keep Reading

Miami Dolphins: Like this team?