Patriots Must Improve in Playoff Rematch with Texans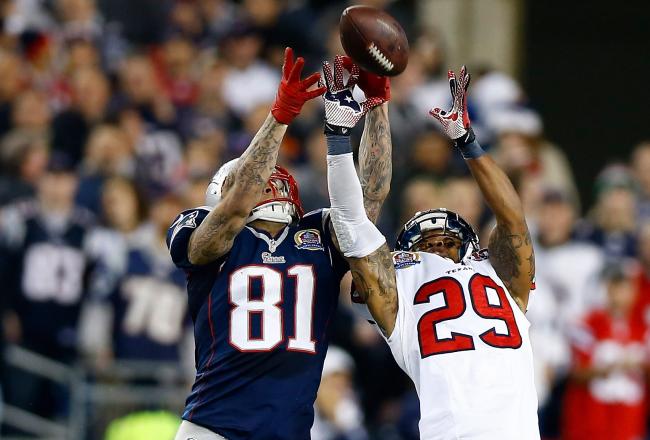 Jared Wickerham/Getty Images
At a glance the final score of the first Patriots and Texans tilt in December looks like a blowout at 42-14, but in reality the Texans gave the Patriots plenty of problems.
New England's white hot start saw them score three touchdowns on their first three drives but once the Texans found a bit of rhythm in the second quarter the game played out far closer than the score might indicate. That included the Texans forcing four straight punts from the Patriots offense after giving up the initial three touchdowns.
This time around the Pats must be ready for Houston to try and exploit those areas where they had success the first time around, and without an early lead this game is sure to unfold differently and likely come down to the fourth quarter.
As Bill Belichick said on Sunday:
"We'll be able to certainly look at some of the matchups, individually of guys that faced each other in the game, but as far as plays and calls and things like that matching up, I'm sure they'll have some new wrinkles and I'm sure we'll have some too. It will be totally different."
Let's take a look at the how the Patriots will be different this time around, and where they most need to improve this time around if they want to advance to the AFC Championship.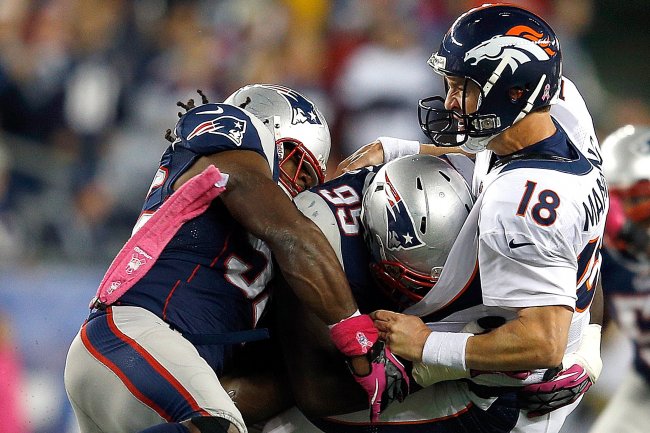 Jim Rogash/Getty Images
Pass Rush Peaking
Both teams will be healthier in the rematch. The Texans will have outside linebacker Brooks Reed and tight end Garrett Graham back, while the Patriots will have Rob Gronkowski and Jermaine Cunningham along with a fully healthy Chandler Jones.
Having two of their top pass rushers back in Jones and Cunningham could make a major difference, especially with how the Patriots attack the Texans passing offense.
In December the Patriots were just welcoming Jones back after he missed two weeks with an ankle injury. He looked rusty and nowhere near the player he had been earlier in the season.
But in last week's finale Jones had what Bill Belichick called his best game of the season. With him and Cunningham back the Patriots might be less reliant on the blitz this time, rather than what they had to resort to in December:
The Patriots were even more aggressive, bringing extra pressure against Schaub on 52.5 percent of his throws. That's the most since at least the start of the 2010 season.
Cornerback Aqib Talib's man-to-man coverage ability doesn't seem to have much of an impact on the Patriots' pressures. The Patriots blitzed on 38 percent of the throws before cornerback Aqib Talib left with a hip injury and 68 percent after he departed—despite a 21-0 advantage.
They will continue to focus on RG Ben Jones and RT Ryan Harris who gave up a sack, three QB hits and three QB hurries combined last time. The Pats could also rely a little more on their NASCAR front of Ninkovich, Cunningham, Francis and Jones which could be a valuable package for a Super Bowl run.
The return of two impact front seven players should be a nice boost for the Patriots defense and give them some flexibility that they did not have last time.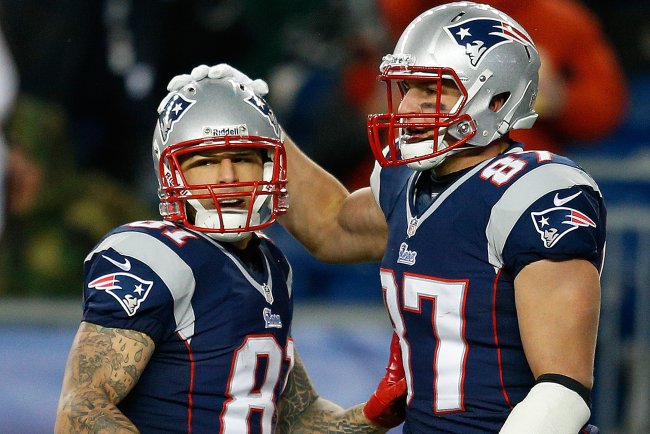 Jim Rogash/Getty Images
Return of the Gronk
Last time the Patriots offense was fairly balanced between the 2-TE and 3-WR formations, with a rotation of Michael Hoomanwanui and Donte Stallworth being the difference between the two.
2 WR/2 TE/1 RB – 37 of 73 snaps
3 WR/1 TE/1 RB – 26 of 73 snaps
1 WR/3 TE/1 RB – 9 of 73 snaps
2 WR/1 TE/2 RB – 1 of 73 snaps
But this time around Hoomanawanui will be replaced by the Rob Gronkowski at least part of the time, and Deion Branch will be a reliable third receiver option.
It's hard to say for sure just how healthy Gronkowski will be in this one. He was clearly protecting his left forearm against the Dolphins, but that could've just been precautionary for a meaningless game.
Regardless, Gronk's return should enable the Patriots to play even more in 12 personnel and that is when they are most dangerous. Then they can maximize the efficiency of their no-huddle two tight end offense that can seamlessly shift from power run formations to five wide receiver sets.
This was the tantalizing thing about this offense coming out of training camp and something that we only saw small glimpses of this season due to injuries to Aaron Hernandez and Gronk throughout the year.
Look for the Patriots to at least start using Gronkowski on third down, the area they missed him most, and in the red zone. Even as just a decoy Gronk will give the Texans a major new threat to consider during game planning.
The Texans got a small taste of the Patriots "blitzkreig" offense before, but if Gronk is at full strength they'll be in store for something entirely new.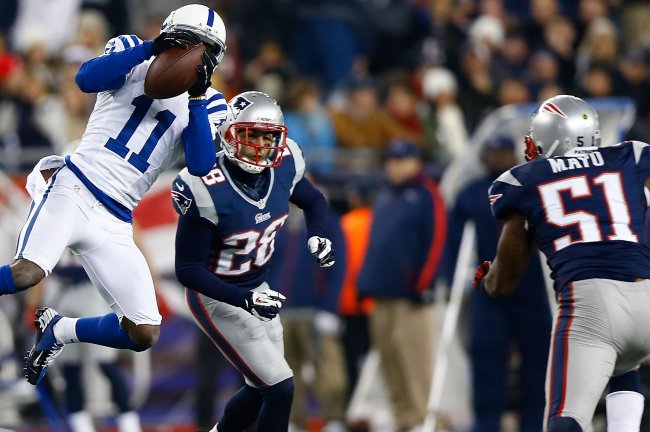 Jared Wickerham/Getty Images
Protect the Middle of the Field
The Texans had the most success attacking the middle of the field in the passing game and they will likely target that area heavily again in the rematch.
Matt Schaub was eight of 10 for 90 yards throwing in the middle of the field, and they were largely effective exploiting Brandon Spikes, who by ProFootballFocus.com's ratings, had his second worst game of the year with a -3.3 grade and just one tackle.
However this nugget from ESPN Boston might lead us to believe the Patriots will want to stick to their base defense again this time around:
The Patriots were in their base defense on 47 of 70 snaps on Dec. 10, a result of the Texans playing mostly with multiple tight ends. That is likely to be the case again next Sunday, as tight end Garrett Graham, who didn't play Dec. 10 because of a concussion, is healthy again to give the Texans three options at the position (Graham, Owen Daniels and James Casey). That means it could be a Brandon Spikes-type game for the Patriots, as the hard-hitting middle linebacker sparks the base D.
If this is the case the Patriots must be better defending the middle of the field in their base defense. It was a problem for them all year, where they ranked 29th and 30th covering tight ends and "other" receivers respectively.
The main focus will be on Spikes along with Jerod Mayo, who was isolated and attacked in coverage with Arian Foster who was the second-most targeted Texan receiver (6) after Andre Johnson (10).
Tavon Wilson and Patrick Chung could be hugely important as well to the Pats game planning this time around, as their coverage skills in the middle of the field could be vital in sub packages.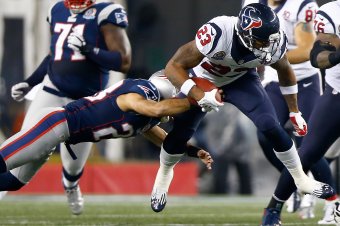 Jared Wickerham/Getty Images
Contain Foster Again
The reason the Patriots were able to shut down the Texans offense was because they held Arian Foster in check with just 15 carries for 46 yards rushing.
It was the best defensive performance on the year, and they did it without winning the turnover battle, a required ingredient recently for any Patriots victory.
Having experience against the Texans zone running scheme can only help the second time around. The Patriots will know what they have to do to slow down Foster and it will once again start with Vince WIlfork.
Wilfork had one of his most dominant performances of the season in the last battle, with ProFootballFocus.com rating him with a 7.9, his highest rated performance since PFF started keeping stats in 2008.
He must play the same way this time or the Texans might be able to get things going with their ground game. If that happens it will open up their play action game and the Patriots will be in trouble.
Wilfork might be the most vital player on New England's roster. If he dominates again, the Patriots win.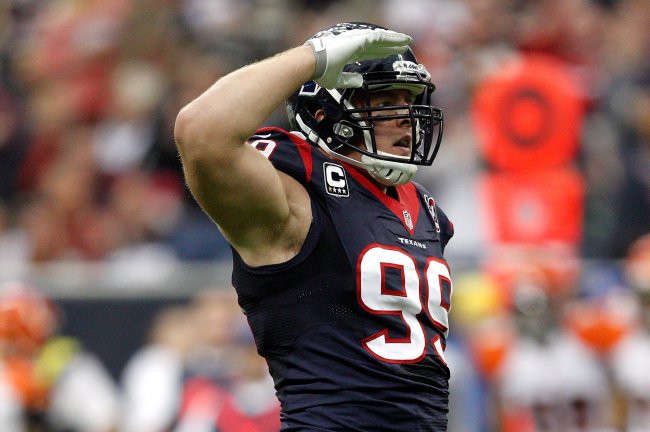 Bob Levey/Getty Images
Better Job on Watt
It would be easy to look at the final score and see J.J. Watt was held without a sack and say the Pats did a good job containing the potential defensive player of the year. However, the Patriots will really need to do a better job against him this time around.
Watt recorded four QB hits and two QB hurries, and when Brady wasn't getting the ball out quick, Watt was causing problems.
Dan Connolly especially struggled the first time around, with a team-worst -2.3 pass block rating. He gave up one QB hit and two QB hurries, while his teammate to the right, Sebastian Vollmer had some struggles himself, giving up a sack and two QB hits.
The right side of the Patriots line must be better against Watt this time around. They kept him somewhat contained early on in the game, but once Watt found a rhythm in the second quarter he became a difficult force to stop.
They cannot allow him to pick up where he left off, because an early big play could set the tone for the rest of the game, just like Brady's interception did against the Jets in the 2010 playoffs.
All that really matters? Tom Brady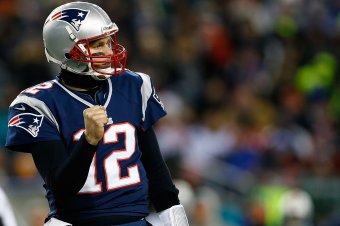 Jared Wickerham/Getty Images
We could go on and on about all the different keys and areas of focus for this rematch, but ultimately there's only one thing that really matters, Tom Brady playing like Tom Brady.
Of course that starts with the offensive line giving him the protection he needs, but if Brady plays another mistake-free game like he did the first time around (see stat line below), the Pats should roll regardless of how the other matchups play out.

The Texans were just as unimpressive against the Bengals as they were against the Patriots, and nothing that Houston has done over the last month gives much reason to believe they can go back to New England and pull off the upset.
However there's no denying the Texans have talent, and that talent flashed at times in Foxboro back in December. If the Patriots get off to a slow start and allow the Texans to get some confidence this could easily turn into a back-and-forth affair that comes down to the final play.
If New England executes like they showed early and late against the Texans they could win handily. They match up extremely well with Houston and know what it takes to slow them down on both sides of the ball. It's just a matter of doing it.
But as always in the playoffs, there is little margin for error.
Mike Dussault is a New England Patriots Featured Columnist, the creator/editor-in-chief of PatsPropaganda.com and co-hosts the PatsPropaganda & Frenz podcast with AFC East Lead Writer Erik Frenz. You can follow him on Twitter here.
This article is
What is the duplicate article?
Why is this article offensive?
Where is this article plagiarized from?
Why is this article poorly edited?

New England Patriots: Like this team?