San Francisco 49ers: Top 5 Biggest Draft Needs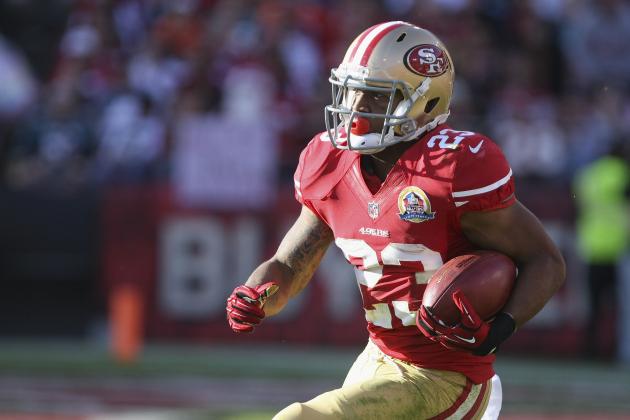 USA TODAY Sports
LaMichael James is the only 2012 draft pick making an impact.
The San Francisco 49ers have had several very successful drafts, leading up to 2012. GM Trent Baalke has selected key players, such as NaVorro Bowman, Anthony Davis, Mike Iupati, Aldon Smith and Colin Kaepernick in the past three draft classes.
However, there is a huge question mark surrounding the 49ers' selections this past offseason. Only LaMichael James has made any sort of impact and that only came about when Kendall Hunter was injured. Baalke's other picks have done nothing, thus far.
The biggest disappointment is first-round selection A.J. Jenkins, who failed to catch a pass all season. Even after the 49ers lost receivers Mario Manningham and Kyle Williams, Jenkins saw little action. To expect anything out of him in the postseason is a stretch.
The 2012 draft looks very suspect, although you cannot make a complete assessment for another year or two. Nevertheless, the initial outlook is poor.
Heading into the 2013 draft, Baalke and the 49ers cannot afford to whiff on their selections. The 49ers currently hold an extra pick in Rounds 3, 5 and 6. They hold two extra picks in Round 7.
With 12 selections on the horizon, the 49ers can do some wheeling-and-dealing to make the most out of their assets. A playoff team like San Francisco needs quality over quantity. The ideal approach would be to bundle some of their picks to move up in the draft.
Twelve new players would never make the team, so bundling the extra picks to get the players they really want is the smart move. We'll see if Baalke agrees.
Let's take a closer look at the main needs the 49ers should address in the 2013 draft.
Begin Slideshow

»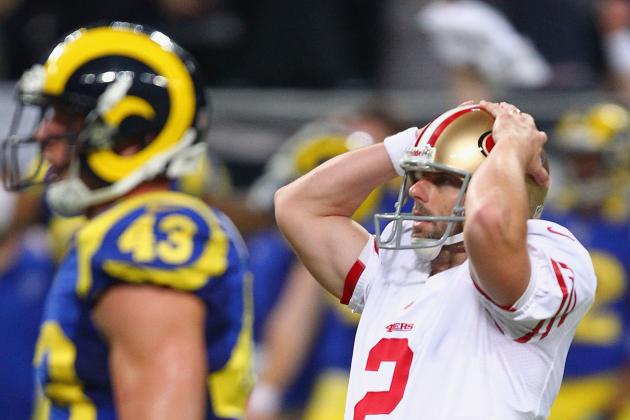 Dilip Vishwanat/Getty Images
David Akers has struggled for the majority of the season.
David Akers has had a terrible season, after being a First-Team All-Pro in 2011. He has missed 13 attempts, the highest in the league.
Akers battled a groin injury earlier this season, which may have caused some of his problems. He seemed to be getting over it in the last couple games, but was hit twice in the 49ers' last game against the Cardinals.
Akers was clearly not the same after getting hit. Jim Harbaugh elected to pass on longer field-goal attempts and went for it on two separate fourth-down situations.
The 49ers are currently auditioning other field-goal kickers, but unless Akers is severely injured, he will probably keep his job for the playoffs. Teams typically do not make this dramatic a move heading into the playoffs, unless there is an injury.
Akers is 38 years of age and coming off a poor year. It would be wise of the 49ers to invest one of their many late-round picks on a kicker. At a minimum, it would provide competition for the position, but it could also result in the 49ers solving their kicking problems for the next decade.
Thearon W. Henderson/Getty Images
Ted Ginn loses the ball against the Rams.
Two botched punt returns by Kyle Williams in 2011 cost the 49ers a Super Bowl berth. Williams was only in there because Ted Ginn was injured.
This season, Ginn has been the punt returner for the majority of the games and has had a terrible year. Ginn routinely gets too close to bouncing punts, which was what cost Williams dearly in 2011.
Ginn has also had issues holding onto the ball. A special teams blunder in the playoffs could spell doom for even the best of teams.
Ginn is also a subpar wide receiver and provides little benefit to the 49ers' offense. He also shies away from contact, which is unacceptable in the NFL.
If the 49ers can find a dynamic punt returner in the draft, especially one who can also contribute as a wide receiver or defensive back, they should grab him. Ginn and Williams have proven that they cannot handle the job or stay healthy enough to be relied upon.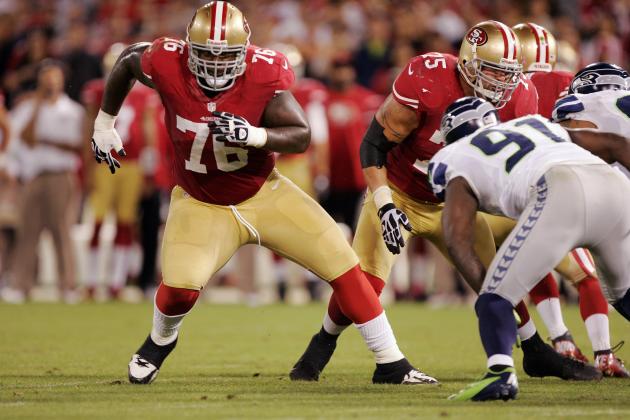 Brian Bahr/Getty Images
Tackle Anthony Davis won the Bobb McKittrick award as the 49ers' top offensive lineman.
The 49ers' offensive line has been stable throughout the year. For the past two seasons, this unit has remained remarkably injury-free.
Only a fool would count on that to continue. The 49ers would be wise to add depth to the offensive line in the upcoming draft.
The biggest change will most likely occur at the center position, where Jonathan Goodwin has held down the position for the past two years.
Goodwin is 34 years old and the 49ers have groomed Daniel Kilgore to replace him. Goodwin is due to make $3.7 million in 2013, so it entirely possible that the 49ers release him. The only way Goodwin stays is if he's willing to negotiate that salary down.
The 49ers' other reserve offensive linemen are Leonard Davis, who is 34 years of age and rookie Joe Looney, who has hardly played. It's uncertain if Davis will stay in San Francisco or whether Looney is ready to play in the NFL.
The 49ers could use a backup lineman who ideally could play either guard or tackle. An injury to either Joe Staley or Anthony Davis would require them to move Alex Boone to a tackle spot and replace him at guard.
Thearon W. Henderson/Getty Images
A.J. Jenkins has yet to catch a pass in a regular season game.
The 49ers tried to upgrade their wide receiver position this past offseason. They need to do this again, as injuries and lackluster play have shown this to be a major area of concern to the 49ers.
Only Michael Crabtree is playing at a high level. He had his best season as a professional, with 85 catches for 1,105 yards and nine touchdowns. Crabtree has emerged as a top-flight receiver.
With the severe injury to Mario Manningham, it's questionable whether he will be able to return by the start of the 2013 season.
Kyle Williams has battled injuries in each of his three seasons with the 49ers. He is not a star player even when he is healthy.
Randy Moss will be 36 years of age in February and age is catching up to him. Although there are times he has been open and the 49ers' quarterbacks have failed to get him the ball, there are far more times when Moss has been unable to shake his defender.
Moss has only 28 receptions for 434 yards and three touchdowns. He has been a mentor to the 49ers' younger receivers, but at this stage of his career should be a third or fourth receiver. Moss will be a free agent at the conclusion of this season, so it is uncertain if he will return.
Ted Ginn is likely gone after this season and top draft selection A.J. Jenkins has made no impact. Jenkins, a first-round draft pick in 2012, has yet to catch his first pass in an NFL game.
The 49ers definitely need to bring in a receiver who can start opposite Michael Crabtree. Failure to do this will result in teams double-teaming Crabtree and minimizing his effectiveness.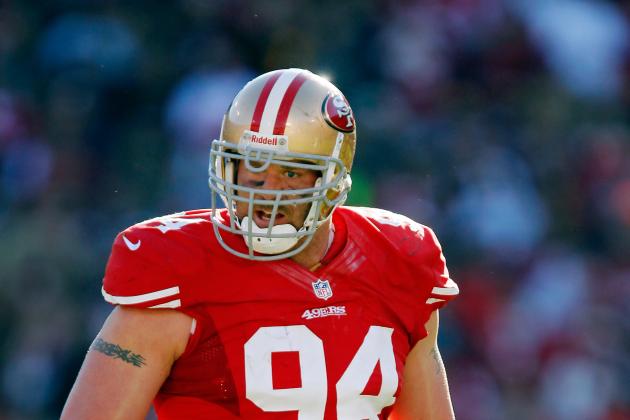 Brian Bahr/Getty Images
Justin Smith is the 49ers' top defensive lineman.
The 49ers have precious little depth on the defensive line. When the injury to Justin Smith occurred, it accentuated this fact.
Smith makes everyone better. Teammate Aldon Smith has not recorded a sack in the 10 quarters that Smith has been out.
There is a major drop off with Ricky Jean-Francois in at the defensive end spot. He is ideally suited to be a reserve who gets in for 15-20 plays a game. Jean-Francois is also the 49ers' best reserve nose tackle.
With Demarcus Dobbs out for the season with an injury, that further increases the lack of depth of this unit.
Starting nose tackle Isaac Sopoaga will be 32 years of age at the early stage of the 2013 season. He is solid against the run, but he provides very little as a pass rusher.
Sopoaga also requires frequent rest and can no longer be considered an every-down player. He made $3.8 million this year and will be a free agent in 2013. It is highly unlikely the 49ers will offer him anywhere near that figure, so Sopoaga may go to another team.
The defensive line needs to be the 49ers' top priority in the upcoming draft.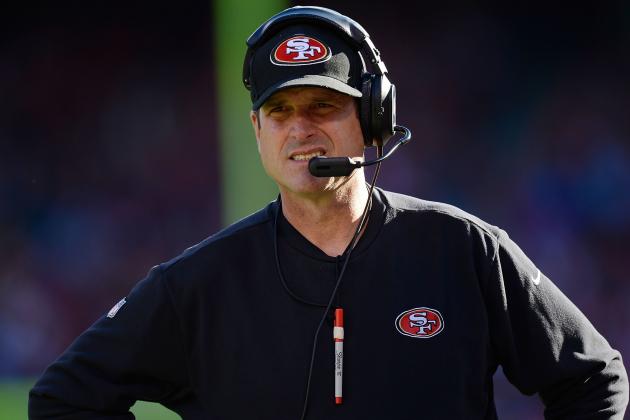 Thearon W. Henderson/Getty Images
Jim Harbaugh has guided the 49ers to back-to-back playoff appearances.
The window of opportunity for the 49ers is open right now. Due to salary cap considerations and age, this same core will not be together for much longer.
The only way to ensure long-term success in the NFL is by drafting well. The 49ers have done this over the past few years, however 2012 seems to be an exception. Realistically, they have no starters coming out of this draft.
As 49er GM Trent Baalke assesses his position in the 2013 draft, he needs to focus on quality, not quantity. The 49ers have 12 overall selections in the upcoming draft, but most of the extra picks are in the later rounds.
Baalke needs to explore options to trade some of those extra picks for better draft position. By trading up, the 49ers can acquire better talent and potentially, impact starting players.
The 49ers cannot afford another weak draft. It will be up to Baalke to ensure that the 49ers find players who can fill the needs of the present roster.