The Atlanta Falcons will host—and should win—their divisional round playoff game on Jan. 13, 2013 at 1:00 PM ET. They will play either the Washington Redskins, Seattle Seahawks or Minnesota Vikings.
The Green Bay Packers will take on the Minnesota Vikings in the first NFC Wild Card game this weekend at 8:00 p.m. on Saturday. Should the Vikings win over the Packers, it's guaranteed that they would be the team playing in Atlanta in the divisional round.
However, should the Packers win, then the Falcons focus would shift to the matchup between the Seattle Seahawks and Washington Redskins on Sunday afternoon at 4:30 p.m. Atlanta would then get whoever the winner of that matchup is.
Regardless of whom the Falcons get to play in the divisional round of the playoffs, they should be able to handle that team and move onto the NFC Championship game the next weekend.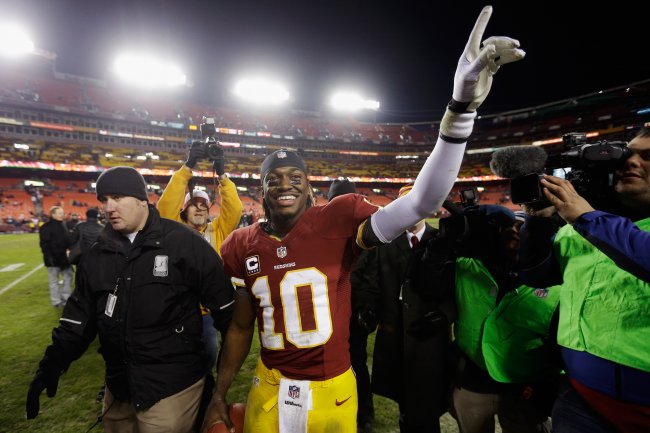 Rob Carr/Getty Images
No. 4 Seed—Washington Redskins
Atlanta's offense versus Washington's defense
In the first game, Atlanta had trouble establishing anything substantial until the fourth quarter. A big part of that was Ryan Kerrigan and the Washington defense being able to confuse and pressure Matt Ryan. However, the Falcons' offensive line has improved since that game.
Add in that Ryan threw for over 340 yards and distributed the ball very evenly between Julio Jones (10 catches, 94 yards) and Tony Gonzalez (13 catches, 123 yards), and the Falcons passing offense looks like it can make a dent against the Redskins.
The running game was poor, and it hasn't improved greatly since then. Atlanta's biggest hope is to get completely healthy and start using more six-lineman packages to create more of a running game. That seems to be when Michael Turner is at his best.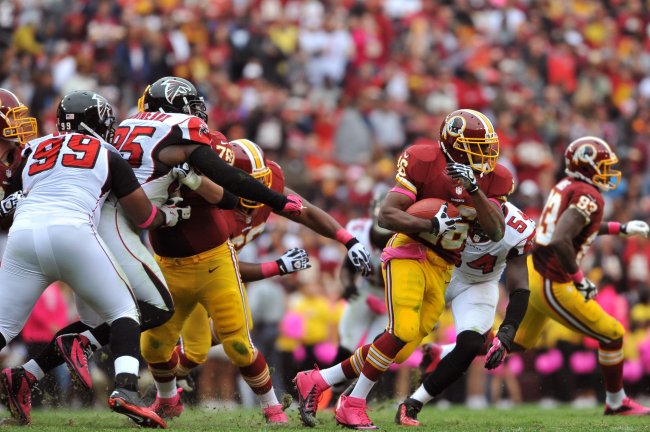 Larry French/Getty Images
Atlanta's defense versus Washington's offense
Atlanta's defense seems to match up well with anyone's passing offense. It will be interesting to see if Mike Nolan decides to run against the intelligent Robert Griffin III the same kind of confusing schemes he ran against the Mannings and Drew Brees.
The biggest issue here is the running game. Atlanta allowed 6.1 yards per carry in the first matchup and can't do it again if they want to beat the Redskins. They lucked out, allowing just 10 points in the first three quarters to Griffin.
What to look for this week
Washington takes on a top-notch defense this week with a strong similarity to what Atlanta runs under Mike Nolan. It will be interesting to see how they attack the Seahawks' talented secondary and defensive line.
Who would win in this matchup?
On defense, Washington has a ragtag group of players who have stepped up in the absence of their best player—Brian Orakpo. If this underrated unit continues to play above its station, it could surprise and end up beating Seattle.
Overall matchup
Atlanta has beaten Washington in Washington. It would not shock anyone to see this game turn more lopsided towards the Falcons in a matchup at the Georgia Dome. This is probably the best matchup for Atlanta to play as they already have history and know how to beat them a second time around.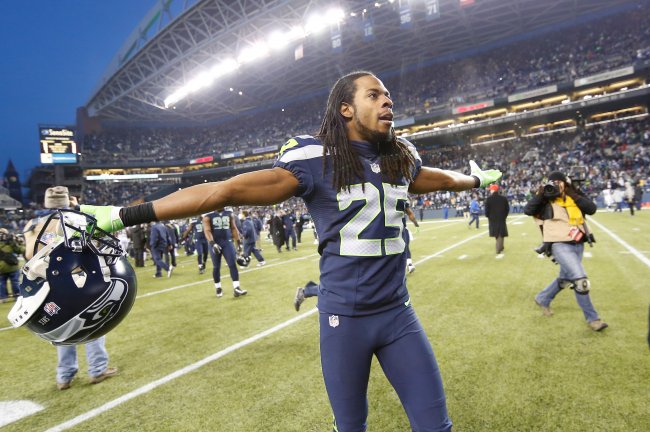 Otto Greule Jr/Getty Images
No. 5 Seed — Seattle Seahawks
Atlanta's offense versus Seattle's defense
Just like every other team in the playoffs, Seattle has a very good pass rush. Atlanta should focus on using the right combination of screens, chips and combo blocks to keep Ryan upright. Bruce Irvin (eight sacks) and Chris Clemons (11.5) are the top pass-rushers for the Seahawks.
In the running game, Atlanta may actually find success against a fast but not powerful group of defensive linemen. The Seahawks allowed 4.5 yards per carry this season, and Atlanta could use a fresh Michael Turner to beat up on a soft run defense.
Seattle's secondary is one of the top five units in the league. However, the Falcons boast arguably the strongest trio of receivers in the NFL in Gonzalez, Jones and Roddy White. This strength vs. strength battle will be a fun one should these teams meet.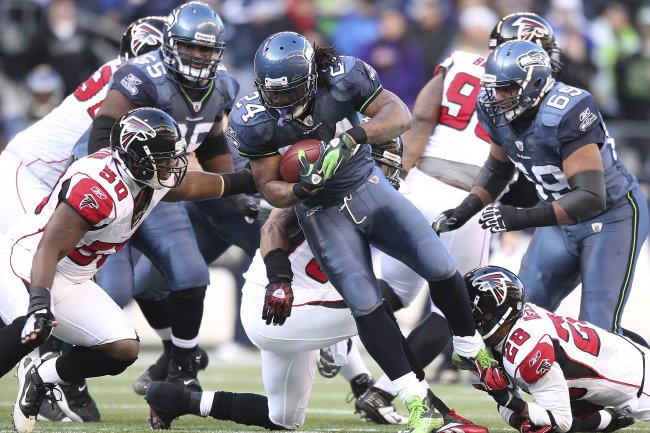 Otto Greule Jr/Getty Images
Atlanta's defense versus Seattle's offense
Seattle's offense is based around the rushing attack of Marshawn Lynch and play-action passes to Sidney Rice and Golden Tate. The Falcons will have to combat play-action much better than they have previously in the season.
The combination of Lynch and Russell Wilson on the ground will be difficult for Atlanta to defend, though. Should Seattle win against Washington, Atlanta should be practicing using backup QB Dominique Davis to simulate the elusive Wilson.
What to look for this week
Seattle crushed three opponents in a row before having to tough a game out. Look to see whether they can rebound against Washington after having not crushed someone the week before. It will be interesting to see how they game plan for Griffin. Spying Bruce Irvin could be their best bet, as he is the only one who could come close in a foot race.
Who would win in this matchup?
They will also have to be able to create points on one of the more underrated defenses in the league. If Russell Wilson can turn in another excellent performance, this could become his NFL coming-out party. Wilson would be able to say that he's the best rookie quarterback in the league with a win over Griffin.
Overall matchup
This is the scariest of the three matchups for Atlanta. Seattle has been on a tear as of late. However, they almost lost to the St. Louis Rams in a close matchup to end the season. That matchup exposed their weaknesses, and it wouldn't surprise me to see Seattle lose in the Wild Card Round.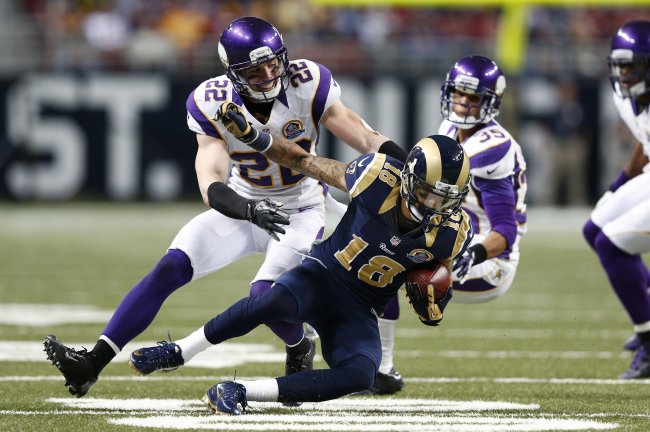 Joe Robbins/Getty Images
No. 6 Seed — Minnesota Vikings
Atlanta's offense versus Minnesota's defense
The first thing Atlanta will have to do is slow down the Minnesota pass rush. The Falcons will have to make sure they can keep at bay the Vikings' three talented edge-rushers: Everson Griffen, Jared Allen and Brian Robinson.
They will also have to exploit the weaknesses that the Vikings have on the weak side in their secondary. Antoine Winfield and strong safety Harrison Smith will have their hands full if they try to match up with Tony Gonzalez and Roddy White, but the real benefactor of the Vikings' secondary combination of Josh Robinson, A.J. Jefferson and Chris Cook should be Julio Jones.
Atlanta's running game should have trouble moving the ball against a defense that allows just 4.0 yards per carry. However, don't be surprised to see Atlanta go to a heavy screen game in lieu of the running game, as it is normally much more effective for them to use.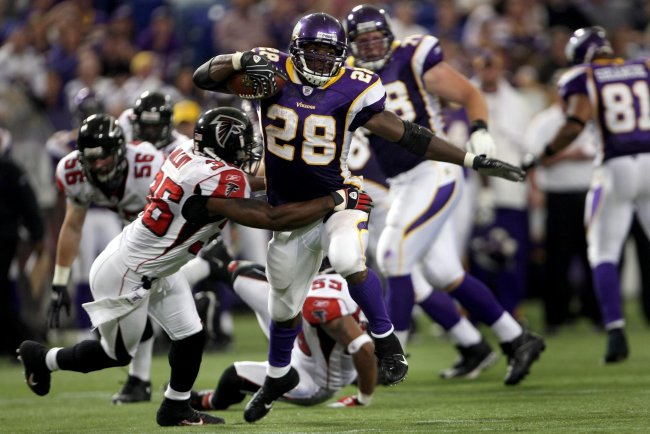 Doug Pensinger/Getty Images
Atlanta's defense versus Minnesota's offense
As good as the Minnesota run offense is, that's just how terrible their pass offense is. Their pass-blocking as a whole is pretty terrible as they allow a quarterback disruption once every 3.57 snaps. They also have one of the worst passers in the NFL whose job is not in jeopardy.
The Falcons defense should be able to confuse and startle Christian Ponder. They should also be focused on stuffing Adrian Peterson and forcing the Vikings to pass the ball. If they can stop Peterson from gaining over 150 yards, the Falcons should be able to stop the Vikings from scoring touchdowns.
What to look for this week
It will be a difficult game for the Vikings to win. Their defense as a whole isn't great, but it could keep the Vikings in the game, just like it did last week against Green Bay.
Who would win in this matchup?
Overall Matchup
Obviously, if the Vikings are successful holding Green Bay's multi-faceted offense to less than 20 points, Atlanta will looking at how it can move the ball against Minnesota's defense. The biggest issue Atlanta would have with Minnesota's defense is its amazing pass rush.
A potential matchup with Minnesota is not an ideal one for Atlanta as everything the Vikings do well the Falcons combat poorly.
The hardest thing for Atlanta will be dealing with Minnesota's running game. Currently, the Vikings sport one of the best running offenses in the league. If Atlanta can shut down the indefensible Adrian Peterson, the matchup will tilt in the Falcons favor.
Conclusion
Overall, the Falcons best matchup is the team they have already played this season—the Redskins. They also happen to be the highest possible seed they can play. In the end, the Falcons shouldn't be worried about any of the three teams.
If Atlanta comes out swinging and plays its game, the Falcons should win the first playoff game of the Mike Smith era.
All stats used are either from Pro Football Focus's Premium Stats, ESPN.com, CFBStats.com or NFL.com.
Scott Carasik is a Featured Columnist for Bleacher Report. He covers the Atlanta Falcons, NFL and NFL Draft. He is also the Falcons analyst at Drafttek, runs the NFL Draft Website ScarDraft.com and hosts Kvetching Draftniks Radio.