Saints vs. Cowboys: Dallas' Biggest Winners and Losers from Week 16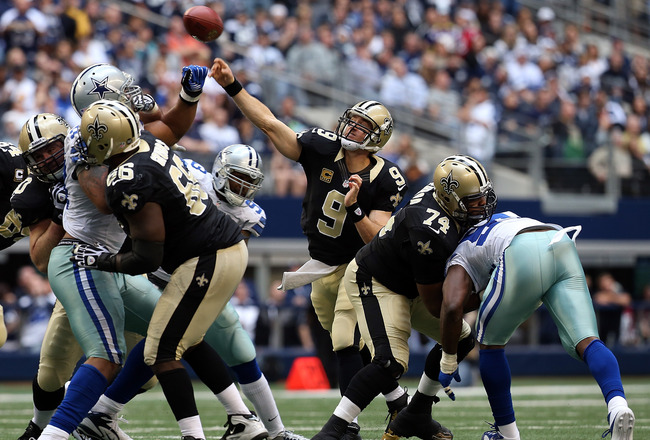 Tom Pennington/Getty Images
The Cowboys lost to the Saints of New Orleans in overtime Sunday by a score of 34-31. Dallas was down by two touchdowns in the fourth quarter when Cowboys quarterback Tony Romo's prophecy almost came true: They started to make a comeback.
Last week, Romo said that if his team is down by 10 to 14 points, they have a great chance to win the game. Not sure if that's a good or bad thing, but the Cowboys found themselves in that very position Sunday against the Saints.
With just 3:40 left in the game's last quarter, the Cowboys took just 1:10 seconds off the clock to score a touchdown. Soon after, Romo found receiver Miles Austin for a 19-yard touchdown to tie the game.
Two touchdowns in just 2:24 seconds looked to be pretty impressive for Dallas.
But as overtime started, the Cowboys received the ball and couldn't make any headway. They were forced to punt to New Orleans, and then madness ensued.
On 2nd-and-9 from the Cowboys 33, Saints quarterback Drew Brees found receiver Marques Colston for a nine-yard gain, but as he caught the ball and brought it into his body, Cowboys corner Morris Claiborne punched the ball out.
As the ball went tumbling to the ground, it rolled forward all the way down to the Cowboys 2-yard line after being helped along the way by Saints tight end Jimmy Graham and Cowboys safety Eric Frampton.
Graham ended up recovering the ball, but controversy is sure to follow. As soon as the game ended, fans, and some pundits, were questioning if the ball's aided progress toward the 2-yard line was legal.
No matter, as the catch was upheld as well as Graham's recovery. The Saints trotted kicker Garrett Hartley out on the field for an easy 20-yard field goal to end the game.
The Cowboys dropped to 8-7, and the Saints improved to 7-8. The Cowboys' playoff hopes aren't dead, but they will need a little assistance.
Dallas has to count on a Giants loss this evening and beat the Redskins next week for a berth into the playoffs.
Coming into this game, the Cowboys controlled their own destiny, which is no longer true.
This was the third game in three weeks for the Cowboys that was decided on the last play. This time, Dallas was on the losing end.
So, who is at fault for the Cowboys' inability to win such a vital football game? Here are 10 winners and losers from week 16.
LOSER: Injuries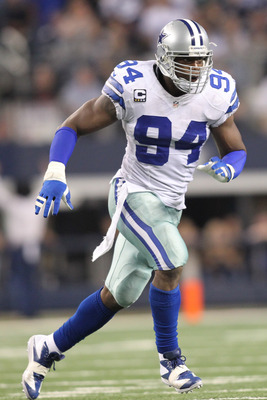 USA TODAY Sports
As much as I want to blame the Cowboys defense, and not to worry, I will, injuries have completely emasculated the Cowboys defense.
Dallas was without superstar linebacker DeMarcus Ware for a large portion of the second half and all of overtime. The Cowboys also lost linebacker Ernie Sims to a possible concussion early in the game, but he returned.
Those injuries went along with losing cornerback Mike Jenkins for a brief period as well as linebacker Alex Albright. But before these guys went down, Dallas lost linebackers Sean Lee and Bruce Carter, nose tackles Jay Ratliff and Josh Brent, cornerback Orlando Scandrick and others.
To play against such a high-powered offense with second and third stringers was probably too much to overcome.
Drew Brees ate up the middle of the field, and the Cowboys frequently "lost" track of Saints running backs Pierre Thomas and Darren Sproles, or they didn't have the right personnel to cover them.
It was just about an unfair fight, but injuries are a part of the NFL.
Dallas never recovered from the injuries, as evidenced by the final score.
WINNER: Dez Bryant, WR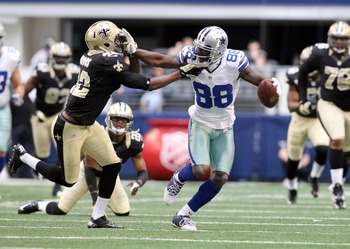 USA TODAY Sports
Before the season started, I said that Bryant would take over the role of the team's top wide receiver from Miles Austin. For the first half of the season, and maybe some time after, I thought that I was wrong:
"I fully expect Bryant to get his first 1,000-yard season and to take on the role of top receiver.

In fact, I predict that Bryant will turn into the NFC East's best receiving threat in 2012."
Bryant seemed to struggle a little, and his maturity still came into play.
But over the past seven weeks, Bryant has shown why the team drafted him in the first place, as he has scored 10 touchdowns in that span and recorded three 100-plus yard games.
Sunday, Bryant went for a career high 224 yards and two touchdowns on nine catches.
Both of his touchdowns came on 58-yard touchdowns with the second one being a thing of beauty. Bryant has to stop carrying the ball like he's palming a basketball, but that article is for another day.
He was simply great Sunday and single-handedly kept his team in the game.
Bravo on a job well done, Mr. Bryant.
LOSER: DeMarco Murray, RB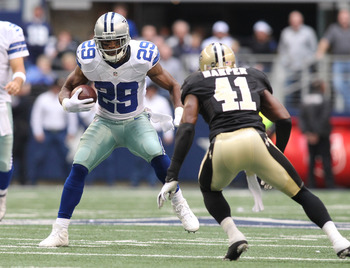 USA TODAY Sports
It's too bad that I have to use the term loser for Murray's performance Sunday, but his turnover in the third quarter really put the Cowboys in a hole.
The Cowboys were backed up deep in their own territory when Romo handed the ball to Murray to get out of the shadow of their end zone.
As Murray is trying to fight for more yards, he fumbles the ball on the 5-yard line, and the Saints recover.
That gave the Saints a pretty easy way to score. Though they didn't punch the ball in until third down, it still put them up by seven points.
Murray's fumble may have been the turning point in the game, as the Saints were able to capitalize. Sure, the Cowboys were able to come back, but without his fumble, Dallas may have been able to win the game.
WINNER: Tony Romo, QB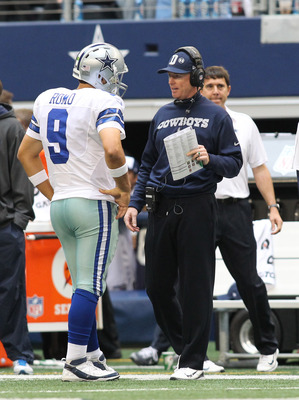 USA TODAY Sports
I'm not really sure what else Tony Romo has to do to show that he is a top-rate passer in this league, but his performance Sunday should prove that to his detractors.
For the game, Romo threw 416 yards, four touchdowns and completed 26 passes.
He was great when he needed to be, threw two bad passes that I can think of and led his team to tie the game in the fourth quarter. Romo played his best when the team needed him the most, and he did it in the month of December.
Speaking of December, many think that the Cowboys play their worst football in the year's final month, but for the month of December, Romo has thrown 10 touchdowns to just one interception.
His completion percentage has been up-and-down, 60 percent this week compared to 71 last week, but one 400-yard game and two 300-yard performances should be enough to convince his most vocal critics that the Cowboys are better off with Romo under center.
LOSER: Miles Austin, WR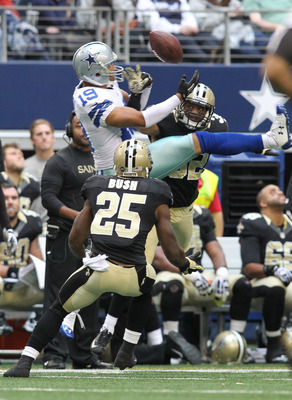 USA TODAY Sports
Yeah, Austin scored the game-tying touchdown for the Cowboys, but before that, he dropped two crucial passes that led to Cowboys fans booing him.
Ever since Austin signed his $54 million contract, he has been a little light. He drops passes when needed, is oft injured and seems to be a shadow of the player fans came to love just three short years ago.
Bryant has usurped him as Romo's top wide-receiving target, and Austin has just 898 receiving yards and 62 catches coming into Sunday's game.
Austin has just two 100-yard receiving games this year, not something expected of a guy who has such a large contract.
The Cowboys will need a good game from Austin next week, as the Redskins will likely double Dez Bryant.
WINNER: Jason Witten, TE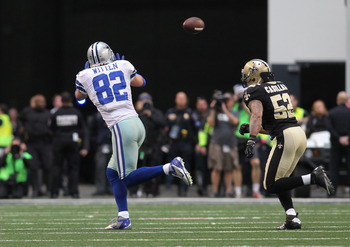 USA TODAY Sports
Witten is just great. What's funny about Witten is that his production is so solid and expected, that a day when he has six catches for 60 yards goes virtually unnoticed.
He did break Tony Gonzalez's record for catches by a tight end in a season with 103. Outside of that, he did what he does every single week: produce.
LOSER: DeMarcus Ware, LB
USA TODAY Sports
Ware isn't a loser due to the way he played, but he left the game with a right shoulder strain, which makes him questionable for next week's game against the Redskins.
He's also playing with a hyperextended elbow, and according to ESPNDallas.com, Ware's shoulder keeps popping out of place.
He joins the growing number of Cowboys players at the infirmary, but it will be tough to keep the former sack champion off the field next week in D.C.
LOSER: Cowboys Defense
USA TODAY Sports
Cornerback Morris Claiborne had 10 tackles and corner Brandon Carr had six. That means the Saints were able to scorch the secondary and get beyond the second level. Dallas had a really tough time covering the middle of the field—and tackling.
Drew Brees completed passes to seven different receivers for a total of five or more plays over 10 yards or more. In fact, Brees completed three passes of 60, 44 and 26 yards to a receiver, running back and tight end.
The Cowboys had no answer for the Saints offense. Brees, Colston, Sproles, Graham and Thomas had their way and seemed to move the ball on the Cowboys banged-up defense with little effort.
The Saints were a healthy 11-of-19 on third downs, ran 91 total plays and had over 560 total yards.
I'm sure that Cowboys defensive coordinator Rob Ryan is ashamed of the way his defense played, but considering the circumstances, I'm not sure if they could have performed much better.
LOSER: Cowboys' Playoff Chances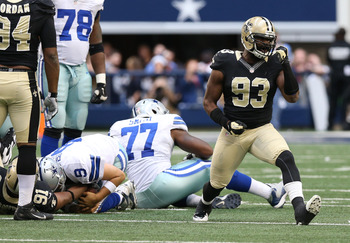 USA TODAY Sports
Dallas is counting on a loss by the Giants to keep their hopes alive for a playoff berth.
If the Giants lose this week and the Cowboys beat the Redskins in week 17, Dallas will host a playoff game in the Wild Card round.
The Cowboys had a chance to win, but mistakes and defensive ineptness doomed their chances.
WINNER: Jason Garret, HC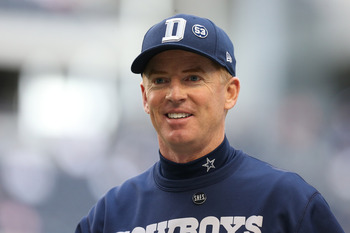 USA TODAY Sports
Before the game, reports surfaced that Cowboys head coach Jason Garrett would be back next season as the Cowboys head coach. This is despite rumors of Mike Holmgren and Sean Payton being considered for a possible head-coaching job in Dallas next season.
Fox Sports Jay Glazer reports that Garrett is safe and a loss next week doesn't ruin his chances of keeping his job.
WINNER: Washington Redskins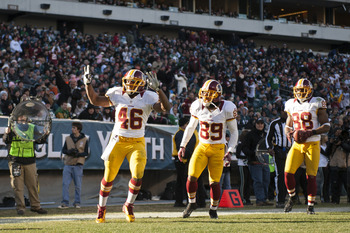 USA TODAY Sports
The Redskins beat the Eagles this Sunday afternoon and have full control of their destiny. All they have to do is beat the Cowboys next week and they are officially in the playoffs.
Next week's showdown in Washington D.C. is a play-in game for both teams and represents an unofficial NFC East Championship Game.
Keep Reading

Dallas Cowboys: Like this team?