2013 New York Mets: Outfield Possibilities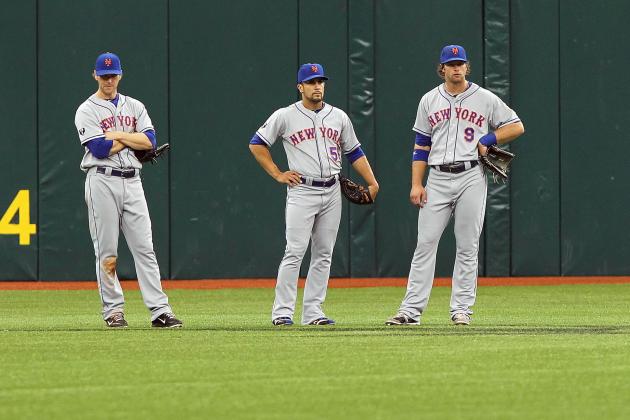 Kim Klement-USA TODAY Sports
What will the Mets' outfield look like next season?
'Tis the season of giving, and Mets fans everywhere are hoping that they'll be given some outfield reinforcements prior to the start of the 2013 season. As it stands now, the options are pretty thin.
Jason Bay's contract was mercifully terminated at the end of the season. Bay spent the better part of three injury-plagued years underperforming and getting booed. It was so bad that the Mets let him go while still owing him $21 million. He will try to resurrect his career out west, as he recently signed a one-year deal with the Mariners.
For some unclear reason, the Mets traded their 2011 center fielder, Angel Pagan, to San Francisco in return for Andres Torres and ineffective reliever Ramon Ramirez. Torres was mediocre at best in 2012, hitting just .230. In an ironic twist, Torres will now be teammates with Pagan, as he signed a one-year contract to rejoin the Giants for 2013.
With those two players gone, the Mets will be expecting a lot more run production from their outfield. The problem is figuring out who, exactly, will be playing those positions.
Here's a look at who the Mets currently have to choose from:
Begin Slideshow

»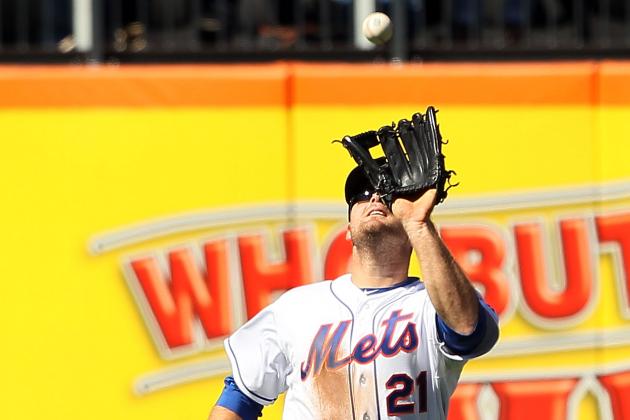 Alex Trautwig/Getty Images
Lucas Duda spent most of last season in right field
Lucas Duda spent the bulk of his playing time with the Mets last season in right field. The 26-year-old was given the opportunity to be an everyday player for the first time in parts of three Major League seasons.
Throughout the first three months, Duda's average was .258 with 15 home runs and 15 doubles. By July, he was slumping and was demoted to AAA Buffalo.
Duda was recalled by the Mets for the last month of the season and ended the year with a less-than-impressive .239 season average.
What the Mets will do with Duda remains to be seen. He does have power and can provide the Mets with run production when going well. Unfortunately, he also strikes out too frequently. He had 120 of them in 401 at-bats. In fact, his strikeout average was higher than his batting average.
Duda also lacks speed, which results in too many balls that should be outs dropping in front of him for hits.
Duda is currently recovering from surgery on a broken wrist he suffered while moving furniture this offseason.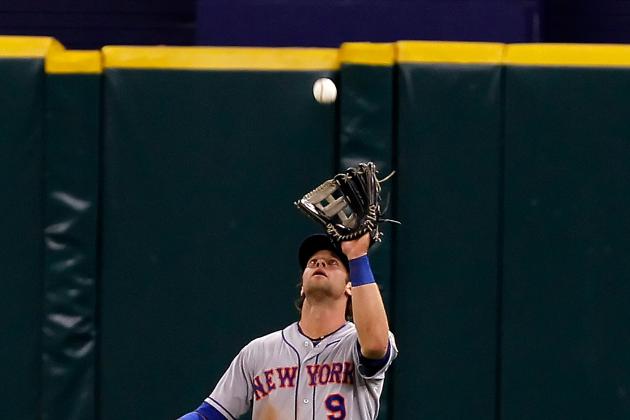 J. Meric/Getty Images
Kirk Nieuwenhuis showed some promise last season
Rookie Kirk Nieuwenhuis was unexpectedly called in to service when Andres Torres landed on the disabled list in the first week of the 2012 season. He became an instant hit, batting .325 in April and playing scrappy ball in the style of 1986 Lenny Dykstra.
As pitchers figured him out, Nieuwenhuis saw his numbers steadily decline. He hit .263 in May and .238 in June. Despite the drop-off, he was batting .297 with six home runs and playing great defense through the first three months of the season.
The second half was a different story. His numbers were ugly, with a .123 average and striking out 44 percent of the time.
He was sent back to Buffalo late in the summer, but suffered a season-ending foot injury soon after.
His first season big-league numbers came out to a .252 average with seven home runs.
Nieuwenhuis was not supposed to be in the majors as early as he was. That being the case, he showed enough to be considered for a starting spot in 2013.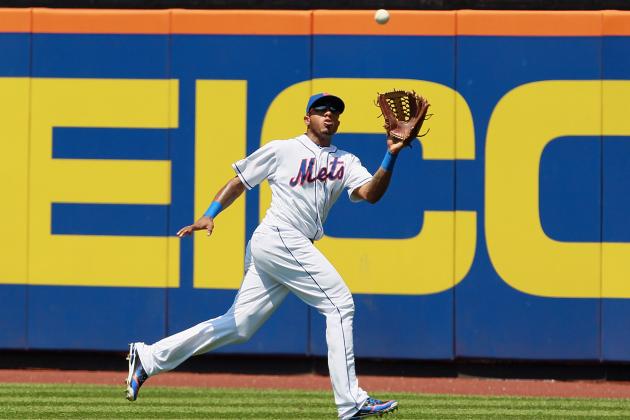 Mike Stobe/Getty Images
Jordany Valdespin played all three outfield positions in 2012
Jordany Valdespin was another player that was not on the team's radar at the start of last season. He was called up by the Mets in May for pinch hitting and defensive help.
He quickly became a fan favorite when he collected his first major league hit on May 7. Tied 2-2 with the Phillies at Citizens Bank Park, Valdespin was called on to pinch hit in the top of the ninth. Facing Jonathan Papelbon Valdespin cracked a three-run homer to break the tie.
He went on to collect a club record five pinch-hit home runs.
Valdespin was given playing time in June and July and batted .286 and .347, respectively.
He slumped after that and finished his first big-league season with a .241 average and eight home runs in close to 200 at-bats.
The verdict is still out on Valdespin. He showed promise last season as a utility player and just turned 25.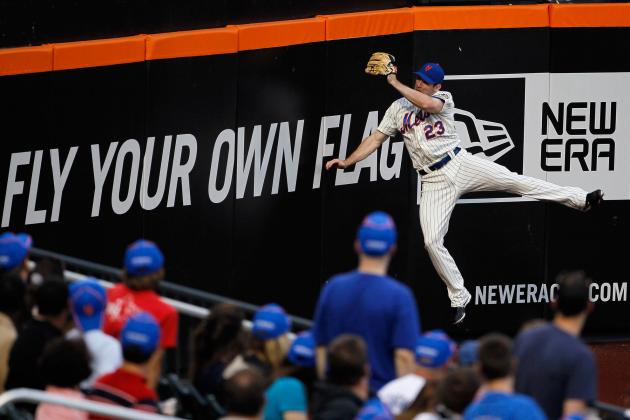 Mike Stobe/Getty Images
Mike Baxter showed promise in left field
Mike Baxter became a cult hero in Flushing. Not only was he a local boy from Whitestone, Queens, his game-saving catch in Johan Santana's no-hitter will be replayed for years to come.
Baxter actually started the 2012 season with the Single-A St. Lucie Mets. He then progressed from the Double-A Binghamton Mets to the Triple-A Buffalo Bisons before being called up by the Mets
Baxter looked decent in a part-time role, hitting .263 and displaying some impressive defense.
At 28 and with just 221 major league at-bats, it's hard to see Baxter filling an everyday role in the Mets outfield.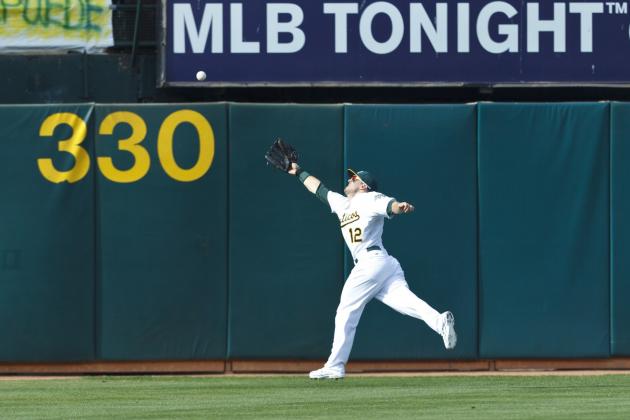 Jason O. Watson/Getty Images
Collin Cowgill spent 2012 Oakland
The Mets made an under the radar trade earlier this month with the Oakland A's. Minor league infielder Jefry Marte headed west in return for outfielder Collin Cowgill.
Cowgill put up good numbers and showed some power in 2011 while in the Diamondbacks system. He hit .239 in 36 games with Arizona.
Last season, he had 104 at-bats for the Athletics and put up a .269 average with two doubles and one homer.
The only thing setting Cowgill apart from the rest of the Mets outfield pieces is that he's a right handed hitter. Other than that, he is really an unknown entity.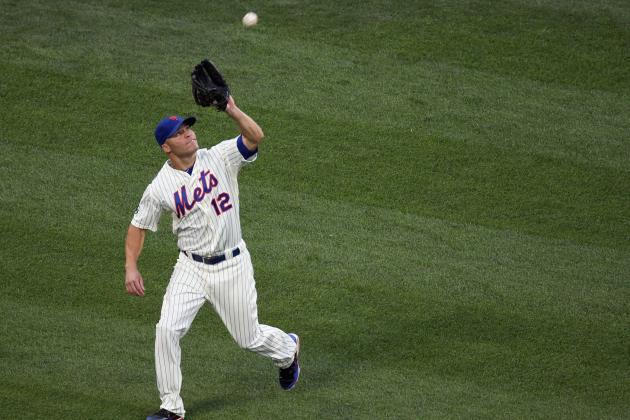 Mike Stobe/Getty Images
Scott Hairston was a bright spot for the 2012 Mets
The most productive outfielder for the Mets in 2012 may not be a part of the club in 2013. Thirty-two-year-old journeyman Scott Hairston was supposed to be a platoon player last season, but his clutch bat gave him a bigger role on the club.
Overall, he hit .263 in 377 at-bats. He delivered 20 homers, 25 doubles and drove in 57 runs in a part-time role. He was a clutch pinch hitter and a solid defensive player. He divided his time between both right and left fields and also put in some time in center field.
Hairston is currently a free agent and is looking for a two-year contract. Whether the still cost-conscious Mets will give Hairston an adequate offer remains to be seen. If not, his presence will be missed.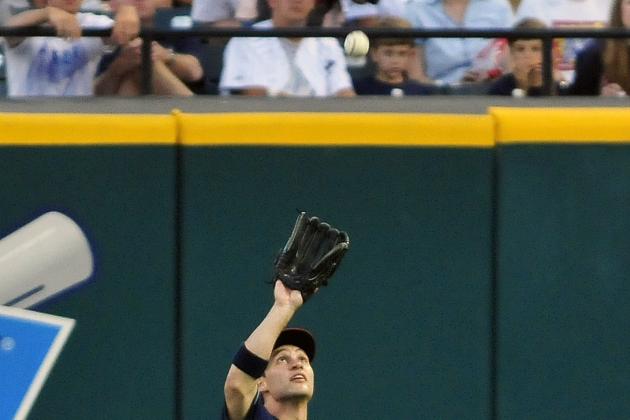 Jason Miller/Getty Images
Grady Sizemore missed all of last season
The Mets are currently the only team in baseball that have yet to sign a major league free agent this offseason.
As the free-agent pool continues to thin out, the Mets are looking at fewer outfield options.
One name that has consistently come up is that of former Cleveland Indians All-Star Grady Sizemore. Injuries have plagued him since 2010, and he missed all of 2012. Sizemore is presently recovering from knee surgery and will not be ready to play at the start of season.
The one-time center fielder has slowed down from all his injuries and would most likely be a better fit in a corner outfield position.
The remaining free-agent list includes older and part-time players such as Bobby Abreu, Matt Diaz, Austin Kearns and former Mets favorite Endy Chavez.
With spring training now less than two months away, it's clear that Mets GM Sandy Alderson has got some work to do in order for the Mets to field a competitive outfield.