New York Jets: 5 Biggest Offseason Decisions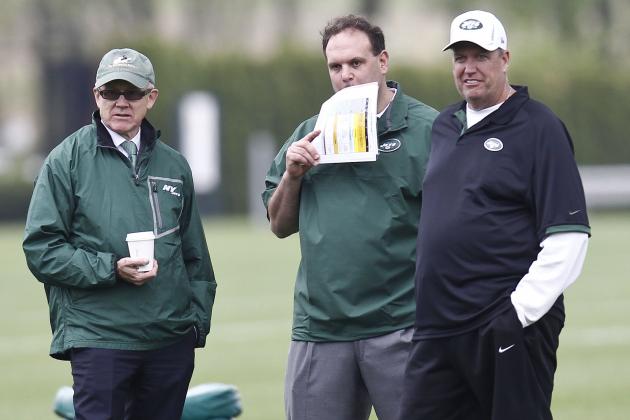 Jeff Zelevansky/Getty Images

The impending offseason will dictate a new direction for the New York Jets.
This band of raucous headliners will be forced to judge all aspects of football-related personnel in determining who's worthy of returning in the new year and who's destined for temporary unemployment.
The Jets are at a vital crossroad as they look towards rebuilding a team that has plummeted into a comical nosedive, highlighted by a quarterback carousel and media circus.
This offseason is expected to be tumultuous for the Jets, who wouldn't prefer it to be any different than that.
The 2012 NFL season exploited serious dysfunction within the Jets' organization, forcing them to re-evaluate front office operations and player personnel.
The Jets loathe their own travesties but are desperate for revival. They've failed to make the playoffs for consecutive seasons and are about to commence a serious overhaul in an attempt to flip the script for next season.
The handwriting is on the wall.
They have an opportunity to re-create sensational headlines during the looming offseason by executing five franchise-altering objectives.
Begin Slideshow

»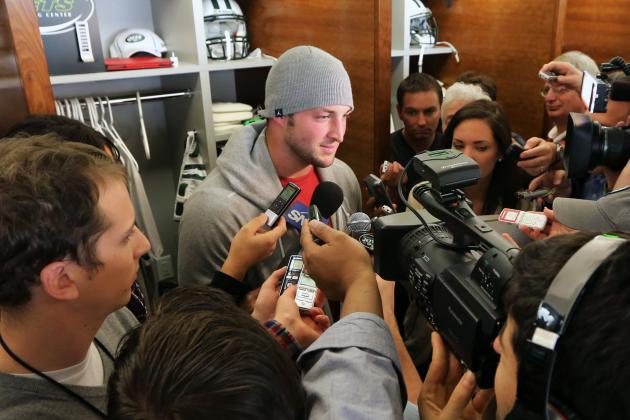 The Star-Ledger-USA TODAY Sports

Tim Tebow is arguably the most talked about professional athlete in the realm of sports media.
The Jets supposedly acquired the run-first QB to re-ignite a wildcat package that was highly effective when led by receiver Brad Smith.
Tebow flashed minimal ability to run any aspect of the Jets' offense in training camp and throughout the season in practice, though.
His purpose as a bruising quarterback in the wildcat became obsolete just a few weeks into September when it became apparent that Tebow was highly incapable of making a positive impact in minimal playing time.
Tebow isn't the type of player that can show up for six snaps and generate big offense. He was successful as a starter with the Broncos because he was under center for 60 minutes instead of two.
His brute power enabled him to run down defenses in the final minutes of close contests last season, contributing to countless comeback victories.
It's old news, but Tebow isn't the answer for the Jets at quarterback, even though he arguably could have generated more points than his counterpart, Mark Sanchez.
The Jets rank 30th in total offense this season.
Head coach Rex Ryan never wanted Tebow-mania to engulf his locker room and consume his team, but it did.
All reports indicate that the Jets will cancel Tebow-mania this offseason out of necessity to dissolve football's greatest soap opera and start the turbulent process of recovering from an outlandish trade.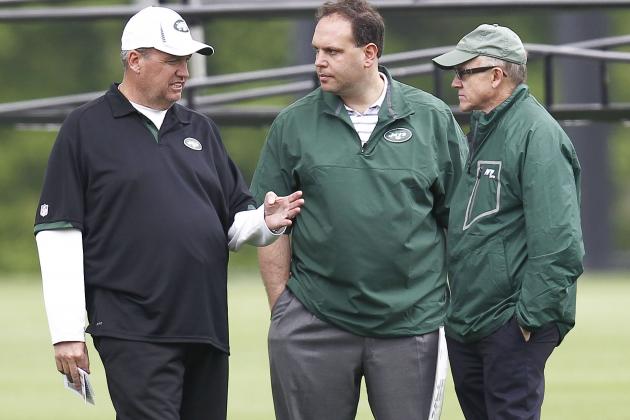 Jeff Zelevansky/Getty Images

Jets' GM Mike Tannenbaum is largely responsible for assembling a top-heavy roster consumed with overpaid veterans and insufficient talent.
Tannenbaum reportedly orchestrated the infamous trade for Tim Tebow, which immediately forced the Jets into the obtrusive spotlight and indirectly led to the outstanding regression of Mark Sanchez.
The second-rate GM complemented the acquisition of Tebow-mania by inking Sanchez to an extension worth in excess of $40 million.
Tannenbaum then opted to hire failed wildcat guru Tony Sparano to head an offense that was in dire need of a coordinator with legitimate accolades—someone capable of generating a resurgence for a bumbling offense.
The Jets ultimately need to re-think how they evaluate talent, in terms of both coaches and player personnel.
Tannenbaum's glaring inability to effectively pinpoint roster needs and appropriately draft players readily capable of making an impact is astounding.
Tannenbaum is responsible for drafting Vernon Gholston, Vladimir Ducasse, Kenrick Ellis, and Quinton Coples over the course of his tenure as general manager.
His incompetence is mind-blowing; wasted draft picks have become an annual event under Tannenbaum's leadership.
The Jets' potential decision to fire Mike Tannenbaum should be a no-brainer, although it's possible that owner Woody Johnson will opt to "demote" the current GM and grant him a position of insignificance with a flashy title.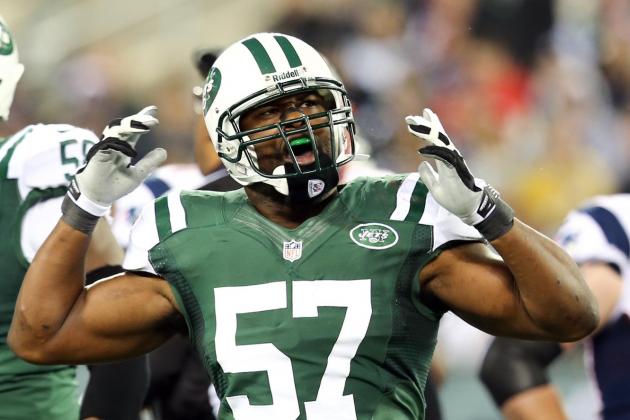 Debby Wong-USA TODAY Sports

Bart Scott used to be a catalyst on a defense that ranked among the most dominant forces in football.
He's due to earn $6.9 million in 2013, a figure that exaggerates his current net worth. Scott's impact has steadily decreased since 2009, which makes it hard to believe that the Jets would be willing to pay him premiere money to return next season.
The Jets are facing several decisions this offseason that will undoubtedly be determined based on the team's salary cap situation, starting with Bart Scott.
The 34-year-old inside linebacker is no longer a dynamic, every-down player capable of both stuffing the run and dropping back into pass coverage.
Scott has lost his edge as an elite linebacker. It was rumored after the 2011 season that the Jets would consider releasing the man that trademarked the phrase, "Can't Wait," although cap restrictions ultimately prevented them from doing so.
Now, Scott's exit seems imminent. The Jets need to inject a new signal-caller on defense.
Bart Scott is old news.
The only realistic likelihood of Scott reclaiming a roster spot in green and white for 2013 would be if the Jets give him his outright release before then signing him to a low base salary contract, an option that Scott will reportedly consider, according to The New York Daily News.
Still, Scott is a key component of a deteriorating line-backing core that is no longer prominent.
Fixing the books will be a top priority for the Jets this offseason, and Bart Scott headlines a hefty list of players due to make more than the Jets can optimally afford.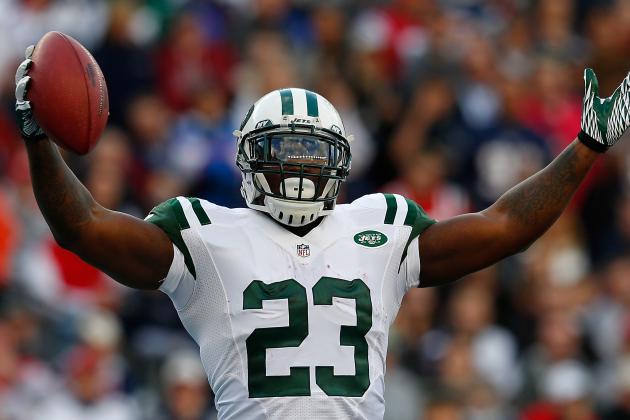 Jim Rogash/Getty Images

The Jets have a steep list of pending free agents as the looming offseason approaches.
It will be crucial for the team's brain trust to appropriately allocate limited resources to retain three key contributors for the 2013 season: Dustin Keller, LaRon Landry, and Shonn Greene.
Greene hasn't had an outstanding season but will eclipse the 1,000-yard rushing plateau for consecutive seasons in Week 17.
He's been a pivotal component to an offense that has a glaring lack of both speed and playmaking ability. Greene is the most stable aspect of the Jets' inefficient offense and should reclaim his role as starting running back in 2013.
Tight end Dustin Keller has battled injury issues this season but has been the Jets' most reliable downfield target in the absence of Santonio Holmes.
Keller has snagged 28 receptions on 36 targets for 317 net yards in eight games this season. His reception-to-target ratio is the best among Jets' receiving corps. Keller could potentially seek a more stable quarterback situation, however, which means that the Jets might need to overpay the 28-year-old tight end to retain him.
Keller sought an extension at the end of the 2011 season and was disappointed that the Jets refused to re-work a new deal, further adding to speculation that he could seek a job elsewhere.
Hard-hitting safety LaRon Landry has proven himself to be an imperative element in the secondary after battling serious doubt from pro scouts entering this season because of a nasty Achilles injury.
Landry has answered the call to mount his most dominant season. He's totaled 72 tackles, four forced fumbles and two interceptions for the Jets in 2012.
Landry is a perfect fit in Ryan's defensive game scheme and would reportedly welcome returning to the Jets, according to J.P. Pelzman of NorthJersey.com.
All three players are critical to the Jets' potential success in 2013 and should be top priorities for the Jets this offseason.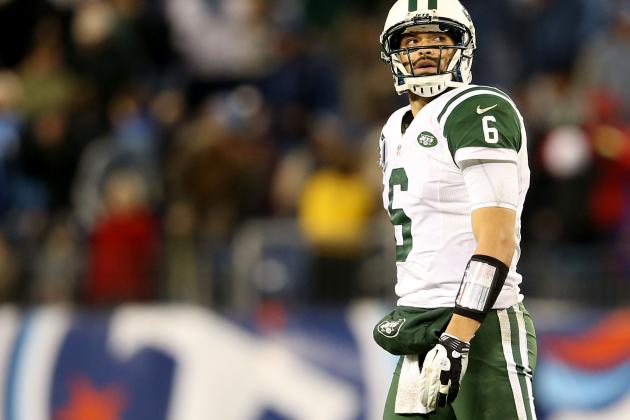 Andy Lyons/Getty Images

It doesn't matter how it's done, but the Jets need to rid themselves of Mark Sanchez.
The embattled quarterback was drafted to be a franchise player capable of leading the Jets to the Super Bowl.
Instead, it's possible that he's started his last game for the green and white. The Jets need to decide if the "Sanchize" is worthy of a roster spot in 2013.
The Sanchez project was a floundering situation that became a horrid circumstance when the Jets traded for Tebow.
The former first-round draft pick is guaranteed $8.25 million next season, which incredibly hinders the Jets' chances of ridding themselves of the most turnover-prone quarterback in professional football.
The Jets would take an estimated $17 million cap hit next season if they were to cut him outright at the end of this season, according to NYJetsCap.com.
Other alternatives?
It's doubtful that the Jets would be able to trade Sanchez, although it's not impossible. There is a significant list of teams with unnerving quarterback situations, such as the Browns, Cardinals, Chiefs, Eagles, Jaguars and Titans.
Is it possible that Mark Sanchez could succeed outside of the Jets' media circus? Is it viable for another team to take a chance on a QB that registered 24 turnovers in 14 games this season?
If it were possible, the Jets would still be forced to pay a significant portion of Sanchez's guaranteed salary to pull off a trade.
It's a distant reality, although unloading the "Sanchize" could prove imminent. The Jets virtually ruined their franchise quarterback by selfishly acquiring a gimmick player with commanding celebrity status.
The Jets aggravated their own dilemma in 2012, and now they will be forced to figure out how to deal with it.