Titans vs. Packers: 10 Keys to the Game for Tennessee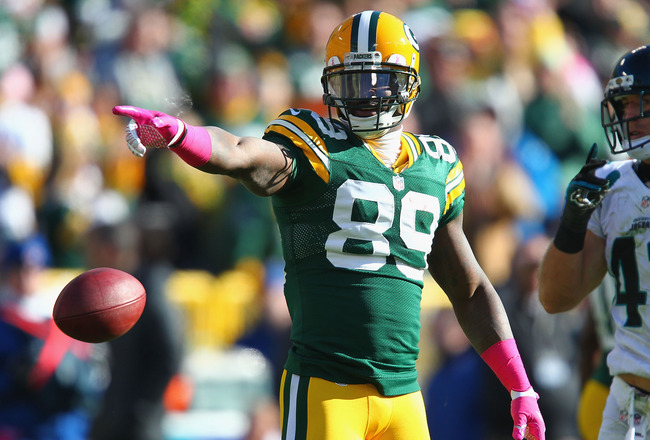 Dilip Vishwanat/Getty Images
The Tennessee Titans and Green Bay Packers game will feature one of the NFL's one-percenters against one of its lower-class teams.
Watching Aaron Rodgers get back to playing at an elite level last week while Jake Locker won the "who is less terrible game" against Mark Sanchez on Monday night should tell you all you need to know about this matchup.
Tennessee's victory over the New York Jets left much to be desired for the fans and, undoubtedly, owner Bud Adams.
Locker appears to have regressed the deeper into the season we get, and the offense is still far too inconsistent. The defense has been one of the league's best over the last few weeks, but it hasn't faced the most elite competition out there.
So what will be the key to beating one of the NFL's best teams? Let's find out.
Jake Locker Must Play a Complete Game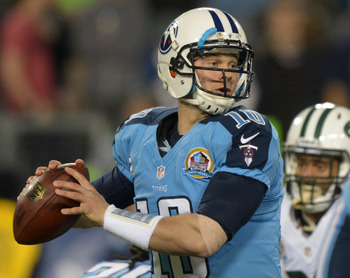 USA TODAY Sports
Since returning from a dislocated shoulder injury that sidelined him for six weeks, Locker has been the picture of inconsistent quarterback play.
In his last five games, he has thrown seven interceptions, and in the two games that he didn't, he threw for less than 150 yards.
The interesting part about that information is that the Titans' only two wins since Locker's return have been during his sub-150 yard performances.
Despite that fact, Tennessee will need more than a measly 150 yards from him, and the Titans definitely cannot afford to turn the ball over.
Keep Penalties to a Minimum
Frederick Breedon/Getty Images
Tennessee has been on of the league's most penalized teams this season, as highlighted by its 14 penalties for 111 yards on Monday.
The main culprit for the uptick in penalties has been the offensive line. The Titans have amassed 96 offensive penalties, good for ninth in the league.
The offensive line has only one remaining starter from the season-opener, with all the other members of the starting unit suffering season-ending injuries.
Tennessee simply does not have the firepower to overcome the amount of penalties it has been racking up on a week-to-week basis.
Get Chris Johnson Going Early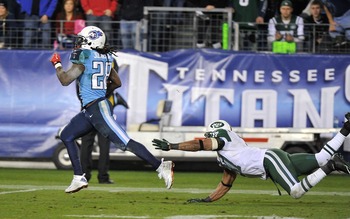 Frederick Breedon/Getty Images
Despite the Titans' injury woes along the offensive line, the team cannot use that as an excuse for the lack of punch they showed against the Jets.
Tennessee's running game will need to be used prominently to keep the high-flying Green Bay attack off the field for as long as possible.
Johnson has shown that he still has the burst that got him to the status he is at today, but he still needs to break off more positive runs on a consistent basis.
It's not absolutely vital that Johnson rush for more than 100 yards, but they will need him to get more carries of three-plus yards than of the zero- to one-yard variety.
Receivers Will Need to Step It Up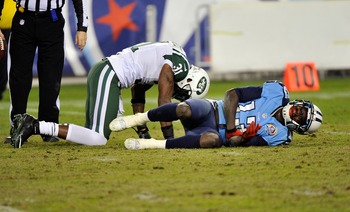 Frederick Breedon/Getty Images
The losses of Jared Cook and Kendall Wright cannot be understated. While the two have posted fairly pedestrian numbers through the year, the loss of Wright especially does not bode well for the Titans offense.
Wright has been featured as one of the offense's key cogs for converting third downs throughout the game. Without him in the lineup, one of the team's other receivers will need to step up.
That person will most likely need to be the newly acquired Michael Preston or Lavelle Hawkins. Nate Washington has been a hit-or-miss performer all season, and Kenny Britt still does not look like he's fully recovered from his ACL tear.
Big Play on Special Teams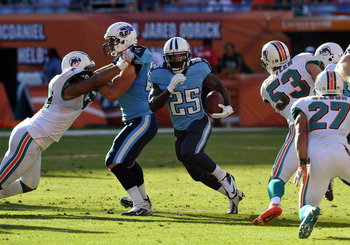 Steve Mitchell-USA TODAY Sports
Remember when Tennessee's wins seemed to be spurred on by huge special teams plays. Where have those plays gone?
Rob Bironas had his only field-goal attempt of the night blocked last week, and two punts were shanked by punter Brett Kern—the second one nearly cost them the game.
Darius Reynaud has made several questionable decisions in the last few weeks in regard to fielding punts, but he has still kept the Titans ranked fifth overall in punt return average.
Tennessee will need Reynaud's big-play ability to swing the field-position battle in their favor.
Limit the Opposing Quarterback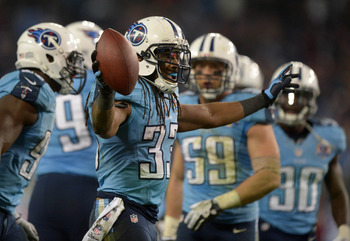 USA TODAY Sports
Aaron Rodgers is one of the league's three best quarterbacks, but he has been a tad off lately with injuries to Greg Jennings and Jordy Nelson.
It says a lot about a player when throwing for less than 250 yards in five of the last seven games is cause for some concern, but with Green Bay's poor excuse of a running game, it's to be expected.
Since the drubbing suffered against the Bears on Nov. 4, the Titans rank third in total defense (285.8 yards per game) and fourth in points allowed, giving up 17.6 per contest.
However, those games were played against Miami, Jacksonville, Houston, Indianapolis and the New York Jets. While Houston and Indianapolis boast top-10 offenses, those games were both lost due to a plethora of turnovers.
The Titans defense will need to take advantage of the Packers' injuries at receiver and hope the offense doesn't turn the ball over.
Unleash Zach Brown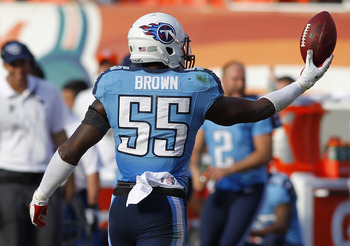 Robert Mayer-USA TODAY Sports
Linebacker Zach Brown is quietly having a very strong rookie campaign and putting to rest all the pre-draft talk of him shying away from contact.
Over the last four games, he has racked up 25 tackles and 3.5 sacks. He is proving to be a real problem for opposing offenses on short passes and runs outside of the tackles.
Tennessee will need another strong showing from the rookie to limit some of the quick throws that Rodgers uses to set up his deep ones.
Keep Randall Cobb Under Wraps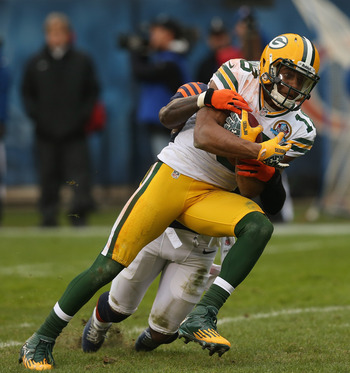 Jonathan Daniel/Getty Images
Randall Cobb has been a huge tool for the Green Bay offense. The New York Giants managed to keep him quiet by harassing Rodgers all day, but the Titans don't have that kind of personnel.
Instead, the Titans will need to do something they haven't done all season: make open-field tackles on the first attempt.
One of the key reasons the Titans defense has struggled so mightily this season is because of so many missed tackles.
If the defense struggles to make tackles again, Cobb will eat them up all game.
Don't Fall Behind Early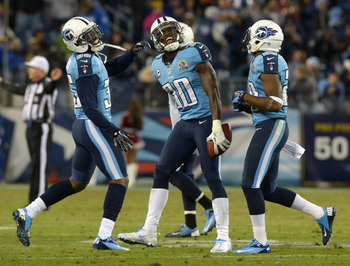 USA TODAY Sports
The Titans have been abysmal in the first quarters of games and really struggle when they are forced to play catch-up.
The Titans will be hard-pressed to keep the potent Green Bay assault off the board in the first half, but they will need to go score for score with them to stay in this game.
A slow start to this one will only end in disaster.
Defensive Line Must Win the Battle of the Trenches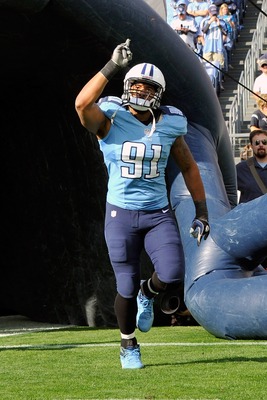 Frederick Breedon/Getty Images
The Packers offensive line isn't nearly as banged up as Tennessee's, but they are struggling to keep Rodgers upright.
According to ESPN Stats & Info, Aaron Rodgers has been sacked or put under duress on 31.1 percent of his dropbacks since the Packers' Week 10 bye, second highest in the NFL.
The Titans haven't been particularly stellar at pressuring quarterbacks, but they have been better of late. Derrick Morgan and Jurrell Casey will be key to collapsing the pocket and forcing Rodgers into some poor throws.
Keep Reading

Tennessee Titans: Like this team?