Mark Sanchez: 3 Players Who Could Help New York Jets QB Succeed in 2013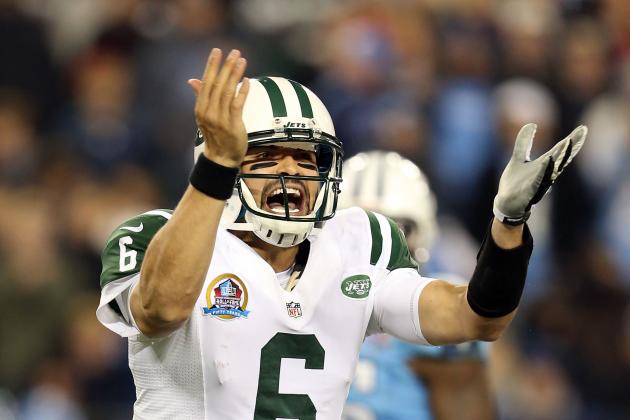 Andy Lyons/Getty Images
Mark Sanchez has endured a terrible season and will need help to succeed in 2013.
The New York Jets owe Mark Sanchez $8.25 million in 2013, which could be the deciding factor in whether he stays in New York for next season. Therefore, it stands to reason that they should do everything they can to help him succeed.
The Tim Tebow debacle has done the opposite and proved to be distracting and detrimental to both players. Tebow was never going to pose a real threat to Sanchez's job, but that doesn't stop people chanting his name.
Sanchez and Rex Ryan have made a lot of mistakes, but there isn't a lot of depth at quarterback in this year's draft. Sanchez isn't worth much in a trade, either, so Ryan's loyalty to his quarterback may be tested for yet another year.
If this is the case, the Jets need to surround him with enough talent to cover his limitations. The following pages outline three players who could do just that.
Begin Slideshow

»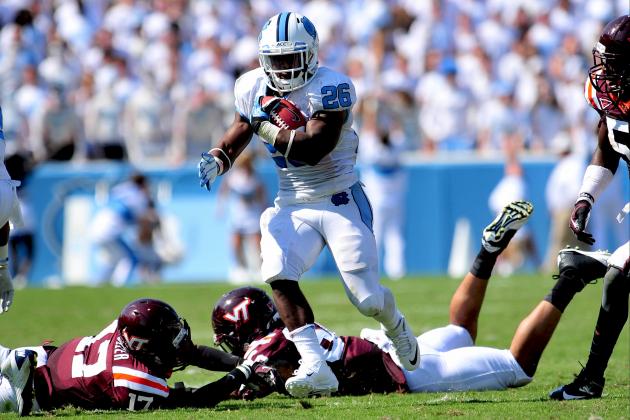 Lance King/Getty Images
Bernard has been exciting to watch for North Carolina this year.
Shonn Greene and Bilal Powell have shown they can carry the workload this season, most notably in the Jets' 17-10 victory over the Jacksonville Jaguars. Rex Ryan returned to a run-first offensive scheme that has been notably absent this year and the team found a way to win.
However, if the Jets look to establish a dominant ground game next season—and they should—at least one of those players is going to get banged up, so depth and rotation is integral to success.
North Carolina's Gio Bernard has already declared for the 2013 draft and would be a good pickup for the Jets. He led the ACC with 1,228 rushing yards, along with 12 touchdowns and 490 yards receiving. The team needs more ways to get a fresh set of downs and Bernard would help them achieve this.
The versatility evident in Bernard's stats makes him an attractive pick, and his combination of pace and the ability to make defenders miss means he has everything he needs to succeed in the NFL. He also doesn't take plays off and takes his blocking responsibilities as seriously as his carries.
Bernard could go early in the second round, but it's more likely that he slips a little, meaning the Jets could be in a position to take him. If Sanchez is to get any sort of results next year, he needs as much help as possible from his running backs.
Taking Bernard would give the Jets another reliable option on the ground, and release the pressure on Sanchez a little more. In the second round, that's pretty good value.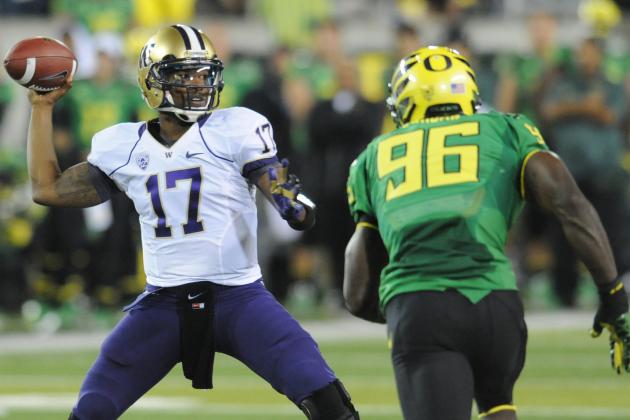 Steve Dykes/Getty Images
Dion Jordan has consistently brought pressure for the Ducks and could do so for the Jets.
The best way to help a struggling quarterback is often to make plays on defense, and the Jets will certainly look to add talent at OLB in next year's draft. Dion Jordan might not be as glamorous a pick as, say, Jarvis Jones, but the Jets should do everything they can to acquire his services.
At 6'7" and 245 pounds, Jordan is a matchup nightmare and also has great pace. He was recruited as a wide receiver, so his knowledge of receiving routes means he reads the play well, combining this with vicious tackling.
His skills in coverage are good and he has the size to deal with both receivers and tight ends. He has been hesitant on occasion, which has let players get away from him, but he is always improving and his speed gives him the ability to keep up after an initial hesitation.
Jordan's pass rush is the thing that will get him drafted, though. His athleticism and speed off the edge make the Oregon product a desirable NFL prospect, and one who is likely to go in the first round.
A criticism of Jordan is that he lacks variety in his moves, but that's what was said about Aldon Smith. Teaming him up with Rex Ryan would make Jordan a fearsome proposition for 2013.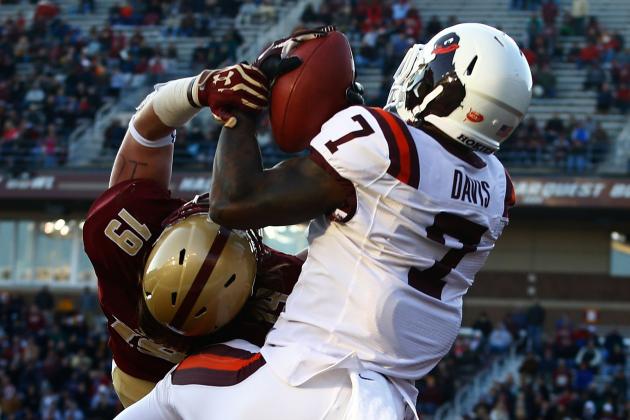 Jared Wickerham/Getty Images
Marcus Davis has made the most of limited opportunities in his senior year.
It's not been easy catching passes from Logan Thomas this year, but Davis has succeeded in spite of his quarterback's inaccuracy.
He has the ability to make game-changing plays, which the Jets are going to need with Sanchez throwing the ball. Davis stands at 6'4" and 232 pounds, which makes him a big target, and his ability to adjust to a poorly-thrown pass to make the catch will be an attractive trait for the Jets.
Davis is one of the more underrated receivers in this year's draft and could slide down the boards. If this happens, the Jets would be wise to pick him up.
His size makes him an ideal deep-ball threat for Sanchez, and his steady progression over his four years at Virginia Tech shows he is a dedicated player. He has good pace and can make something out of nothing with his catching ability.
The video posted by Deadspin, showing him missing blocks, went viral and could affect his draft stock. However, the way he conducted himself in reaction to the video was admirable, via The Washington Post:
If that's what they want to do with their free time, then I applaud them. Go ahead and do what you want. But at the end of the day, that's not gonna define me. That's not who I am. It is what it is; I hope everybody gets what they want from it. It doesn't faze me.
It's also worth pointing out that Davis had shown great improvement with his blocking in the previous game, and will only continue to do so.
By catching balls most receivers would drop, Davis has made Logan Thomas better in a terrible year for the Hokies signal-caller.
It's not unreasonable to suggest he could do the same for Mark Sanchez in 2013.