New York Jets: 10 Players to Watch in Week 15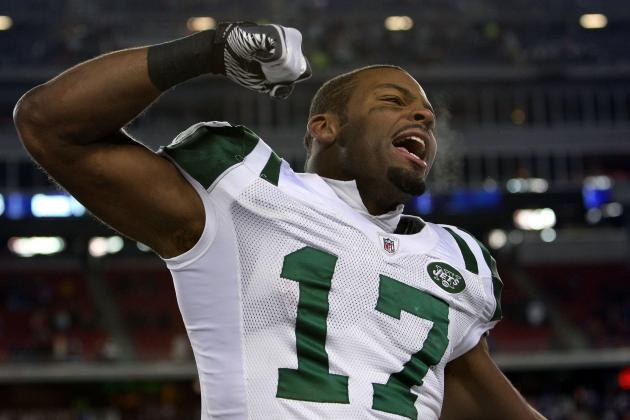 Michael Heiman/Getty Images

Amid a season filled with chaos and controversy, the New York Jets find themselves with the opportunity to continue an improbable late-season run on Monday night in Tennessee.
The Jets have not played consistent football much this season, so it would be a surprise to see them string together five victories in a row against any opponents. But Gang Green has a very favorable schedule down the stretch, and a 9-7 record could be enough for the last wild-card berth in a down year for the AFC.
Given concerns surrounding Mark Sanchez' recent play, the Jets' Week 15 game plan will likely resemble the way the team has played over the last six quarters. Emphasis will remain on the running game, defense and ball control. If Gang Green properly executes this game plan, it may very be enough to prevail against New York's remaining opponents.
Begin Slideshow

»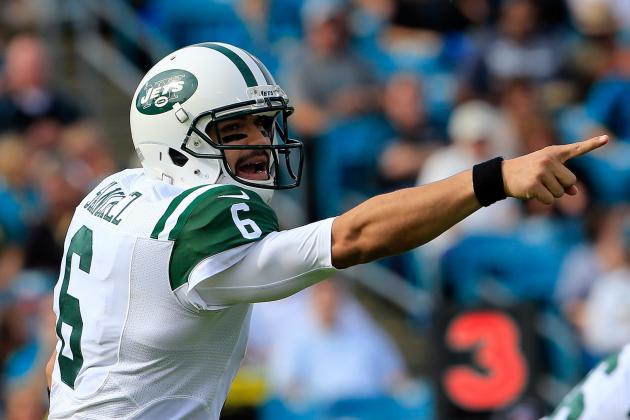 Sam Greenwood/Getty Images

Mark Sanchez didn't exactly put the Jets on his shoulders in last week's victory over the Jacksonville Jaguars. But he didn't make too many plays that put the win in jeopardy either.
Aside from a first-half fumble, Sanchez managed the game somewhat effectively for the Jets, as their running game took over in the second half. Sanchez did convert on his most important throw of the game, a third-down conversion to Jeff Cumberland late in the fourth quarter.
The Jets may need Sanchez to do a bit more against Tennessee, as the Jets cannot expect their defense to fully shut the opposing offense down every week. But the formula won't change too much, and Sanchez needs to continue to protect against turnovers.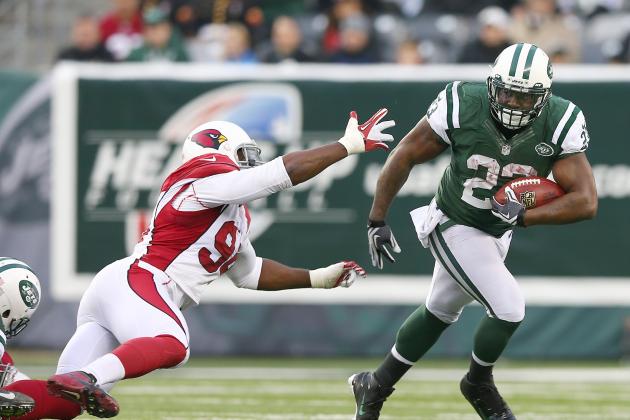 Elsa/Getty Images

The Jets power running game has started to pick up steam in recent weeks, and Greene remains a big part of the New York attack.
Greene has looked much sharper in recent weeks, hitting holes faster and picking up more yards after contact. Greene has improved over the course of each game, and the New York running game has been very difficult to stop in the fourth quarter as a result.
Greene will be expected to carry much of the offensive load again this week as the Jets look to keep the ball away from Chris Johnson.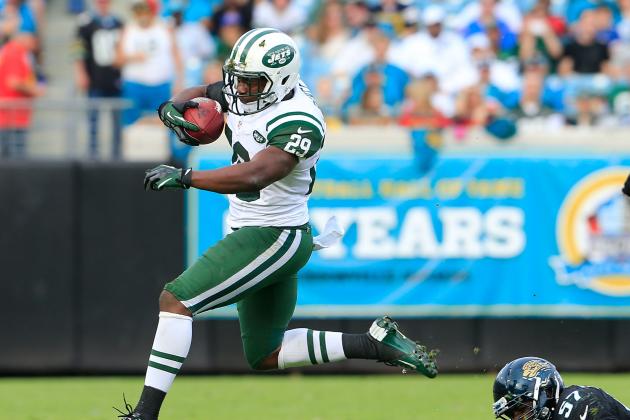 Sam Greenwood/Getty Images

One of the reasons that Greene has appeared so fresh at the ends of games is that Bilal Powell has taken his share of carries and kept Greene's workload down.
Powell has been effective, too, with no noticeable change in the Jets rushing offense when he is in the game instead of Greene. A Powell series resulted in a critical touchdown last week against Jacksonville.
Powell will continue to get opportunities in the New York offense, and his emergence has enabled the Jets to feature the run so heavily late in the season.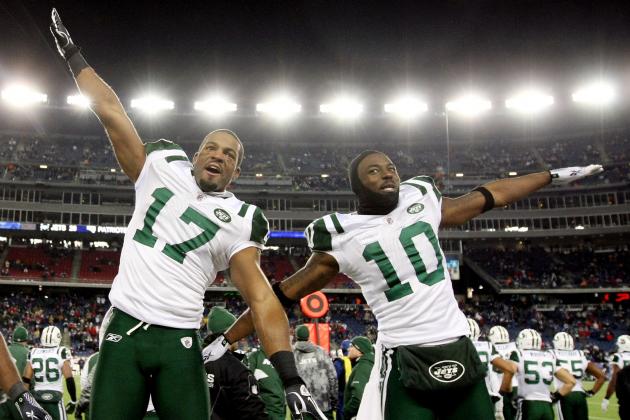 Al Bello/Getty Images

The Flight Boys are back.
It would be silly to expect Braylon Edwards return to his 2010 form, but given the Jets' injury issues at the position, there is definitely room for Edwards on this roster. He expected to play Monday, and given his rapport with Sanchez, he shouldn't have too much trouble getting up to speed.
Edwards immediately becomes the most qualified receiver on the Jets' roster, even if he is past his prime. He will be Sanchez' biggest target, which is key on third down and in the red zone, and he is a solid blocker in the run game as well.
Garrett Ellwood/Getty Images

The Jet offensive line has begun taking over games in recent weeks, and it appears Slauson has secured the starting left guard position during that same stretch.
Slauson, a much more physical player than backup Vladimir Ducasse, is a good fit for the Jets' current run scheme. Indeed, he has been opening up several cutback opportunities for Greene and Powell in recent weeks.
The Jets offensive line is in a groove right now, so Slauson should remain on the field as Gang Green looks to keep a good thing going.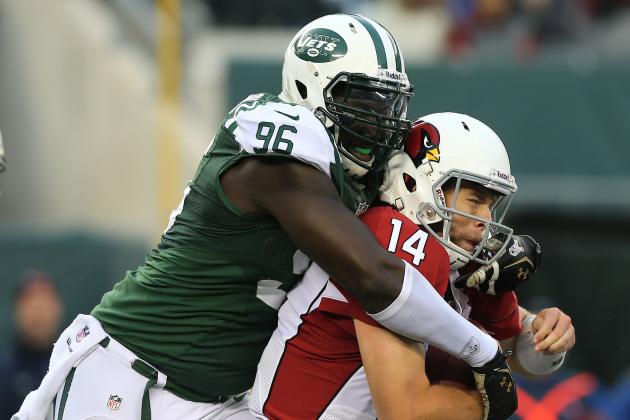 Elsa/Getty Images

The Jet defense has looked like an elite unit over the last few week's, and Wilkerson's emergence as an elite lineman continues to be one of Gang Green's better storylines.
The game against Tennessee represents an ideal opportunity for Wilkerson to showcase his skills on Monday night. The Jets will ask the second-year player to prevent Chris Johnson from turning the corner while also pressuring Jake Locker.
The Jets have been looking for balanced edge players for a long time, and they finally have one in Wilkerson. His performance may go a long way towards continuing New York's defensive hot streak.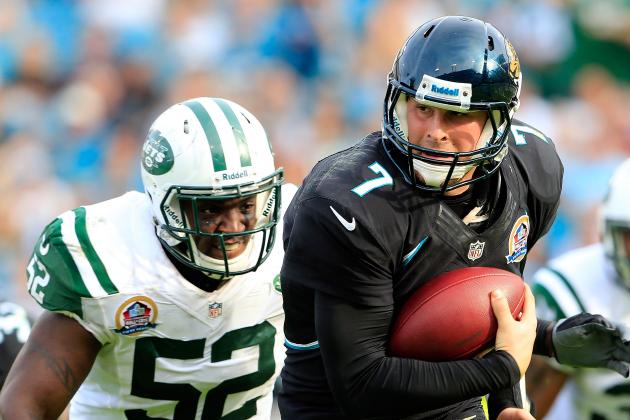 Sam Greenwood/Getty Images

Harris remains one of the leaders of the Jets defense, as the middle linebacker is entrusted with most of the play-calling and audible responsibilities.
Clearly, whatever the Jets have been doing recently has been working, and veteran leaders like Harris deserve some additional credit for that.
This week, Harris will likely be asked to contribute in coverage against Jared Cook, the Titans' athletic tight end. Cook is probably too quick for Harris to chase down the field, but he will cover the tight end underneath.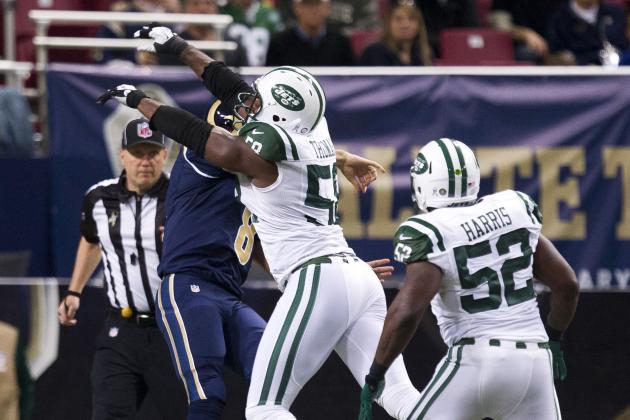 David Welker/Getty Images

While Wilkerson and the line represent the first line of defense, the Jets' outside linebackers also will have a big role to play in preventing Chris Johnson from breaking off big plays.
A fair amount of this responsibility falls on Thomas, another of the veteran Jet leaders. Thomas looked a step slow for much of the season, but he has looked sharper in recent favorable matchups.
Thomas against Johnson is not a fair fight, so the linebacker will have help. But Thomas' ability to slow Johnson down will be crucial to the Jets maintaining their defensive dominance.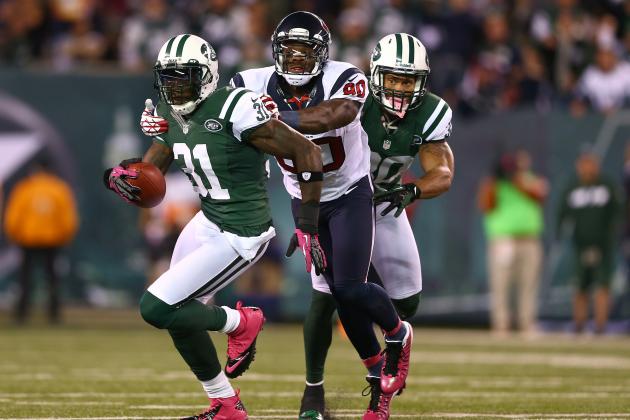 Elsa/Getty Images

The Titans like to throw to their wide receivers on the outside, so the Jets cornerbacks will be tested in this game.
Cromartie, who has had an outstanding season, will benefit somewhat from the fact that Tennessee does not have a true No. 1 receiver. Cromartie will likely be matched up against Kenny Britt, a talented but inconsistent player, for most of the night, but he may see some snaps against Nate Washington and Kendall Wright as well.
Given the Jets' efforts to create offense, it wouldn't be a surprise to see Tony Sparano run a gadget play or two for Cromartie under the Monday night lights as well.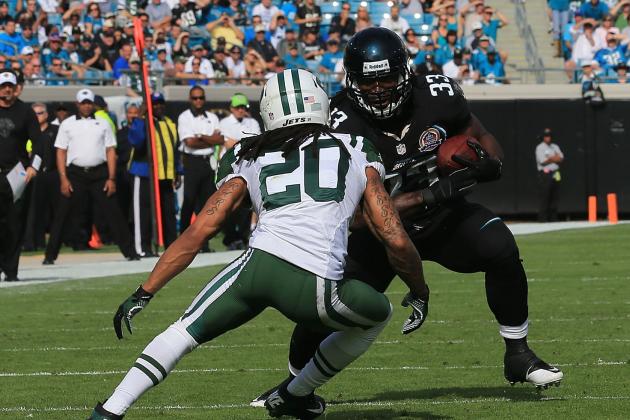 Sam Greenwood/Getty Images

The Titans have a pretty deep receiving corps, so Wilson will be tested on Monday night as well.
Even if Cromartie locks down Britt one-on-one, Wilson will have challenging matchups against bigger receivers in Nate Washington and Kendall Wright. He will likely have some safety help. but if the Titans spread the field, the Jets may want to shade help towards the slot and leave Wilson isolated.
Wilson has had his good and bad moments this season. This game will be one of the more critical ones he plays.