Giants vs. Falcons: Atlanta's Biggest Winners and Losers from Week 15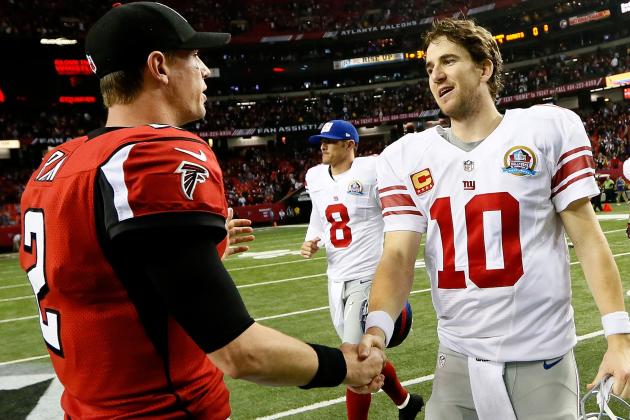 Kevin C. Cox/Getty Images

Disclaimer: When you lay a 34-0 beatdown on the defending Super Bowl champions in a December game that they desperately needed, no one on your team can truly be considered a "loser" this week (Yes, not even you Dominique Franks). While I did end up finding one group of losers to single out, you won't find the typical back and forth winner/loser postgame slideshow here.
Instead, we're going to highlight Falcons players (and coaches) whose outstanding individual performances combined to contribute to Atlanta finally putting together that elusive complete game. While we're at it, we will also give some love to a few unsung heroes from Sunday's huge win whose names you probably won't hear on SportsCenter. Enjoy the show.
Begin Slideshow

»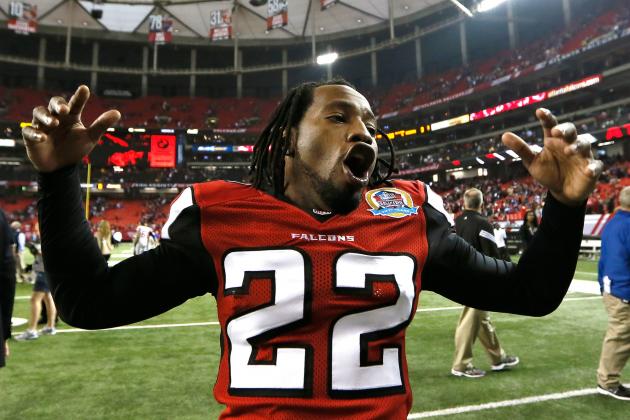 Kevin C. Cox/Getty Images

Thomas Dimitroff brought Asante Samuel in to bring some much-needed swagger to this team, and Samuel has not disappointed at all.
Samuel set the tone for a dominant performance by the Atlanta defense when he intercepted Eli Manning on the second play of the game. Samuel also broke up a fourth-down pass intended for Victor Cruz late in the second quarter that kept the Giants off of the scoreboard.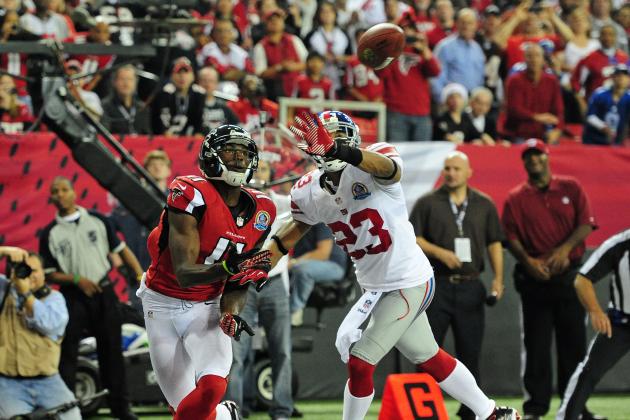 Scott Cunningham/Getty Images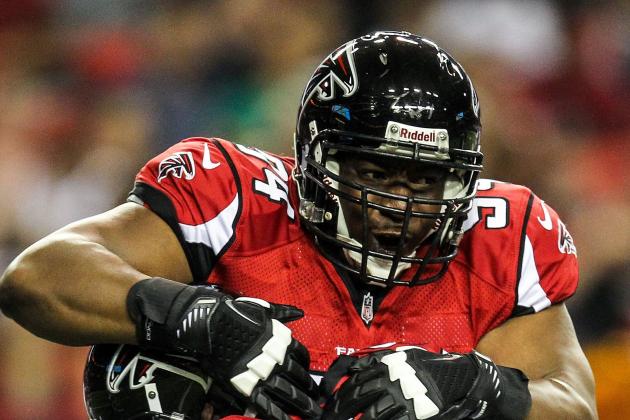 Daniel Shirey-USA TODAY Sports

There may not be a player on this defense who has improved as much as Akeem Dent has over the course of this season. Dent made one of the biggest plays of the game from his middle linebacker spot when he teamed up with Sean Weatherspoon to stop Giants running back David Wilson for no gain on the first of three failed Giants fourth-down conversion attempts.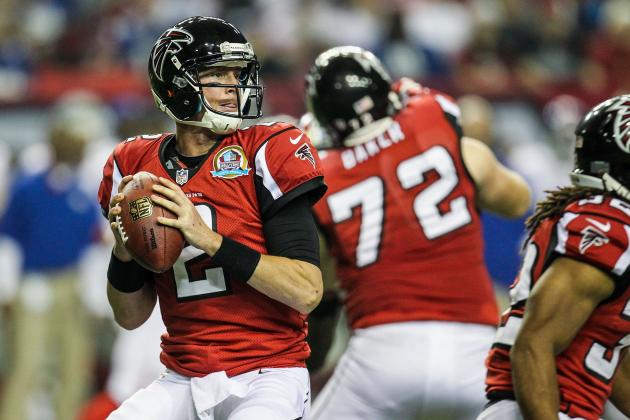 USA TODAY Sports

Speaking of improvement, the Falcons offensive line played Sunday's game against New York as if they had been waiting for another shot at the Giants defensive front since last January.
After Asante Samuel's interception, the Falcons called four straight run plays, and Atlanta's offensive line fired off of the ball and established themselves as the aggressors against the G-Men on each one of them. In pass protection, the offensive line only gave up one sack (Chris Canty beating Justin Blalock) all day. Sunday was without question the best game that the unit has put together all season.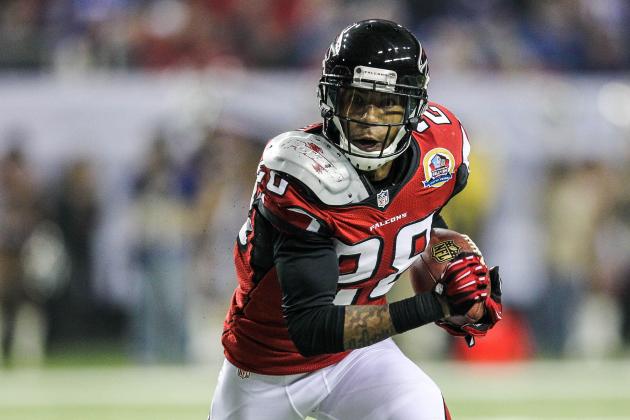 USA TODAY Sports

Is Thomas DeCoud the best free safety that Atlanta has had since Eugene Robinson?
DeCoud continued his habit of making big plays in the secondary with his second-quarter interception of an Eli Manning pass that was intended for Hakeem Nicks, a play that set up a Matt Bryant field goal that gave the Falcons a 17-0 lead.
Moreover, DeCoud made a huge open-field tackle late in the first half after Eli Manning connected with Nicks for a 24-yard gain on a third down on the Giants' last drive of the half that eventually stalled at the Atlanta 11-yard line.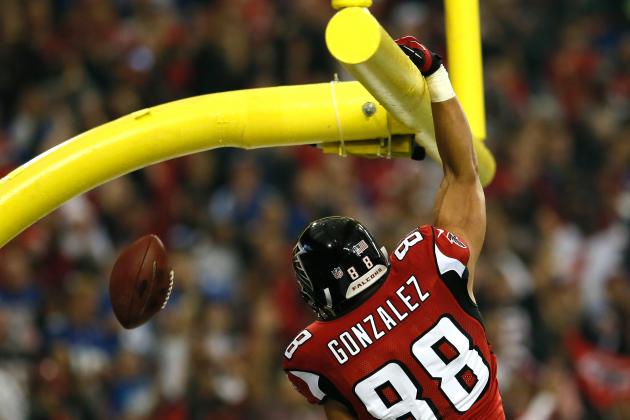 Kevin C. Cox/Getty Images

What can you say about Tony Gonzalez? All the man does is score touchdowns.
In the NFL, there is a big difference between jumping out in front of a team 10-0 and jumping out in front of a team 14-0. Late in the first quarter, the Giants trailed the Falcons 7-0 and had Atlanta facing a 3rd-and-long in the red zone before Tony Gonzalez's leaping touchdown grab put Atlanta ahead 14-0.
When asked about why Atlanta was so focused for Sunday's game, Gonzalez stated simply, "Embarrassment...It (Atlanta's focus) was better than it's been because it had to be.''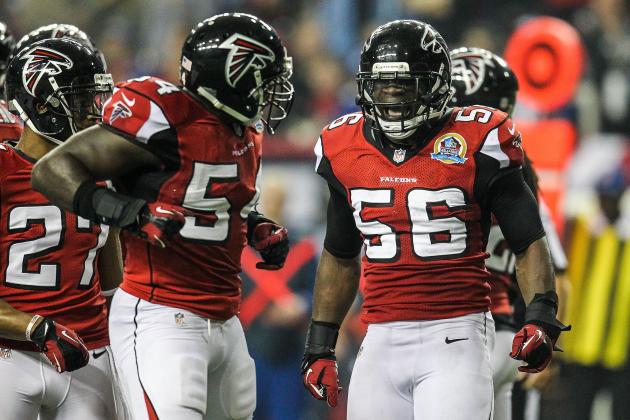 USA TODAY Sports

"D-Block" was definitely in the building on Sunday. In addition to being part of stuffing the Giants' first fourth-down conversion attempt, Sean Weatherspoon can be credited with the tackle that prevented the Giants from converting the third-down attempt that immediately preceded the failed fourth-down attempt. Weatherspoon is the undisputed emotional leader of this Atlanta defense, and he had his unit playing inspired football against New York, as he led the way with nine tackles.
Stephen Nicholas also played a key role in the defense's shutout. Nicholas was instrumental in eliminating cut-back lanes for shifty Giants running backs David Wilson and Kregg Lumpkin. The Giants had some early success running the ball off-tackle out of the shotgun formation, but once Nicholas started coming up and setting the edge, the Giants weren't able to gain much of anything on the ground.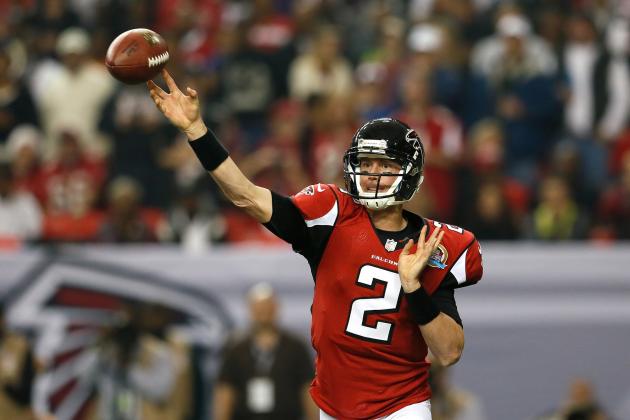 Kevin C. Cox/Getty Images

It appears that Matt Ryan's slump is over. He didn't have an Aaron Rodgers or Drew Brees-type game where he put up astronomical passing numbers, but in going 23-of-28 for 270 yards and three touchdowns, a surgical Matt Ryan made plays in the passing game when he had to make them. In fact, Ryan played with the kind of efficiency that Eli Manning normally plays with in big games.
With wins over both Manning brothers and Drew Brees under his belt, Matt Ryan can now move forward into January knowing that he can match up with Super Bowl winning quarterbacks in crunch time.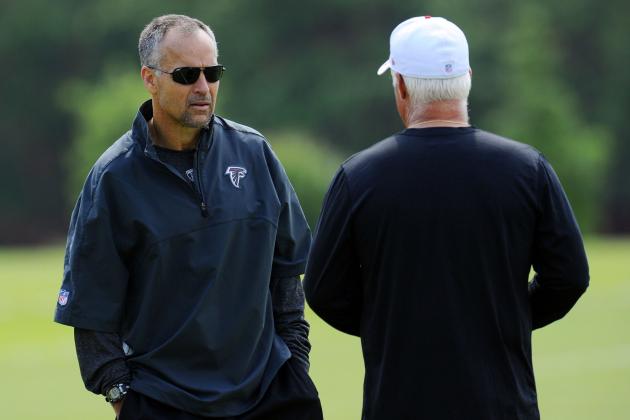 Dale Zanine-USA TODAY Sports

Scott Cunningham/Getty Images

Mike Smith lit into his team after their loss to Carolina last week, and they responded in a big way.
In beating the Giants, the Falcons also avoided having back-to-back losses, a hallmark of Smith's tenure with the team. Like his quarterback, Smith should get a confidence boost from beating a two-time Super Bowl winning coach in a December game.
USA TODAY Sports

After a disappointing start against the Panthers, backup safety Chris Hope filled in admirably for an injured William Moore. Hope came up and filled gaps well against the run and did not get caught out of position often in the passing game.
Atlanta fullback Mike Cox brought his lunch pail to work, and like Asante Samuel, he made a nice play that set the tone early for Atlanta when he stood up and pancaked a blitzing Giants linebacker on Atlanta's first play from scrimmage.
Finally, backup defense end Cliff Matthews also merits a little bit of praise for his play on special teams (stopped David Wilson short of the 20-yard line on the opening kickoff) and the job he did holding his ground when the Giants tried to run at him off-tackle on their first failed fourth-down conversion.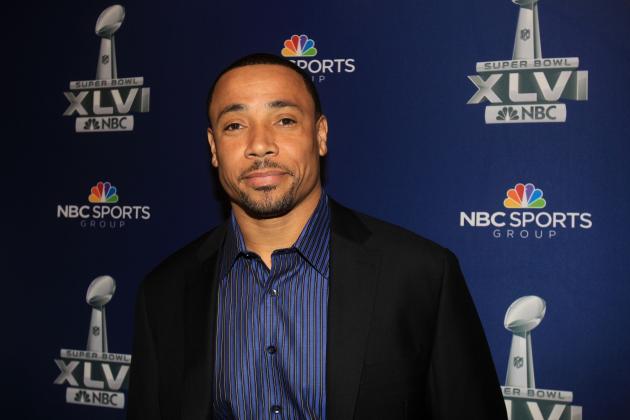 Scott Halleran/Getty Images
Rodney Harrison said that nobody is afraid of Atlanta and that the Giants are the team to beat in the NFC last week.
Asante Samuel said it best when he spoke to reporters after the game on Sunday, "We love the haters,'' Samuel said. "The haters keep us going. Keep up the hate.''
By giving the Giants the worst shutout loss ever by a defending Super Bowl champion, the Falcons served notice to all of their critics (and potential playoff opponents) that this squad is ready for January this time around.