Assessing Job Security for Every Member of New York Jets' Coaching Staff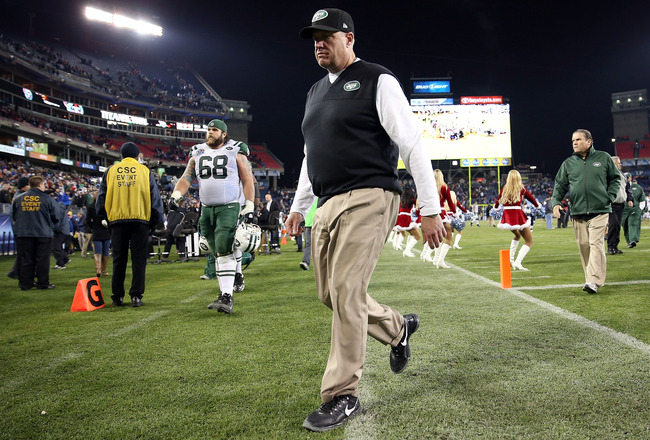 Andy Lyons/Getty Images
Assessing the job security of the New York Jets' coaching staff is perhaps premature.
After all, the Jets can salvage a .500 season with wins against San Diego and Buffalo. How the team comports itself in these final games might make or break some coaching futures, including that of head coach Rex Ryan.
However, the Jets are officially out of the playoffs. It's not too early to identify coaches whose jobs are in jeopardy. To start, here's a breakdown of the negative and positive aspects of the 2012 season.
PROBLEMS
The following issues plague the Jets in 2012:
Inconsistent quarterback play. Mark Sanchez appears to have regressed. His inability to move the offense against Arizona was so pronounced that Greg McElroy relieved him late in the third quarter. McElroy led the Jets to the winning score.
Sanchez leads the Jets in fumbles. His four interceptions and game-ending fumble against Tennessee stifled drives and sabotaged the defense's efforts.
Meanwhile, Greg McElroy, the legitimate pro set backup, has been inactive since leading the Arizona comeback.
Stagnant offense. Tim Tebow's signing is credited with undermining Sanchez's confidence. What's more, Tebow's work in the Wildcat formation has been unspectacular and not a credible diversion from the standard pro set.
It didn't help that Tebow's use often interrupted Sanchez just when he appeared to find a rhythm.
Giving up over two sacks a game hasn't been good for Sanchez's rhythm either.
By way of comparison, the Jets scored one touchdown against Arizona. Seattle beat Arizona 58-0.
The offense has been OK when the running game worked. However, there has been no reliable passing component. Without that, defenses crowd the line of scrimmage and make the ground game less effective.
Weak run defense. Linebacker play has been cited as the primary cause for problems against the run. Outside linebackers Calvin Pace, Bryan Thomas, Garrett McIntyre and Ricky Sapp have no forced fumbles among them. Compare that to 2011, when Aaron Maybin had four by himself.
David Harris is among the Jets' leading tacklers, but his inside counterpart Bart Scott has drawn fire for his declining play and public criticism of Jets' fans. Granted, a turf toe injury has hampered Scott. However, if he wants consideration from the fans, he should show fans consideration.
Special teams errors hastened defeat and impeded victory. The Jets have blown a fake punt, given up 40 yards to Arizona on a fake punt, fumbled a kickoff deep in their end zone and nearly had three punts blocked. Only the kickoff fumble occurred during a loss.
In fairness, Muhammad Wilkerson blocked a field goal against the Titans and special teams play did not figure in either Tennessee scoring drive.
BRIGHT SPOTS
There are also bright spots. Associated coaches deserve credit.
The offense rediscovered its roots. Jets' fans who long for the days of Namath, Maynard and Sauer or O'Brien, Walker and Toon will need a major paradigm shift from Rex Ryan. Otherwise they will never be satisfied with his offense. Remember, Ryan came to the Jets from the Baltimore Ravens, where Trent Dilfer was the starting quarterback and the defense led the 2000 team to a Super Bowl XXXV victory.
The Ravens offensive philosophy was, "Run when you can, pass when you must and don't be ashamed to punt." In other words, don't try and score on every drive. Instead, gain enough yardage each possession to push your opponent's drive start deeper and deeper into his territory. Rely on your defense to get stops and turnovers. Keep working field position until two or three first downs get you in field goal range or the red zone. Then score, remembering that a field goal is better than nothing.
That offense was no joy to watch. It didn't have to be. It did, however, have to be patient, risk-averse and error-free.
That is the direction the Jets' offense is taking. It's a viable strategy as long as the offense avoids turnovers and the defense and special teams do their jobs.
I stress avoiding turnovers. Four interceptions and a fumble is bad enough in a wide-open game. For an offense of limited potency, turnovers are deadly.
The defensive line found a new star. Muhammad Wilkerson has become a force at defensive end. Quinton Coples has become a capable alternate. Mike DeVito is a complementary force at tackle.
In Conor Orr's analysis of the Jacksonville game for The Star-Ledger, Wilkerson credited defensive line coach Kurt Dunbar with playing a major role in his emergence.
The secondary overcame adversity. Darrelle Revis's season-ending injury was considered a death blow to the Jets' pass defense. Antonio Cromartie, Kyle, Wilson, and LaRon Landry had other plans. Through 14 games, the Jets' pass defense yielded an average of 191.1 yards passing per game, second in the NFL.
GRADING
It's still too early to give any coach a final grade or verdict. It's also true that an assistant's job often hinges on the return of his head coach, so this all could change should Rex leave.
However, based on team performance to date, I'm using the following scale to assess each coach's job security.
VULNERABLE: Unless there is a dramatic turnaround in the coach's area of responsibility, that coach should update his resume.
INCONCLUSIVE: There are pluses and minuses to the coach's performance that make a verdict difficult at this time.
SAFE: The coach has made a positive contribution to the 2012 season and deserves to return.
RETIRING: Special Teams Coordinator Mike Westhoff is retiring at season's end.
Statistics' sources are the New York Jets' 2012 media guide, the New York Jets' website, cbssports.com and NFL.com.
Position Coaches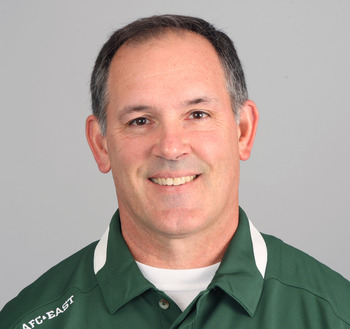 Mark Sanchez's 2012 problems might cost quarterback coach Matt Cavanaugh his job.
Handout/Getty Images
The Jets' highly publicized issues make position coaches worthy of a look.
VULNERABLE
Matt Cavanaugh, quarterbacks: Mark Sanchez's issues with fumbles and interceptions makes Cavanaugh the most vulnerable assistant from Rex Ryan's original Baltimore Ravens' brain trust.
Sanchez's passer rating has fallen from a career high of 78.2 in 2011 to 67.9 (through 14 games) in 2012. Completion percentage fell from 56.7 in 2011 to 54.8.
Cavanugh's job may depend on Sanchez's performance down the stretch, especially with Braylon Edwards back. After Sanchez's four-interceptions-and-a-fumble performance against Tennessee, Cavanaugh is more vulnerable than ever.
On the other hand, if Cavanaugh's superiors find enough mitigating factors, such as Tim Tebow's presence, over two sacks per game and the injuries to favorite targets Dustin Keller and Santonio Holmes, Cavanaugh will get one more year.
Sanjay Lal, receivers: The Jets' media guide praises Lal for his work with young wide receivers. However, many of Sanchez's interceptions are attributable to incorrect patterns. There have also been judgment issues, such as when Jeremy Kerley fumbled against Jacksonville by trying to stretch the ball past the first down marker. It was a noble effort but showed a disregard for field position, which is of paramount concern in the Jets' offensive strategy.
Unless receiver play improves, Lal may be working with someone else's young receivers next year.
Mike Smith, outside linebackers: Aaron Maybin was Smith's claim to fame last year. Maybin recorded six sacks and four forced fumbles. This year, Maybin is gone and through 14 games ouside linbackers have 8.5 sacks and zero forced fumbles. Barring a major turnaround, Smith could follow Maybin.
INCONCLUSIVE
Dave DeGuglielmo, offensive line: The Jets' change of run blocking scheme has helped take pressure off Sanchez and restore an offensive philiosphy focused on field position and ball control. It's not clear who originated the change of scheme or how much negotiation it took to obtain approval. Regardless, DeGugliemo must have borne the major responsibility for its implementation.
On the other hand, pass protection remains an issue. Sanchez was sacked four times against the Titans, giving him a 14-game total of 33. The offense's ability to pick up blitzes has come under fire. Ironically, Sanchez's lone touchdown pass against Tennessee came against a blitz.
The final nail in DeGuglielmo's coffin could be his ties to Tony Sparano. They both joined the Jets after serving together in Miami. If Sparano goes, DeGuglelmo may follow.
Mike Devlin, tight ends: Devlin may deserve some props if he helped change the run blocking scheme in his role as assistant offensive line coach.
He's had a tough time with tight ends since Dustin Keller was injured. Good receiving tight ends like Jeff Cumberland aren't great blockers while good blocking tight ends like Konrad Reuland and Hayden Smith aren't great receivers. Devlin faced the challenge of matching the best tight end to each play.
There's also the question of whether he works more with run blocking or pass blocking. If he works primarily in pass protection, he could take the blame for the Jets' protection woes.
SAFE
Karl Dunbar, defensive line: Muhammad Wilkerson has publicly credited Dunbar with teaching him subtleties of NFL line play such as the legal use of his hands and body to evade offensive linemen. Because of Wilkerson's emergence this year, as well as the improvement of Quinton Coples and Mike DeVito, Dunbar will stay.
Anthony Lynn, running backs: It looks like Shonn Greene is headed for another 1,000-yard season and Bilal Powell is emerging as a strong alternate with possibilities for an expanded role next year. Fumbles continue to plague the Jets, but since Mark Sanchez leads in that department I don't think Lynn will get excessive heat for that. He'll be back.
Dennis Thurman, secondary: Thurman reinvented a secondary that was devastated by Darrelle Revis's season-ending injury. Moving Kyle Wilson from slot receiver coverage to conerback played to the stronger parts of Wilson's game and helped lessen the impact of Revis's loss, while LaRon Landry and Yeremiah Bell asserted themselves as forces at safety. Meanwhile, Antonio Cromartie took Revis's coverage responsibilities and proved himself worthy of All-Pro consideration. Next year should be even better when things return to full strength. See you next year, Dennis.
Mike Westhoff: Special Teams Coordinator
2012 is Mike Westhoff's final season. He is retiring.
Handout/Getty Images
Mike Westhoff falls outside of this assessment, as he is retiring come season's end.
Mike Westhoff has built an impressive resume as a special teams guru. Even when other parts of the Jets declined, special teams helped win games, such as in 2011 against Dallas.
In that game, Joe McKnight ran a blocked punt 18 yards for a touchdown that tied a game the Jets once trailed 24-10. The Jets went on to win, 27-24.
Such was not the case in 2012.
Take Thanksgiving night's loss against New England. Joe McKnight's attempts to return kickoffs from deep in the end zone cost the Jets a touchdown on his first try and a few yards in field position on his second.
Even in victory, special teams put the Jets in precarious positions. Arizona's biggest play from scrimmage was 40 yards on a fake punt. The Jets' attempted fake against St. Louis was stuffed.
Even Jacksonville almost blocked three punts when Eric Smith did not cover properly.
Westhoff's successor must put an end to these errors.
Hopefully the blocked field goal against Tennessee marks the beginning of a trend.
VERDICT: RETIRING.
The Jets could try to sign someone like Bobby April should he choose to leave the Eagles upon Andy Reid's departure.
Should they prefer to promote from within, Ben Kotwica has worked as Westhoff's assistant since 2009. If management believes the special teams' system is sound despite this season's issues, Kowtica might get his chance.
Best wishes, Coach Westhoff.
Mike Pettine: Defensive Coordinator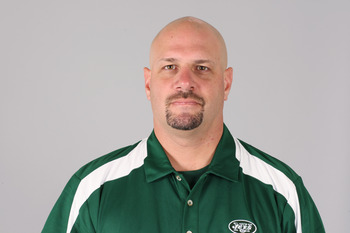 Handout/Getty Images
Mike Pettine's season could have been much worse.
When Darrelle Revis suffered a season-ending injury, 2012 did not look bright for the Jets' defense. However, things are turning out much better than was feared. The Jets have a top 10 defense through 14 games, ranking eighth overall. They are 29th against the run and second against the pass.
Linebacker play, and with it run defense, have declined. Bart Scott has battled turf toe all season. However, that does not explain the decline in sacks and forced fumbles by the linebacking unit as a whole.
The good news is that both the defensive line and secondary have seen old hands reassert themselves and new talent emerge.
Muhammad Wilkerson is the brightest defensive star to emerge for the Jets this year. The defensive end is among the team leaders in tackles and, sacks. Quinton Coples is a capable alternate with a sack total that rivals Wilkerson's.
In the secondary, cornerbacks Antonio Cromartie and Kyle Wilson as well as safeties Yeremiah Bell and LaRon Landry have stepped up their play to keep the Jets' pass defense at a high level.
WHY HE MIGHT GO: It's tempting to discredit the Jets' high pass defense ranking by saying that opponents pass less because of the weak run defense. In other words, Pettine should be fired because his defense isn't perfect.
WHY HE MIGHT STAY: The bottom line is that Mike Pettine has another top 10 defense to his credit in a year when his top player suffered an early season-ending injury. Oh, and the stagnant offense has been far more to blame for the Jets' woes than any defensive shortcomings.
VERDICT: SAFE.
The defense continues to be the strength of the New York Jets. Give credit where credit is due. Bring back Pettine.
Tony Sparano: Offensive Coordinator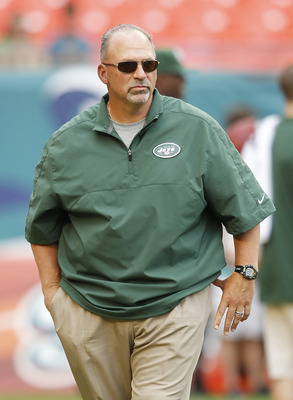 Tony Sparano was accused of running a lifeless, unimaginative offense.
Joel Auerbach/Getty Images
Tony Sparano had the task of revitalizing an offense that had begun to stagnate in 2011. The loss to Tennessee demonstrates his failure.
You can say he wasn't ever an offensive coordinator before. You can say that the Jets' offense does not reflect current NFL trends. However, even if you take the offense at face value, it is not working.
The real problem with the Jets' offense is turnovers. That sounds obvious, but consider the context. Offenses like those of the Giants, Packers, Patriots and Broncos can rebound from a turnover because they're more capable of scoring quickly.
The Jets, on the other hand, prefer a low-risk, low-reward approach. That's where the scheme falls apart. They cannot recover from turnovers by scoring quickly like the more high-powered teams. Therefore, it is imperative that the Jets' play selection and execution place a premium on ball security.
That has not happened under Sparano.
Instead, the Jets' defense is under constant pressure to overcome the offense's mistakes.
Before training camp opens, the Jets need to decide what kind of offense they will run and who is most qualified to lead it.
It isn't Sparano.
WHY HE MUST GO: The Jets' offense needs an overhaul. They need to find a coordinator who can do it. Norv Turner is a possibility. It may require a major paradigm shift by Rex Ryan, but that may be the price he and the Jets must pay for an elite offense.
WHY HE MIGHT STAY: Sparano's departure could mean a repudiation of Ryan's offensive strategy.
It isn't pretty, but the Jets' offense has shown signs of improvement. The running game has begun to assert itself thanks to the new gap blocking scheme. If Sparano advocated as well as implemented the change, he deserves credit for getting the change approved.
There are also organizational issues to consider. Maybe Rex can't accept a more contemporary offense that relies on dynamic quarterback play. If he can't accept either the concept or the man who implements it, the front office might have to intervene. That could undermine Ryan's authority and even lead to his dismissal.
VERDICT: VULNERABLE.
Until the Tennessee game, I would have said "INCONCLUSIVE." I thought the offense was making a successful return to its conservative, field position based roots. However, Mark Sanchez's performance has convinced me that regardless of the scheme Ryan likes, Sparano is not the coordinator to implement it.
Nor is Sanchez the field general to lead it.
The offense needs a huge improvement over the next two games for Sparano to return. Not just in quarterback play, but in organization and poise. When the Jets spend timeouts prematurely to get the right personnel on the field or look disorganized in doing so, that indicates a fundamental systemic failure.
Tony must go, and take Tim Tebow with him.
Bob Sutton: Assistant Head Coach/Linebackers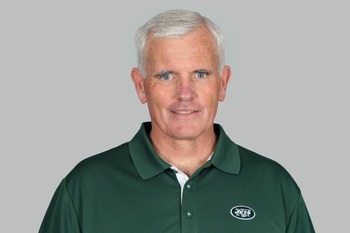 Would replacing Bob Sutton strengthen the linebacking corps?
Handout/Getty Images
2012 is Bob Sutton's first year as assistant head coach. It was marked by a significant decline in linebacker play, Sutton's primary responsibility since 2000.
In 2011, the linebacking trio of David Harris, Calvin Pace and Bart Scott combined for 224 tackles, and 14 sacks. Harris, Scott and Pace finished second, third, and fourth on the team in solo tackles.
Enter 2012. Through 14 games Harris, Pace and Scott have 205 tackles and 7.5 sacks. Harris is still second on the team in solo tackles but Pace and Scott have fallen behind players like Yeremiah Bell, Kyle Wilson, Ellis Lankster and Muhammad Wilkerson.
That three of these four players are from the secondary implies that ball carriers are evading the linebackers for longer gains before the secondary stops them.
Likewise, the lower sack total implies that this linebacking trio is slowing down, getting more predictable or some of both.
Sutton may have to answer for the decline.
WHY HE MIGHT GO: Linebacker play has drawn fire as run defense has declined and sacks are down. Mike Smith can take the rap for the outside linebackers' failures, but someone must be accountable for the unit as a whole.
WHY HE MIGHT STAY: Salary cap considerations might be the pretext for the departure of Harris, Pace and Scott. Their departure might be a sufficient management response to the performance decline.
In that case, Mike Tannenbaum, Rex Ryan and Mike Pettine might value Sutton's input when seeking replacements.
It's also unclear about how Sutton's new title impacted his work with the linebackers.
VERDICT: SAFE, with reservations.
The question isn't as much if Sutton will stay but in what capacity.
Is the assistant head coach position similar to the bench coach in MLB, a position often filled by a former manager?
If so, Ryan or Tannenbaum might prefer a former head coach like Andy Reid or Norv Turner in the assistant head coaching role. Sutton could resume coaching linebackers full-time.
Otherwise, he could remain in the assistant head coaching capacity while having input in finding a full-time linebackers' coach as well as replacements for Harris, Pace and Scott.
There's a place for Sutton with the Jets. They must develop the right one.
Rex Ryan: Head Coach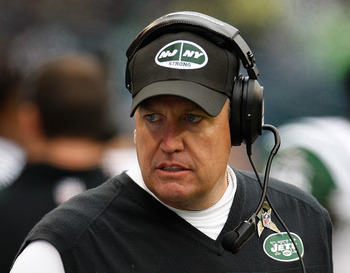 Rex Ryan guided the Jets through an injury-plagued, tumultuous 2012 season.
Kevin Casey/Getty Images
Rex Ryan has seen his Jets fall from an AFC title contender into the personification of mediocrity. Mark Sanchez's viability as the starting quarterback is under fire. The defense has slipped from first overall in 2009 to eighth after 14 games in 2012. Special teams' play has been marred by poor decisions and execution.
What's more, Ryan has presided over a media circus that has seen anonymous teammates call backup quarterback Tim Tebow "terrible" and linebacker Bart Scott describe critical fans as "...picked last in dodge ball all through high school."
Nevertheless, there are justifications for letting Rex return next year, provided the Jets finish strong.
In a year where team talent is suspect, Ryan had them in the playoff hunt through Week 15. An 8-8 finish in a season where they lost All-Pro cornerback Darrelle Revis, starting tight end Dustin Keller and starting wide receiver Santonio Holmes to injuries would be a tribute to Ryan's resourcefulness.
Granted, the offense and special teams have been error-prone. Run defense declined. Mark Sanchez has devolved into a turnover machine.
However, the offense began to return to Ryan's vision. as a new run-blocking scheme revived the fortunes of Shonn Greene and Bilal Powell.
The secondary has stepped up its play in the wake of Revis's loss. The defensive line has seen Muhammad Wilkerson and Quinton Coples combine for eight sacks from defensive end.
In short, Ryan deserves credit for holding a turbulent ship together.
WHY HE MIGHT GO: If the Jets collapse completely, the outcry for Ryan's ouster may be too much for Mike Tannenbaum and Woody Johnson to resist.
WHY HE MIGHT STAY: Ryan persevered despite critical injuries to keep the Jets in the playoff conversation until the Tennessee loss in Week 15. He deserves a chance to return to a ship at full strength and try to achieve his vision.
VERDICT: INCONCLUSIVE.
Odds are Ryan will return. But what happens on the field as 2012 concludes will be the major determining factor.
Keep Reading

New York Jets: Like this team?