Handing out New Orleans Hornets Team Awards Through the Season's First Quarter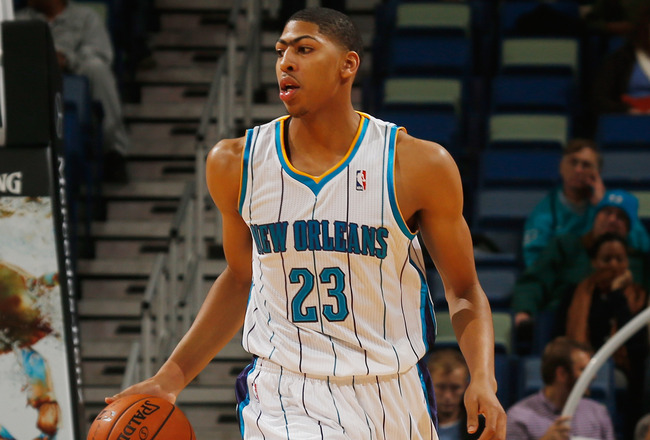 Chris Graythen/Getty Images
The first quarter of the NBA season may not have gone how the New Orleans Hornets had hoped, but we should still take this opportunity to accentuate the positives and hand out some early hardware. The Hornets are a disappointing 5-16 as of Dec. 12 and have lost their last five contests, including back-to-back heart-breakers against Washington and Oklahoma City the past two nights.
New Orleans led late in both of those games, but managed to let them slip them away. Their woes are a combination of injuries, inexperience and inconsistency. They have a good collection of young talent, but they don't have a reliable superstar who they can depend on to close out games, especially with guard Eric Gordon out with a bum knee.
They are a rudderless ship still trying to find their way in the treacherous waters of the Western Conference. What once looked like a possible playoff year now seems like another season destined to end with coach Monty Williams' boys in the NBA draft lottery.
Despite all of that, there have been some positives. Point guard Greivis Vasquez and center Robin Lopez are having career years. Forward Ryan Anderson has a shot at making the All-Star game and rookie Anthony Davis, when healthy, is rapidly becoming a star on both ends of the court.
When you add the continued development of small forwards Al-Farouq Aminu and Darius Miller as well as the potential return of Gordon, you get a team that can be interesting to watch going forward.
Time will tell what the future holds for this young Hornets team. For now, let's take a look back at the first quarter of New Orleans' season and hand out a few awards.
Most Improved Player: PG Greivis Vasquez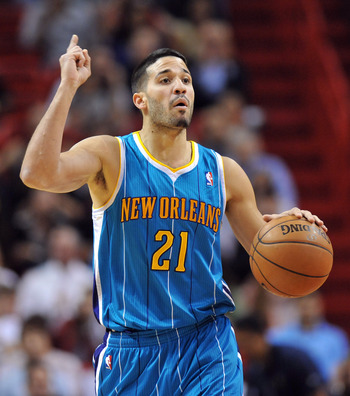 USA TODAY Sports
Going into this season, Greivis Vasquez appeared to be nothing more than a stop-gap option keeping the starting point guard spot warm for rookie Austin Rivers to eventually take over. His best season prior to 2012-13 was last season when he averaged 8.9 points and 5.4 assists a game as the backup and occasional fill-in for Jarrett Jack.
Those career numbers are getting shattered this season. Vasquez is averaging 11.9 points and 8.2 assists (sixth best in the NBA) after opening the year as the starting point guard for the first time in his career. He's shooting nearly 40 percent from the field and almost 36 percent from the three-point line.
Vasquez has not only been one of New Orleans' biggest surprises, but a huge surprise for the league as well. A year after losing franchise point guard Chris Paul in a trade with the Clippers, the Hornets have found a new stalwart to initiate the offense.
Granted, Vasquez isn't CP3, but who is?
This award was neck-and-neck between Vasquez and Al-Farouq Aminu. Aminu is also having a career year, averaging 9.2 points and 6.9 rebounds (up from his career averages of 6.2 and 4.3 a game). He leads the team in steals and is shooting 47 percent from the field.
However, Aminu hasn't been the fixture in the starting lineup that Vasquez has, which is why Greivis gets the nod. The important thing for Vasquez going forward will be becoming a more reliable scorer. After averaging 14.2 points per game in the month of November, he's scoring just 8.3 points a night midway into December.
Vasquez has scored in double-digits just twice this month and hasn't done it once in the past four games. The Hornets are a team desperate for scorers with Eric Gordon out. Vasquez doesn't need to be a 20 points-per-game gunner, but he needs to be someone the team can count on more consistently.
For now, he's the most improved player on a Hornets team that has seen quite a few young guys have breakout seasons. He's become an integral part of the team's rebuilding process and his success has allowed the team to keep Rivers at shooting guard where he belongs.
Sixth Man of the Quarter: SG Austin Rivers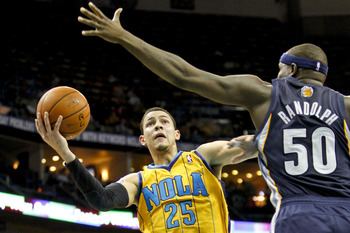 USA TODAY Sportss
Austin Rivers wins this award almost by default. The Hornets don't have many key reserves, and the rookie out of Duke really seems to be catching on in his role as the team's offensive spark off the bench.
He's had a couple solid games in recent weeks, including a career-high 15 points against Memphis on Dec. 7.
After starting the season as Eric Gordon's replacement at shooting guard, Rivers was benched in favor of veteran Roger Mason Jr. after the rookie sputtered in the first couple of weeks. It has taken some time for him to get going offensively, but his play these few games should give the team hope that he can be a solid sixth man once Gordon returns.
Rivers is averaging seven points per game. He's averaging more assists (2.9) than turnovers (1.4), which is promising for his future if the team goes back to its initial plan of converting him into a point guard.
While Rivers has gotten better as the team's sixth man, he still has to make significant strides to playing like the dynamic scorer he was in college.
Rivers is shooting 32 percent from the field and from behind the arc. Those numbers should be a little better for a kid who was such an excellent shooter in college. The Hornets don't have many offensive weapons and they need the No. 10 overall pick to average a little more than seven points per game.
Now that he's seemingly settled into a role, it will be interesting to see how Rivers improves over the course of the season. It will also be intriguing to watch how the team utilizes him once Gordon comes back.
Right now, he's getting into his stride with the second unit and has been the best player on a bench that isn't brimming with breakout players.
Best Defensive Player: C Robin Lopez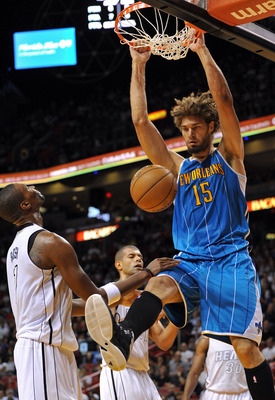 USA TODAY Sports
This award could have gone a number of ways. Small forward Al-Farouq Aminu leads the team with 1.4 steals per game and is one of New Orleans' best perimeter defenders. Rookie Anthony Davis was the team's leader in blocks for most of the season.
However, while Davis was nursing an ankle injury, Robin Lopez stepped up as the team's best rim protector. Lopez leads the team in blocks, averaging 2.2 per game (which is good for the eighth in the NBA). That is more than double his career average (0.9 blocks per game).
According to 82games.com, Lopez's block percentage is 4.3 percent and his blocks average over 48 minutes is 3.4 a game. As a point of reference, three-time Defensive Player of the Year Dwight Howard's block percentage this season is 4.4 percent and his blocks average over 48 minutes is 3.7.
Granted, Lopez isn't as good a defender as Howard, but those numbers give you an idea of how well the former Suns big man is playing on the defensive side of the ball. Like Greivis Vasquez, Lopez has gone from an incumbent keeping a spot warm for a potential replacement, to someone the team should consider locking up long-term.
Lopez is a free agent this summer. With the way he's been playing this season and the fact that quality big men come at a premium, it would be wise for the Hornets to do what they can to retain Lopez and pair him with Davis for at least the next half decade.
Davis will eventually give Lopez a run for his money as the team's best defender. Right now, that title belongs to the former Stanford standout.
Rookie of the Quarter: PF Anthony Davis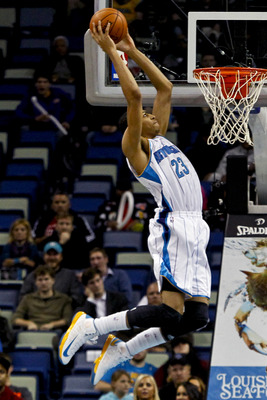 USA TODAY Sports
Some will say that it is unfair to name Anthony Davis as the Hornets' top rookie since he's played in eight of the team's 21 games so far this season. It's a fair argument. However, you can't really argue with Davis' production in those eight games.
The 19-year-old with the unsightly unibrow is averaging 15 points, 7.8 rebounds and 2.1 blocks per game. After missing 11 games with an ankle injury, the team has been cautious with Davis by easing their prized rookie off the bench the past two games.
Still, it has to be more than a slight coincidence that the team played better defensively in Davis' return on Dec. 11 against Washington than it had in the 11 games without him. Granted, it was the lowly Wizards, but it is still notable that New Orleans held Washington to 77 points.
The sample size for Davis' candidacy as the team's best rookie may be small, but it has been solid nonetheless. Austin Rivers has played more games, but has been less productive. Undrafted rookie Brian Roberts has been a nice story this season, but he doesn't provide the impact on both ends of the court that Davis does.
The brilliance of Davis' rookie campaign will only become more evident the more he's able to stay on the court. After missing time with a concussion and an ankle injury, the hope is that "The Unibrow" can avoid any health woes going forward.
Davis brings so much to the table offensively and defensively and he's only going to get better. He may not have logged as much time on the court as the team's other freshmen, but he has done more in eight games than most rookies have done in 21.
MVP: PF Ryan Anderson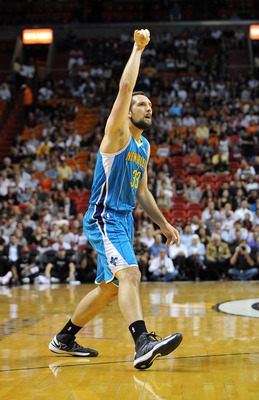 USA TODAY Sports
When the Hornets drafted Anthony Davis and traded for center Robin Lopez, the question became: What would prized acquisition Ryan Anderson's role be with his new team? After all, Davis' spot in the starting lineup seemed solidified from day one and Lopez's presence was to prevent the No. 1 overall pick from the pounding of playing center.
Where did that leave the league's reigning Most Improved Player?
Thanks to Davis' struggles staying healthy in the first quarter of the season, those concerns have been tabled for the time being. Lucky for Anderson, his impressive play so far will make it hard to send the former Cal Bear back to the bench.
Anderson leads the Hornets with 18.1 points per game. He's also averaging 7.7 rebounds per game. After leading the league in three-pointers made and attempted last season, Anderson leads the league in those two categories yet again this season. He's shooting 42 percent from behind the arc and a little over 46 percent from the field.
Anderson's versatility allows the Hornets to utilize him in numerous ways. With small forward Al-Farouq Aminu's grip on the starting small forward spot loosening up in recent weeks, the team could play Anderson at the 3 alongside Davis and Lopez to give the team a bigger look.
With increased comfort scoring in the post as well as his skill as a rebounder, Anderson could also get some looks at center and power forward.
The bottom line is the team needs the former Magic big man on the court. With Eric Gordon out, Anderson represents the team's best scoring option.
Once Gordon returns, this Hornets offense can be dangerous with guys like Anderson, Davis, Austin Rivers and Greivis Vasquez potentially sharing the court with the former Indiana Hoosier.
Anderson doesn't offer much in terms of defense, and the team hasn't won much despite his scoring output, but can you imagine where they would be without him? How the team utilizes their first-quarter MVP going forward will be interesting to watch, especially when Gordon comes back.
For now, Anderson has gone from a guy without a defined role to the best player on the team.
Keep Reading

New Orleans Pelicans: Like this team?