Braylon Edwards Signing a Low-Risk, High-Reward Move for New York Jets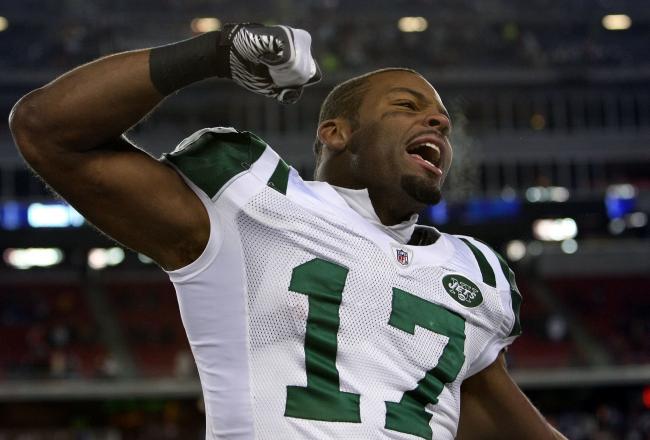 Michael Heiman/Getty Images
The New York Jets aren't talking about the fact that they are one game out of the playoffs with three games to go, but the move to sign wide receiver Braylon Edwards proves that inside the walls of MetLife Stadium, it's the only thing they're thinking about.
Turning back to a familiar face was more enticing to the Jets front office than sticking with a thinning group of wide receivers. Now, the same guy who called the Jets front office "idiots" just weeks ago is now is the guy who could hold the team's postseason hopes in his hands.
Signing Edwards is a chance they are wise to take.
This would be an easy opportunity to bash general manager Mike Tannenbaum, as has been the wont of this AFC East writer (time and time and time and time again), but on the contrary, this move warrants praise. Yes, there's some egg on his face considering that he had to turn back to Braylon in a time of need, but kudos for being big enough to make the move despite any residual pride or angst he may or may not have harbored toward Edwards.
This is not a genius move by Tannenbaum, but an admission of desperation is better than stubborn ignorance.
Injuries have left the Jets as deep as a kiddie pool at wide receiver, and the Jets would be foolish not to consider Edwards a better option than Jason Hill, whose most memorable highlight consists of dropping the most beautiful, on-target throw Tim Tebow has made in his NFL career.
He is familiar with Jets quarterback Mark Sanchez, even intimately so; the two have remained close friends since Edwards left after the 2010 season.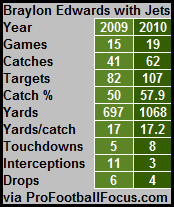 More importantly, on the field, Edwards was one of Sanchez's most frequent targets. That being said, Sanchez also had a tendency to force him the ball, which resulted in a lot of picks when targeting Edwards.
He was used a lot as a deep threat in his first stint with the Jets, but he hasn't been the same in that regard since he left. His best attribute for the Jets is his size, something they currently lack.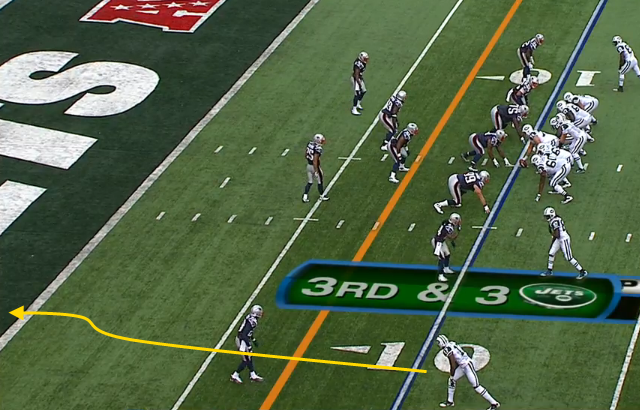 Sanchez went to Braylon a lot on third downs and in the red zone. This was a combination of both, with the Jets facing 3rd-and-3 midway into the second quarter.
The route is nothing special, just a quick sluggo that got him a little separation from Patriots cornerback Darius Butler, but that subtle move wasn't what did the trick.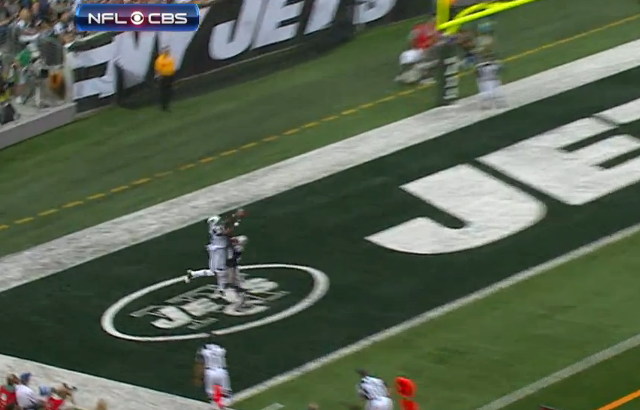 His long 6'3" frame goes a long way in the red zone, as Sanchez put it up for the big receiver and let him make the play.
Minus the lack of long speed, the Jets are hopeful to get some of the same things out of Edwards that they were getting out of rookie wide receiver Stephen Hill, whose injury against the Jaguars almost certainly played a part in the decision to sign Edwards.
In that sense, he timing could not have been any better.
Braylon was put on reserve/designated to return.
Hill injured his knee.
Braylon was waived by the Seahawks.
The Jets claimed Braylon.
Almost as soon as the Jets had a need, they had their answer.
Braylon Edwards: good move or bad move for the Jets?
What's more important about this whole scenario is that by claiming him off waivers, the Jets pick up the remainder of his one-year, $825,000 contract. He will still be a free agent following this season. The Jets are not committed to Edwards in any way.
So, in the best case scenario, Edwards provides a familiar target for Sanchez while the Jets make one last push for the postseason. In the worst case scenario, Edwards is too rusty to get back on track and the Jets miss the playoffs.
Erik Frenz is the AFC East lead blogger for Bleacher Report. Be sure to follow Erik on Twitter and "like" the AFC East blog on Facebook to keep up with all the updates. Unless specified otherwise, all quotes are obtained firsthand or via team press releases.
This article is
What is the duplicate article?
Why is this article offensive?
Where is this article plagiarized from?
Why is this article poorly edited?

New York Jets: Like this team?