Why Mike Tannenbaum Is Under the Most Pressure for the New York Jets
May 16, 2012

Karl Walter/Getty Images
The theatrics of Broadway have spilled over to MetLife Stadium, and with the drama at an all-time high and the New York Jets' show hitting a turbulent period in its run, general manager Mike Tannenbaum could be the one to get the cane if things don't improve.
Rex Ryan's guarantees haven't done as much real damage as they have simply brought unneeded attention to the team. Mark Sanchez's development may not be going exactly as planned (or perhaps it is?), but while there are reasons that are within his control, there are some outside forces at work. And if you're holding high expectations of Tim Tebow, you're probably assuming he's going to start this season, and if he's starting, you know the Jets season isn't going very well.
Rex, Sanchez and Tebow are the central characters in the plot, but the casting director is Tannenbaum, and if the show is a flop, it's on him.
While Rex has a level of influence in the decision-making process, Tannenbaum has been making the kind of decisions for years that have put the Jets in this position in 2012.
The quarterback and head coach didn't build the roster, they just work with what they have. 
Yes, "what they have" includes current stars in cornerback Darrelle Revis, center Nick Mangold, left tackle D'Brickashaw Ferguson and linebacker David Harris, as well as (potential) future stars in defensive end Muhammad Wilkerson, cornerback Kyle Wilson and a host of solid 2012 draft picks—you could even add Mark Sanchez himself to that list, if you believe in his ability to get past his issues.
It's not the main characters that have earned Tannenbaum such criticism; it's his failure to pay close attention when casting the bit parts and the understudies.
Tannenbaum's been far from perfect casting main characters, too; right tackle Wayne Hunter's 2011 season was among the worst for a right tackle, allowing 11 sacks on the season. The Jets have completely ignored the right tackle position this offseason, so it's safe to say they have a lot riding on Hunter turning it around in 2012.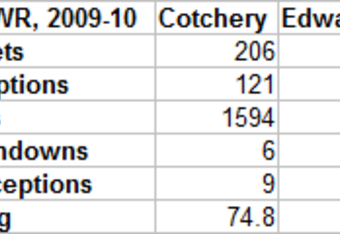 If a lack of open-side protection wasn't bad enough, losing wide receivers Braylon Edwards and Jerricho Cotchery was more than enough to cause Mark Sanchez to regress in 2011 even if his stats improved; he simply didn't have a familiar target in the passing game besides tight end Dustin Keller and wide receiver Santonio Holmes.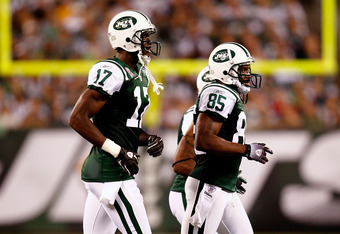 Jeff Zelevansky/Getty Images
Replacing Edwards and Cotchery with a 37-year-old Derrick Mason and a 33-year-old Plaxico Burress? Both of whom had no experience in the Jets offense? Burress coming off two years away from football? Who knew that would turn out as badly as it did?
Beyond all of those decisions, the biggest decision of all has been to completely ignore the depth on the roster. Injuries exposed that ignorance time and time again in 2011. Mangold's two-week absence was met with a two-game losing streak and for the grand finale, Sanchez and back-up center Colin Baxter fumbled a couple of exchanges against the Baltimore Ravens.
The Jets struggled to get any pressure on the quarterback when Bryan Thomas went down with injury. Linebackers Jamaal Westerman and Josh Mauga took his spot and didn't provide the presence the Jets needed (although, admittedly, Aaron Maybin did as a pass rusher). The Jets liked what they saw in Westerman; enough that they allowed him to walk in free agency and sign with the Dolphins.
In a lot of ways, the 2012 draft was a means to right the wrongs for the Jets' past roster decisions. With nine draft picks, they have plenty of opportunities to address depth across the board.
The Jets lost Brodney Pool, who was a solid role player at safety and filled in well when the Jets were struck with injuries at the position in 2011. Adding depth at the position with two picks, Josh Bush and Antonio Allen, while adding linebacker Demario Davis to back up Bart Scott or potentially even Bryan Thomas could be a quick fix at two spots where depth was an issue.
On the offensive side of the ball, adding guard Robert T. Griffin, running back Terrance Ganaway and wide receivers Stephen Hill and Jordan White should also provide depth at key positions where the Jets lack it.
Because just like in showbiz, the show must go on, with or without the main characters.
And the failures to keep top-end talent in the fold have also magnified that underlying issue.
The climax of the show is coming, and it's up to Tannenbaum's latest casting decisions to ensure that he stays on staff for the duration of the run.
There's no business like show business.