Breaking Down Knowshon Moreno's Week 14 Performance and Status Moving Forward
December 8, 2012
On Thursday night, Denver Broncos running back Knowshon Moreno delighted fantasy football owners by accumulating 167 yards from scrimmage and scoring on a two-yard run, helping the Broncos to a 26-13 win.
Moreno, who took over at tailback in Week 12 after starter Willis McGahee was placed on injured reserve, has improved his numbers every week since being named Denver's starter, and he is beginning to make a case for himself as Denver's feature back of the foreseeable future.
"(Moreno's performance was) very good,"  Coach John Fox said on Monday.  "We expected it; we knew the kind of player he was even from looks from last year.  He was very patient for his opportunity and he's making the most of it.  I thought he ran the ball very physical, very smart.  He protected well, so all in all I think he had a winning performance."
Moreno, who appears to be running more patiently and tougher than in years' past, had a career-high 32 carries against the Raiders.
"I thought he has done outstanding," concluded Fox, who has made Moreno the clear choice to lead Denver's backfield moving toward the playoffs.
On Thursday, Moreno helped the Broncos offense stay balanced with an effective running game while also providing a reliable receiving option out of the backfield and helping in pass protection.
Below, we'll break down all three phases of Moreno's duties.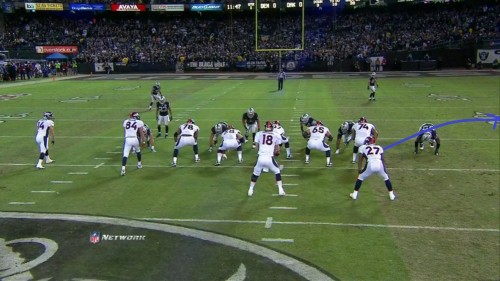 In the passing play above, all Moreno is asked to do is head straight to the flats, which Oakland's secondary has left open.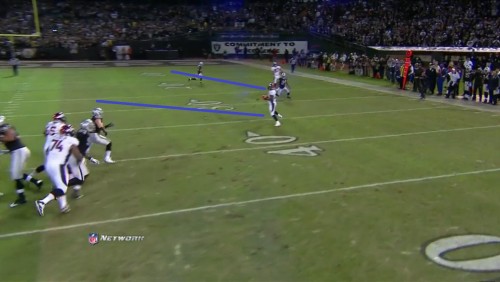 Once Moreno has caught the ball in the open field, all he has to do is avoid one cornerback before darting up field, gaining 16 extra yards after picking up a first down.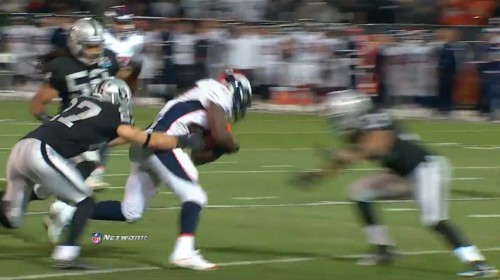 Perhaps the most impressive part of Moreno's catch-and-run was how he finished.  Moreno lowered his shoulder and made the hit more painful for the defender than the ball-carrier—an area in which he has greatly improved in this season, finishing runs with authority.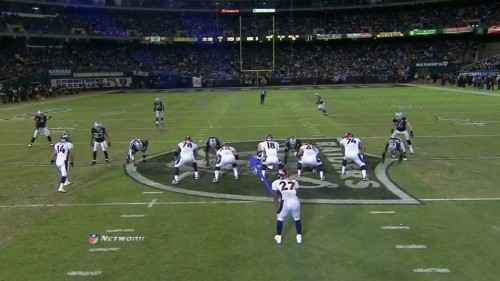 In the above run play, Moreno is directed to run through the "A Gap" (between the center and guard). As the play develops, however, Moreno is faced with a dilemma.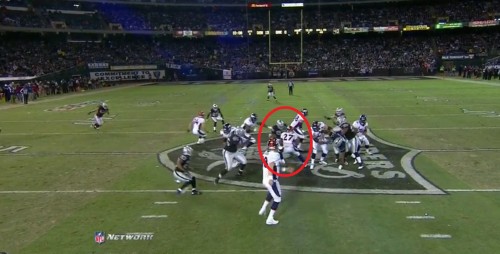 A Raiders defensive lineman has penetrated right through to Moreno's running lane, potentially blowing up the play before it can even begin.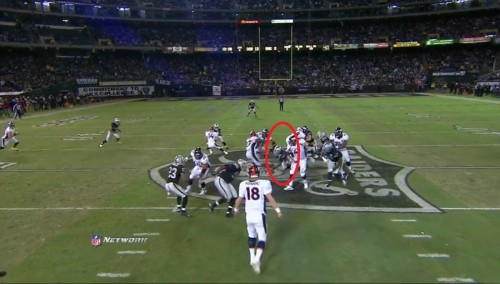 Moreno, who displayed his power with a goal-line touchdown run earlier in the game, shows his shiftiness on this play, causing the Raiders defender to whiff on a tackle that would have prevented the run from getting passed the line of scrimmage.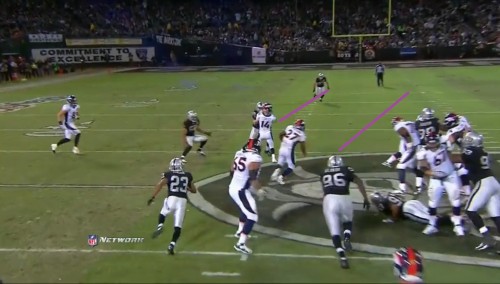 After getting through the mess at the line of scrimmage, Moreno picks up a first down and finishes another run by lowering his shoulder yet again.  As Fox said, outstanding.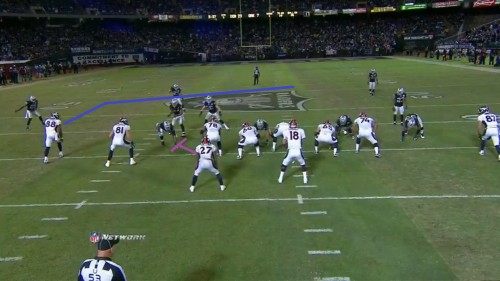 A threat as a receiver out of the backfield and a reliable runner, Moreno also displayed his pass protection abilities against Oakland.  In the play above, quarterback Peyton Manning wants to hit wide receiver Demaryius Thomas on a crossing route.  Moreno helps give the play enough time to be executed.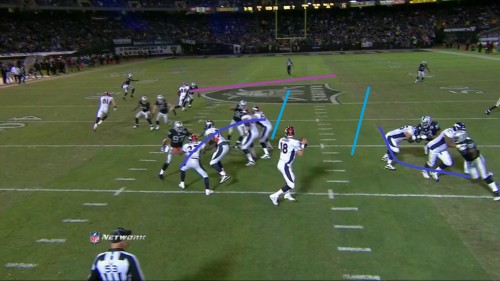 Initially, Moreno helps left tackle Ryan Clady on the edge, providing a beautiful pocket for Manning.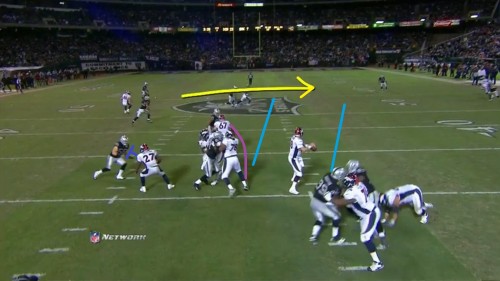 After Manning steps up in the pocket, Moreno also moves up to block the would-have-been freely rushing outside linebacker.  With time to throw, Manning looks downfield.
Manning completes the pass to Thomas and the Broncos pick up another first down. Manning's offensive line, and Moreno, provided the veteran quarterback with plenty of time to execute the play.

Moving forward, Moreno will be Denver's feature running back—he has earned the job.
Watch for Moreno to play a key part in Denver's offense as the regular season comes to a close and the Broncos look to secure higher seeding in the AFC playoff race.  Averaging 121 yards from scrimmage per start this season, Moreno's role will continue to increase as he continues to produce.

Unless otherwise noted, all quotes used in this article were directly received from the Denver Broncos media relations team.  Jon Heath can be found on Twitter, @JHeath_DEN.