Denver Broncos vs. Oakland Raiders: 10 Keys to the Game for the Oakland Raiders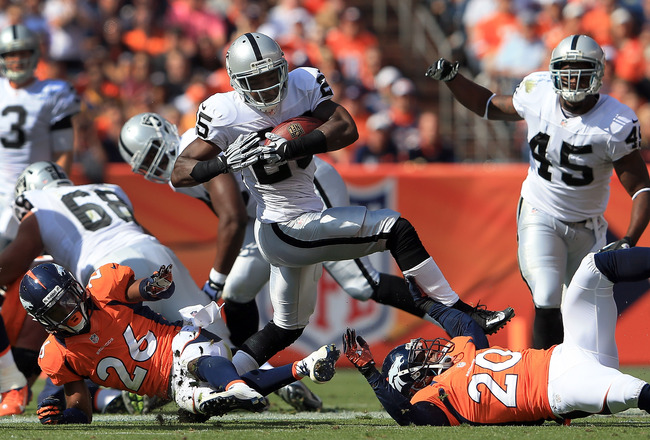 Doug Pensinger/Getty Images
With a 3-9 record and a prime-time spotlight on Thursday Night Football, the Oakland Raiders have nothing to gain and a lot to lose in Week 14. The Raiders' season sinks farther down, coming off of a five-game losing streak and hosting the red-hot Denver Broncos, who are riding a seven-game win streak and a clinched division title.
Oakland will have to be satisfied playing the role of spoiler for the rest of this season, a position they are all too well familiar with.
Here are 10 keys to the game for the Oakland Raiders to successfully spoil the Denver Broncos' Thursday night visit to the Black Hole.
Start the Game Fast and Aggressive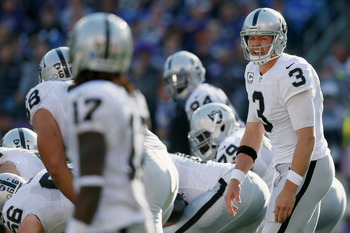 Rob Carr/Getty Images
Quarterback Carson Palmer and the Oakland Raiders offense need to hit the ground running.
A slow start against an aggressive Denver Broncos defense will result in a long, painful day in the Black Hole.
To do this, the Raiders will need to be aggressive with the underneath and create motion on the line to work the zone. In other words, get rid of the ball quickly and keep the Broncos defense on their heels.
The Offensive Line Needs to Own the Zone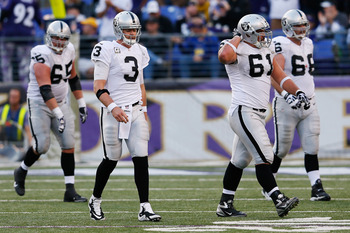 Rob Carr/Getty Images
The Oakland Raiders offensive line needs to continue to build on the flashes of production we have seen in the run game the past few weeks.
This will require Mike Brisiel, Cooper Carlisle, Khalif Barnes and Jared Veldheer to own their zones against the Broncos defensive line and give running backs Darren McFadden and Marcel Reece holes to run through.
We're starting to see the glimpse of a run game, let's see that continue to grow.
Control the Clock and Keep the Defense off the Field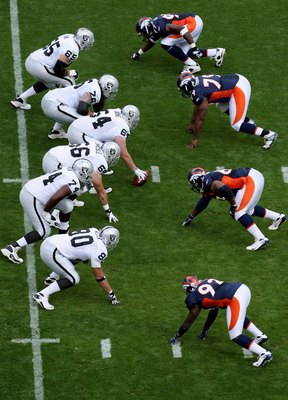 Doug Pensinger/Getty Images
If there is one thing we've seen from the Oakland Raiders defense, it's that they can't stay on the field long before giving up a big play. And the Broncos have been producing big plays both on the ground and through the air.
Denver Broncos quarterback Payton Manning and his offense are chomping at the bit and ready to spread the ball all over this Raiders secondary.
We go back to what I mentioned a few slides ago; the Raiders' run game needs to show up and keep the clock running with long, sustained drives.
Run the Ball with Patience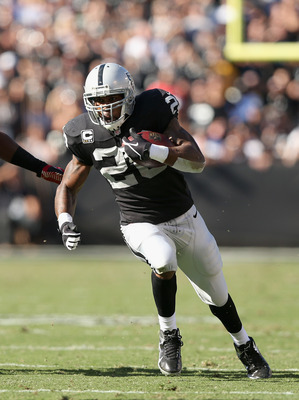 Ezra Shaw/Getty Images
You know what I noticed while Darren McFadden was injured and not playing? Marcel Reece stepped in and averaged 4.7 yards a carry (compared to McFadden's 3.3 yards a carry). Why was Reece more productive? Was the Raiders offensive line finally beginning to understand the zone-blocking run game? Did offensive coordinator Greg Knapp finally figure out how to call run plays that work?
I believe Marcel Reece has been a more productive running back than Darren McFadden because he's a bigger, slower running runner. He doesn't hit the holes as fast as McFadden and has shown more patience for opportunities to open up.
With McFadden coming back this week, let's see if he's taken notes and shows some patience in the Raiders' run game.
The offensive line needs to own the zone—the Oakland Raiders offensive line needs to expand on the flashes of production we've seen in the run game. This will require Mike Brisiel, Cooper Carlisle, Khalif Barnes and Jared Veldheer to own their zones against the Broncos defensive line and give running backs Darren McFadden and Marcel Reece holes to run through.
Marcel Reece and DMC in the Backfield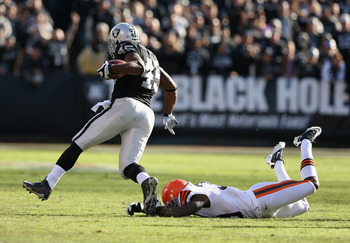 Ezra Shaw/Getty Images
Oakland Raiders running backs Marcel Reece and Darren McFadden have the talent to be one of the most dangerous one-two combos in the NFL.
Raiders offensive coordinator Greg Knapp would be wise to run split or motion plays as well as also lining either Reece or DMC out as wide receivers early and ofter.
It's time for Knapp to start calling plays like his job is on the line, because it is.
Tight End Brandon Myers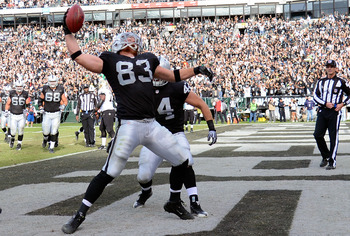 Thearon W. Henderson/Getty Images
The Oakland Raiders and quarterback Carson Palmer need to continue to use their one truly reliable passing weapon.
Tight end Brandon Myers has been Palmer's middle-of-the-field threat. The Raiders need to continue to create plays that allow Myers to take advantage of passes that are 10 yards or greater.
When Myers is getting open, either between the zone or one on one against a linebacker, good things happen with the Raiders passing offense.
Get After Peyton Manning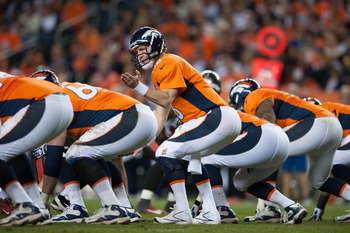 Dustin Bradford/Getty Images
We all know that Denver Broncos quarterback Peyton Manning is not a mobile quarterback. His offensive line has given up 16 sacks so far this season, and if you pressure him, he's going to make mistakes. The question is, can the Raiders defense get to him?
It's time for Oakland Raiders head coach Dennis Allen and defensive coordinator Jason Tarver to throw everything and the kitchen sink at Manning!
We know that the Broncos quarterback can pick apart the Raiders secondary, the Raiders defense cannot give him the opportunity to do that.
Blitzes...stunts...heck, fly a plane over O.co Coliseum and parachute a linebacker on top of him!
Just get to Manning!
Stuff the Line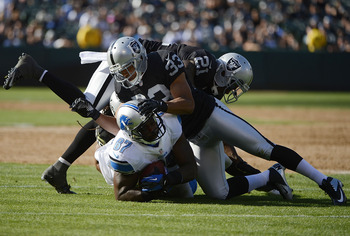 Thearon W. Henderson/Getty Images
The Denver Broncos have three wide receivers who have averaged over 10 yards a catch this season:
Demaryius Thomas: 69 REC, 103 TAR, 1,114 YDS, 16.1 AVG, 8 TDs
Eric Decker: 56 REC, 89 TAR, 702 YDS, 12.5 AVG, 8 TDs
Brandon Stokley: 36 REC, 47 TAR, 449 YDS, 12.5 AVG, 5 TDs
If the Oakland Raiders defensive line are unable to get to Peyton Manning, Raiders cornerbacks Ron Bartell and Michael Huff can't let the Broncos receivers run off to the races after catching the ball.
This is where defensive coordinator Jason Tarver comes in. Keep aggressive and let the Raider cornerbacks stuff the line so Manning has no options while the rest of the Raiders defense tries to get to him.
Slant the Middle of the Field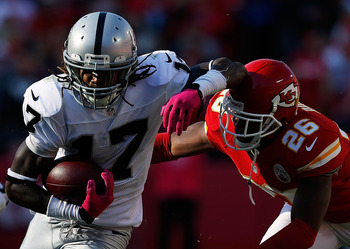 Jamie Squire/Getty Images
Raiders quarterback Carson Palmer has shown a connection with wide receiver Denarius Moore.
The wide receiver is second on the team with receptions and has breakaway speed that even Al Davis would love.
Instead of using him as the "down the field threat," use him on quick slant and crossing patterns against Broncos linebackers Keith Brooking and Von Miller.
Denarius Moore has proved he can get down the field; let's start using that speed with the ball in his hands.
Rise Up for Coach Dennis Allen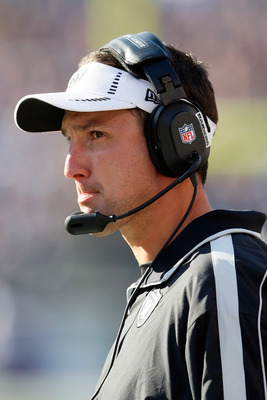 Rob Carr/Getty Images
Oakland Raiders coach Dennis Allen has spent a lot of time away from the team this week due to the illness and now death of his father.
Even through this extremely tough time in his life, Dennis Allen has chosen to coach this Thursday night game even though he is grief stricken over this loss.
The Raiders players need to shine when Coach Allen's light is dark. A win won't win the division, or salvage the Oakland Raiders 2012 season.
But it will be a moment of brightness for son who has just lost a father.
Ray Garcia is a sports radio host and owner of TPSRadio.net (The People's Sports Radio Network). You can follow him on Twitter @tpsray.
Keep Reading

Oakland Raiders: Like this team?