Washington Redskins: Positive Lessons to Take Out of 2012 Season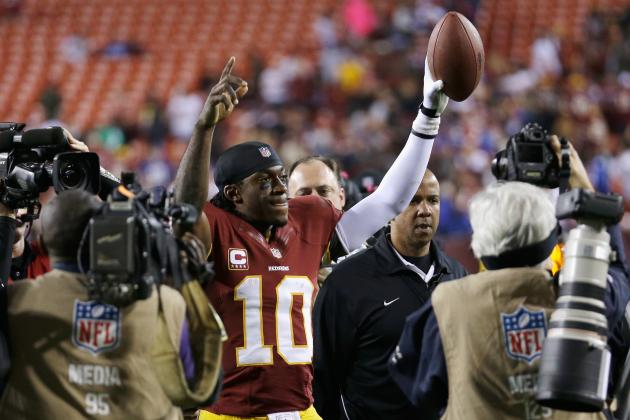 Rob Carr/Getty Images
The Griffin-led Redskins have recovered from 3-6 to win their last three games.
The Washington Redskins can take a lot of heart from the way they have performed in recent weeks. Sitting at 6-6 after a triumphant victory over the New York Giants, the positives now outweigh the negatives, and there is solid evidence of improvement in 2012.
Inconsistency has plagued the team at times, but Mike Shanahan will feel he has many pieces in place to start making a run at the postseason, whether it happens this year or not.
Since we're approaching the season of goodwill, I've approached the article in a more generous manner than usual. Rather than single out players who have impressed, the article is split into "offense" and "defense" sections—including special teams—and will aim to cover everything that has improved from last year.
Begin Slideshow

»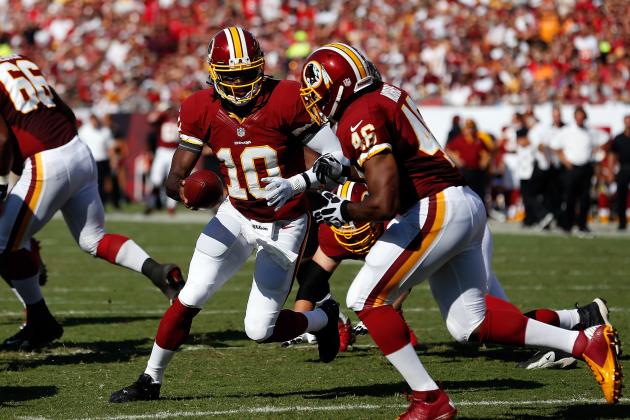 J. Meric/Getty Images
Griffin and Alfred Morris have led the way on the offensive side of the ball.
Robert Griffin III could easily have his own section here; Alfred Morris too. Those two players have taken the offense on their backs and dragged it towards the end zone, which is an incredible achievement for two rookies from schools not traditionally regarded as athletic powerhouses.
However, the real reason they have been included under an "offense" umbrella isn't for the sake of brevity; it's because their games are dependent on each other to the extent that one is severely depleted without the other.
This also spreads to other areas of the offense. Without Griffin's athletic ability, the offensive line wouldn't be anywhere near as solid as it seems.
Through Week 12, FootballOutsiders.com ranked the offensive line at 16th against the run and 27th against the pass, which should surprise no one. The highest praise that can be offered to the line this year is that, after so much doubt, no one is really talking about it.
It's true that Tyler Polumbus has suffered at right tackle, especially in pass protection, but his performance against the run has been more consistent. Griffin and Kyle Shanahan both help to paper over those cracks with the sheer variety of play action passes and option schemes, along with a tremendous rushing performance from Morris.
Morris has been the surprise of the year, arguably across the entire NFL. While Doug Martin has been more emphatic in announcing his presence to the NFL, he was a first-round pick with 16 rushing touchdowns and 1,299 yards in his final year at Boise State.
Morris, on the other hand, was drafted in the sixth round out of Florida Atlantic. The Sun Belt Conference isn't exactly revered as a farm for NFL players; plus, the Owls finished 1-11 in Morris' senior year.
Morris himself ranked No.1 in the conference for yards per rushing attempt, but didn't dominate by any means. He had a good year, finishing second in the conference with 1,186 yards, but there was nothing to suggest he would impact the NFL in the way that he has.
His patience when finding running lanes is key to his success this year. He doesn't have the breakaway speed of Griffin, but when he finds his lane, he makes the first defender miss and gains yards through good decision-making and commitment.
Morris fights hard for every yard, which has helped the team tremendously this year. He has shown that he can be relied upon as an every-down back in Shanahan's system, and his relationship with his quarterback has improved every week.
Griffin has been more than the Redskins could have hoped for in his rookie year. There is no more "Bob Griffin;" no more "It's not the Big 12" and no more suggestion that he only succeeds because of the college system that the Redskins are running.
When the Redskins played Pittsburgh and Carolina, Griffin sputtered. Both opponents set the edge well and limited Griffin's ability to escape the pocket and extend plays with his legs. They dared him to beat them in the pocket and dared the offensive line to keep them at bay.
The Redskins came out second-best in both of those games, and the "rookie wall" began to crop up in conversation. Griffin, however, was unfazed and promised to return from the bye week a better quarterback and a better leader.
He was made a captain for the second half of the season, which was the first time a Shanahan-coached team had elected a rookie captain.
Griffin emerged from the bye week with two four-touchdown games, both emphasizing his arm over his legs.
He had a perfect quarterback rating for the first six quarters of those games, and his performances marked the first time in the history of the NFL that a rookie quarterback had passed for four touchdowns in consecutive games.
He had some help, though. When Pierre Garcon arrived from Indianapolis, the concern was that he couldn't possibly live up to his contract. The dream start against New Orleans was immediately cut short by a toe injury that continues to plague him.
His performances suffered greatly, and his four catches for five yards in Week 10 seemed to foreshadow his demotion to the injured reserve list.
However, in the last two games, he has returned to the form seen in preseason and the season opener. Whether he has started to heal or simply learned to live with the pain, Garcon looks a constant threat and a trusted target.
He has 12 catches for 192 yards and two touchdowns over the last two games, and the Redskins are now 5-1 for the season with him on the field.
After Griffin's receivers dropped 10 passes against the Steelers, it was vital that the quarterback had a target he could rely upon. Garcon has proved himself to be that target.
However, it's worth mentioning the improvement across the board. Santana Moss has seven touchdowns from the slot, while Josh Morgan has shown himself to be strong in coverage and able to pick up crucial first downs.
After his tantrum against the St. Louis Rams, there were some calls for Morgan to be cut from the team. He has shown that Shanahan made the correct decision to keep him around.
Aldrick Robinson has made big plays from limited action, while Logan Paulsen stepped in for Fred Davis and showed that he had made big strides this year. Davis himself was the team's leading receiver before going down with injuries and will be back next year to prove himself as a reliable member of the team.
Davis' former partner in crime, Trent Williams, has been a force along the offensive line. This was epitomized against the Giants on Monday night.
Continuing to play after an injury suffered during the previous game, Williams held off New York's feared pass rush and didn't allow a sack all night. Neither did the rest of the line, for that matter.
Williams' development has got the attention of the league too. Justin Tuck acknowledged that Williams has improved a lot over the last year (via the Washington Post):
I think he's coming into his own as far as being one of the premier left tackles in the league. He's very athletic. He's a strong, athletic guy. A lot of the teams give their linemen a lot of help and I haven't seen the Redskins give him much help. That lets me know how confident they are in him.
Williams' teammates, too, are in doubt of his importance to their success. Griffin in particular, knows how much he needs him (via the Washington Post):
I already told him that if he needs me in the training room with him, I'll be there. I'll rub on his leg, whatever he needs me to do. It's paramount. He's one of our leaders. He brings a certain attitude to the game as well and it completes that offensive line that's played pretty well all year.
A special mention must also go to Kai Forbath, who has banished the Redskins' recent kicker nightmares from memory. Forbath accounts for 47 points this year and has a perfect record on field goals, including one over 50 yards.
He missed an extra-point attempt against Pittsburgh, but that was a result of a missed assignment and can't be blamed on him. Long may he remain in a Redskins uniform.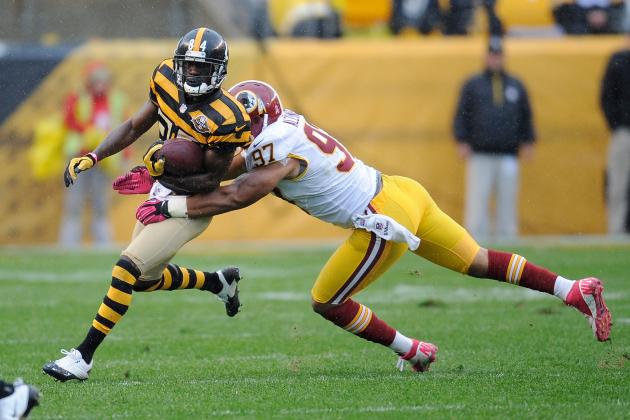 Joe Sargent/Getty Images
Lorenzo Alexander's fighting spirit has spread to the rest of the team.
When mentioning the Redskins defense this season, most of the talk has centered on Josh Wilson and DeAngelo Hall, who have been the whipping boys of a depleted secondary.
While it's true that both players have been guilty of costly errors, there has been a steady improvement in their play since the bye week. Hall in particular has added some much-needed interceptions to his performances, helping the team to victory over the Eagles and Cowboys.
The most recent game against the Giants was the first time a team got a second look at the 2012 Redskins. In the first game, Washington rallied behind a Griffin-led drive for a touchdown only to get burned on defense and come away defeated.
The second time around, the opposite was true.
After surrendering 273 first-half yards, the defense once again looked to be the weak link. However, Stephen Bowen stated that London Fletcher reminded his teammates that "We got to get it done. Everyone knew that this was pretty much it." (via CBSSports.com).
Across the remaining two quarters, the Washington defense surrendered 127 yards and restricted the Giants to one field goal, which was the difference-maker in a one-point victory.
For a team that ranks 31st in pass defense, that was crucial. Jim Haslett switched up his coverage and left OLB Rob Jackson out on the field on third downs, resulting in a fourth-quarter sack of Eli Manning that forced a punt after Griffin had driven the offense to the end zone.
Josh Wilson remarked that "You don't win by not giving up a lot of yards, you win by not giving up a lot of points. You guys can calculate the stats. We're going to calculate the wins. (Via CBSSports.com)
While this is true, the fact that the Redskins limited the Giants' yardage total in the second half meant that they were in a position to win the game by getting New York's offense off the field and giving Griffin a chance to lead the Redskins to victory.
The defense has suffered a similar fate to the offense this year in that many starters were ruled out of the season early on. Brian Orakpo, Adam Carriker, Tanard Jackson and Brandon Meriweather were all supposed to play key parts in 2012, but were denied the opportunity for varying reasons.
Given the injuries and suspensions that forced backups into prominent roles, the improvement shown in recent weeks has been incredibly encouraging.
Perry Riley has shown good instincts, and DeJon Gomes has looked much-improved. Jarvis Jenkins, too, has been steadily getting better along the defensive line.
His recovery from injury has been important in his development; in the early stages of the season, he seemed to be very aware of his knee and looked to be trying to avoid further setback over everything else.
Now, however, he finally looks to be moving without inhibition, and it will be worth watching his progress over the remainder of the year.
If there are to be any heroes named on the Redskins defense, Fletcher and Lorenzo Alexander spring immediately to mind.
Fletcher works tirelessly and without regard for himself. He has had an ankle injury since the Eagles game on November 18, but has continued his streak to 236 consecutive games played and finished Monday's game with a team-high 12 tackles.
He wore a walking boot after the game to protect his ankle, but gave it everything while on the field.
Alexander too has been a magnificent servant of the Redskins over the years, predominantly on special teams and across eight positions on both sides of the ball.
However, this year, he has been given a chance at linebacker and proved himself to be more than just a bit-part player. Against the Vikings, he came away with 1.5 sacks, five tackles and four quarterback pressures, along with a fumble recovery that led to a Redskins touchdown.
Alexander lost 30 pounds in the offseason to enable him to play his new position. He does everything that is asked of him without complaint and thoroughly earns everything he gets.
Dan Graziano noted for ESPN.com that Alexander represented among the NFC East Pro Bowl voting for his special teams work, so it's good to see him getting the recognition for the work he has put in.
It's not surprising that when Mike Shanahan appeared to give up on the season after the loss to the Panthers, it was Alexander who took exception to his words (via The Washington Post):
You have a lot of guys that want to win now, people toward the end of their careers who have been here a long time, haven't been to the playoffs in a long time, and ultimately that's what you play for, to go to a Super Bowl.

Bein' 3-6 really [stinks] because right now we're on the outside looking in. . . . I'm not thinkin' about next year. That's an offseason thing for me. But you know it's hard when you see yourself in that type of position and your head coach is saying those types of things. It's disappointing.
In many ways, Alexander is the personification of the 2012 Washington Redskins, and the dedication seen in him for so long is now present in many more players, all determined to take the football team to the next level.
The most important positive lesson to take out of the 2012 Washington Redskins season? They care.