Cleveland Browns: 5 Positive Lessons the Browns Can Take out of This 2012 Season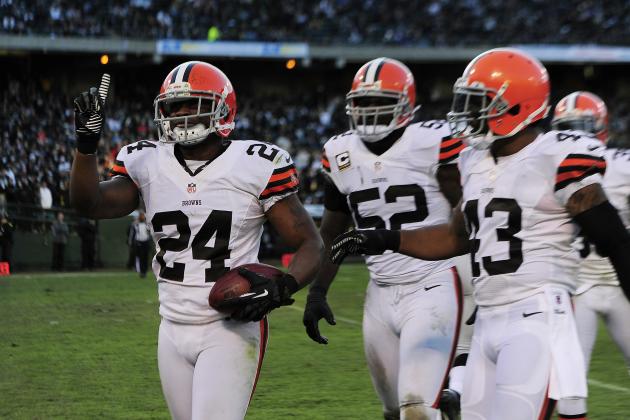 Kyle Terada-USA TODAY Sports

The Cleveland Browns snapped a 12-game road losing streak on Sunday and have won back-to-back contests.
There are a lot of smiles around the city of Cleveland these days.
With a 4-8 record and four teams left to play, on the surface it looks like just another losing season. This is not so in "Believeland."
Plenty of positive lessons can be taken from the youngest club in the National Football League. Here are the top five.
Begin Slideshow

»
Having been injured since day one, it is safe to say that Trent Richardson has had a pretty successful first 13 weeks of his NFL career.
The third overall pick in this year's draft underwent knee surgery at the start of training camp and currently continues to battle a rib/chest injury.
Despite all of that, the Alabama alum leads Cleveland in rushing yards (827), receptions (44) and overall touchdowns (eight).
Seven of those scores came via the run, and he has displayed on multiple occasions the bone-crushing, tackle-breaking efforts that make linebackers cringe.
Some have questioned why No. 33 does not have more than his three 100-yard rushing games.
The fact is that T-Rich is such an asset on the passing front that he has amassed four additional 100 all-purpose yard games.
A scary thought for opponents is that they have not faced Richardson at 100 percent. The best is yet to come.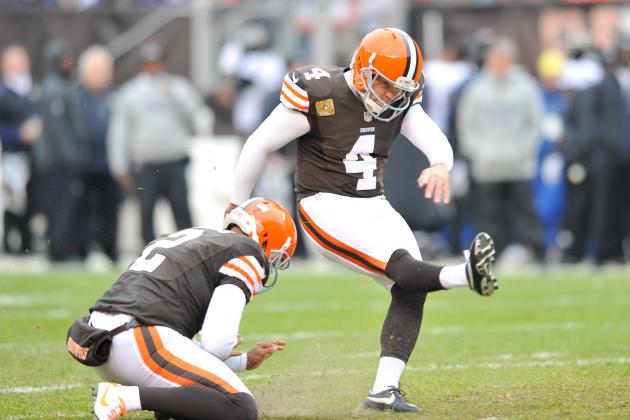 David Richard-USA TODAY Sports
Phil Dawson driving through another field goal.
Phil Dawson is quite simply "the man."
A rare thing to say about a kicker; however, Dawson is the only Browns player that remains from the franchise's return in 1999 and has always been reliable.
In many of his 14 seasons he was the only consistent point contributor that the team could count on.
The 37-year-old keeps getting better with age, and 2012 is his best campaign to date.
Currently "Phil the Foot" is 23-of-24 in field-goal attempts and had his streak of 29 straight tries broken in the win over Oakland thanks to a block.
Over the last two seasons, Dawson connected on 13 kicks of 50 yards or more and does so in a quiet professionalism that screams class act.
No. 4 not only deserves to have his name up in Cleveland Browns Stadium's "Ring of Honor" at the end of his career, but also a bronze bust immortalizing him in Canton, Ohio.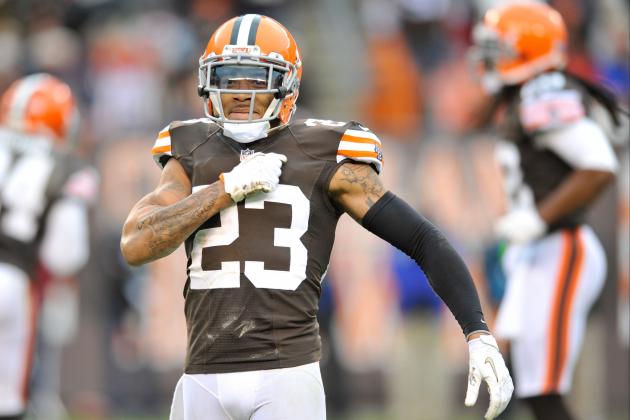 David Richard-USA TODAY Sports
Browns top cornerback Joe Haden.
To say that Joe Haden is Cleveland's best cornerback would be the understatement of the season.
The third-year pro is so essential to this Browns secondary that the group implodes without him on the field. This squad has not won a game when he is out of the lineup.
That has occurred five times in 2012. Four games were missed due to an NFL substance abuse suspension and the other came two weeks ago from an oblique strain in the loss to Dallas.
Haden's speed, technique and positioning makes him someone that offensive coordinators try to keep their star receiver away from.
The 5'11", 190-pound corners' numbers are obviously skewed this year, although he is tied for the team lead with three interceptions, because of his time away.
However, another factor is because quarterbacks stay clear of him. Instead these signal-callers try to pick apart the defense on underneath routes or challenge aging outside CB Sheldon Brown.
When Haden is not dressed it seems like open season on going deep, especially against the undersized Buster Skrine. Penalties and poor reads have lead to disaster, which makes No. 23 that much more valuable.
The reliance on Haden emphasizes Cleveland's crucial need for another shutdown corner come 2013.
For not playing football in over a year, Josh Gordon has looked pretty good in his inaugural NFL campaign.
Snatched up in the second round of this offseason's supplemental draft, Gordon was an unknown commodity with all the physical tools to become a star wide receiver.
It has been a slow, labored process, but the rookie has established himself as the No. 1 Browns WR.
Despite having plenty to improve on, the one-time Baylor Bear is leading this young receiving corps in yards and touchdowns. How does 646 yards, averaging 19 per catch, and five scores sound for an offense that put everyone to sleep in 2011?
Gordon is best known for being the favorite long-bomb target of QB Brandon Weeden. However, he continues to work hard to improve his route running and is now dynamic in the slot.
At 6'3" and 225 pounds, he creates mismatches that if given space underneath convert to healthy gains.
"Flash" Gordon is still putting all the pieces of his game together. Watch for him next season to reach the 1,000-yard mark and get Pro Bowl consideration.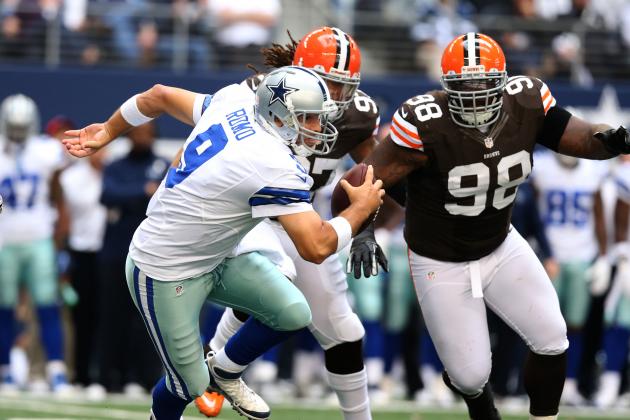 Matthew Emmons-USA TODAY Sports
No. 98 DT- Phil Taylor hunting down Cowboys QB Tony Romo.
With a healthy Phil Taylor and Ahtyba Rubin, this Cleveland Browns defensive line has its middle set for years to come.
Throw rookies Billy Winn and John Hughes into the mix and now the DT situation becomes even more daunting for oppositions.
The silver lining out of Taylor's training camp torn pectoral injury was that both Winn and Hughes were thrust into the lineup.
More than that, they were relied on to be playmakers and hold the down the fort as Rubin powered through his share of ailments.
The size, speed and athleticism these young defensive tackles display has made them the pride of Dick Jauron's defense. A combined 1,280 pounds between the four of them is no joke.
Now that this foursome is back healthy, a steady rotation of fresh bodies to force fumbles, stuff the run and pressure the quarterback are available.
Just ask the Pittsburgh Steelers in that eight-turnover Browns victory how deadly they are.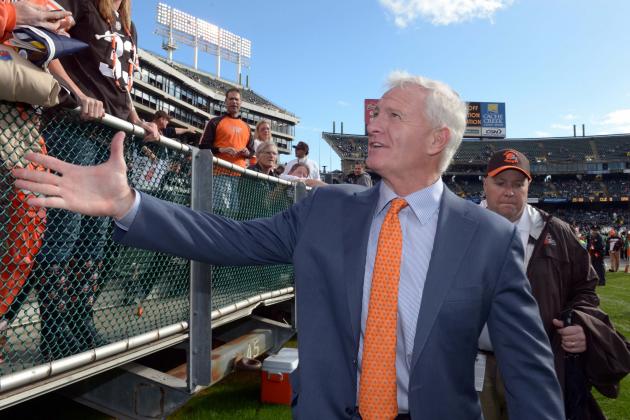 Kirby Lee-USA TODAY Sports
Cleveland Browns owner Jimmy Haslam III.
Being the youngest team in the NFL this season has, as most expected, had its ups and downs.
This group is growing and learning together. With some well-placed draft picks and free-agent signings, the future certainly looks bright in Cleveland.
Follow Andy McNamara on Twitter @AndyMc81.