Denver Broncos vs. Oakland Raiders: 5 Keys to the Game for Denver
The Denver Broncos (9-3) will take on the Oakland Raiders (3-9) on Thursday Night Football this week.
Denver will be looking to stay undefeated in division play while the Raiders—already eliminated from playoff contention—will be looking for revenge after being humiliated by the Broncos earlier in the season, 37-6.
Looking for their eighth straight win and improved playoff seeding, the Denver Broncos have five keys to victory this week. We will review those keys in the following slides:
1. Don't Overlook the Raiders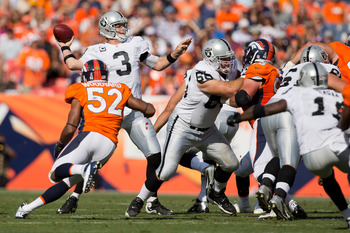 Justin Edmonds/Getty Images
It would be easy for the Broncos to overlook Oakland and look ahead to their huge Week 15 showdown in Baltimore with the Ravens. A win over Baltimore would improve Denver's playoff seeding. A win over Oakland is viewed as a given—but that is not the case.
The statement "any team can be beaten on any given Sunday" has become cliché, but the fact is, the statement is true.
Division games are always tough; playing in the Black Hole makes it tougher.
The Raiders want to play spoiler and will be out for blood (figuratively, of course).
The Broncos clinched the AFC West with a 31-23 win over the Tampa Bay Buccaneers on Sunday. Nevertheless, it is not yet time to back up camp and prepare for the playoffs.
"We still have a lot of improvement to do as a football team," coach John Fox said on Sunday evening. "(Winning the division is) just a starting point for us, really. We still have a whole quarter of the season left.
"Anytime you win, I enjoy it for a minute. At least a few minutes tonight. Then we turn it around and get right back at it the next day so that part won't change."
That's exactly the mentality Denver needs to have this week.
2) Disrupt Oaklands Offensive Attack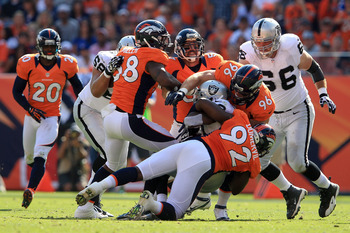 Doug Pensinger/Getty Images
The Denver Broncos' defense ranks fourth overall this season.
Lead by Defensive Player of the Year candidate Von Miller and Elvis Dumervil, Denver's defense has recorded 38 sacks, representing the second-highest total this year.
Meanwhile, Oakland quarterback Carson Palmer has been sacked 25 times in 2012 while the Raiders have a minus-6 turnover ratio.
Denver's defense has to be drooling when they review those numbers.
If the the' defense plays a big part in Sunday's game, Denver will come out on top.
3. Keep the Raiders Guessing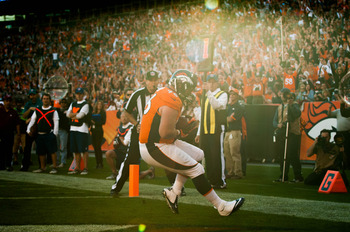 Dustin Bradford/Getty Images
On Sunday, the Broncos' first score was a one-yard touchdown pass by Peyton Manning—to one of Denver's defensive lineman.
Mitch Unrein, a 6'-4", 291-pound bruiser, is a second-year defensive lineman out of Wyoming who has seen offensive snaps this season as Denver's short-yardage fullback in addition to his defensive tackle duties.
Against Tampa Bay, the Broncos threw a wrinkle in their offense and unexpectedly threw a pass to Unrein, something the Buccaneers could not have been expecting.
On Monday, Coach John Fox noted that Unrein could see a few carries as well before season's end. When the Broncos faced the Raiders earlier in the year, they attempted a fake field goal.
Kicker Matt Prater's pass against Oakland fell incomplete, but the Broncos ultimately won, 37-6.
The Raiders know the Broncos, a division opponent, very well.
Keeping Oakland on their heels will be key for a Broncos victory this week.
4. Continue Improving Ball Security
Jim Rogash/Getty Images
This season, the Broncos have a minus-11 turnover differential. Obviously, holding onto the football is still something that they can improve on.
"You just stress that you want to get better," Fox said on Monday. "An area that we're not very good in right now is the turnover ratio. I remember our '03 (Panthers) team, we were minus-5 in the regular season and plus-9 in the playoffs, and that's a big reason why we reached the Super Bowl and came up a little short."
Against the Buccaneers, the Broncos turned the ball over yet again. Moving forward, they know that is something that needs to be addressed.
"The important thing is getting in that tournament and then be playing really well when you get in," Fox continued. "If you look back, I don't know the exact history of it, but I don't know how many times the No. 1 seed has won in the last 10 years. People come from all over the map because they're playing their best ball during that time. We want to start building for that and we want to start this week against Oakland."
Protect the football. Win the game.
Play Like They Have All Season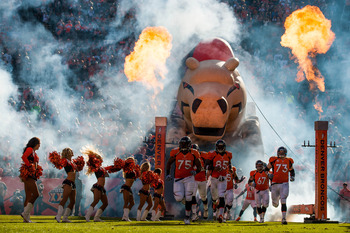 Dustin Bradford/Getty Images
The Denver Broncos are 9-3 for a reason.
On offense, they've been balanced and on defense they have been aggressive and made big plays.
Since John Fox took over as head coach, the Broncos have scored 12 non-offensive touchdowns, with the defense and special teams creating big plays each week. On offense, the team has scored 349 points this season (the third-most in the NFL behind only Houston's 351 and New England's 430).
Obviously, the team is doing something right.
"You're in this to win. It's only fun when you win," Fox said. "You try to bring that culture or that environment to the team. Mr. Bowlen does a great job. Our players are treated very well, from the training room to the food we feed them. There's a championship environment here and has been. So you just kind of feed off of that, and that's what you do."
If they keep winning, their fourth-seed playoff position will improve. This team knows how to win. On Thursday, they will get yet another chance to prove that on national television.
Unless otherwise noted, all quotes in this slideshow were provided courtesy of the Denver Broncos' media relations team. Jon Heath can be found on Twitter, @JHeath_DEN.
Keep Reading

Denver Broncos: Like this team?