Buccaneers vs. Broncos: Denver Proves to Be Playoff Ready
Use your ← → (arrow) keys to browse more stories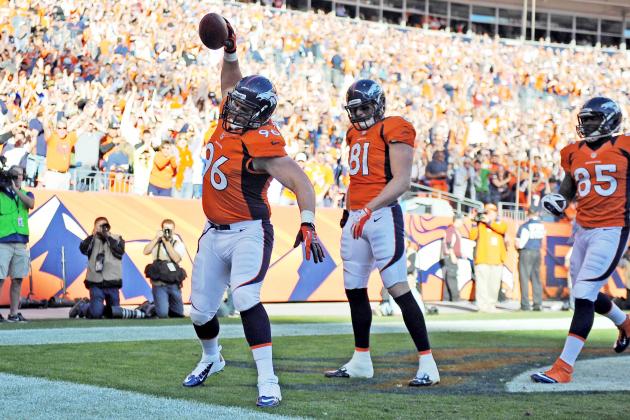 Ron Chenoy-US PRESSWIRE
Defensive tackle Mitch Unrein caught one of Peyton Manning's three touchdown passes.
The Denver Broncos have won games they should win at home, they have won tough road games and they have won by coming back. The Broncos have won games with defense, offense and with special teams. The Broncos have won games in many different ways and against a diverse set of opponents, but until Sunday, they had won only one game against a playoff-caliber team.
So the Broncos fired their big guns at the previously 6-5 Tampa Bay Buccaneers and plundered a victory. It wasn't much of a battle, and the Broncos won easily, 31-23. The Broncos clinched the AFC West and a playoff appearance with the win and in the process proved they are ready for the playoffs.
With Peyton Manning leading the offense and Von Miller leading the defense, the Broncos have looked unstoppable since Week 5, but three losses to playoff-caliber teams earlier in the season and a light schedule left many skeptical. Manning once again quashed any skepticism with three touchdown passes.
Peyton Manning highlights.
Manning and Demaryius Thomas are really starting to connect, and the third-year receiver had 99 yards and two touchdowns against the Buccaneers. Thomas now has 69 receptions for 1,114 yards receiving and eight touchdowns on the season, which puts him on pace for 92 receptions for 1,485 yards and 11 touchdowns.
That final line would put Thomas' season on par with Manning's prolific receivers in Indianapolis.
If Manning is Batman, Von Miller is Robin. Miller recorded his 15th sack, forced a fumble and returned an interception 26 yards for a touchdown. The defense held Doug Martin to 3.1 yards per carry, and the Buccaneers scored just 16 points until Josh Freeman threw a meaningless touchdown to Mike Williams with just 24 seconds left to play.
When opponents take something away from the Broncos, they simply find another way to win.
On Sunday, the Buccaneers stopped the run, but the passing game and defense rose to the challenge and put up four scores. When opponents try to focus on the pass, the Broncos run, and when they try to pass themselves, the Broncos rush the passer. The Broncos are a team that can do it all and do it all well.
Von Miller's INT for a TD.
The only negative from the game was that the Broncos committed an uncharacteristic number of penalties, which was probably the only thing that kept the game from being a bigger blowout. The Broncos had eight infractions: two offensive penalties killed drives and a defensive penalty allowed the Buccaneers to get into range for a long field goal which Connor Barth converted from 50 yards out.
The Broncos appear ready for the playoffs, but just in case they need it, they will get another primer in a Week 15 game against the Ravens in Baltimore. The Broncos will have nine days to prepare for that game thanks to a Thursday night game against the lifeless Raiders in Oakland in Week 14.
It's a short week against a bad team, and the Broncos may choose to rest guys nursing injuries like Brandon Stokley and Robert Ayers who were inactive Sunday and anyone else who might be beat up from the marathon NFL season. Wesley Woodyard is a guy who might benefit from sitting, as he left Sunday's game with an ankle injury of unknown severity.