Cardinals vs. Jets: Arizona's Biggest Winners and Losers from Week 13 Loss
Cardinals coach Ken Whisenhunt is worthy of being fired after his team lost its eighth straight game Sunday against the Jets.
Debby Wong-US PRESSWIRE
It was one of the worst offensive games of the 2012 NFL season for both the Arizona Cardinals and New York Jets.
Even the Cards' winners are losers Sunday. There is no winner when a defense forces four turnovers, allows only one scoring drive and still loses 7-6.
If you thought the seven-game losing streak of 2010 was bad, consider this: that team was No. 29 in total defense and No. 30 in scoring defense. This season, the Cardinals will be in the top 10 after Week 13 in both.
With such a quick turnaround, the only thing left to fix is the offense. Let's proceed onto the winners and losers from this game to find out why that is obvious.
Winner: Kerry Rhodes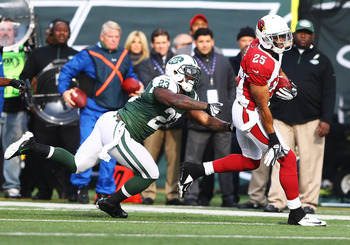 Al Bello/Getty Images
After Kerry Rhodes was traded to Arizona from New York following the 2009 season, his former coach had some interesting words for the former Louisville Cardinals' standout.
Rex Ryan, in an autobiographical paperback, said the following of Rhodes (h/t Mike Sando, ESPN.com):
He was a selfish-ass guy. He wouldn't work and he was a Hollywood type.
Rhodes made a fool of Ryan three times Sunday, intercepting Jets quarterback Mark Sanchez twice in the first quarter and forcing a fumble of running back Kahlil Bell in the fourth.
He added three pass deflections for good measure.
Loser: Beanie Wells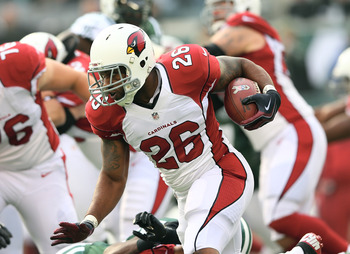 Elsa/Getty Images
Beanie Wells missed open lanes on multiple occasions Sunday. He carried 15 times for only 22 yards (1.5 yards per carry) and was unable to break tackles or gain any yards after contact.
It didn't help that the rest of the offense—read: the passing game (we'll get to that)—was as bad as I can remember, but he certainly did not do anything to help the situation.
His longest run of nine yards came on the first play of a drive that began on the Cards' 9-yard line and led to the best drive of the day. That 10-play, 61-yard drive culminated with Jay Feely connecting from 48 yards out on the final play of the first half to give Arizona a 3-0 lead.
The team's leading rusher was backup safety Rashad Johnson, who rushed for 40 yards on a fake punt on the same drive.
Winner: Dan Williams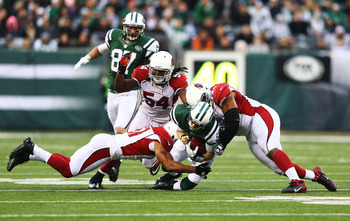 Dan Williams (right) helps bring down Mark Sanchez Sunday.
Al Bello/Getty Images
The big nose tackle led the team with 10 tackles and was in the offensive backfield many times disrupting the Jets' run game. It was his best game of the season and a welcome sight to Ray Horton's eyes.
Despite Jets running back Shonn Greene rushing 24 times for 104 yards, he was repeatedly stuffed up the middle. Greene carried 10 times for 36 yards (3.6 YPC) up the gut, meaning he rushed 14 times for 68 yards (4.9 YPC) elsewhere.
Williams was as important Sunday as any defender on the field, and that is good news for the defense. If he can build upon this performance—and on his performance over the past three games—he may be on his way to becoming a top run-stuffing defensive lineman in the NFL.
Loser: Ryan Lindley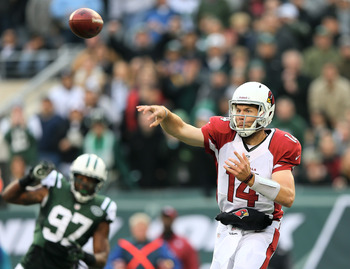 Elsa/Getty Images
A rookie quarterback being put into a starting role too early: stop me of you've heard this before.
Ryan Lindley has been worse than anyone could have expected since entering the game in the second quarter against the Atlanta Falcons three weeks ago. Including Sunday, he has completed 50-of-103 for 448 yards, no touchdowns and five interceptions for a 40.4 passer rating.
He completed 10-of-31 for 72 yards and an interception for a 28.0 rating Sunday.
Lindley was sacked twice but was largely unharmed the rest of the game. Fans started calling for John Skelton on Twitter early in the game, and they didn't let up. Lindley completed 10 passes and overthrew a receiver by no less than five feet at least a dozen times.
By sticking with Lindley, it appears coach Ken Whisenhunt is asking to be removed from his position.
Winner: Rich Ohrnberger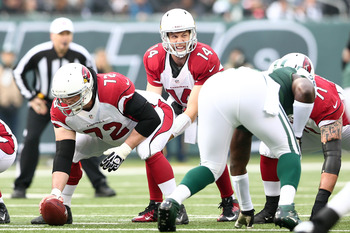 Debby Wong-US PRESSWIRE
If an offensive player played well, it was new center Rich Ohrnberger. He led the offensive line Sunday and did a nice job.
The statistics do not show how well he played, as the offense was off the field on three-and-outs a stunning 10 times in New York, and another ended on third down when safety LaRon Landry picked off Lindley in the second quarter.
But even that drive was going nowhere—Lindley's pass was underthrown into double-coverage and would have resulted in a punt had Landry dropped it.
It was unknown how Ohrnberger would play as Lyle Sendlein's replacement at center, having never started a game at the position. Going forward, the team can be comfortable in knowing he can be steady.
Loser: Ken Whisenhunt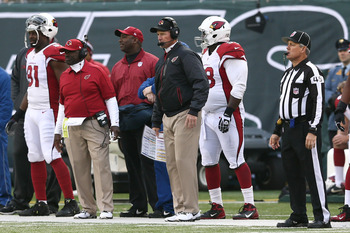 Debby Wong-US PRESSWIRE
This season's ultimate loser, coach Whisenhunt was exceptionally stubborn during Sunday's loss—even for him.
There was no threat from the offense to score points at any point during the game, save for two Feely field goals after the defense and special teams set the offense up already in field goal range.
Lindley was so bad even the FOX announcers were openly wondering why Skelton was not at least warming up.
Even Jets quarterback Mark Sanchez, who, except for three passes in the first half, was better than Lindley, got pulled in favor of the backup. How did that end?
Well, the Cards lost, didn't they?
Whisenhunt's stubbornness will eventually cost him his job. The question is: with as many games as that same stubborn attitude has already cost the Cardinals, when will that be?
Winner: Patrick Peterson
Every naked-eye bright spot Sunday was provided by the defense, and Patrick Peterson's second-quarter interception of Sanchez was no exception.
In what could be the play of the NFL week, Peterson was initially beaten down the field by Jets receiver Chaz Schilens. He recovered with phenomenal closing speed to take the ball out of Schilens' hands by leaping across the back of the receiver and physically taking it from him as they fell to the turf.
It was Peterson's fifth interception of the season, tying him for second in the NFL and trailing only the Chicago Bears' Tim Jennings (8).
Loser: Larry Fitzgerald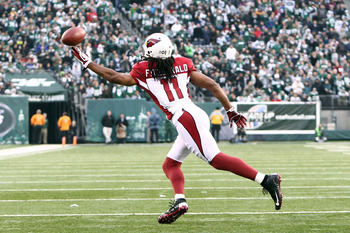 Debby Wong-US PRESSWIRE
This pick has nothing to do with the star receiver's performance Sunday; he was open far more often than not.
This is an extension of Whisenhunt's stubborn and selfish attitude and Lindley's inability. The team was able to muster just five first downs for the game, tied for the fewest in franchise history (per Kent Somers of AZCentral.com).
Fitzgerald hauled in a 23-yard reception on the game's first play. It was a perfect strike from Lindley, and it appeared—based on that throw, anyway—the day would be a good one for the offense.
That was not the case, and Fitzgerald was targeted only six more times the rest of the game. Most were not even close to him.
You have to feel bad for Fitzgerald. He has been in the middle of the worst quarterback situation for the majority of his time in the league, and it's not getting any better next week. He has had 10 different quarterbacks during his nine-year NFL career.
The team owes it to him to either get him a signal-caller who can allow him to make plays, or trade him away so he can have a shot at a Super Bowl once again. Unless the team gets their hands on a quarterback worth a damn, he will never come close to the Super Bowl without leaving the team.
Winner: Dave Zastudil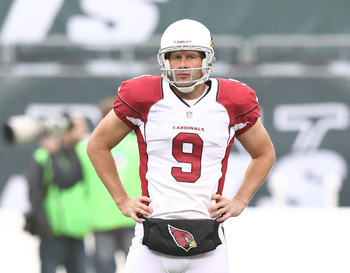 Debby Wong-US PRESSWIRE
Showing the punter some love is usually a good thing. In this case, it should be. He kept the Jets' offense at bay by keeping them pinned as far back as possible all afternoon.
Of his 10 punts, five gave the Jets starting field position at their own 20-yard line or worse. The average starting field position for New York following Zastudil's 10 punts was their own 22.4-yard line.
That performance plus the show Ray Horton's defense put on would lead to victory more often than not. That "not" is a regular Sunday afternoon for the Cardinals.
Loser: Adrian Wilson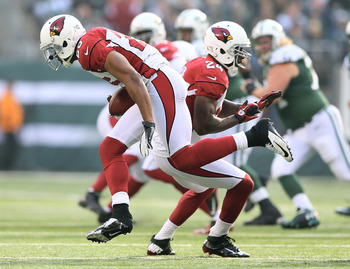 Adrian Wilson blocks for Kerry Rhodes after an INT Sunday.
Elsa/Getty Images
Ever the fan favorite, Adrian Wilson's on-field play has lacked its usual bravado. He is playing hard, no doubt. But simple mistakes like being offside twice show he is losing some of his ability.
The last of his two penalties cost the team an opportunity to get the ball back with roughly 2:30 remaining in the game. There is no guarantee the offense would have done anything with that opportunity—especially given their performance to that point—but mental mistakes such as that are the reason he has seen his play-count dwindling as the season wears on.
It is a shame to watch the once-great Wilson struggling to perform on the level to which we are accustomed. But at his age and experience, it is not shocking, either.
Keep Reading

Arizona Cardinals: Like this team?