Giants Draft Board: 10 Players New York Must Have Their Eye on in Bowl Games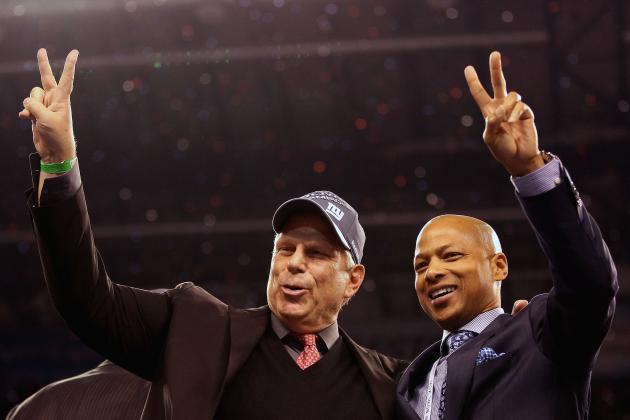 Ezra Shaw/Getty Images
New York Giants co-owner Steve Tisch along side general manager Jerry Reese.
What is the best way to get to Lincoln Center? Practice. What is the best way for 10 college football players to stand out to New York Giants brass? Perform in their bowl game.
While you and I are likely to gather with friends and family to watch the bowl games and do our best Giants general manager impression, actual Giants GM Jerry Reese is the only man who's opinion affects the organization.
For the sake of Big Blue fans everywhere, let's hope Reese can channel his inner fortune teller, or hopefully his LCD, LED and Plasma TV's have a crystal ball feature in them.
The following 10 young studs are the guys that Reese and the Giants front office need to keep close tabs, as the scouting of draft picks never rests.
Begin Slideshow

»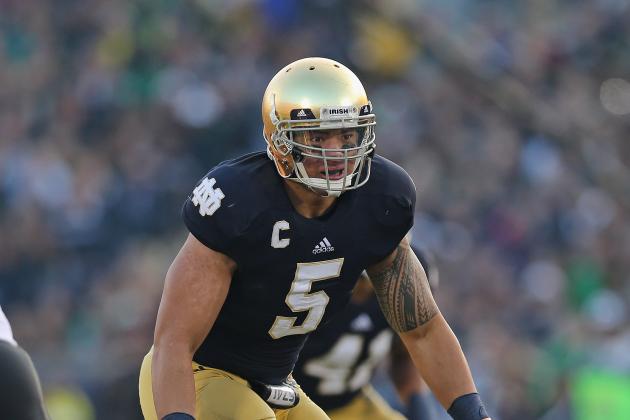 Jonathan Daniel/Getty Images

Even though Reese is notorious for taking the best possible player available, it makes a lot of sense for him to keep an eye on the linebacker position.
It's no secret that New Yorker's have been clamoring for a stud linebacker since the departure of Antonio Pierce.
Michael Boley and Chase Blackburn have both been solid, and Mark Herzlich and Jacquian Williams are still maturing as second-year guys, but you can never have too much depth at that position.
You can bet the Giants will be watching Manti Te'o of Notre Dame, along with the other 31 NFL teams.
While it will be very revealing to see how Te'o performs under the pressure of the National Championship game, he is sure to be drafted before the Giants have a chance to take him.
It's too bad because Te'o appears to be a high character guy which is always attractive to Giants brass, plus the G-Men already have strong defensive ties to Notre Dame through Justin Tuck.
The more practical linebacker the Giants must watch, will be in the Championship game as well. It's C.J. Mosely of Alabama.
He doesn't have the sexy name recognition of Te'o, or even his former Crimson Tide teammates Donta Hightower and Courtney Upshaw for that matter, but Mosely is clearly a leader and looks NFL ready.
Mosely appears to be the next in line of great linebackers developed by Alabama, and easily someone that Giants should watch very closely.
Another more practical linebacker to watch is Sean Porter of Texas A&M.
Scouts tag this guy as someone with a tremendous nose for the football. He's quick and athletic and it should be interesting to see his skill-set against Oklahoma in the Cotton Bowl.
His speed and versatility to go from sacking the QB to stuffing the run makes him a must-watch linebacker for the G-Men.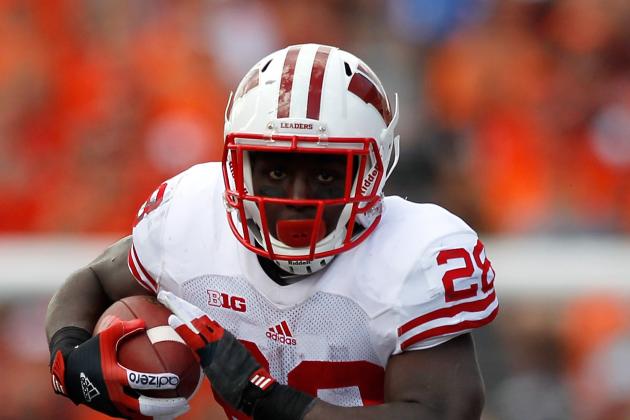 Jonathan Ferrey/Getty Images
I'm taking my ball, and I'm going home.
The Giants must shake any lingering doubt that they might still have about Wisconsin players from when they drafted Ron Dayne back in 2000.
If they're looking for the next franchise running back, they will need to dip their toe back into the Wisconsin pool and trade up for Montee Ball.
Ball has had an outstanding college career, and he continued to impress NFL teams as he racked up 202 yards and three touchdowns in the 70-31 beat down of No. 14 Nebraska on their way back to the Rose Bowl.
Ball has scored the most touchdowns in FBS history and many teams will be watching him in the Rose Bowl to see what he has planned for his final college performance.
Even though Ahmad Bradshaw is tough as nails, he has played with broken bones in his foot the past two seasons, and the insurance of a guy like Ball is undeniably appealing.
David Wilson will continue to improve, but since Andre Brown's future may be uncertain, Reese should have Ball very high up on the Giants draft board.
Another bowl-bound running back the Giants need to watch is Andre Ellington of Clemson, as he faces the stingy LSU defense in the Chick-fil-A Bowl.
Many are saying that Ellington resembles former Clemson and current Buffalo Bills running back C.J. Spiller.
He does lack size at 5'10" and 180 pounds, but his speed and decision-making should grab the attention of the Giants as they could always afford to beef up at running back and special teams.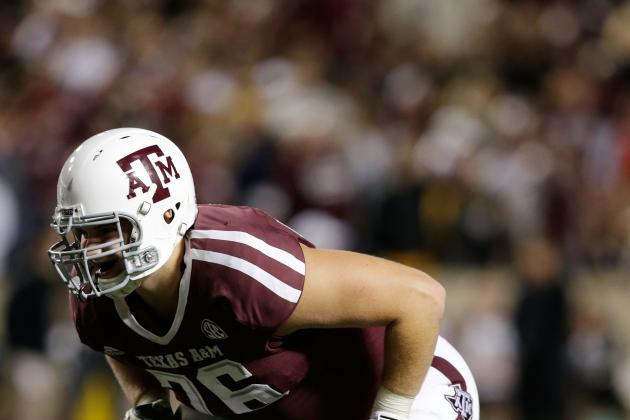 Scott Halleran/Getty Images

The least glorified position on a football team is an offensive lineman, but it's extremely important for Reese to pay attention to.
David Diehl could be looking at his last season with Big Blue, and while the offensive unit has been terrific in protecting Eli Manning, they need to upgrade with youth.
Especially since Sean Locklear's season is likely over after injuring his knee in the Monday night loss to the Washington Redskins.
The Giants pass protection has been outstanding, but they need to get better with run blocking.
In this draft, two offensive lineman stick out.
Texas A&M's Luke Joeckel is one to keep an eye on.
He will face Oklahoma's defense in the Cotton Bowl and he will be a marquee big man in the 2013 draft.
He's 6-6 310 pounds, and athletic with great footwork. He was part of an Aggies O-line that led the Southeastern Conference in rushing offense this year.
The other O-lineman to watch is the four-year Wisconsin Badger Ricky Wagner, as he'll be blocking for Montee Ball in the Rose Bowl.
This 6-6 318 pound tackle has experience on both the right and left side of the line, and knows how to open up running lanes as he's done for Ball the last few years.
Wagner is versatile and athletic, and has the maturity of a four-year college athlete to make an impact on the NFL stage.
Reese would be smart to watch both of these men carefully.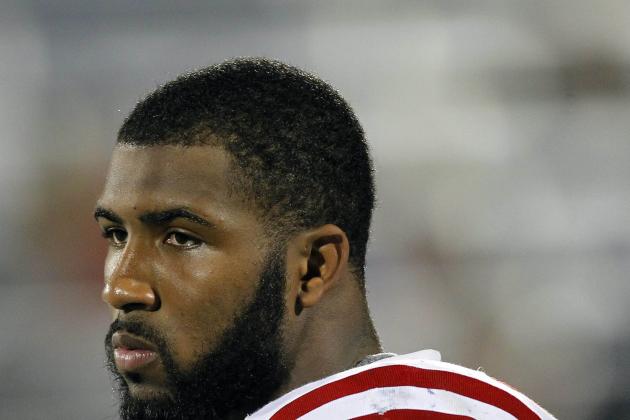 Robert Mayer-USA TODAY Sports
Quanterus Smith could be the defensive end steal of the 2013 draft.
Saying that the Giants like to draft defensive end's is like saying New York is the city that never sleeps—we know this.
There are many studs at this position, two of which Reese should watch closely.
Alex Okafor leads Texas's defense against Oregon State in the Alamo Bowl.
Okafor isn't a sack machine, but he has herculean strength and his defense of the run and pass will translate very well to the NFL game.
Okafor is very well-rounded and may go high in the draft, but if he's there for the taking, the Giants could do a lot with his talent.
The other defensive end to watch is Quanterus Smith of Western Kentucky. Many of you are probably thinking, who?
Smith leads Western Kentucky's defense against Central Michigan in the Little Caesars Pizza Bowl, and is one of the nation's best at registering sacks.
Smith had a three-sack game against Alabama this year, and a five-sack game against Florida International University.
He is only 249-pounds so his weight could be a concern, but Reese should watch him very closely as he could be a versatile piece to a Giants defense next season.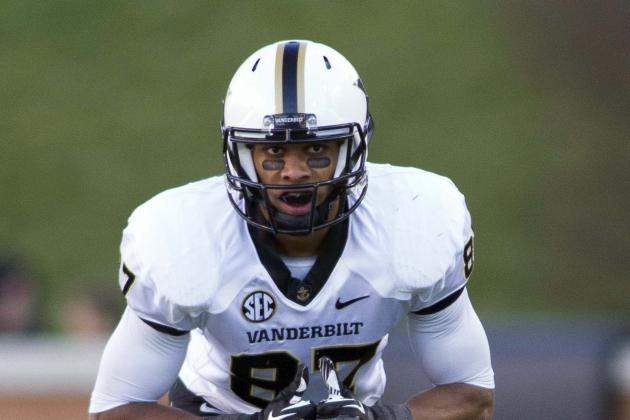 Jeremy Brevard-USA TODAY Sports

The Giants are pretty set at the receiver position, but there is a decent wideout with amazing pedigree that Reese needs to closely evaluate.
Jordan Matthews of Vanderbilt is a cousin of Hall-of-Famer Jerry Rice, and he is playing in the Music City Bowl against NC State.
Matthews led the SEC with 19 yards per catch last season, and his 6-3 205-pound frame gives him a big matchup advantage.
The Giants need to watch Matthews' performance in the bowl game, because his flare for the big play would be a welcome addition and weapon for Eli.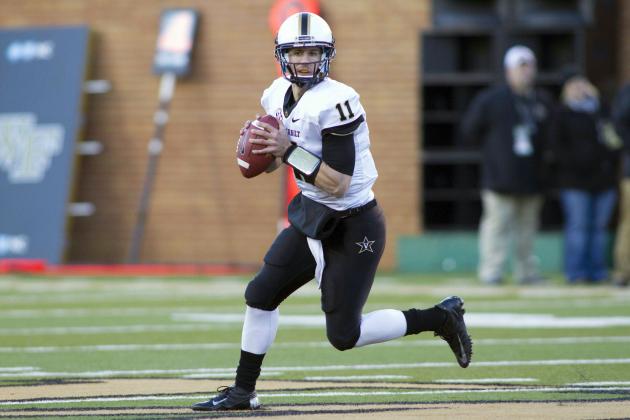 Jeremy Brevard-USA TODAY Sports
Jordan Rodgers, younger brother to Green Bay's Aaron Rodgers.
Fortunately, the quarterback position isn't a spot Reese needs to be too concerned with, but there is an underrated and undersized QB who could make a lot of sense to draft.
Eli is unquestionably in his prime, and David Carr is clearly not the successor, so now would be a great time to draft a potential future quarterback to groom.
He is the Vanderbilt QB, and the younger brother of Green Bay's Aaron Rodgers—Jordan Rodgers.
Rodgers led Vandy to eight wins this year and the Music City Bowl Game completing 59 percent of his passes for 2,431 yards, 13 touchdowns and five interceptions.
Rodgers is projected to be there in the seventh-round, it could be an interesting pick if Reese decides to pull the trigger on him.
Kevin C. Cox/Getty Images
Tyrann Mathieu
The Giants secondary has come under fire this season as they have dealt with many injuries while they also patiently wait for Prince Amukamara to pay off.
I could see the Giants taking former LSU cornerback standout Tyrann Mathieu if his draft stock drops far enough.
From a character standpoint, Mathieu doesn't fit the Giants culture, but Reese always says that he takes the best available talent when it's his turn to draft.
With that, you can't ignore the fact that he was a Heisman runner up last season.
Just a thought.