20 NFL Playoff Matchups Fans Should Want to See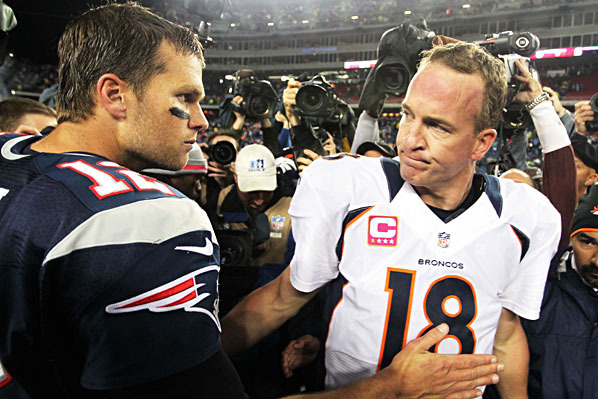 Photo Courtesy of ESPN.com
This is the best part of every NFL dreamer's year. Injuries haven't quite decimated any contenders (well, Green Bay might beg to differ), the schedule hasn't ravaged everyone's hopes for a playoff berth and nearly every major storyline is still in play.
In other words, if there's a playoff matchup you want to see, odds are it's going to be destroyed in the next month. That's just how the NFL works.
I'm still mad we didn't get to see the Colts and Patriots duke it out in the '07 AFC Championship Game, and don't get me started on Arizona robbing us of an unlikely albeit technically possible Favre vs. Rodgers NFC championship game in 2009.
These aren't the playoff games you're going to see. We're going to see Tom Brady put up 50 on some unsuspecting young quarterback (Vegas may or may not be offering 3:1 odds on that being Andy Dalton) and we're going to see the Giants methodically top a superior team through some combination of veteran savvy and voodoo magic.
These are the playoff games we want to see. Anything is possible in this realm. Some of these teams won't make the playoffs, others will get knocked out before getting the chance to face each other. Anything can happen. Well, anything except another Tim Tebow overtime bomb, but that one's on Rex, not me.
Here are the 20 games all NFL fans should hope we see in the playoffs.
Begin Slideshow

»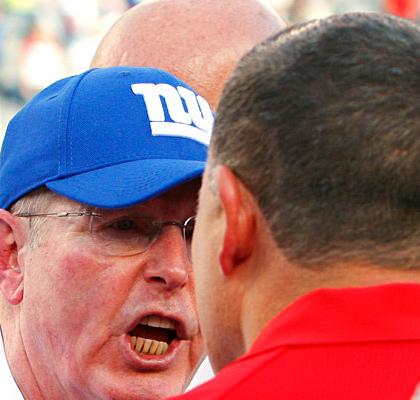 Photo Courtesy of ESPN
Kneel-gate! Kneel-gate! Kneel-gate!
In case you didn't realize, I'm a fan of postgame coaching hijinks. I want Kneel-gate part two!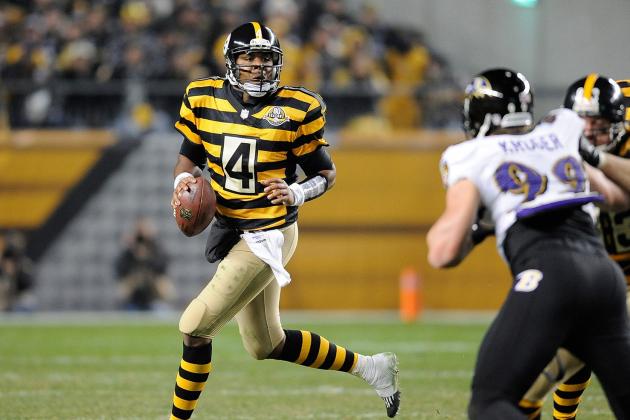 Joe Sargent/Getty Images

I'm convinced you could put peewee players into these uniforms and they'd give us an awesome game. I have no idea why, but these are the only two teams that can consistently give us 13-10 slugfests yet have us clamoring for more.
Also, at the rate they're going and with a potential third game against Baltimore looming, the Steelers might become the first team to ever run through so many quarterbacks that they have to pull a fan out of the stands to go under center. You can't tell me that's not exciting.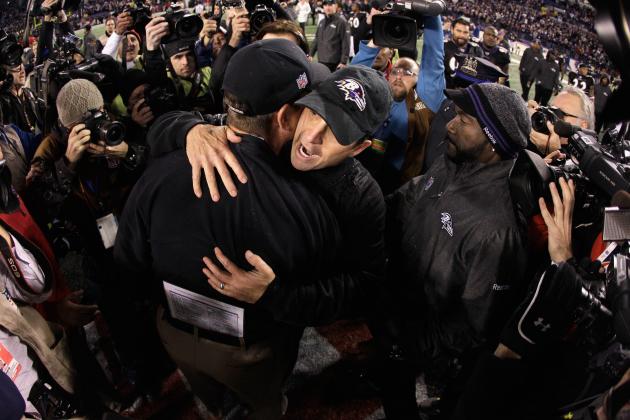 Rob Carr/Getty Images

I'm a fan of any game we can preface with the words "something bowl." Manning Bowl? I'm in. Brady Bowl (this was my planned title for a potential Tom Brady vs. Brady Quinn Super Bowl. Boy did that one go awry)? Let's do it. Harbaugh Bowl?
I'm sold. I can't imagine better drama than two coaches who also happen to be brothers coaching against each other in the Super Bowl. These tops the Manning Bowl because neither of these guys have rings.
Imagine the drama. What happens if it comes down to a last-second field goal? Do they do a three-way split screen between the kick and the two coaches?
And does the losing brother have to congratulate the winning brother on the podium? Can we somehow make that mandatory? The cognitive dissonance of losing a Super Bowl to his brother might actually make Jim Harbaugh's head explode. That's some good TV.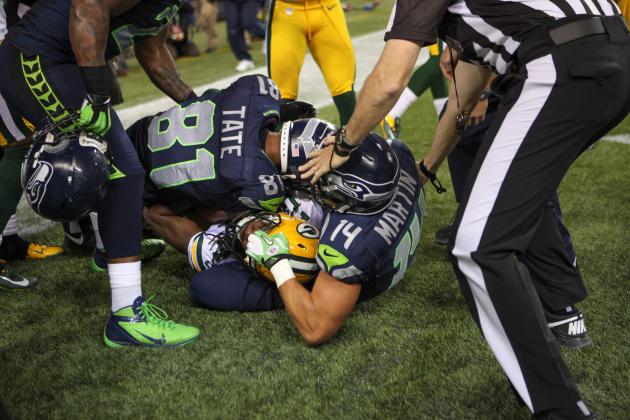 Otto Greule Jr/Getty Images

My feelings on things ending in the word "gate" (as seen in the first slide) might actually exceed my love of the word "bowl." A rematch of Golden-gate? This would be a fan's dream and the NFL's nightmare.
First of all, the Packers might actually score 100 points in this game. There hasn't been a vengeance game like this since the Patriots got a rematch with the Jets in 2007 (after Spygate) and only won 20-10.
If Brandon Browner and Richard Sherman appeal their suspensions and end up missing playoff games instead of regular season games the Seahawks might have to face the fully-loaded Packers without either of their cornerbacks.
Second, imagine if this game somehow happened with the Packers losing the NFC North by one game. Instead of getting a home game, they have to travel to Seattle, the very place where they were robbed of a win and essentially a divisional title, to play an undermanned Seahawks team.
Screw 100, the Packers might match Seattle's point total for the entire season.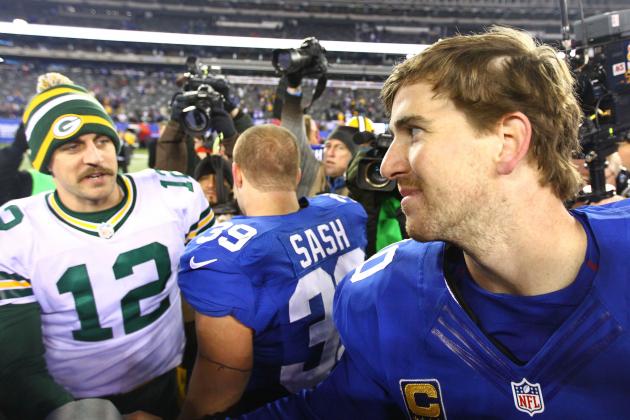 Al Bello/Getty Images

I can only assume not many people have embarrassed Aaron Rodgers on national television and lived to tell the story. If Rodgers gets another shot at the Giants sparks are going to fly.
This is actually developing into one of the better random rivalries in football. They played for a playoff spot in 2010, then had an awesome regular season game last year before Green Bay's playoff disappointment. Sunday's humiliation is just setting the stage for a potentially awesome rematch in January.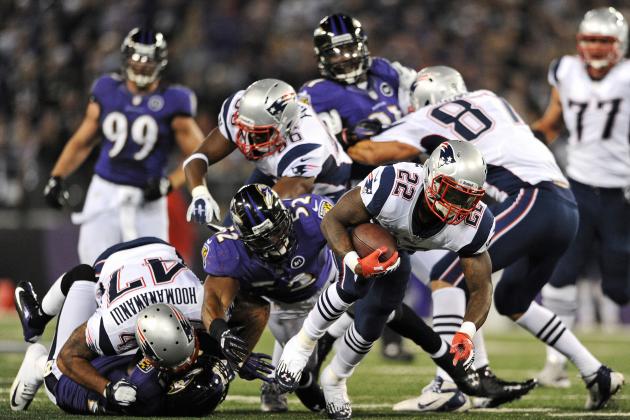 Patrick Smith/Getty Images

Speaking of random rivalries, is there a better one in the NFL right now than this one? For whatever reason, the Ravens seem to legitimately hate the Patriots.
Just look at the story lines here. Three playoff games in four years. An AFC title game rematch. A potential encore for the greatest in game chant of all time.
Say what you will about parity, but I always prefer the biggest games to be played by the teams that are traditionally there. The Ravens and Patriots have been there for the past decade. When they go at it in a big game it just feels right.
Photo Courtesy of New York Daily News
The Manning Bowl has to make this list. We've been hoping for it for almost a decade.
As much as I'd like to see two brothers play against each other in the Super Bowl, I'm honestly hoping for this just so we can see constant shots of Archie Manning. We really don't see enough of him at Super Bowls.
Maybe he's making up for his own playoff failures (or lack thereof since he didn't really get the chance) by living vicariously through his sons.
Who would he root for. Can we put a secret camera on him throughout the game so we can find out? Would he celebrate with the winner or console the loser?
Speaking of the loser, what would the losing quarterback do here? Celebrate or sit around with his head down in the locker room?
You'd have to figure he'd rather celebrate his brother's victory, but he'd destroy his image with his teammates. I'm fascinated by this.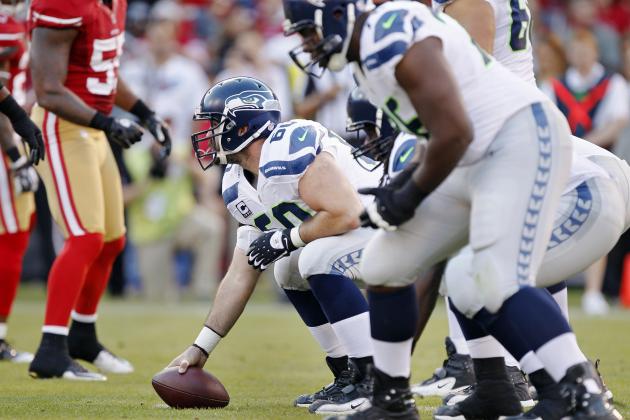 Brian Bahr/Getty Images

First of all, divisional games in the playoffs are always awesome. This is an indisputable fact. Prove me wrong, readers.
Second, this is the rematch (technically second rematch, but still) of safety-gate. If you don't know what that is then you probably don't gamble.
Third, any chance we can see a playoff game between two quarterbacks with 23 combined starts, we have to take it. How often do we get that kind of opportunity?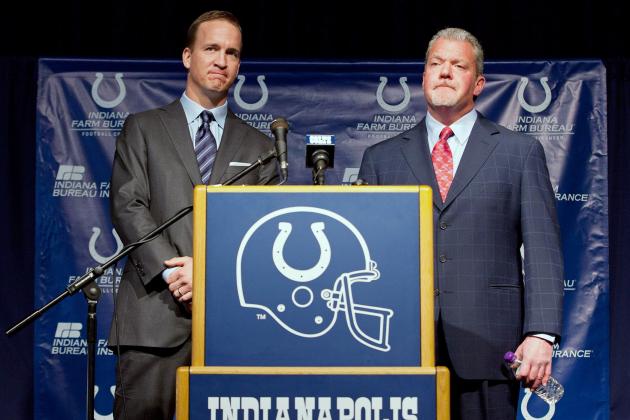 Joey Foley/Getty Images

Peyton can be as diplomatic about this as he wants. He wanted to finish his career with the Colts, not the Broncos. Deep down, he'd want to beat Andrew Luck by 40 just to stick it to his old team.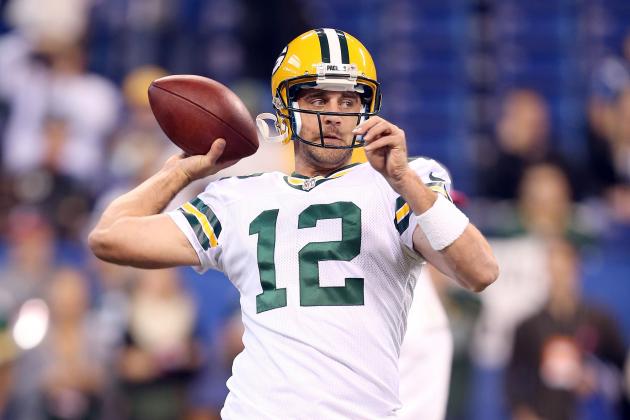 Andy Lyons/Getty Images

If the NFL rigged games, this would be the Super Bowl they'd pick. Stick the two best offenses in the NFL in a dome in New Orleans against two horrendous defenses and every offensive record is within reach.
Could we see them combine for over 100 points? Definitely. Could Aaron Rodgers and Tom Brady combine for more passing yards in this game than Mark Sanchez has all season? Potentially.
Could we see the refs abandon all pretense of defenses mattering in this game and switching to flag football at halftime? Unlikely, but I wouldn't rule it out. If you love offense this is the game you want.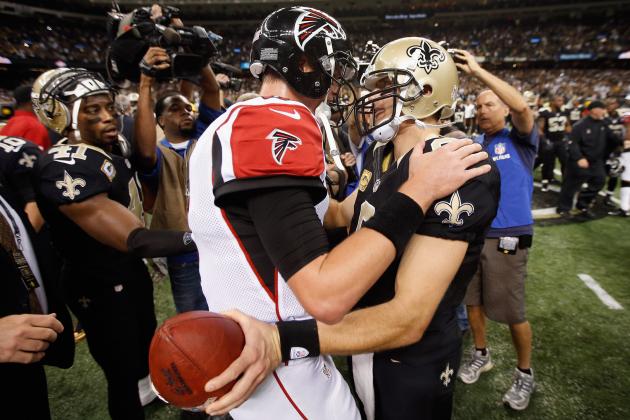 Chris Graythen/Getty Images

To quote absolutely every analyst I despise, "there's no love lost between these two teams." What does that even mean? Wouldn't there be plenty of love lost if they hate each other? Forget it, I'm just going to point out there is absolutely some lost love involved here. Saints linebacker Curtis Lofton is a former Falcon after all.
Anyway, despite the large amount of lost love, these games are always awesome. Just look at the final scores since 2007:
October 21, 2007: 22-16, Saints.
December 10, 2007: 34-14, Saints.
November 9, 2008: 34-20, Falcons.
December 7, 2008: 29-25, Saints.
November 2, 2009: 35-27, Saints.
December 14, 2009: 26-23, Saints.
September 26, 2010: 27-24, Falcons.
December 27, 2010: 17-14 Saints.
November 13, 2011: 26-23, Saints.
December 26, 2011: 45-16, Saints.
November 11, 2012: 31-27, Saints.
Eight out of 11 of these games have been decided by one score. Aren't those the type of playoff games you want to see?
Jonathan Daniel/Getty Images

One of the best rivalries in the NFL? Check.
Rematch of a recent NFC Championship Game? Check.
The potential for a complete and utter Jay Cutler meltdown? Check plus.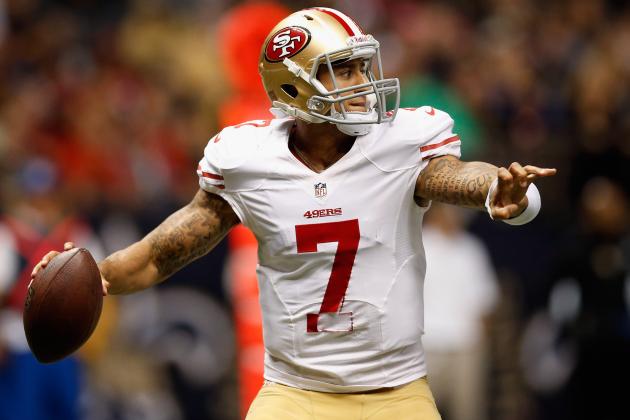 Chris Graythen/Getty Images

If not for a few untimely fumbles for the 49ers in last year's NFC championship game this would have been Super Bowl XLVI. And honestly, I think this would give us the best overall game for the Super Bowl.
League's best defense vs. league's best offense. The former Super Bowl MVP vs. the second year backup-turned-star. AFC East vs. NFC West.
In case you hadn't noticed, I just pulled those story lines from Super Bowl XXXVI played between the Rams and Patriots. Many consider that one of the best Super Bowls ever.
This time, playing the role of the Patriots, are the San Francisco 49ers. They aren't quite the underdogs New England was back then, but they play the same way and have a similar quarterback controversy.
The Patriots play the role the Rams did in 2001. An unlikable offensive machine that nobody really wants to see win again.
This is the recipe for a great Super Bowl.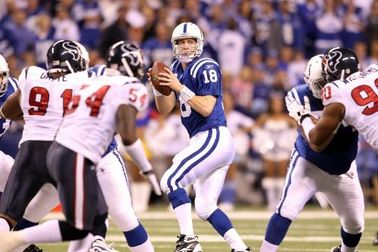 Photo Courtesy of stateofthetexans.com
Since their inception in 2002, the entire Houston Texans organization has been plagued by the presence of Peyton Manning.
Manning has a 16-3 career record against Houston. In 2006, when Houston held the No. 1 pick in the NFL Draft, they selected Mario Williams using the logic that "to beat Peyton Manning you have to put pressure on him."
Houston couldn't win the AFC South until Peyton Manning missed the 2011 season. In fact, before Manning's last game in the division, the Texans had never even sniffed the playoffs.
This is the kind of game that first-time Super Bowl champs usually have win. For the Texans to reach the Super Bowl, they'll probably have to beat their old nemesis. After all, Manning had to beat his old nemesis (Tom Brady) to reach his first Super Bowl.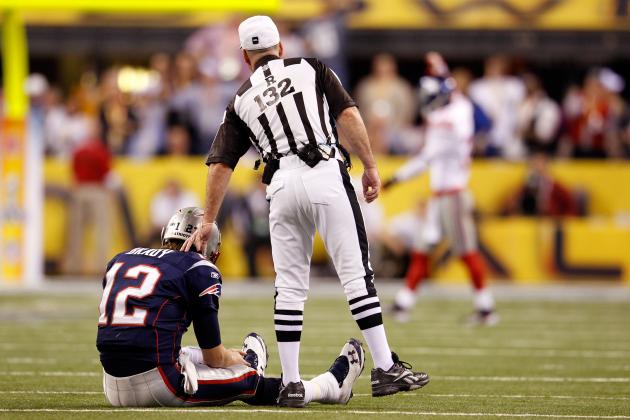 Rob Carr/Getty Images

As an ardent Patriots hater, the idea of Tom Brady losing to the lesser Manning in the Super Bowl three times is basically football porn.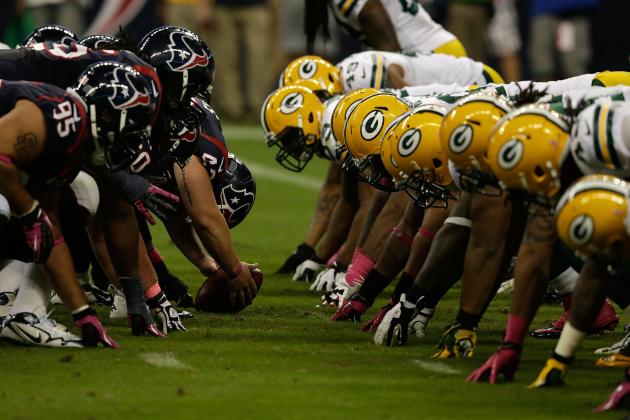 Scott Halleran/Getty Images

As you can probably tell, I love rematches. I also love the idea of my preseason Super Bowl matchup actually happening for once.
In all seriousness though, I think this would be an awesome game. Nobody is beating the Texans the same way twice, their roster is too deep and balanced. That means Green Bay would have to come up with a whole new game plan against Houston.
In terms of raw roster talent there probably isn't a better matchup than this one. It features arguably the best quarterback (Aaron Rodgers), running back (Arian Foster), wide receiver (Andre Johnson), offensive line (Houston's), defensive lineman (JJ Watt), pass rushing linebacker (Clay Matthews) and versatile defensive back (Charles Woodson).
You can't tell me you don't want to see all of those guys on the field at once.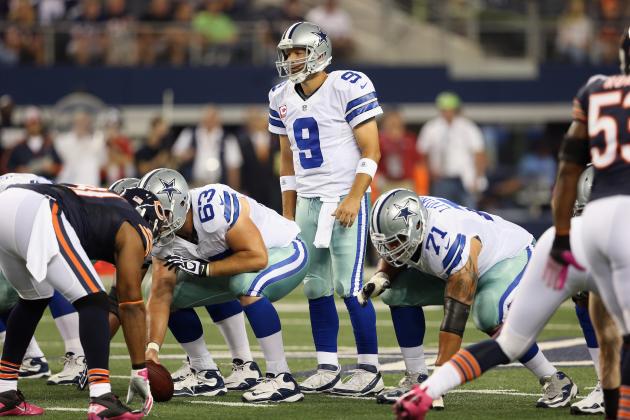 Ronald Martinez/Getty Images

Tony Romo threw five interceptions against the Bears at home. Imagine the possibilities on a snowy day at Soldier Field. If we're lucky enough to get bad Jay Cutler instead of good Jay Cutler we might see the record of 13 combined interceptions thrown in a single game get broken.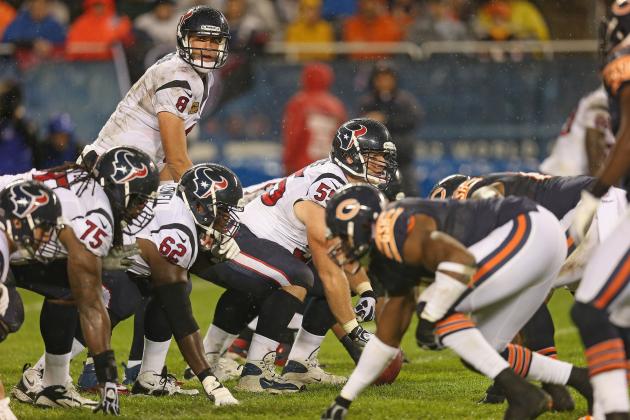 Jonathan Daniel/Getty Images

First, the personal reason. One of my best friends is a diehard Patriots fan and we've been arguing about which of these teams are better since the summer. I'd really like to stick to him with a Texans win in the playoffs.
But for those of you without personal vendettas, these are probably the two best overall AFC teams. Between the two of them there is only one unit that might be described as a weakness (New England's secondary).
Houston specializes in running the ball and controlling the clock. Those are two New England playoff specialties. It'll be interesting to see if Houston can beat New England at their own game.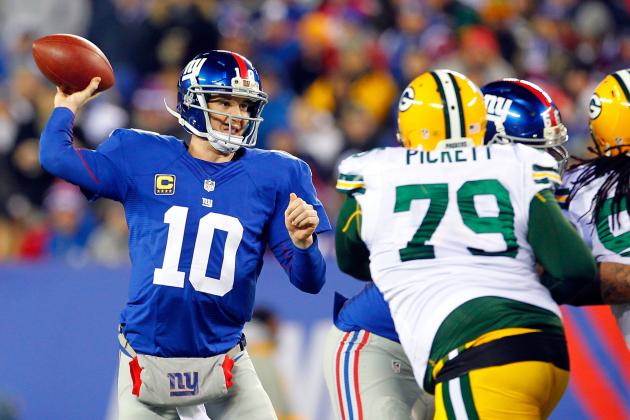 Rich Schultz/Getty Images

One team always dominates the regular season and collapses in the playoffs.
The other collapses in the regular season and then gets it together in time for the playoffs.
Could Atlanta be the only 15-1 team ever to be underdogs at home in the playoffs? Would this upset be so obvious that the football gods give Atlanta a blowout win? I'm excited for the possibilities.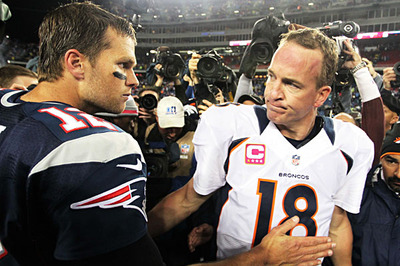 Photo Courtesy of ESPN.com
Doesn't this feel right. As a fan, shouldn't this be the game, like it has been so many times before, that decides who represents the AFC in the Super Bowl?
We're not going to see Manning vs. Brady many more times. Their careers are coming to a close. Both are in the running for the title of greatest QB ever. I want to see it decided on the field.