6 Pieces the New York Jets Still Need in Order to Become a True Contender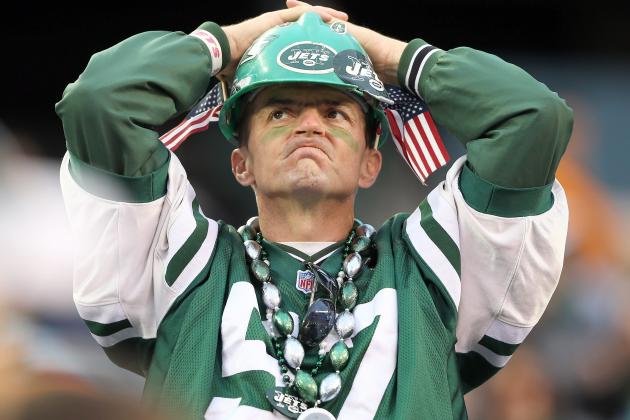 Elsa/Getty Images

The New York Jets are officially a joke.
An embarrassing 49-19 loss to the rival Patriots at home in front of a national audience, coupled with a few questionable press conferences by the coaching staff and players, have reverted a once-promising team back into a laughing stock.
At 4-7, New York is nowhere close to being a Super Bowl, or even playoff, contender.
Many moves have to be made for Gang Green to once again taste January football, including remodeling most of the franchise cornerstones.
Begin Slideshow

»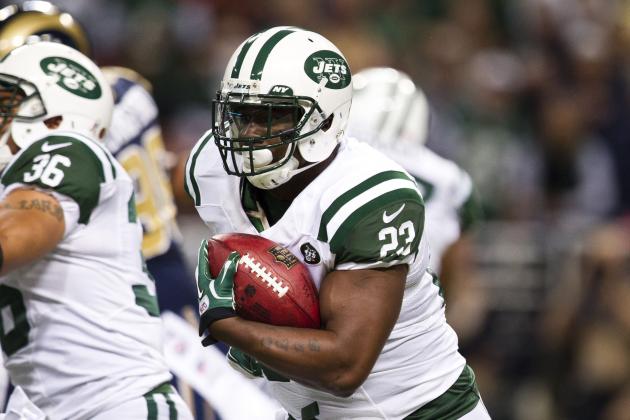 David Welker/Getty Images

I have said it a thousand times before, and I will continue saying it until I am proven incorrect: Shonn Greene is not a franchise running back.
The Iowa product lacks the explosiveness and vision to succeed at an every-down level.
Greene is averaging just 3.8 yards per carry as a result of his shortcomings. He has also fumbled three times.
It is time New York moves on from Greene as the starter toward a more complete back to take his role. This is certainly a player from outside the organization, as neither Bilal Powell nor Joe McKnight boast the skill set to carry an offense.
Many solid running back prospects are available in this year's draft, including Montee Bell and Eddie Lacy.
The Jets should use an early pick to select a star halfback who can carry the offense for years to come.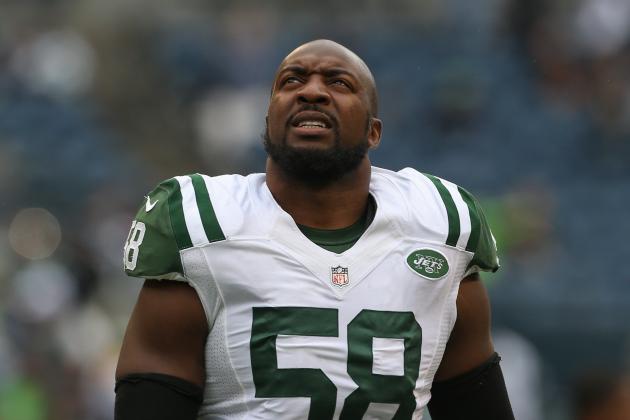 Otto Greule Jr/Getty Images

With Bryan Thomas and Calvin Pace, the Jets possess perhaps the least explosive outside linebacker pairing in the NFL. They are both well above 30 and due to become free agents over the next couple of seasons.
The Jets need to replace the disappointing veterans with speedy, dynamic youngsters who have the ability to both rush the passer and drop back in coverage.
Although these skill sets are difficult to find, it is critical to getting to back to the elite defense of yesteryear.
Like running back, many talented outside linebackers are due to declare for the draft this offseason.
These include LSU superstar Barkevious Mingo and Alabama product C.J. Mosley.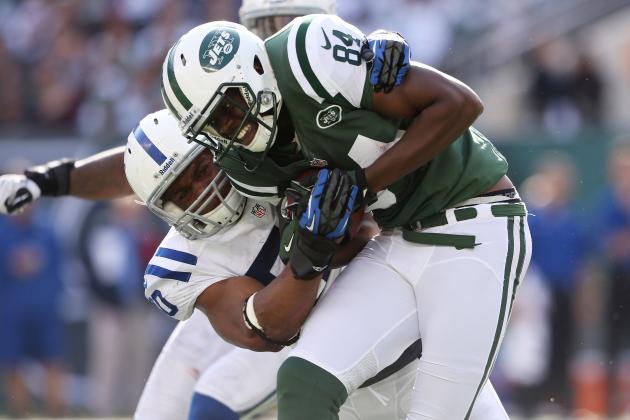 Nick Laham/Getty Images

With Santonio Holmes on the sidelines, the Jets' wide receiving corps has taken a huge hit.
Stephen Hill and Jeremy Kerley have bright futures, but both struggle with poor hands and subpar route running.
New York needs to find a solid veteran wideout who can complement Holmes on the other side of the field and reinvigorate the passing attack.
Many top receiving options are available in free agency this offseason, including Dwayne Bowe and Mike Wallace.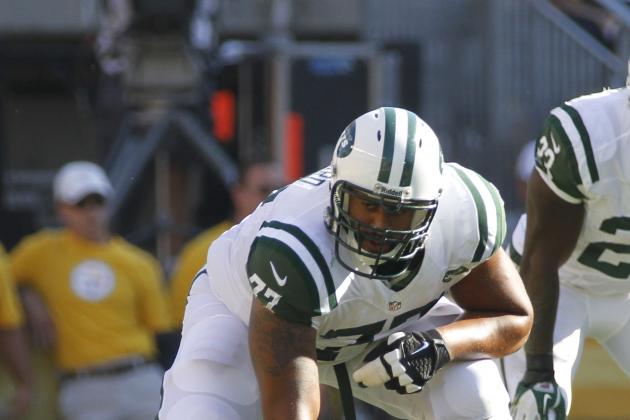 Justin K. Aller/Getty Images

Austin Howard was solid in his first few games in the starting role, but he has fallen apart recently.
The 25-year-old Northern Iowa product is simply not a starting right tackle at the NFL level and he needs to be replaced this offseason.
Franchise right tackles are incredibly hard to find, as athletic pass-rushers are consistently getting the best of pass-blockers.
Several solid options are coming out of college, though, including Texas A&M stars Luke Joeckel and Jake Matthews.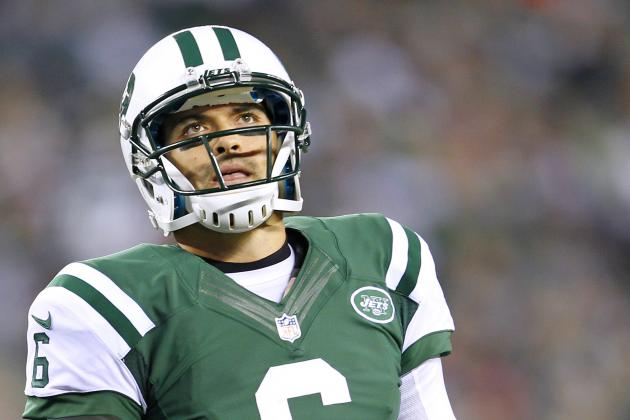 Rich Schultz/Getty Images

I have been a Mark Sanchez sympathizer since his debut in New York, but Thursday night was the last straw.
The USC product makes too many killer mistakes to remain the starter in Gotham. The Jets simply will not be able to be a consistent contender with him under center.
Unfortunately, Sanchez's contract guarantees him at least one more full year as the starting quarterback, so New York will not be able to make a major change until the 2013 offseason.
However, when the opportunity arises, Gang Green has to gamble an early pick on a signal-caller that can carry the offense for years to come.
Hopefully, said pick does not turn out to be another Mark Sanchez.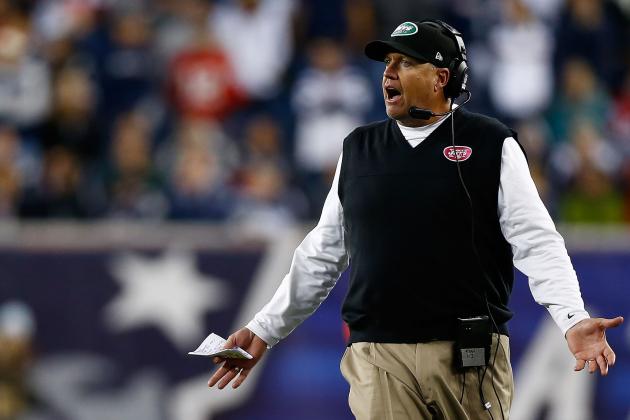 Jared Wickerham/Getty Images

Rex Ryan, Mike Tannenbaum, Tony Sparano. They all need to go.
Tannenbaum built the current roster. To put it kindly, it lacks talent. The general manager has consistently struck out on draft picks and on free-agent signings.
With him signing paychecks, the Jets haven't been able to remain a contender. Tanny needs to go.
Ryan hasn't been able to back up his big talk for years now and he is turning the team into an embarrassment. His continued shenanigans should lead to his dismissal as head coach.
Sparano was brought in to improve the Jets offense, but he has only made things worse. Sparano makes bad calls in crucial times and his overall offensive game plan is too conservative.
In my opinion, the Jets should attempt to bring in a seasoned GM—such as Bill Polian—to head the franchise, a seasoned head coach with past success—such as Jon Gruden—as head coach and an offensive guru—such as Norv Turner—to lead the offense.