Dallas Cowboys: 5 Things Big D Must Do to Actually Be Super Bowl Contenders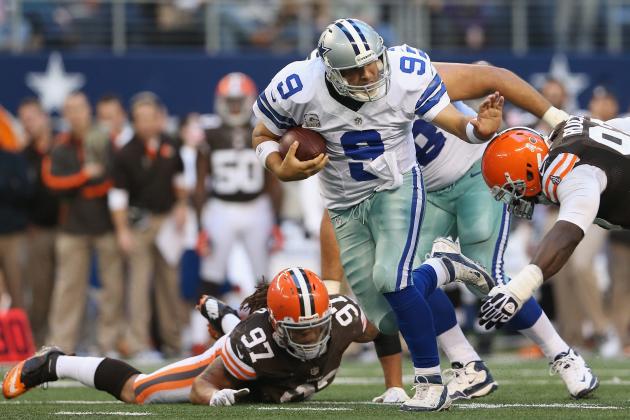 Ronald Martinez/Getty Images

The Dallas Cowboys are America's Team. They're one of the most popular teams in pro sports, but have been without a Super Bowl title for over a decade and a half.
In fact, Dallas hasn't really come close to capturing that Lombardi Trophy many times over this current drought. That doesn't mean this current squad can't end it, though. It'll just take another season or two.
The Cowboys aren't far away from being an NFC Super Bowl favorite, but the changes that need to be made aren't all minor tweaks. Here are the five things Dallas must change in order to regain the luster it once had.
Begin Slideshow

»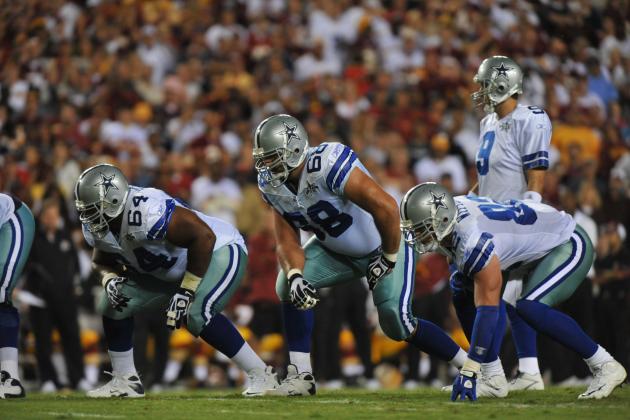 Larry French/Getty Images

The Tony Romo critics have been out in full force thanks to Dallas' struggles this season, but even they must realize it's not all No. 9's fault.
Romo has always been able to create plays after the pocket collapses, but asking him to do that every play isn't going to lead to victories. The Cowboys spent the most money they ever have this past offseason and yet went bargain shopping at offensive line.
Unsurprisingly, that decision has led to a hurried and brutalized Romo and a whole lot of dumb penalties. Doug Free and Phil Costa (when he's been healthy) have been two of the biggest offenders of both the aforementioned problems.
If a Cowboys fan has gone a full game this year without seeing two or three missed blocks by Free and nothing but clean snaps from Costa, they weren't watching close enough.
It's not as sexy as spending money on big name cornerbacks like Brandon Carr, but Dallas needs to draft wisely and spend freely to sure up every O-Line position except Tyron Smith's.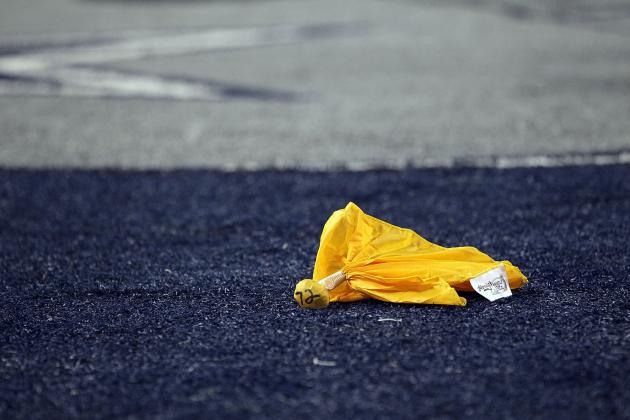 Ronald Martinez/Getty Images

The fact that Ronald Martinez of Getty Images thought it'd be a good idea to photograph a flag in the Cowboys end zone says it all.
Dallas ranks second-to-last in the league in terms of penalties committed. Only the Washington Redskins have committed more on average than Big D.
Unfortunately, this is a problem that can't be fixed with X's and O's. This is an issue that only the players and an angry Jason Garrett can get rid of.
The head coach is responsible for whether or not his team is disciplined and able to play smart football. Right now, the Cowboys are literally the second-best team in the NFL at shooting themselves in the foot.
This has been a problem for the 'Boys since the Wade Phillips era began. Since 2007, the Cowboys have been ranked as one of the sixth-worst penalized teams in the league every season.
Until Garrett (or another head coach) can find a way to end this penalty epidemic in Dallas, this team will continue to be its own worst enemy.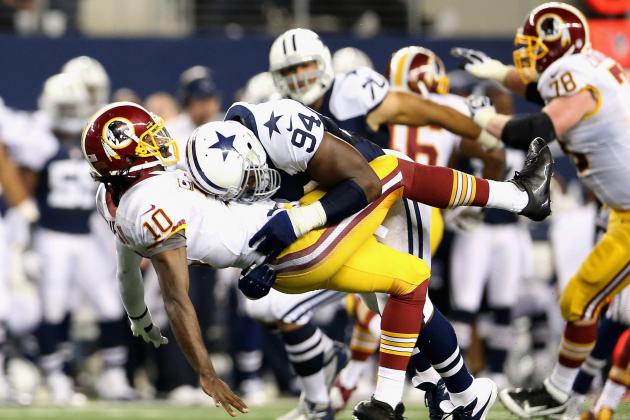 Ronald Martinez/Getty Images

On paper, the Cowboys have to be seen as one of the better NFC teams out there. The argument could be made they're the best on-paper team in the whole NFC East.
However, the high-profile names have not resulted into high-profile results on the field in 2012. Dallas' defense has been the high spot of this team this year, ranking No. 9 in terms of fewest yards given up per game.
The side of the ball featuring Tony Romo, Dez Bryant and Jason Witten has actually been the under-performing unit on this squad. The Cowboys own the worst rushing attack in the league and have scored less than 20 points five times this season.
The fact that the team has talent at every skill position and can't score three touchdowns five times in 11 games in underwhelming.
This issue is partly tied to the offensive line being a mess, but the lack of firepower is still the fault of the entire unit. Dallas cannot continue to lean on its defense to keep it in the game until the offense wakes up in the third or fourth quarter.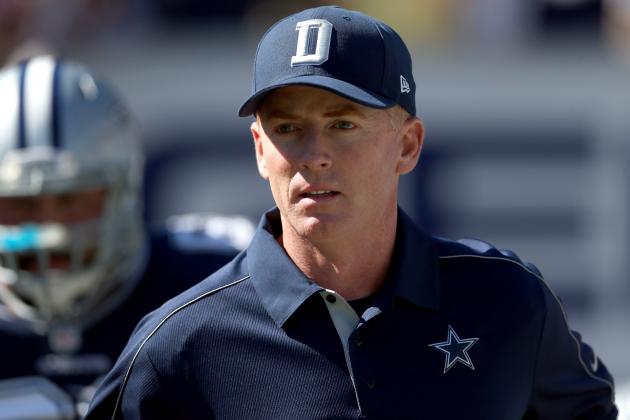 Streeter Lecka/Getty Images

This doesn't mean that Jason Garrett has to go necessarily, but a proven, hard-nosed head coach needs to have the reigns in Dallas.
If Bill Parcells had taken over the Cowboys in 2007 or 2012 instead of 2003, this team would actually be a Super Bowl contender. The Cowboys aren't a team that can be run by someone who doesn't get firey and yell at players.
Owner Jerry Jones needs to either allow Garrett the time to become an experienced, proven coach or bring in someone who already fits that criteria.
Obviously the Jon Gruden and Sean Payton's come to mind, but whoever it is needs to constantly remind these players who is the sheriff around Valley Ranch.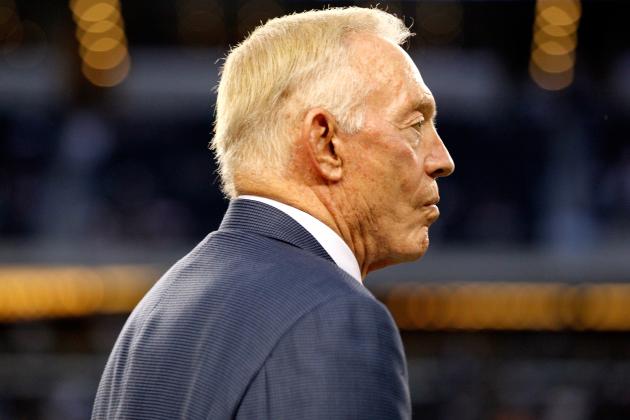 Tom Pennington/Getty Images

It's not going to happen, but that doesn't mean it shouldn't happen. At his core, Jerry Jones is an owner that loves the Cowboys just as much as the diehard fans do.
Jones' problem though is that he feels this team needs him to call the shots as GM in order to succeed. He also doesn't realize this hasn't worked since Barry Switzer's one-hit wonder Super Bowl year concluded.
The Cowboys have one of the savviest and best owners in the NFL. The problem is, he also happens to be one of the worst general managers around.
Jones needs to allow his head coaches to "make the grocery list and pick up the groceries" like Bill Parcells once said. If he ever let's go of the controls, this team might even be able to grab a Bill Cowher or Jon Gruden as head coach.
Having someone other than Jones as GM would likely lead to the fixing of two of these five problems. Unfortunately, this is a problem that won't ever be fixed so long as the Jones family owns the Cowboys.