New York Giants vs. Green Bay Packers: 8 Keys to the Game for Big Blue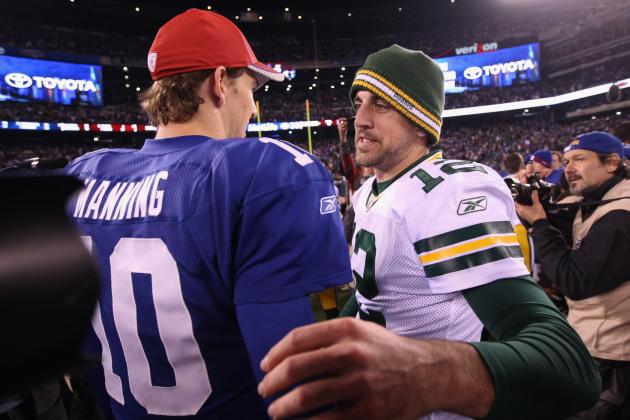 Al Bello/Getty Images

The New York Giants have had almost 14 days to think about this game coming up.
The Green Bay Packers have had almost 10 months to think about it.
The last time the Giants and Packers met was at Lambeau Field back in January and the Giants pulled off a 37-20 upset in the NFC Divisional Round of the playoffs.
It was a victory that propelled the Giants to the NFC Championship and then a Super Bowl XLVI victory.
Now, the two teams are on a collision course to meet again on Sunday night in MetLife Stadium in a nationally televised game on NBC.
Here are some of the key things to look for with the Giants against Green Bay.
Begin Slideshow

»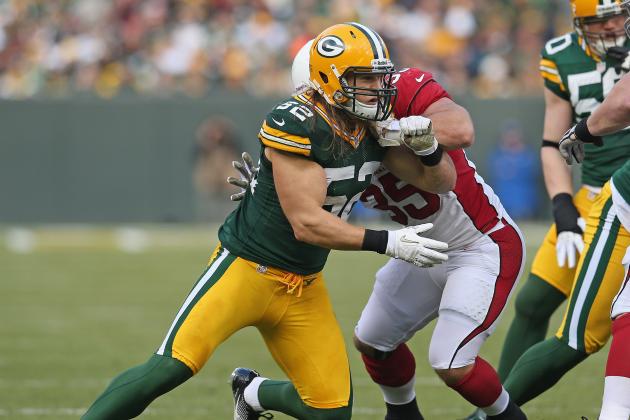 Jonathan Daniel/Getty Images

The outside linebacker of the Green Bay Packers has not seen the field since they beat the Arizona Cardinals due to a hamstring injury.
He's currently listed as questionable and his status for the game on Sunday is unknown.
He has nine sacks on the year, but hasn't recorded one since the end of October against the Rams.
Despite that, when he's on the field, you have to know where he is at all times because he is a force to be reckoned with.
Without him, it takes away from the Packers defense and their ability to blitz the quarterback. There could be a sigh of relief from Eli Manning if Matthews is not on the field.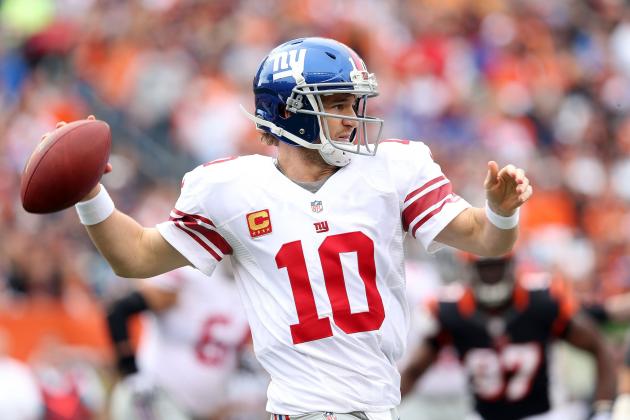 Andy Lyons/Getty Images

Two weeks ago after their brutal 31-13 loss to the Cincinnati Bengals, Eli Manning swore he didn't have a sore shoulder.
Whether he was telling the truth or just didn't want to admit it, we all know he needed a week off to rest; both physically and mentally.
He got the rest and he said there was a lot more zip throwing the ball during practice, which is really good news for the Giants offense.
Manning has yet to throw a touchdown pass since their win against the Washington Redskins back in October.
That's three straight games and four straight weeks with Manning not throwing a TD pass, which is uncommon given the year Manning started out having.
But if his arm was tired, hopefully the rest helped it, and I think on Sunday, he'll break out of the TD-less slump against the Packers defense.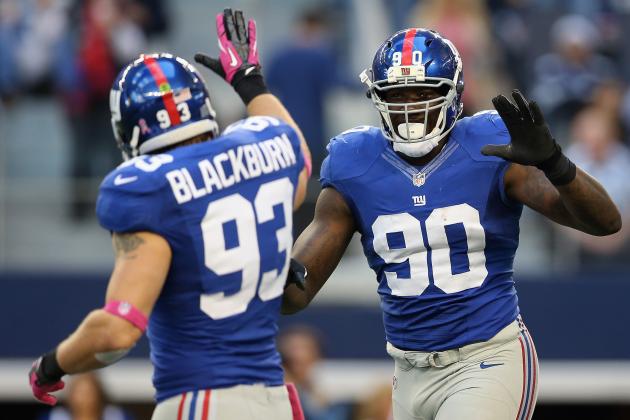 Ronald Martinez/Getty Images

If there was ever a game where the Giants defensive line needed to snap out of a funk, it's the one this Sunday.
Heading into the game, Aaron Rodgers has been sacked 32 times already.
In all of 2011, Rodgers was sacked just 36 times. In 2010, he was sacked just 31 times.
And he's already been taken down 32 times, which means the Packers offensive line isn't doing a good enough job of protecting their MVP quarterback.
The Giants' fearsome pass rush in 2012 has not really been much of a factor during the season.
Jason Pierre-Paul leads the team with 6.5 sacks, which is really low for him given his talent ability.
Linval Jospeh is tied for second on the team with four, and he's a defensive tackle.
Osi Umenyiora also has four and Justin Tuck has three, which, again, are very low numbers for their talents as well.
If the Giants want any chance of stopping the Packers high-octane offense, they have to put a ton of pressure on Rodgers, take him to the ground as often as possible and force him to make mistakes.
The Giants did it back in January, they can do it again on Sunday.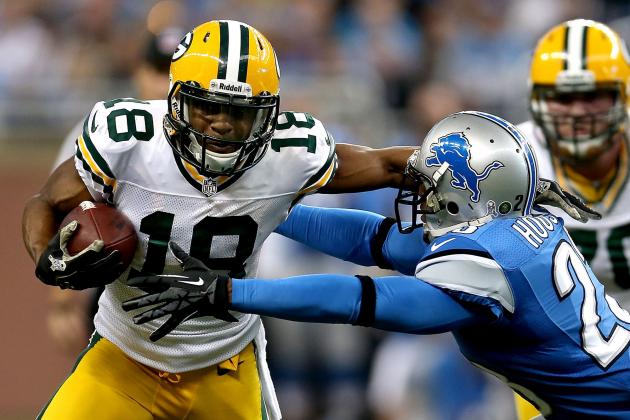 Matthew Stockman/Getty Images

I'm not going to lie. The Packers receiving corps flat out scares me.
Even without Greg Jennings, they still have so much talent for Aaron Rodgers to throw to.
Jordy Nelson, James Jones, Randall Cobb, Donald Driver and Jermichael Finley make for a very deadly group of targets that can slash a defense.
Jennings is a big part of that group too, but he's been out since the end of September after needing surgery for a groin/abdomen injury and his status is unknown for Sunday.
Without Jennings though, Cobb has stepped up and become a deadly playmaker for the Packers with 574 yards and seven touchdowns thus far.
Jones leads the team with eight touchdowns and 495 yards receiving.
So even if Jennings can't play, Rodgers isn't sweating it because he knows what kind of weapons he has.
The question is, can the Giants secondary slow them down?
Last week, the Detroit Lions held Green Bay to just 14 points until the fourth quarter.
None of the receivers of Green Bay went over 100 yards, and I think if the Giants secondary can pull that off, they will have a chance in the game to stop the Packers.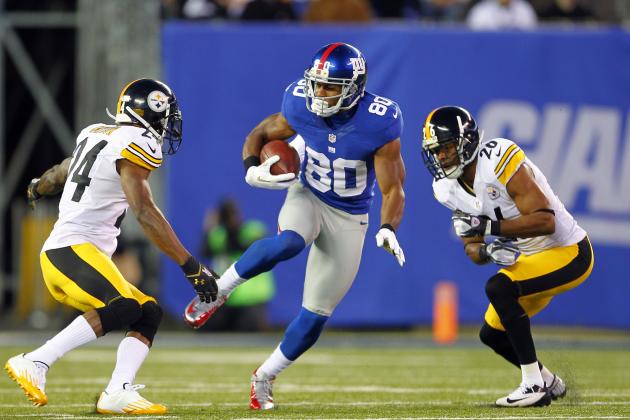 Rich Schultz/Getty Images

If you can find one weakness in the Packers defense, I think it's in their secondary.
And I have a feeling Eli Manning and his weapons may take advantage of it.
Charles Woodson is not playing in the game due to a collarbone injury, and personally, I think he's their best player in the secondary.
Starting cornerback Sam Shields is also out for the game on Sunday against the Giants with an ankle injury.
So it will be up to quite a few rookies on the Packers defense to try and stop Hakeem Nicks, Victor Cruz and Martellus Bennett in the open field.
Nicks has been slowly easing his way back into the Giants offensive game plan and had a decent game against the Bengals two weeks ago.
Cruz and Bennett have been non-factors over the last couple of weeks, but I think they are both due to bust out and break out against the Packers secondary.
Honestly, I don't like Green Bay's chances of trying to slow down Nicks and Cruz and I see both of them having 100-yard games.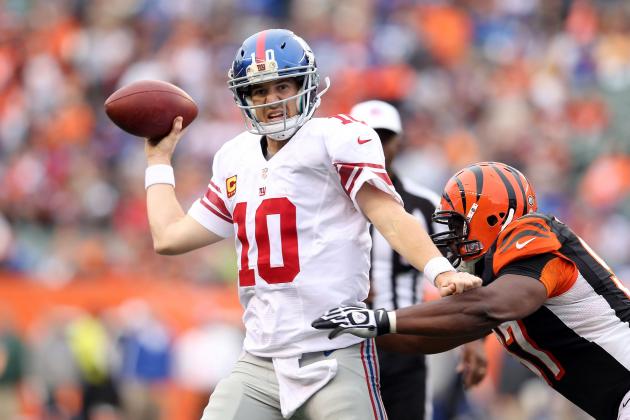 Andy Lyons/Getty Images

Before the game against the Bengals, Eli Manning had been sacked just eight times all year.
Against Cincinnati, Manning got dropped four times, which increased his total to 12. It's still a low number, but it's also a reason why they lost 31-13 two weeks ago.
One of the big reasons why the Giants started out 6-2 was that they were keeping Manning upright and off his back and allowing him to make plays.
I think when David Diehl was inserted back into the lineup is when Manning started taking more sacks and getting exposed to hits against the opposition.
If Diehl needs to go back on the bench for Eli to stop getting sacked so much, then so be it, because Manning can't be a sitting duck out there.
Manning has to be able to look down the field and find who he can get the ball to, and he can't do that when he's lying on his face or back.
Aside from Clay Matthews, the Packers aren't really a team that sack the quarterback all that much, which could play to Manning's advantage on Sunday.
If Manning doesn't have to worry about getting brought down, then he can have all day to make plays to his receivers.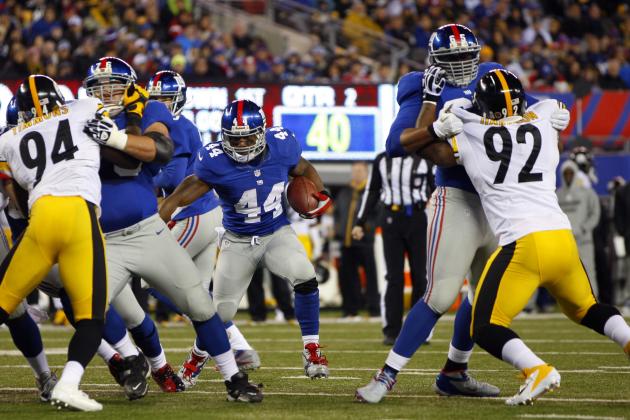 Rich Schultz/Getty Images

The Giants' passing game feeds off the run.
If the Giants can run the ball effectively against any opponent, then their passing attack becomes very hard to stop.
Ahmad Bradshaw has not been practicing due to a foot injury that has been lingering and he is questionable against Green Bay.
If Bradshaw can't go, Andre Brown will get the nod and he's been having a solid start to his 2012 season with 321 yards and seven touchdowns.
The only time in 2012 when the Giants rushed for over 100 yards combined and lost was against the Bengals.
Every other time, they have won the four other games.
As for Green Bay stopping the run, when they hold an opponent to less than 100 yards, they usually win.
The only time they won while allowing over 100 yards rushing was against the Rams (108).
We know the Packers secondary is prone to giving up a lot of yards and points, but the real key against their defense is how well the Giants can run the football against them.
If Bradshaw and Brown can get going and get over 100 yards, they have a great shot of winning.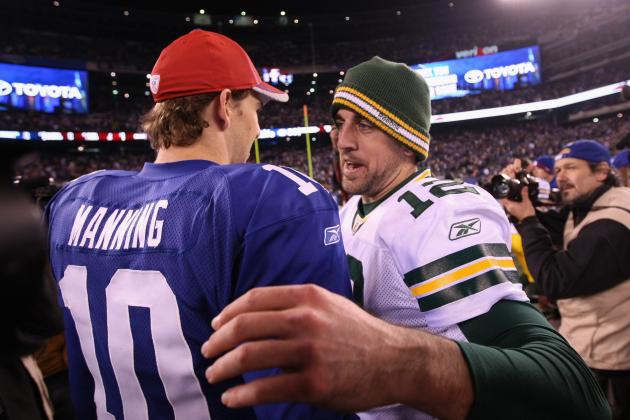 Al Bello/Getty Images

In the end, it will come down to the two leaders of each team.
Eli Manning vs. Aaron Rodgers.
In the game they played at MetLife Stadium last December, both quarterbacks had an outstanding game.
Manning was 23-for-40 with 347 yards, three touchdowns and one interception.
Rodgers was 28-for-46 with 369 yards, four touchdowns and one interception.
What that game came down to was Rodgers having the ball last, as he drove the Packers down the field and set up Mason Corsby's game-winning 30-yard field goal.
In the playoff game in January at Lambeau Field, it was a totally different story.
Rodgers was 26-for-46 with 264 yards, two touchdowns and one interception.
Manning was 21-for-33 with 330 yards, three touchdowns and one interception.
What also helped was that during the playoff game, Rodgers was sacked four times and the Packers had four turnovers in the game.
If this game is close, it could come down to whoever has the ball last.
But if not, whichever team creates the most pressure causes the most turnovers and makes the fewest mistakes should end up with the victory on Sunday.
Those mistakes definitely tie into Rodgers and Manning, because the quarterback who ends up having the better game out of the two usually has their team winning the game.
It should be a very fun game to watch on Sunday night at MetLife Stadium.