Ranking the 5 People Who Deserve Most Blame for Cowboys' Trainwreck of a Season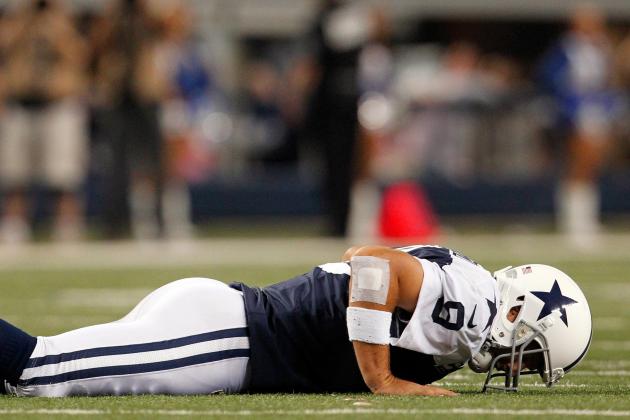 Tom Pennington/Getty Images

Sometimes, all it takes is one game to turn the makings of a great season into a trainwreck—just ask the Dallas Cowboys.
With a win on Thanksgiving Day over the Washington Redskins, Dallas would've been 6-5 with a 3-1 record in the NFC East and only a half-game behind the New York Giants for first place.
Instead, Dallas is 5-6 with a 2-2 NFC East record and could potentially find itself two games behind the Giants in the NFC East, with its playoff aspirations flying away thanks in part to some bad losses and a tough road to close the season out that includes visits to Cincinnati and Washington as well as hosting the Steelers and red-hot Saints.
Somehow a bad season can still get worse for Dallas, and while this is obviously a product of the organization as a whole, there are five people who could be considered the most responsible for Dallas' 2012 looking a lot like 2011.
Begin Slideshow

»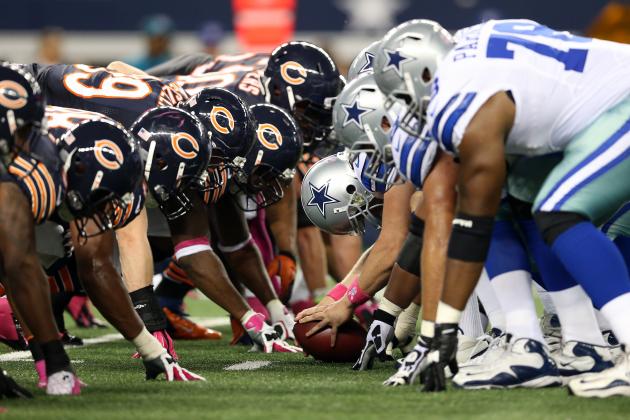 Ronald Martinez/Getty Images

I know I'm cheating since I did say five people most responsible, and the offensive line is five people, but since there is certainly more blame to go around, I'm including the whole unit as one.
This Cowboys line has been utterly dreadful this year. Sure, Tony Romo has made some boneheaded decisions, and it has been difficult for Dallas to run the ball since DeMarco Murray has been out for most of the season and Felix Jones is as reliable as an 88 Yugo, but the offensive line can't block in either aspect of the offense.
Let's look at the running game first, where the Cowboys are only averaging 78,7 yards per game on the ground after an awful rushing performance where they ran for only 35 yards as a team and had to abandon the run in the second half after falling behind early.
That number is bad enough on its own, but is also accompanied by a team average of 3.5 yards per carry, which isn't bad, but not great either.
When the running game isn't working (or is abandoned, but we will get to the blame for that), the passing game is used more. Here is where Dallas' offensive line play has been the most defensive.
Tony Romo has been sacked 26 times this season. Again, this doesn't completely excuse his poor play, but how do you have the time to make a good decision when your offensive line is failing you?
Bad line play usually begets a bad offense. Dallas is lucky in the sense that it has the talent to make up for it, but that talent can only do so much when there's no time for them to work.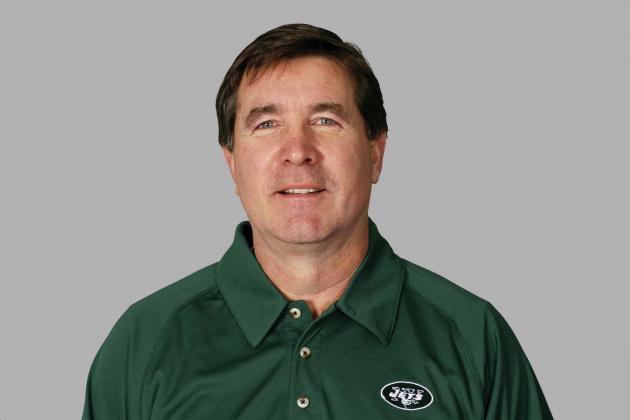 NFL Photos/Getty Images

Take a look at this man; take a look at what he's done in the past. Do you believe that he actually led a team to the Super Bowl as a head coach?
I actually find it hard to believe that Bill Callahan would be capable of such a thing, but it's true. He was the head coach of the Oakland Raiders when they last went to the Super Bowl, where they lost to the Tampa Bay Buccaneers.
The reason those Raiders lost? Their former coach was Jon Gruden, who, at the time, was coach of the Buccaneers. Callahan never thought to change the play-calling from when Gruden was there, making it easier on the defenses to find out what was coming.
Even if you don't know the play-calling signals, though, it has become very easy to figure out the play-calling. When will Dallas run the ball? Next to never. Who's Romo going to pass it to? Odds are, you have it figured out before the pass is snapped.
On top of that, with all of the pass plays called, Romo becomes a sitting duck behind his porous offensive line.
The play-calling has been atrocious throughout the season, and Callahan is far from the only person responsible for that, but he is responsible for the offense, and right now, it's a turnover-plagued mess.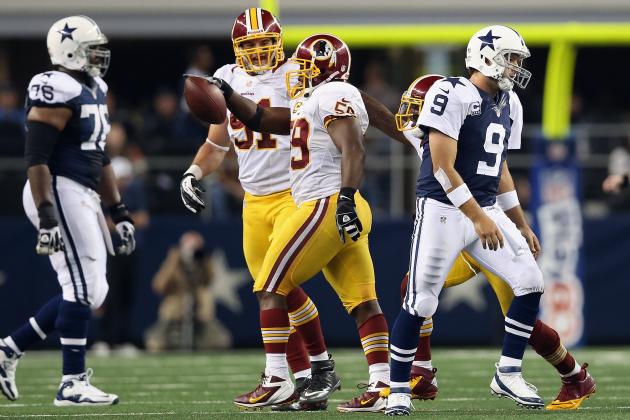 Ronald Martinez/Getty Images

Thursday's game was another in a long line of games where Romo wasn't the Pro Bowl quarterback the Cowboys have seen in the last six years, but instead a human turnover machine capable of turning chicken salad into something else that comes from a chicken.
Romo had gone his last three games without committing a turnover, but against Washington, he more than made up for it with two interceptions that Washington would capitalize on.
For the season, Romo has 15 interceptions and five fumbles that can be looked at as the direct cause for Dallas' six losses this season. By any measure, this is his worst season.
You know it's bad when Romo loses in November, which typically is a month where he shines. Someone forgot to tell him prior to Thanksgiving that he's not supposed to start his annual choke job until December apparently, because this season has been the pits.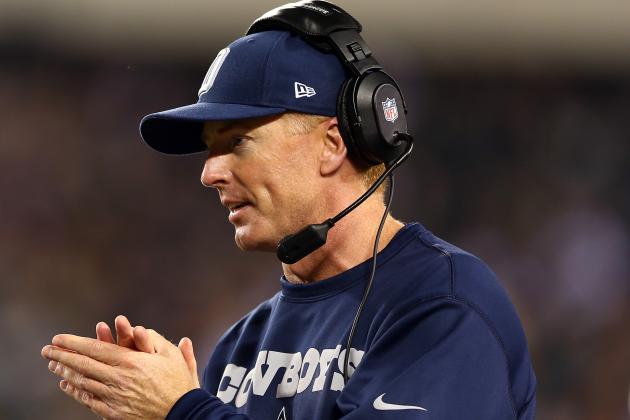 Elsa/Getty Images

Remember the play-calling rant I went on when discussing offensive coordinator Bill Callahan?
Well, Jason Garrett is as responsible for that as Callahan is. He actually has more of a responsibility due to him being the head coach of the team.
Garrett's lack of genius was first noticed in 2011; who could forget the time he iced his own kicker?
This season, it's actually been worse. Garrett is responsible for Dallas' lopsided run-to-pass ratio that slopes more towards the pass. He's also responsible for snap decisions on the field that has doomed the Cowboys all season.
Wasted time-outs, bad clock-management and dumb decisions overall add to Garrett's already terrible play-calling, giving us a very bad coach that should be in his final year in Dallas barring a 5-0 run to end the season.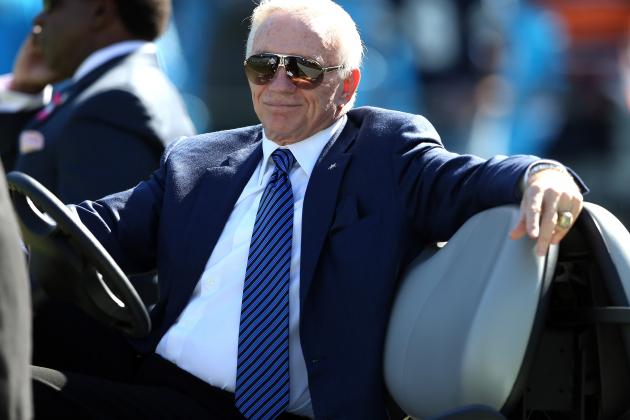 Streeter Lecka/Getty Images

It all starts at the top.
Normally, you'd go to the general manager for the blame instead of the owner, but Jerry Jones serves in both capacities.
This hasn't served the Cowboys very well, and even led to this infamous statement by Jerry himself when Bob Costas asked Jones if he would fire himself prior to Dallas' Week 9 game against the Atlanta Falcons (h/t profootballtalk.com):
Well, I think so . . . because he was there to dismiss," Jones said. "I've always worked for myself and you can't do that. You basically have to straighten that guy out in the mirror when you work for yourself. But certainly, if I'd had the discretion, I've done it with coaches and certainly I would have changed a general manager.
Jerry seems to think that he doesn't have the discretion to fire himself, even though he owns the team and technically wouldn't "fire" himself, but instead redirect his attention to the business side of the team, where he's done an outstanding job since purchasing the team in 1989.
Jones is responsible for putting together the football team and its coaching staff. What has that gotten him? Only one playoff victory since 1996 and no NFC Championship game appearances.
This is a terrible track record regardless of who's in charge, but unlike on other teams where the general manager would be forced out by now, Jones continues to reign as Cowboys general manager with the opportunity to make poor decisions with little to no accountability.
This will have to change soon, or Dallas' drought without a playoff victory will likely continue.