Strikeforce to Fold: 10 Most Memorable Moments from the Promotion's History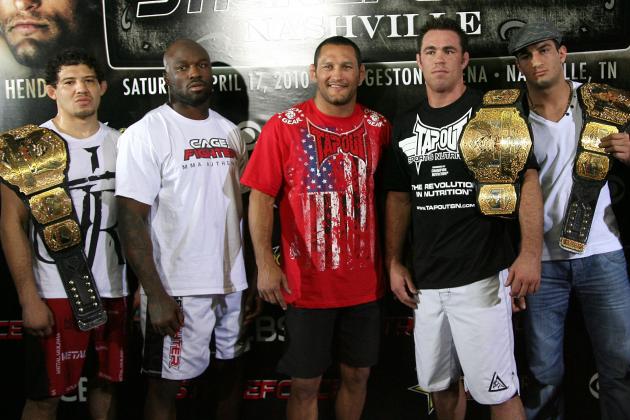 Valerie Macon/Getty Images
Strikeforce has had ups and downs, but has never stopped entertaining.
We are rapidly approaching Strikeforce's final event, making this as good a time as any to look back on the best and worst times of the soon-to-be-defunct promotion. As a fan of MMA, as member of the media, as a journalist and as somebody deeply interested in business, Strikeforce has always offered me something interesting.
So what are the 10 most memorable moments in Strikeforce History? After pouring over each and every card, sorting through the various controversies and peppering in some of my personal favorites, we have a pretty good list.
So, let's get to it!
Begin Slideshow

»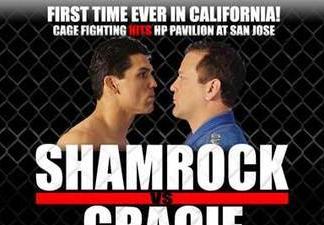 Strikeforce's first event actually had an amazing amount of developing talent.
Strikeforce: Gracie vs. Shamrock was a huge event, literally and figuratively. Historically, it was the first ever officially regulated MMA event in California. It is still one of the biggest MMA events in American MMA history (only one UFC event in the United States has beaten its attendance, being UFC 68).
More importantly, it had a huge amount of budding talent when you look back on it. Fighters currently on the Zuffa payroll include Nate Diaz, Cung Le, Clay Guida, Josh Thomson, Mike Kyle, Krzysztof Soszynski, Brian Ebersole and Gilbert Melendez. All these guys! On one card! Almost seven years ago!
As for the main event, if you ever read "Gracie vs. Shamrock," you would almost certainly think about the epic rivalry from MMA's golden age, Royce Gracie vs. Ken Shamrock. Strikeforce gave you the next best thing (but not really), a fight between high-profile California fighting personalities Cesar Gracie and Frank Shamrock.
Cesar Gracie was making his MMA debut while Frank Shamrock had already touched gold as the light heavyweight champion of both the UFC and WEC. The fight went exactly as you would expect. Frank Shamrock knocked him out in 20 seconds.
In spite of the silly main event, the card was pretty much Strikeforce's best ever and, at least with me, begs the question "what if?"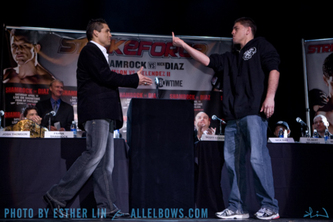 There was an absurd amount of wackiness surrounding the Diaz-Shamrock rivalry. Photo c/o allelbows.com.
When EliteXC sank, many of the promotion's top fighters found their way to Strikeforce. One of the first big bouts to come from this was Frank Shamrock vs. Nick Diaz.
At the time, Strikeforce was still a mostly-regional promotion, featuring California's best home-grown talent. Though Diaz is still one of Cali's best, he was one of the first fighters in Strikeforce that was a truly relevant fighter in MMA as a whole.
The build-up was comparable to the TUF10 buildup to "Rampage" Jackson vs. Rashad Evans. It was profane, with F-words (both of them) being thrown around constantly. It was volatile, with each encounter looking to turn into a Mike Tyson vs. Lennox Lewis affair. It was rooted in bad blood, stemming from the old Gracie vs. Shamrock feud, most notably the fight between Cesar Gracie and Frank Shamrock (which you saw last slide).
Then came the actual fight. Diaz out-worked Shamrock on the ground and out-landed him standing. As the fight wore on, Diaz would put the veteran away under ruthless waves of punches to the head and body. In usual form, Nick praised his beaten-down opponent and Shamrock would end up fading into Strikeforce's background, never to fight again.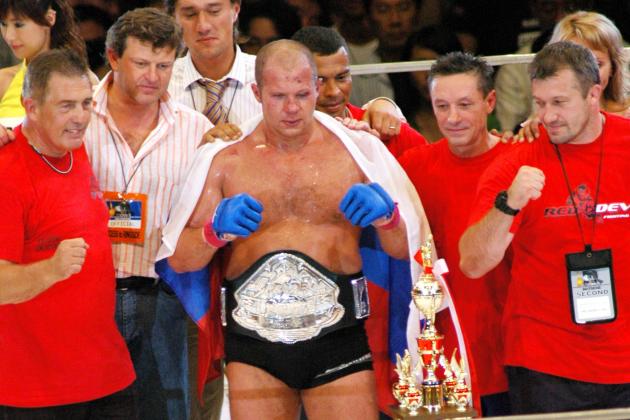 Tomokazu Tazawa/Getty Images
Emelianenko's insane record let him make huge demands when negotiating contracts.
We all know how big Fedor was at this point. Still 31-1. Coming off back-to-back stoppage victories over former UFC champions Tim Sylvia and Andrei Arlovski.
The UFC, by far the biggest promotion in the world, was practically guaranteed to be the landing spot for "The Last Emperor." Fans were tripping over themselves, wondering what would happen if Emelianenko fought Brock Lesnar, Frank Mir or Randy Couture.
Then news came down that Emelianenko was going to be fighting for Strikeforce, and the general reaction from fans worldwide was a confused yelp. Few fighters have ever had the clout Emelianenko held at this point, and the UFC simply was not willing to buckle to his demands. Strikeforce, however, was very willing.
They agreed to pay Emelianenko huge sums of money and ceded some of the promotional rights to his fights (events with Emelianenko were co-promoted between Strikeforce and M-1). The idea, of course, was to build pay per view events and bolster their network TV presence using Emelianenko. As you likely know, things did not go as planned.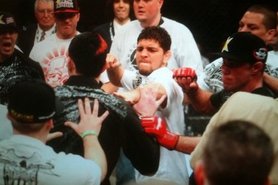 Diaz has a long list of poor behavior. His role in the Nashville brawl ended up seriously harming his promotion. Photo c/o bloodyelbow.com.
Remember how big of a deal it was when the UFC got their network TV deal with Fox? Strikeforce actually kind of beat them to it.
Strikeforce has been royally screwed over by their current (but soon-to-be-former) TV deal, but the one big opportunity that premium cable network Showtime opened up to them was the chance to air events on their parent station, CBS. If this had panned out the way Scott Coker was hoping, the nearly-defunct promotion might have become legitimate competition for the UFC.
As you might remember, back in 2008, Showtime brought their original toy, EliteXC, on to CBS and received some solid ratings on the back of Kimbo Slice. When EliteXC bellied up and Showtime wooed Strikeforce, they tested the waters again with their latest protege.
The first event went off without a hitch and drew solid ratings. Their second event was headlined by a championship bout between Jake Shields and Dan Henderson, which Shields would win by decision.
During the post-fight interview with Shields, Jason "Mayhem" Miller entered the cage of his own accord and asked "where's my rematch, buddy?" Shields would shove Miller away and Nick Diaz, the Strikeforce welterweight champ, would sucker-punch Miller, igniting a brawl on live television.
This gave a major headache to Strikeforce brass and yielded guffaws from Dana White. While the event had solid ratings, Diaz's lack of self-control soured the whole night, and would get Strikeforce kicked off CBS for good.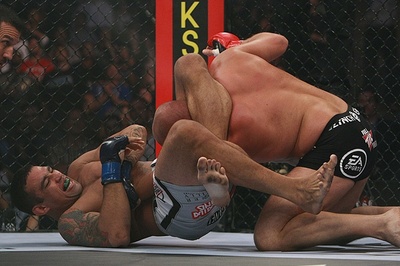 Werdum's upset of Emelianenko seriously harmed his earning power for Strikeforce. Photo c/o sherdog.com.
As stated, Emelianenko joining Strikeforce was a big deal, and they had a lot riding on his success. He initially struggled in his first Strikeforce fight against relative no-namer Brett Rogers, but would successfully punch his head clean off in the second round.
Fans found themselves frustrated when Emelianenko's second opponent was announced to be UFC washout Fabricio Werdum. While Werdum was (and continues to be) a solid heavyweight, at the time, fans mostly knew him for getting out-pointed by Andrei Arlovski, and getting knocked out by some rookie named Junior dos Santos.
Stupidly, the month before that, Strikeforce champion Alistair Overeem fought Brett Rogers (yes, the same Brett Rogers who had lost to Emelianenko) leaving most scratching their heads over why Strikeforce seemed so committed to separating their top fighters (though in retrospect, it is pretty obvious that Emelianenko was ducking Overeem).
But hey, no big deal. No way does Werdum beat Fedor, right?
Fedor would come out swinging. Hard. Werdum would slip, lure Emelianenko into his guard and slap on a triangle. Fedor would break free and then jump back in again. Werdum, this time, hooked his legs together to keep him in place. He took hold of Emelianenko's wrist and forced "The Last Emperor" to tap.
The fallout was immediate and the effects would be long-lasting. It was a crazy turn of events that, in many ways, started Strikeforce down its path to destruction.
Mark J. Rebilas-US PRESSWIRE
White sitting cageside for Strikeforce events remains almost inconceivable.
For a time, Strikeforce seemed like it might be able to last as a promotion. When the CBS deal fell through, viewership remained steadily mediocre and gates were rarely better than lukewarm. Meanwhile, they struggled to retain talent, never established a presence on pay per view and just generally never hit a real stride as a real competitor to the UFC.
Eventually, Strikeforce's ownership group decided the promotion simply was not profitable enough and decided to hold a fire sale on the Strikeforce brand, its back footage and its contracted fighters. Thus, Zuffa saw an opportunity to harvest yet another one of its top competitors.
In the following months, the UFC would begin absorbing Strikeforce's best fighters, including their entire heavyweight division, Cung Le and Dan Henderson. They would work other angles over time and while Showtime attached a respirator, this would be the true beginning of the end for the California-based promotion.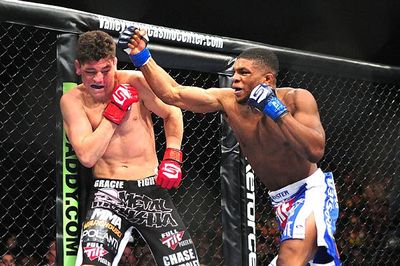 Nick Diaz and Paul Daley put on one of the best fights of 2011.
Strikeforce has put on some great shows over the years. Few would argue with calling the back-and-forth brawl between welterweight champion Nick Diaz and UFC outcast Paul Daley their best fight ever.
The buildup was precisely what you would expect out of two fighters known for huge mouths and no impulse control. They talked smack early and often, summarized here nicely by my favorite writer named Trent. Then came the actual fight and, man, it was exciting.
Daley is known for his powerful punching, and had Diaz rocked early, knocking him down in the opening minute. Then Diaz turned the tables, pressed Daley against the cage, and unloaded punches to the body and head. Daley landed a takedown, but Diaz escaped and again let loose a deluge of strikes.
Daley would counter a nearly-lethal punch to the chin, but opted to let Diaz back up. Diaz again pressed Daley back to the cage and landed a hard uppercut. He then followed it up with enough to cause Daley to stumble to the ground. Diaz pounced atop his fallen opponent and got pulled off shortly thereafter.
It was one of the greatest knockouts seen in MMA and is probably the single most exciting fight in Nick Diaz's career. It was also his last fight in Strikeforce before politicking his way into the UFC.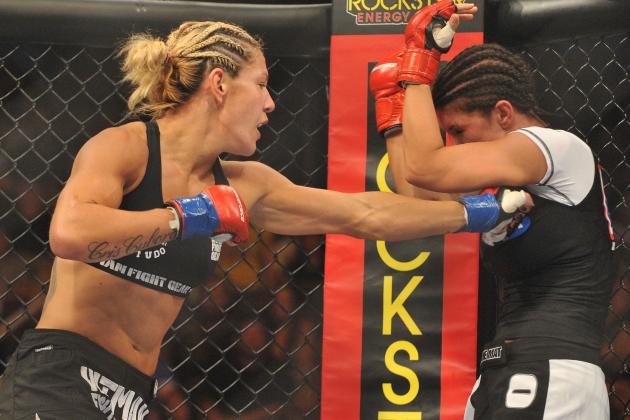 Jon Kopaloff/Getty Images
Cyborg Santos became one of Strikeforce's biggest draws, but has become an absolute pariah in recent months.
For women's featherweight champion Cris "Cyborg" Santos, there were some high highs, followed by the low lows she finds herself in today.
She exploded into Strikeforce with her TKO victory over Yoko Takahashi which set up for a title fight with Gina Carano. In the first ever card headlined by two women with a major promotion, Santos would maul Carano. She would then greet every other woman unlucky enough to get matched against her in kind. Carano, meanwhile, would leave MMA and take her talents to Hollywood.
Then came Cyborg's bout against Hiroko Yamanaka, who she would beat in a matter of seconds with a merciless barrage of punches. Days after the fight, it would be announced that Cyborg had tested positive for the anabolic steroid stanozolol.
The punishment? A particularly harsh one-year suspension.
Santos' failed test came as a surprise to few, but was still a major headline. It proved to be the end of the women's 145 pound division and had many explicitly saying that the end of women's MMA was imminent. Obviously, things panned out nicely for the ladies (see next slide), but the story of Santos' rise and fall is one of the most interesting case studies there is in MMA.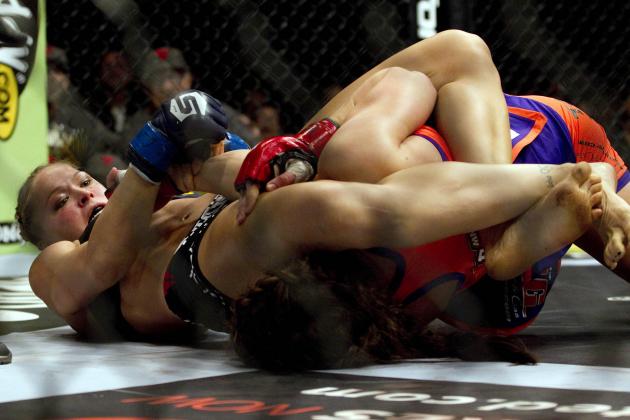 Greg Bartram-US PRESSWIRE
Rousey went from being anonymous to one of the hottest personalities in the sport within 20 minutes.
It only takes one fight to go from unknown to A-list. Just ask Edson Barboza, Todd Duffee and Chan Sung Jung.
Few were especially interested in the bout between Miesha Tate and Ronda Rousey when it was first announced. The build-up to, and marketing of, the event was predominantly based on the relative attractiveness of the two, but it was not until the weigh-ins that fans would notice that these two wanted to fight with their fists, not pillows.
Then, the actual fight came. Outside of brief bursts of stand-up, the bout was a clinic on throws, trips, reversals and guard advances. Then with about a minute left in the first round, Rousey would get full mount and locked in a body triangle. Tate would give up her back and turtle, allowing Rousey to take an arm, and break the hell out of it.
Rousey would have the belt strapped around her waist and proceeded to deliver some post-fight smack talk that would establish her as the women's MMA badass-in-chief. Her celebrity skyrocketed from there, and she has since surfed that wave all the way into the UFC.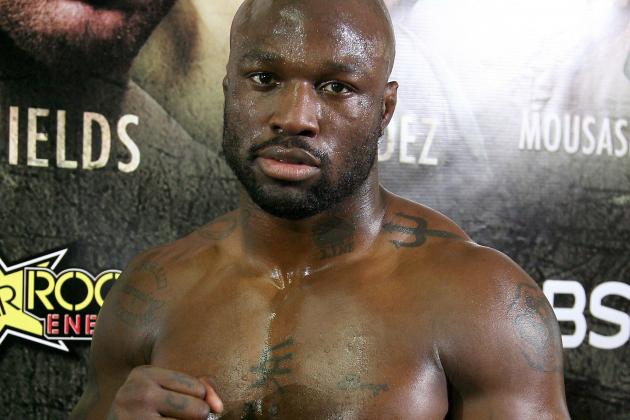 Valerie Macon/Getty Images
Mo Lawal's near-death experience and exposing of the inner workings of the NSAC is worth writing a novel about.
Mo Lawal is easily one of the best light heavyweight fighters in MMA. I would go so far as to call him the new Mark Coleman because of his Olympic-caliber wrestling and merciless ground and pound. When he tested positive for the anabolic steroid Drostanolone after his fight with Lorenz Larkin, the events that followed were absolutely illuminating on the behind-the-scenes nuances of the sport.
Immediately after his positive test came his well-documented, near-fatal staph infection. Staph infections are an unfortunately common problem in MMA, but rarely do they become life-threatening.
Then came the PR fallout from the test, which showed how easy it is for a fighter with a very clean record to inadvertently take banned substances, in his case an anabolic steroid which came from an over-the-counter supplement. His meetings with the Nevada State Athletic Commission affirmed the criticisms of actual dopers who claimed the sport's biggest controlling body were condescending and uncaring.
His lashing out at a Commission official, which involved calling said official a "racist bitch" on Twitter, made us question the priorities of the UFC and Dana White, who were at the same time opening the door for the possible return of Josh Barnett (whose chronic disrespect for his employers and PED history are both well known).
It also resulted in the ejection one of the best light heavyweight fighters under Zuffa's employ and dropped him in the lap of, at the time, the UFC's only true rival promotion, Bellator.
Mo Lawal's exit from Strikeforce was some of the greatest drama we've seen in MMA, and is worth investigating if you are interested in learning about the obstacles fighters must deal with, and the inconsistent left hand of Zuffa brass.