Ranking the Top 11 Players on the San Francisco 49ers Defense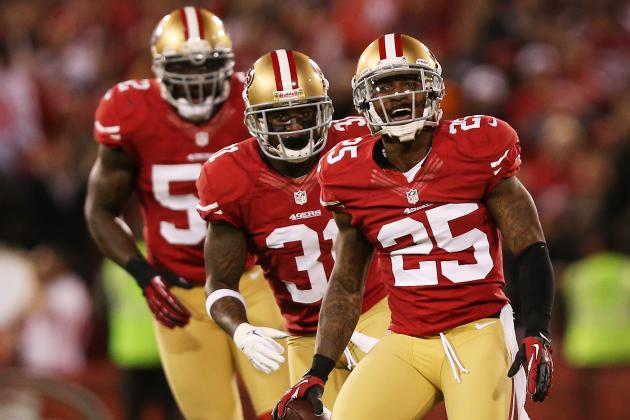 Ezra Shaw/Getty Images

Dominant.
If you had to pick one word to describe the 49ers defense, that would make the list of finalists. They are not quite the consistently dominant bunch of a year ago, but opposing offenses have run into that freight train type of defense more often than not this season.
What makes this defense so good? Defensive coordinator Vic Fangio is one of the league's most underrated coaches, but the 49ers also have some great personnel on that defense.
Who are the best players on that unit? Here are the top 11 players based on playing time.
Begin Slideshow

»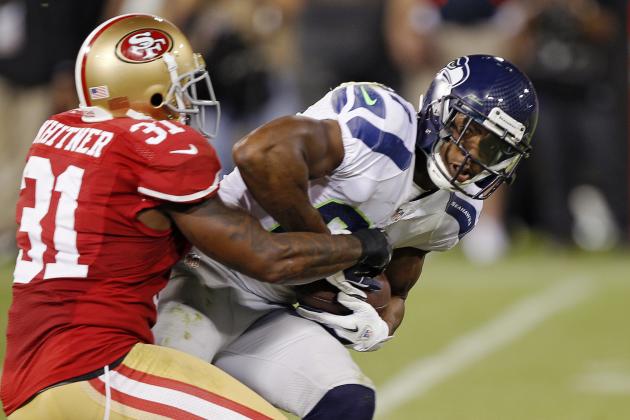 Brian Bahr/Getty Images

If there is a weak link in the 49ers defense, it comes in the secondary.
Donte Whitner isn't terrible, but he is at the bottom of the league in several categories. According to Pro Football Focus, he ranks 62nd in the league with a -2.8 rating at the position thanks to a -4.5 rating in coverage.
He has not done a fantastic job against the run either, registering just eight "stops"—the number of "solo tackles that result in an offensive failure," as defined by ProFootballFocus—for a 2.5 percent stop percentage. That is one of the worst figures in the NFL.
Whitner might not be one of the better defensive players for the 49ers, but he remains a starter.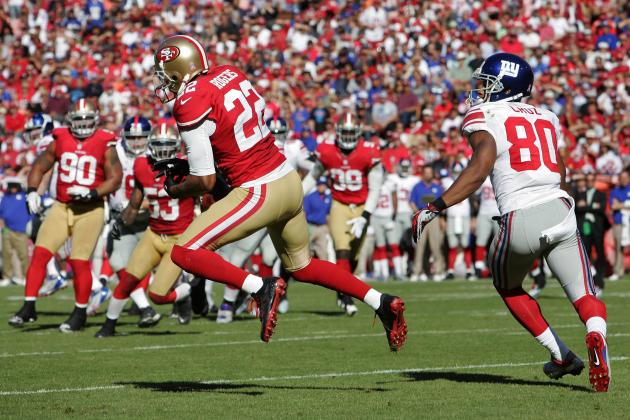 Brian Bahr/Getty Images

Carlos Rogers got off to a nice start with the 49ers last season, but fell off as the season wore on. He has not gotten off to a good start this season.
Rogers is allowing opposing quarterbacks a 93.0 NFL rating on balls thrown at his receiver. He has allowed just one touchdown on the season, but he has zero interceptions and just four pass deflections. He has made just six tackles on 236 snaps in run defense.
Still, he is not Antoine Cason or Patrick Robinson, who have given up five touchdowns. Rogers is good enough to be average; it would be unfair if the 49ers had two shutdown cornerbacks, right?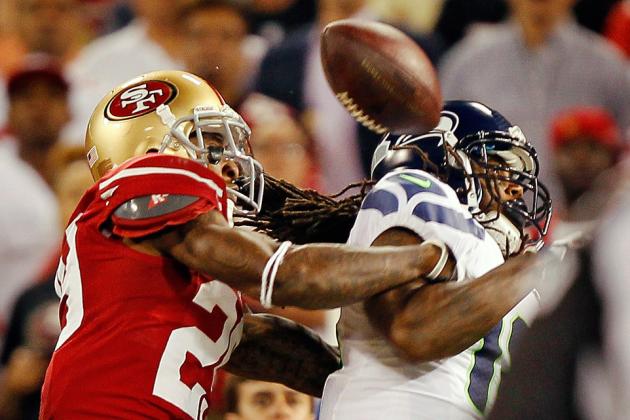 Brian Bahr/Getty Images

Culliver slots in here in lieu of another defensive lineman simply because Justin Smith and Ray McDonald are the only two with more than 189 defensive snaps.
The second-year cornerback has been good as the nickel back for the 49ers. He has given up just 19 catches on 42 passes thrown at his receiver this season. He has allowed two touchdowns on those—including a tough one to Brandon Marshall in garbage time last week—but has otherwise been tough.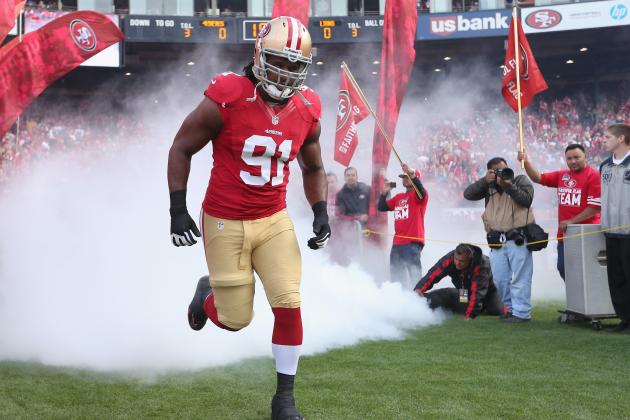 Ezra Shaw/Getty Images

Justin Smith gets all the publicity along that defensive line, but Ray McDonald is no slouch.
McDonald may not boast gaudy stats, but he is a quality lineman.
Also chatted with Ray McDonald -- my pick as the league's most underrated player this summer. Good dude. Good player.

— Pete Prisco (@PriscoCBS) August 19, 2012
He remains one of the league's more underrated players.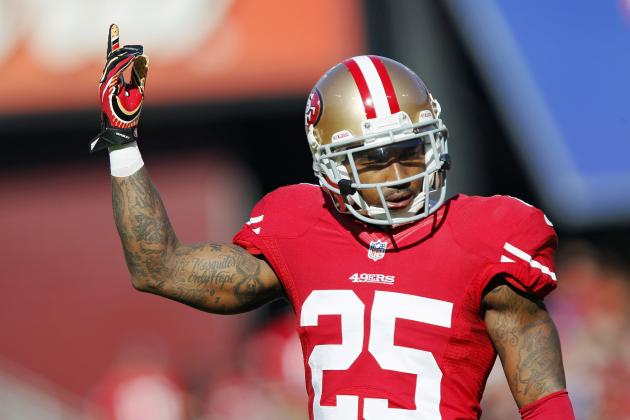 Brian Bahr/Getty Images

Nobody will mistake Tarell Brown for Darrelle Revis, but he is no Stanford Routt, either.
Brown is currently ranked No. 15 at cornerback across the league with a +5.8 overall rating at ProFootballFocus. He might be allowing opposing quarterbacks a 78.6 NFL rating and 60 percent of their passes to be caught, but Brown is one of seven cornerbacks with over 400 defensive snaps to allow zero touchdowns to date.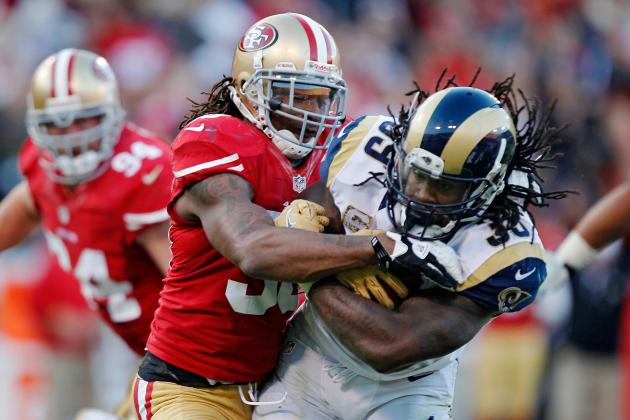 Brian Bahr/Getty Images

Dashon Goldson tested the free agent waters back in 2011, ultimately coming back to the 49ers with his tail between his legs after generating little interest on the open market.
One year later, the 49ers didn't want to let him go, slapping him with the franchise tag that Goldson did not sign until the last minute.
He is playing well through his franchise tender, ranking 10th at the position according to ProFootballFocus. He is allowing just a 51.8 NFL rating to opposing quarterbacks who throw his direction.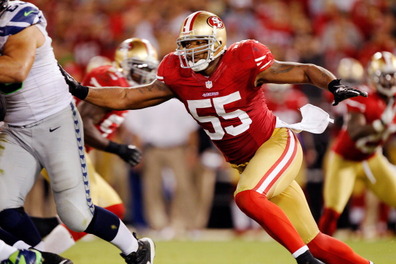 Brian Bahr/Getty Images

Aldon Smith gets a ton of attention, but Brooks is quietly having a great season on the other side.
The man opposite Aldon Smith is fifth in the league with 36 total quarterback pressures. Those have translated to just four sacks, but he has been disruptive nonetheless. He also sports the fifth-best ProFootballFocus rating at the position.
It is no wonder the 49ers locked him up with a six-year contract before the season began.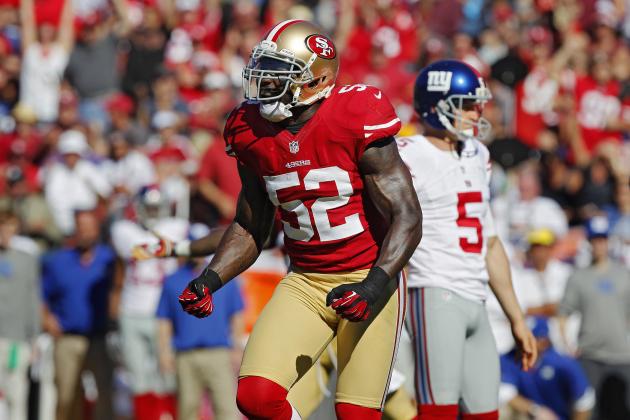 Brian Bahr/Getty Images

It might seem like he is getting a bit long in the tooth, but Willis is still playing at a high level.
Willis is tied with Daryl Washington with the best ProFootballFocus rating in the league. He is second on the team with 57 tackles and 34 stops.
More than just numbers, Willis is a leader on this defense.
Should he be able to sustain his great play and the team be able to keep him playing alongside Navorro Bowman, the duo will anchor the middle of a great defense for years to come.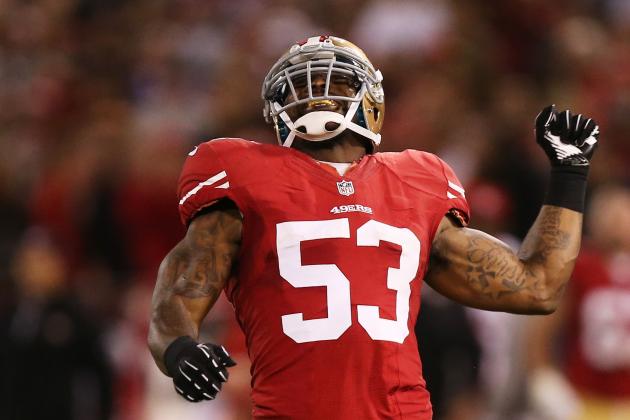 Ezra Shaw/Getty Images

He has not quite morphed into Ray Lewis, but Bowman is dominant in his own right. The third-year linebacker has taken the mantle from Patrick Willis, and he has not disappointed.
Bowman leads the team with 69 tackles, including 37 stops. He is the sixth-best linebacker with a +10.2 overall rating on ProFootballFocus.
He had a bit of a bad run against the Cardinals and Rams in recent weeks, but he got back on track against Jason Campbell and the Bears.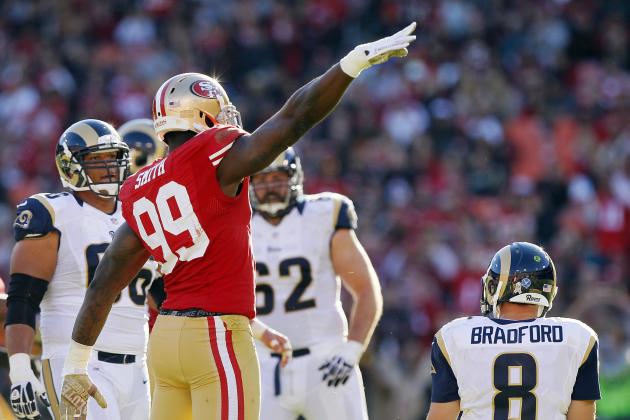 Brian Bahr/Getty Images

We recently got a stark reminder of just how good Aldon Smith can be when he is on fire.
The pass-rushing animal got himself 5.5 sacks against the Bears last week. That leaves him seven shy of the NFL record with six games to play.
Record-chasing aside, Smith is the second-most efficient pass-rusher in the NFL at outside linebacker, according to ProFootballFocus' proprietary "pass rush productivity" formula. He leads the league in total quarterback pressures with 43.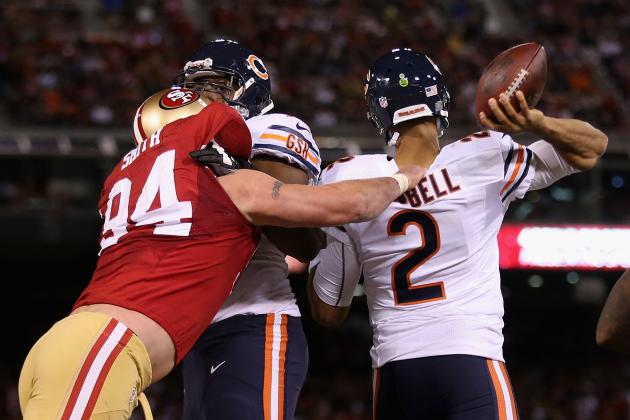 Ezra Shaw/Getty Images

As defensive positions go, the defensive end in a 3-4 scheme is one of the least glamorous. However, that is not so if you ask Justin Smith.
The titan has been overtaken by J.J. Watt and the surprisingly good Muhammad Wilkerson as the top players at the position, but he has been quite good nonetheless.
Smith is second in the league with 36 tackles and 18 quarterback hurries. His total quarterback pressures are down, but that could just be because teams are focused on containing him. It could also be the reason why Ahmad Brooks and Aldon Smith have been so effective as pass rushers.