How Messi and Barca Bounced Back from Celtic Loss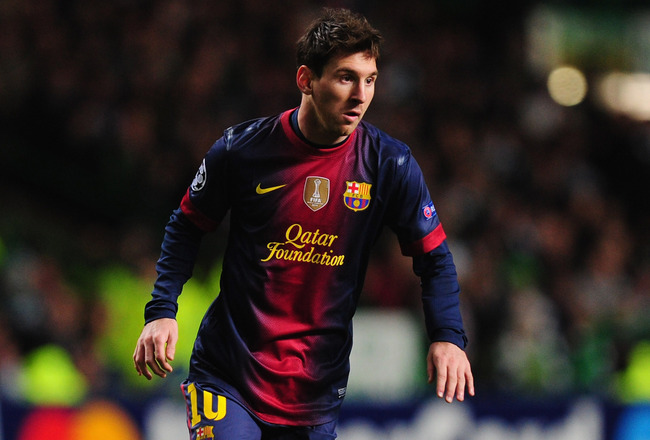 Stu Forster/Getty Images
Lionel Messi moved closer to equalizing Gerd Muller's record of 85 goals in one calendar year as King Leo got a brace in FC Barcelona's 3-0 win over Spartak Moscow in their UEFA Champions League match on Tuesday.
I'm glad my prediction was right in my previous article when I said Cesc Fabregas, Dani Alves, and Sergio Busquets would all start the game in Russia.
Dani Alves got things started in the16th minute as a Messi pass hit off a Spartak defender and Alves stepped up and slammed the ball low into the back of the net for the 1-0 lead. Spartak had a few moments of threatening football, but the night belonged to Barça as they took a 2-0 lead just ten minutes later.
A great Messi thought ball found Andres Iniesta whose shot was blocked by Spartak goalkeeper Andriy Dykan, but Leo slapped in the rebound and bounced in to double the lead.
Lionel Messi got his brace on the night in the 39th minute as a lovely through ball from Pedro found Messi and the Argentine went around a sliding Dykan and made the score line 3-0.
Barcelona dominated possession 67 percent to percent as el blaugrana regained their form in Champions League play after their dreadful performance last CL match day against Celtic FC.
Sergio Busquets was fresh all game after missing Saturday's Liga game against Mallorca due to accumulation of yellow cards. Cesc Fabregas also played extremely well, making solid passes throughout the game as well as having a chance to extend the lead in the 54th minute.
Spartak was contained and Barça did not need to do much more in the second half. Gerard Deulofeu and Martin Montoya made their UEFA Champions League debuts with Barcelona in the final minutes of the match.
FINAL: Spartak Moscow 0 – 3 FC Barcelona
With the win combined with Celtic's loss to Benfica, FC Barcelona clinched Group G and moves on to the knockout stage of the Champions League.
Let's review the three most important things about Barcelona's 3-0 win over Spartak Moscow.
The Early Goal is Key on the Road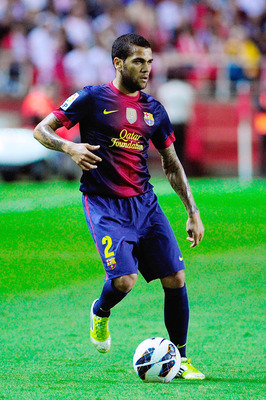 Gonzalo Arroyo Moreno/Getty Images
It's no secret in football that if you are the road team, scoring an early goal establishes rhythm and, if the early goal you scored gives you the lead, it throws your opponent's rhythm off as well. Not mention gives you confidence and takes the crowd out of the game.
The early goal is huge for FC Barcelona in road Champions League games.
As we've seen in the past, whenever Barcelona does not get the early lead, it seems as though they get tense and take more risks when it comes to passes and so on.
Not that that's always a bad thing, but in Champions League action, you don't want to try and push it because all of these teams are a threat.
Champions League is no Liga game against a bottom-of-the-table squad.
The counterattack is always a threat when Barcelona becomes desperate for a goal (see last year's UCL semifinal against Chelsea), that's why scoring within the first 20 minutes is huge for Barcelona.
If you recall last CL game against Celtic, Barcelona were not able to get in the lead, and when Celtic scored to take the lead, Barça were off their rhythm and were at their worst. This happened last year in the semis against Chelsea at Stamford Bridge.
When at the Camp Nou, Barcelona is able to bounce back from a deficit like they did in the first Celtic game and in the first Spartak Moscow game. Home field advantage always helps.
Last CL game, Celtic was at home and once they took the 1-0 lead, Barça were not able to take the Celtic crowd out of the game, and it went all downhill—even though el blaugrana controlled the ball possession. Credit must go to Celtic as well.
This time around against Spartak Moscow, Barcelona was able to score within 20 minutes thanks to Dani Alves and the team was able to take the Russian crowd out of the game as well as take Spartak off their game plan.
Barça needs to score in the first half—preferably within the first 20-25 minutes—of all their CL road games. Plain and simple.
If they do so, Barcelona then dictates the game and the likelihood of a Catalan victory increases significantly—not to mention takes away any "park-the-bus" ideas from the opponents.
Clinching Group G Now Gives Players Much Deserved Rest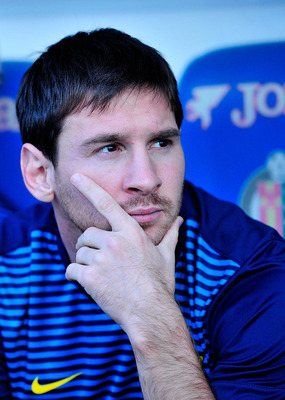 Gonzalo Arroyo Moreno/Getty Images
All Culés need to give thanks to Benfica.
Why?
With Benfica's 2-1 win against Celtic on Tuesday, FC Barcelona clinched Group G.
This means Tito Vilanova can rest up players like Leo Messi, Andres Iniesta, and others who are in need of a rest for the December 5th Champions League game against Benfica. The normal starters could use that rest before Barcelona have to go on the road to face a tough Real Betis team in Liga action later that week (December 9th).
Don't be surprised to see players like Sergi Roberto, Gerard Deulofeu, Rafinha Alcantara, Joan Angel Roman, Sergio Araujo, Jean Marie Dongou or Kiko Femenia play in Barça's last Champions League game against Benfica. It will be good for these youngsters to get some playing time at the first-squad level.
Jonathan Dos Santos, Alex Song, as well as Cristian Tello are some of the other players you may see starting the Benfica game.
On behalf of all Culés: Gracias Benfica!
Messi Gets Closer to Muller, Leads Barcelona to Huge Win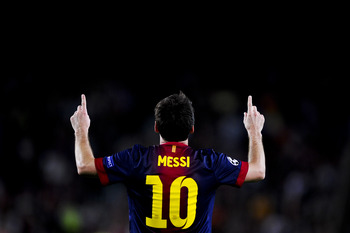 David Ramos/Getty Images
With his two goals on Tuesday against Spartak Moscow, Lionel Messi has now scored 80 goals in 2012.
I repeat: 80 goals!
Simply magical.
Lionel Messi surpassed Real Madrid legend Raul as the only player to score two or more goals in 15 Champions League matches.
Messi also tied Raul's Champions League record of scoring goals in different European cities with 19.
Messi moved into a tie with another legend, Ruud Van Nistelrooy, for second in the all-time Champions League scoring record (56). At 25 years of age, Leo will easily surpass Raul's record of 71 goals in the not-too-distant future.
Messi has now scored 37 goals for FC Barcelona in November in his career, more than any other month of the year.
Lionel Messi is now just six goals away from breaking Gerd Muller's record of 85 goals in a calendar year (1972).
But most importantly from the overall team's perspective, Lionel Messi scored the goals and made the passes necessary to get rid of the bad Champions League taste that was in their mouths and get back on track with the 3-0 victory over Spartak Moscow.
As I mentioned in my previous article, it was important that FC Barcelona wins and makes a statement against Spartak Moscow. Here's what I said last week:
This coming game against Spartak is very important to not only get one step closer to securing the top spot in their group, but to also make a statement and rebound from their last CL game when they lost to Celtic FC.
After the loss to Celtic, many began to say that this FC Barcelona team is not as strong as some have though they were. Tito Vilanova's men need to go into Russia and make a statement against Spartak.
…this team (Barcelona) needs to let all the other teams in the CL that Barcelona has not fallen off in the Champions League.
Leo Messi led the charge as Barça regained their groove, showed the football world their loss to Celtic was just a loss and nothing more, and won their CL group as they defeated Spartak Moscow 3-0 on Tuesday.
Messi continues to chase history as FC Barcelona continues to chase their fifth UEFA Champions League title in club history.
¡Vamos!
Xoel, The Voice of FC Barcelona on the net, period.
Don't forget to check out my other columns:
Lionel Messi Moves Closer to History
Keep Reading

FC Barcelona: Like this team?