Texans vs. Lions: A Thanksgiving Day Matchup Preview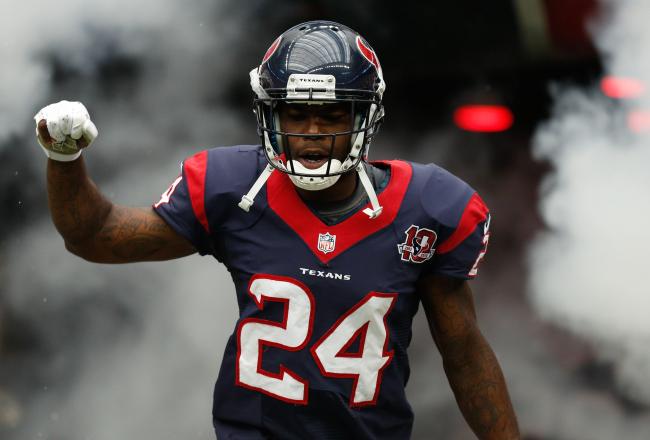 The Texans aren't the same team without Joseph in the lineup.
Thomas Campbell-US PRESSWIRE
The Houston Texans have a lot to be thankful for in 2012.
Thanksgiving day they have the opportunity to show their gratitude as they take on the Detroit Lions at Ford Field in Detroit.
Here's everything you need to know about the matchup that will serve as a centerpiece to celebrations across the country.
What It Means
Beyond any playoff implications, this is a game that matters simply because of when it's played. The Thanksgiving game in Detroit goes back to the 1930s, and holds a special place in the holiday tradition.
There are consequences to the playoff race as well. Houston is still clinging to a one-game lead in the race for the top seed in the AFC. With a date at New England looming, the Texans want to stay as far ahead of the rest of the conference as possible.
The Lions' playoff hopes died with their loss to Green Bay in Week 11. They would now have to vault six other teams to claim a wild-card spot. Still, they can rally to post a winning record, which would be an accomplishment in what has been an uneven season in the Motor City.
Matchup To Watch
Calvin Johnson vs. Houston Secondary
Johnson leads the NFL in receiving yards and is difficult for any team to handle on the best of days.
For a Houston team who just got schooled by the likes of Justin Blackmon, he's a particularly terrifying threat.
With Johnathan Joseph already battling a strained hamstring, Wade Phillips may be forced to come with a novel solutions to covering Johnson. Kareem Jackson has played well of late, but gave up several long passes to Blackmon in Week 11.
The Texans have to fix the missed tackles that turned modest gains into back-breaking offensive plays. The defense has been a strength of the team all season, but two bad games in a row could signal a disturbing trend.
Stat That Matters
Rushing Attempts versus Passing Attempts
If styles make fights, then the Lions and Texans should put on quite a show. It's impossible to find two offenses more philosophically different.
The Lions have more passing attempts than any team in football. They are 24th in rushes.
The Texans have more rushing attempts than any team in football. They are 21st in passes.
Ironically, even if the Texans get off to an early lead, it will suit the offensive structure of both teams. If the Lions take the lead, both teams will likely have to play against type.
Biggest Advantage for the Texans
Houston's offensive line is one of the better pass-protecting units in the game. Contrary to popular expectation, the Texans are much better at pass blocking than run blocking.
A lot of that has to do with the play of Derek Newton, who has been serviceable in protection, but runs to his side have not been effective.
Detroit's defensive line is also much better against the run than the pass. This is a problem because they have one of the worst overall pass defenses in football. Conventional yardage-based rankings don't reveal how putrid they are, but advanced metrics tell the true story.
If the Texans decide to come out throwing, they could have success. The Lions don't defend tight ends well.
Matt Schaub ought to have plenty of time to pick his targets on Thursday.
Biggest Advantage for the Lions
The Lions having a dynamic passing offense, but under normal circumstances that wouldn't frighten the Texans.
However, as noted earlier, Joseph is hobbled with a bad hamstring, so having to play three days early could be a major disadvantage.
Houston is normally outstanding against the top receiver on a team, but if Joseph can't play or is limited, they could be vulnerable.
Best Video Only Tangentially Related to the Game...
You know...Detroit.
Houston Will Win If...
...the Texans can get pressure on Matt Stafford.
If it can can keep from getting torched on big plays downfield, and make the Lions play a grind-it-out game, Houston should prevail.
The Texans' passing offense is awkward and unconventional, but that doesn't mean it's not effective. Expect to see big doses of Owen Daniels and James Casey as they'll force the Lions' linebackers to be active in coverage.
Houston wants to prevent a shoot-out. If the game is played in the low 20s, the Texans will win.
Detroit Will Win If...
...Joseph doesn't play.
Joseph is the lynch pin for the Houston defense. If he misses the game or plays but is significantly hobbled, the Lions may be able throw all over the Texans.
If they can force the score up into the 30s, they'll be playing to their strength.
The Lions can take away the Houston run attack, but to win, they'll have to force Schaub to throw under pressure.
Outlook
This is a difficult game to call, and the injury to Joseph makes it doubly in doubt.
Houston would be favored if it were played on Sunday, but the short week makes winning on the road a chore.
In the end, Houston is a more complete team than Detroit. They'll make just enough plays to pull out a hard-fought win.
Texans 24 Lions 19.
This article is
What is the duplicate article?
Why is this article offensive?
Where is this article plagiarized from?
Why is this article poorly edited?