Cardinal Players Who Will Play Crucial Roles Down the Season's Home Stretch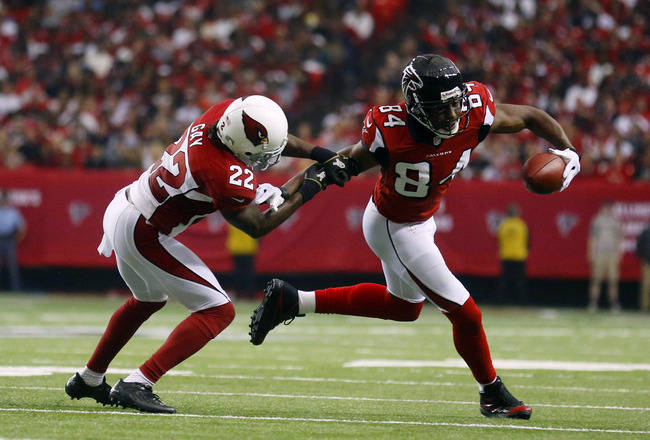 Roddy White and the competition have kept the Cardinals at arm's length from the win column.
Josh D. Weiss-US PRESSWIRE
The Arizona Cardinals sit at 4-6 after their first ten games. The 2012 campaign started out with the Cardinals winning their first four games and being one of the last three teams to be undefeated.
Then the calendar changed from September to October and the Cardinals' fate changed with it. They've dropped six games in a row and sit 2 1/2 games behind the 49ers for the NFC West lead pending the result of their game tonight against Chicago.
Despite the losing skid, Arizona sits just two games out of the final playoff spot in the NFC with six games to play. The Cardinals still have plenty to play for and there are several key players that will have to come up huge down the home stretch if Arizona is going to make the playoffs.
The Cardinals final six games are as follows. They host St. Louis in Week 12 before road games with the Jets and Seahawks. Arizona closes out its home schedule with NFC North foes Detroit then Chicago before finishing off the year at San Francisco.
Start the slideshow and see which players will be under the most pressure.
Quarterback John Skelton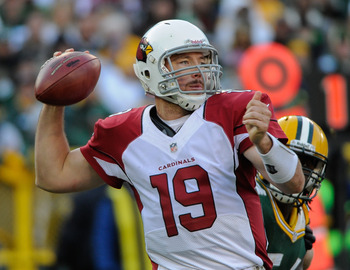 Skelton needs to have a great final six games for Arizona to have a chance at the playoffs.
Benny Sieu-US PRESSWIRE
The most pressure-packed position in football is quarterback and John Skelton may be under the most intense pressure of any quarterback in the league.
Skelton has to deal with multiple sources of pressure and none of them are easy.
He has to work through the fact he is the only veteran quarterback on this team that's healthy. Skelton had success with the team last year in the second half of the season. He knows he has to stay healthy since Kevin Kolb is not back to playing after suffering a rib injury against Buffalo in Week 4.
He also has to cope with the fact that the run game doesn't perform well on a consistent basis. While running back LaRod Stephens-Howling has racked up 288 yards over the last four games, he has two 100-yard games...and a six-yard outing.
Even if the ground game comes up to speed, the offensive line has seen its share of issues and growing pains with rookie starters. The Cardinals' quarterbacks have been put into the turf more than 40 times this season.
Finally, the passing attack doesn't have many weapons to offer after Larry Fitzgerald. When the team's best receiver is drawing double-coverage, Skelton has to be able to make the read and hit the right receiver when he can't go to his Pro Bowl option.
It's safe to say Skelton is going to be under a lot of pressure over the final six weeks.
Running Back Beanie Wells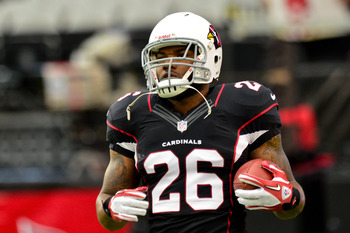 Wells is back and ready to go after an IR stint.
Matt Kartozian-US PRESSWIRE
Beanie Wells ran for 1,057 yards and 10 touchdowns last season as a healthy, lead running back in 2011. This season has been the total opposite for him.
Wells has appeared in just three games, racking up 76 yards on 29 carries and no touchdowns. He was put on the designated-to-return injured reserve list with a bout of turf toe.
Two big questions linger with Wells for the balance of 2012. First, can he stay healthy through the rest of the season? His health will go a long way to Arizona having a much more dynamic passing attack as opponents will have to respect the run and the possibility of chances of a pass out of the backfield.
Assuming he stays healthy, how productive will he be? Wells will face tough run defenses in the Bears and 49ers before the season ends and those are two stout run defenses to try and crack.
If he's not either of the above, Stephens-Howling is ready to run in Wells' place.
Wide Receiver Michael Floyd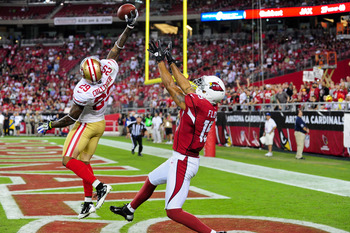 Floyd needs to step up and show why he was a first-round pick.
Matt Kartozian-US PRESSWIRE
Michael Floyd was taken 13th overall and was the Cardinals' first-round pick at last April's NFL Draft. While he's had his share of rookie growing pains, Floyd needs to produce in short order.
Floyd has to deal with with shoddy quarterback play. Floyd has difficulty getting the ball when the quarterback is flat on his back. Even when the quarterback has time to pass, Floyd is getting overlooked in favor of Larry Fitzgerald and tight ends Jeff King and Rob Housler.
When he gets the ball he knows what to do with it as he holds multiple all-time receiving records at Notre Dame. In the NFL, though, the numbers haven't been there. He's been targeted 36 times and caught 18 passes for 207 yards and a touchdown. The pressure is on him being a first-round draft pick to fill into that role opposite Fitzgerald and it hasn't happened yet.
Outside of his 80-yard performance against the Packers, Floyd has failed to break the 40-yard plateau in any of the team's other games.
The last reason he needs to perform well down the stretch is that the tight ends have not scored at all this season. Fitzgerald always finds tough coverage and fellow wide out Andre Roberts has run into a prolonged slump. Roberts started out the year with four touchdowns in his first four games but has scored just once in the six weeks since.
When you add it all up, Floyd will have to step up and play a crucial role in the final six games of the season.
Linebacker Daryl Washington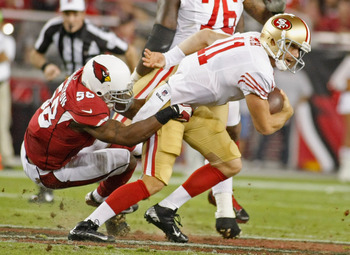 Washington has a team high eight sacks.
Ralph Freso/Getty Images
It's real hard to figure out how a linebacker with a team-leading 75 tackles and 8 sacks wouldn't be critical during the final six weeks of the season but that's exactly what Daryl Washington will be to the Cardinals.
O'Brien Schofield was lost for the season with an injury so the team's a little thinner than anticipated at the linebacker position. This will make Washington even more involved in the defense than he already is.
Keep in mind he has 18 more tackles than his next closest teammate in Paris Lenon. After that it drops by another gap of 20 to guys like defensive end Calais Campbell and safeties Adrian Wilson and Willaim Gay.
Washington has to be able to snuff out the run and he will be facing some of the best backs in the business over the final few weeks of the season. He'll have to chase down Steven Jackson, Frank Gore and Marshawn Lynch in divisional action while Matt Forte of the Bears will provide a tough test as well.
Washington will have to perform at a high level in order to be the anchor of the defense and it's no secret how critical the defense has been to Arizona's success since the second half of last season.
Punter Dave Zastudil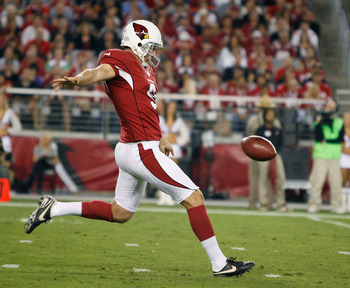 Zastudil's leg will go a long way in helping Arizona win the field position battles.
Ralph Freso/Getty Images
Quite possibly the most overlooked person on the team is the punter. Even with their own hashtag (#PuntersArePeopleToo), the Cardinals can't overstate the importance of their punter Dave Zastudil.
Zastudil has been winning the war on field position and bailed out the offensive unit when it stalls out. He currently averages more than 46 yards per kick in net yardage. He's pinned opponents down inside the 20-yard line 23 times on 59 punts this season so he knows how to make the field as long as possible for the opposition.
Arizona needs to be able to win the field position battle to make it easier on the offensive side of the ball and make opposing teams work that much harder for scoring plays,.
Zastudil is a critical part of this team and needs to be called upon less. He's punted 23 times in the last three games for Arizona. Some punters want to keep that number as low as possible and watch their offense ring up the points. Zastudil doesn't have that luxury.
Field position is critical to success in football and Zastudil gives the Cardinals an edge in that area.
Kicker Jay Feely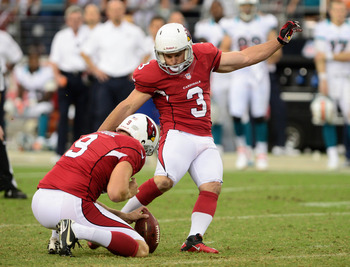 Feely will have to make every kick count.
Jennifer Stewart-US PRESSWIRE
Quick quiz. Can you name the leading scorer of the Arizona Cardinals in 2012?
If you said Jay Feely, give yourself a pat on the back. Feely leads the team with 13 field goals and 15 PATs for a total of 54 points. That's 24 points better than Andre Roberts who sits in second place.
Feely's performance will be critical to Arizona's success the rest of the way. On paper, it looks like a tough road ahead for the offense and Feely's leg might be the only offensive punch the Cardinals get.
He's hit on 13-of-16 field goals including one from 61 yards out this season, so power isn't an issue. Field goals alone won't win many games, but Feely will keep the Cardinals in position to pull out the late-game heroics when Arizona needs them.
Since the start of the 2011 season, 11 games of the 26 that the Cardinals played were decided by a field goal or less. Feely might be the most critically-important player of them all.
Keep Reading

Arizona Cardinals: Like this team?