Cardinals vs. Falcons: 3 Key Matchups to Watch for Arizona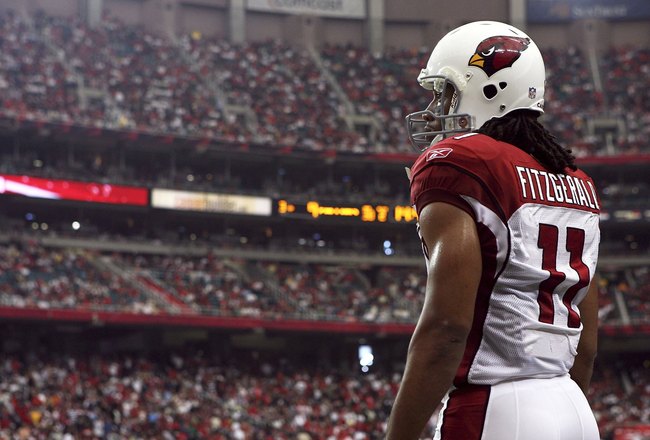 Doug Benc/Getty Images
Heading into Week 11 Ken Whisenhunt's Arizona Cardinals are riding a five-game losing streak after starting out a red hot 4-0. Their five-game skid has caused them to fall to third place in the NFC West with an outside shot at making the playoffs.
If Arizona wants get back on the winning track this week they will have to go through Mike Smith and the 8-1 Atlanta Falcons. The Falcons are coming off of their first loss of the season, so you know they will be out for vengeance come Sunday.
The last time the Cardinals visited the Georgia Dome it was 2009 and Kurt Warner was still taking snaps from under center. Even though they won 30-24 in 2009, the Falcons have outscored Arizona 583-568 all time.
Let's take a look at which matchups will prove most crucial if the Cards want to end their five-game skid.
Nate Potter vs. John Abraham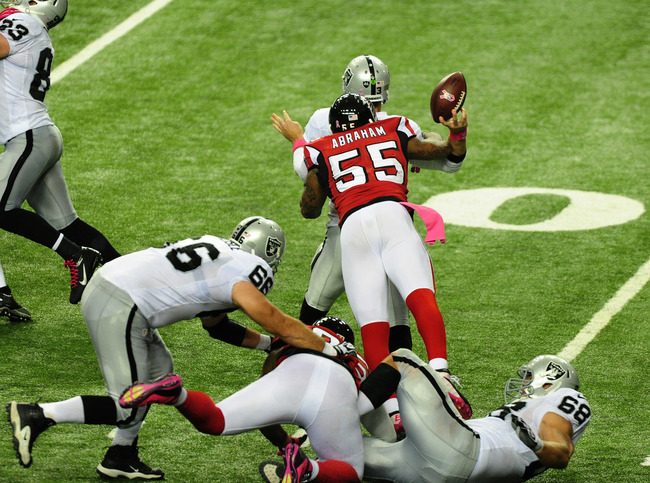 Scott Cunningham/Getty Images
Rookie Nate Potter's above average performance in relief duty against the Green Bay Packers is well documented. Plenty of journalists who cover the Cardinals have written about his impact—I even broke down his performance the next day, that's how excited I was to watch his tape again.
Replacement offensive linemen rarely make headlines due to the fact it's not a sexy skill position, but when your offensive line has been as bad as Arizona's anyone who fills in and does well garners a little bit of attention.
Potter replaced the inept D'Anthony Batiste—Batiste just simply looked like he didn't belong week after week and Coach Whisenhunt had simply had enough. Through nine games he surrendered 12 quarterback sacks, five quarterback hits and 35 hurries. 52 pressures through nine weeks, really?
Whisenhunt never likes playing rookies to early, yet I'm surprised it took him that long to pull the plug on the journeyman left tackle. However, you have to remember that Potter wasn't maybe fully prepared based on the playbook and line calls in weeks prior.
Regardless, he better be ready this week—he faces another monumental task. Last game it was the ever-so-dangerous Clay Matthews coming off the edge and this week it's the seasoned veteran John Abraham. Abraham may not have the same speed coming around the corner, yet at age 34 he still can get the job done.
Coming into Week 11 he has 30 total quarterback pressures—seven quarterback sacks, three hits and 20 hurries. Not bad for a 34-year old defensive end who has 13 years of NFL experience. Moreover, Abraham still plays the run exceptionally well.
He has had 17 plays that have constituted in a failure for the opposing teams offense. Stops are compromised of sacks, tackles for loss, runs for no gain, etc. Based on what we know about Potter and Abraham, the question becomes this.
Will Potter have the same success in Week 11 that he had in Week 9?
David Carter vs. Justin Blalock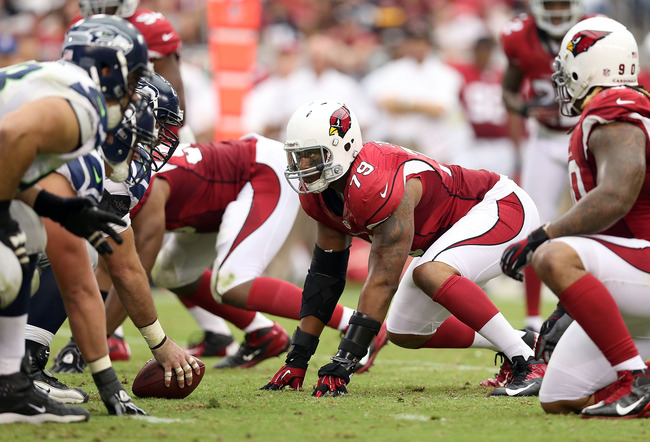 Christian Petersen/Getty Images
David Carter vs. Justin Blalock is definitely not the sexiest matchup, but it will prove to be crucial in terms of the Cardinals ability to get pressure on Matt Ryan. Right now Daryl Washington and Calais Campbell are Arizona's most reliable pass-rushers. Together they have 44 total quarterback pressures, but come Sunday there will be one major problem.
One half of that duo will be sidelined with a nagging calf injury. Campbell has been suffering from a bum calf since the beginning of Arizona's bye last week. So, in his absence backup defensive David Carter will step in and step up if Ray Horton's defense wants to get pressure on the quarterback.
It's a shame that Campbell's partner in crime Darnell Dockett isn't playing better. He has only had two games with an above average pass-rushing grade according to Pro Football Focus. Odd to see Dockett struggling in terms of getting after the quarterback, but like No. 93 I think he has a couple of nagging injuries that he can't seem to shake.
If you dig deep on Carter you can find some really good pieces of film that display pass rushing success in limited opportunities, yet he hasn't had to play a full game with fatigue working against him. Heading into Week 11 his snap count for the season is only at 68 right now and the most snaps he has played in one game is 23.
Although during those 23 snaps he managed to register one quarterback hit and one quarterback hurry. By breaking down his totals on a per-snap basis you realize he averages at least one quarterback pressure every 14 snaps. That may not seem like a lot when comparing that to Chris Long or Cameron Wake, but it's actually above average for a backup 3-4 defensive end.
Left guard Justin Blalock will be his primary foe come Sunday. If you're not familiar with Blalock, he is one of the streakiest offensive linemen in all of football. One week he will have a phenomenal game that warrants plenty of high praise, and the next week he will have one of the worst games known to mankind.
This is a case where stats only provide surface level answers based on his play. If you simply just looked at the statistics you would think he is on the verge of a Pro Bowl. He has taken every snap for the Falcons this season and he hasn't surrendered a single quarterback sack.
He has however allowed seven quarterback hits and 15 hurries.
Will Carter be able to end Blalock's no sack streak and put pressure on Ryan, or will his up and down play continue to make him look better than he really is?
Patrick Peterson vs. Roddy White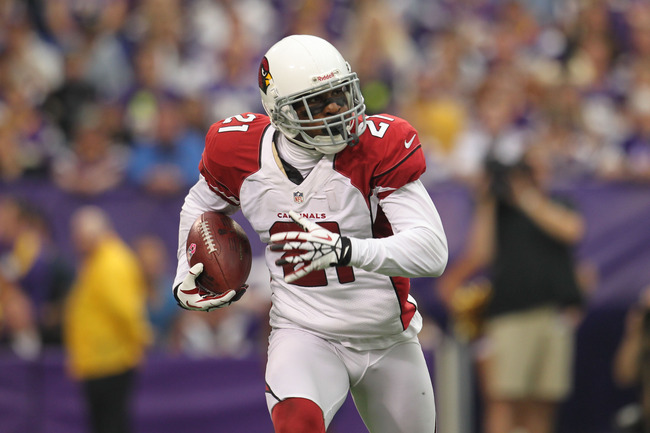 Brace Hemmelgarn-US PRESSWIRE
Carter vs. Blalock is not the sexiest matchup; without question, that matchup is Patrick Peterson vs. Roddy White. Everyone loves seeing skilled position players play—they bring the most excitement to the field and they are always the most elite of all the athletes on the field.
Peterson and White are no different. As a returner last year PP definitely displayed his athleticism and speed, but this year he is showing that he is no longer just an above average returner, he is now an above average corner. I'm holding off from applying the "great" tag, I feel like that gets thrown around a little too often nowadays. But that doesn't take away from his impressive season nonetheless.
Pro Football Focus has him rated as its 24th best cornerback in the NFL overall. Although, he actually moves up five spots in the rankings when you look at just his coverage numbers. Sure, he has had a couple of hiccups along the way this season, but for a second-year corner it's hard to yearn for much more.
When opposing quarterbacks throw his way they are only completing 52.9 percent of their passes for 323 yards and a quarterback rating of 74.2. His biggest weakness in coverage has to be the number of touchdowns he allows. Through nine games he has already surrendered four.
His worst game was against the 49ers on Monday Night Football. In that game alone he gave up half of his touchdown passes for the season. Michael Crabtree definitely had his number that night, but like a true professional he bounced back in a big way Week 9 against the Packers.
Given his designation of left cornerback and White's designation as right wide receiver, these two will be going at it plenty in Week 11. With Julio Jones grabbing all of the attention because of his big plays, White is still quietly doing his thing like he does every year.
Currently he has caught 54 passes for 823 yards and four touchdowns. Not to mention, he has only dropped two passes on 78 targets. If White eclipses the 1,000 yard mark by season's end he will have registered his sixth straight 1,000-yard season—a definite accomplishment.
This will easily be my favorite matchup to watch come Sunday in the Georgia Dome.
Follow @TysonNFL on Twitter
Keep Reading

Arizona Cardinals: Like this team?