CFB Week 12, NFL Week 11 Picks Against Spread: A California Dream
William Mancebo/Getty Images
UCLA has the home field, and the motivational edge
Rivalry week in college football typically peaks over Thanksgiving weekend.
But for fans in Southern California, it's already begun.
Actually it started before the opening game of the season in and around UCLA.
And up in Oakland, Raiders fans are as desperate as their players for a good showing after allowing 97 points in two games.
Last week's article featured a pair of NFL teams playing in Florida, as the Tampa Bay Buccaneers (-3) and Tennessee Titans (as a six point underdog at Miami) were my week's top plays.
This week we'll keep with a beach setting and go from Florida to California for a college/NFL split selection, starting in sunny Southern California and ending up 375 miles north in Oakland for an over/under selection on Sunday.
With 56 weekly articles in the books (all predictions) and a record of 36-17 and three ties, I'll put these two selections to the test and look for a better chance of going 2-0 than 0-2 in lieu of a boring 1-1 split.
Read on for the reasons why, and good luck!
Begin Slideshow

»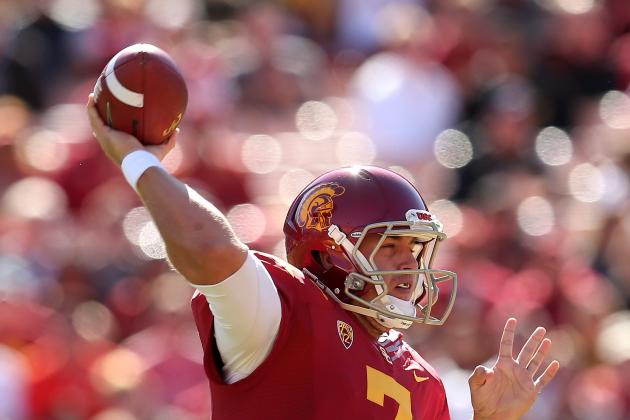 Stephen Dunn/Getty Images
USC put up a billboard with Matt Barkley on it back in August, and it was within a stone's throw of UCLA's campus
UCLA fans didn't need to be reminded of last season's 50-0 loss at USC.
But it might have been the first thing they saw before they even arrived on campus for fall semester.
Prior to college football's opening weekend, fans in and around UCLA got a glaring reminder of the rivalry between the Bruins and Trojans when a billboard featuring USC's Matt Barkley was revealed right next to UCLA's campus.
"WE PLAY TO FINISH" read the billboard in capital letters, with the 'LA' in 'PLAY' highlighted.
Regency outdoor advertising, the company which owns the billboard, is owned by two brothers, both of whom are USC alumni.
USC had 29 billboards at the time, but this one was a little too close.
So close you could almost throw a football at it from UCLA's campus.
It lasted only a day or two before the billboard was covered up, but UCLA's new coach Jim Mora Jr., who has installed a new no-nonsense attitude into the football program and resurrected it back into relevancy, surely hasn't forgotten.
And knowing that motivation is the single most powerful and important mental tool to prepare a team for a big game, he likely advertised it to his players all week.
And by advertise, I don't mean renting a billboard.
UCLA comes in with just two losses, but they didn't have to play Stanford and Oregon as USC did. However, UCLA's Brett Hundley has been strikingly effective this season. The freshman has shown domination (the offense racked up 600+ yards three times with him under center), leadership (he led the Bruins down the field for the game-winning field goal in a 45-43 win at Arizona State) and poise (winning four road games).
USC's seven wins have come by double digits with veteran quarterback Matt Barkley, but its offense is averaging 34 fewer yards per game than UCLA. USC's defense is allowing 24 fewer yards per game, and both teams feature a running back averaging about six yards per carry this season.
USC might seem like a lot to go up against with a new coach and a freshman quarterback, but if Texas A&M's freshman Johnny Manziel could go into Alabama and lead his offense to three touchdowns in the first quarter, anything is possible.
It's a seemingly equal matchup on paper, but the Bruins have the motivational edge, just at Florida did against Georgia in 2008.
In 2007 when Georgia and Florida squared off at the annual "biggest cocktail party" in Jacksonville, the Bulldogs added some fuel to the rivalry after scoring their first touchdown of the game. Knowing a 15-yard penalty would ensue, the Georgia sideline sent all its players to the end zone for a massive celebration to establish an intimidation precedent on the way to a 42-30 victory.
Florida got the best of Georgia the following season by a score of 49-10.
College athletes can get adrenaline boosts from added motivation, and USC may have given one too many booster shots to the rival race horse.
With that in mind, give the edge to the home team in what will be the hottest "advertised" matchup of the week.
Take UCLA to cover 4 points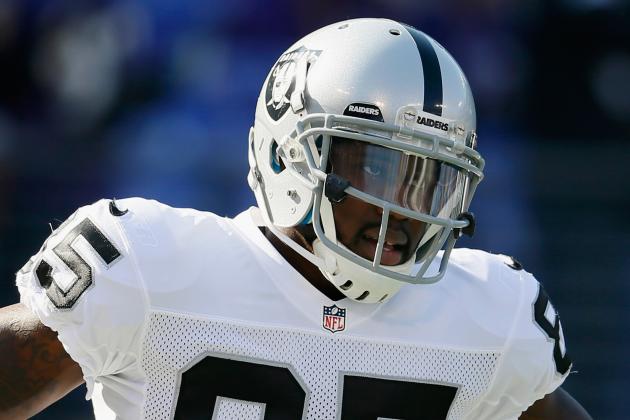 Rob Carr/Getty Images
The Raiders allowed 55 points for the first time since 1981, so expect a drastic reduction at home
Titans owner Bud Adams was so disgusted after Tennessee's performance at home vs. the Bears in a 51-20 loss, he sent a memo out to his team reminding them that jobs were on the line.
Raiders owner Mark Davis likely followed suit.
Coming off a 42-32 home loss, the Raiders proceeded to allow another 40 points in consecutive games for the first time in 50 years.
Fifty-five points, actually.
Now the Raiders are coming home to play the streaking Saints fresh off a huge win over the Falcons, and most folks are expecting Drew Brees to have the kind of day Joe Flacco had with 341 yards passing.
Will the Saints have a field day on the road, or will the Raiders settle down after getting embarrassed?
Lets take a closer look.
The last 16 times the Raiders allowed 35 or more points, they reduced their points allowed in the next game 15 times and by an average of 17 points.
The only time out of the 16 they failed to improve was this most recent time, as they allowed 55 points at Baltimore after giving up 42 points at home.
The over/under total was set in the high 40's in both of those games, but the total gets a boost up to 55 points for this game.
If there's a fine time to go the other way (i.e. assume the game will go under the total) it's when oddsmakers have made a dramatic adjustment and the suspect team is desperate for a good showing, especially coming home after such a game.
That's where the Raiders stand right now.
Jobs are at stake, as well as reputation. The last thing the Raiders can afford is to come back home and allow another team to score 40 or so points and run them off the field in front of their fans.
They might not be able to pull off the victory, but don't be so sure. The Raiders are about four- or five-point underdogs, and teams coming home off a 28+ point blowout are normally a winning proposition against the spread, especially as an underdog.
They are also often a good bet on the road, too.
For a recent example of this, go no further than this very same football season with this very same team.
Few people expected anything major out of the Raiders after a 37-6 loss at the Broncos in a game where the defense couldn't stop Peyton Manning and the offense couldn't score. But in their next game, they out-played the then-undefeated Atlanta Falcons on the road and almost won as a 10-point underdog.
In that game, the Raiders allowed just 23 points and held the Falcons to one offensive touchdown and 286 yards of offense, nearly 100 yards below their average. The game total was set at 49 by oddsmakers.
Like gravity, when you're talking about NFL teams giving up 40+ points in consecutive games, what goes up, must come down.
I'll call for something in the neighborhood of a 28-24 Saints victory while the Raiders take a pair of mulligans on defense and special teams from the last two weeks and hit the ball a bit straighter for this one against a Saints team heading to the West Coast for the first time this season.
Take game total UNDER 55.5 points
Follow Mark all season at www.TheFallMiracle.com