5 Reasons Carmelo Anthony Must Stay at Power Forward Like LeBron James
Marc Serota/Getty Images
Carmelo Anthony (left) and LeBron James
If Carmelo Anthony wants what is best for both himself and for the New York Knicks, he will follow in LeBron James' footsteps and embrace his new role as a power forward.
Late in the 2011-12 NBA season, both players were still trotting onto the court at small forward. LeBron and Melo had become two of the best players in the league playing that position, and they were each flanked by high-profile big men in Chris Bosh and Amar'e Stoudemire, respectively.
When Bosh went down in the playoffs, James moved up a spot and unleashed his athleticism in ways he never could when he was playing the 3. With Amar'e on the shelf so far for the Knicks, Melo has made the same move, and both player and team are playing some of their best basketball in years.
There could be the impulse when Stoudemire returns to move Melo back to small forward and proceed as before. However, if the Knicks want to get the best out of Anthony and the players around him, they have to keep playing him as a power forward in the LeBron mold. Let's take a look at the reasons why.
Begin Slideshow

»
Melo's natural abilities make him a matchup nightmare in the paint, especially if teams try to throw post players at him on defense.
At 6'8", 230 pounds, Anthony has the agility to shake a larger, slower defender and create space for himself. If a big man tries to body him up on the block, Melo has the speed and dribbling ability to get around him and get to the basket with ease. If he can spin by Thaddeus Young so easily in this video, imagine what he can do to a less mobile opponent.
Give him room to try to eliminate the drive, though, and Melo still has the tools to execute. The mid-range jumper is one of the least efficient shots on the court, but if his defender is playing a step off, Melo can knock down the elbow jumper all day.
A big man cannot guard Melo because he is, in essence, a small forward at heart. He's strong in the mid-range game and can get points effectively around the basket, and that's what makes him so potent as a power forward.
Utilizing a different set of tools, Melo's physical ability also allows him to beat any small forward that tries to defend him in the post.
Few players in the world have the speed and strength to keep Anthony in check. It's the muscle that kills opposing small forwards, putting them in a similar conundrum to that of the big men.
They have even less leeway than a seven-footer to play off Melo, as they don't have the height to help contest the mid-range jumper. However, if they try to body him, Anthony will bull right through them.
And it's not just a matter of getting layups. Yes, Melo can definitely force his way past a smaller defender and to the hoop, but he can also use his back-down moves to clear out his man. By moving the play toward the middle, Melo then has the space in the elbow to hit the turnaround, like he does against Quentin Richardson in this clip.
When the play is closer to the perimeter, a small forward doesn't have to worry about Anthony's strength so much. When he plays power forward, though, both his inside and outside game come into play. It's that wide array of moves that lets Anthony execute in any offensive situation.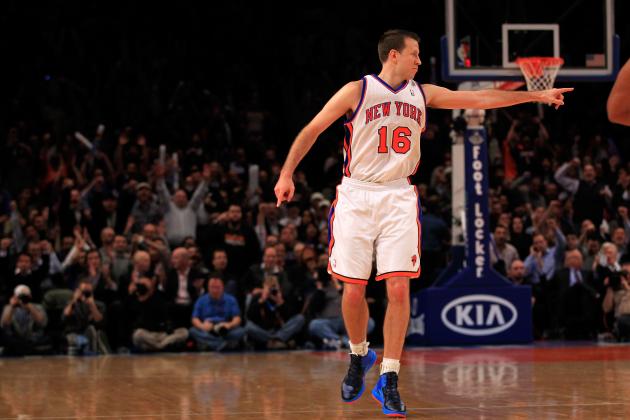 Chris Trotman/Getty Images
Steve Novak
The Knicks are shooting 45.3 from beyond the arc thus far. Pardon the small sample size, but they are also doing so in a way that is surprisingly sustainable.
Playing Melo at power forward means Mike Woodson has the ability to put two other wings on the floor as well. In that small-ball set, New York can flood the floor with three-point threats.
Steve Novak is the only great three-point shooter on the team, but not every team has even one guy of his caliber, let alone more. What the Knicks do have is a plethora of good and very good shooters to put around Novak.
Raymond Felton, Ronnie Brewer, J.R. Smith and Jason Kidd all demand attention from the defense, but Melo's presence inside as a scoring threat leads to open looks on the perimeter.
Anthony could also do the opposite and bounce outside himself. It leaves Tyson Chandler alone in the middle, but if the Knicks can put four outside shooters on the floor, opposing defenses will have a tough time covering everyone.
Anthony's value doesn't just come from his own ability to score. Moving him inside more often makes his teammates' jobs that much easier.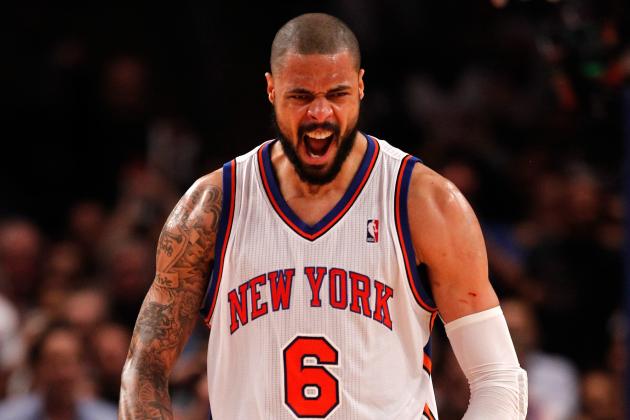 Jeff Zelevansky/Getty Images
Tyson Chandler
Not only can New York get more shooters on the floor with Melo at the 4, but it can play more plus defenders, too.
Outside of the team's defensive anchor, Tyson Chandler, the Knicks' big men are a creaky bunch. New York can get physicality and effort out of Marcus Camby, Kurt Thomas and Rasheed Wallace, but each of them has been slowed by age, and none of them can play for extended stretches. Even when Stoudemire returns, he is a sieve on defense, bringing more negatives than positives to the table.
The guards, on the other hand, are a staunch defensive corps. Brewer can match up against just about any wing in the NBA. J.R. Smith is a hugely disruptive force when he is invested. Kidd can stop the ball and force turnovers off of instinct alone. Felton can bully opposing point guards with his toughness. And then there's still the dynamic Iman Shumpert when he returns from his injury.
Even though he's playing more inspired defense this season, Melo is still probably the slightest minus at either forward spot. With Chandler's help, he can hold down the fort inside and let the Knicks put more impact players on the court; that's a sort of defensive production itself.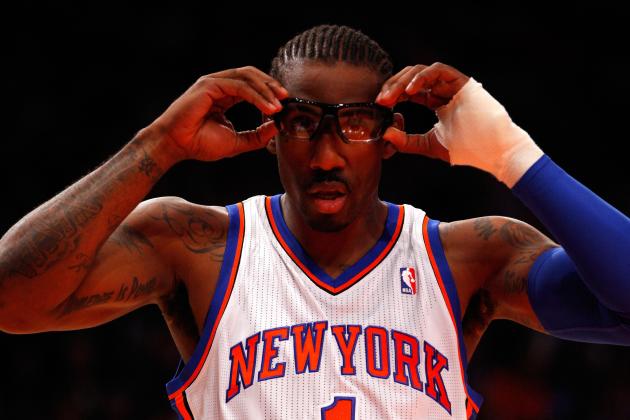 Jeff Zelevansky/Getty Images
Amar'e Stoudemire
Even after Amar'e Stoudemire returns, it would be in everyone's interest for Melo to keep getting some run at power forward.
STAT fell apart after playing 36.8 minutes per game in 2010-11, leading him to miss 19 regular-season games and hobble through others in 2011-12. Given his current knee issues, it does not seem he has shaken his injury proneness over the offseason. In order to get the most out of a healthy Stoudemire once he returns, New York will have to use him less than it has in the past.
Though Amar'e and Melo will certainly spend some time on the court together, Woodson would be well-suited to keep them apart as much as possible. It would keep both players fresher, for one, and it would allow him to stick with the winning formula with Melo at the 4.
In fact, given Stoudemire's jumper and his hyped new post game, he could fill Melo's role in that rotation while the converted small forward sits.
All of this has parallels in what the Miami Heat are now doing. Melo and James are changing the way the power forward position is played, so far with very positive results. Bosh has shifted to center, which Amar'e cannot do given his defensive issues and Chandler's presence. But he can become a star sixth man, allowing the Knicks to pick their spots with both Amar'e and Melo to get the most out of each.
That's the new game in today's NBA: Not getting the most star players, but putting them in the position to make the biggest impact. New York is learning that Carmelo Anthony's place is really at power forward, and he must be allowed to play there even after Stoudemire comes back.