Tim Tebow: Pressure to Start QB Too Great to Ignore After 3rd Straight Loss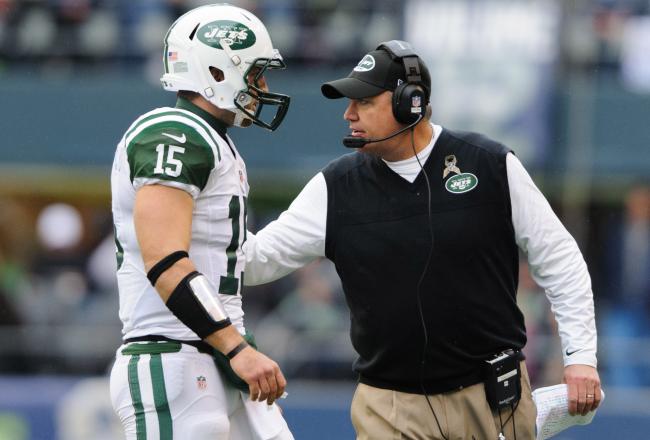 Steven Bisig-US PRESSWIRE
The New York Jets suffered their third straight loss on Sunday, dropping a 28-7 decision to the Seattle Seahawks. Amid all the controversy surrounding the QB position, the answer is simple—it's Tebow time in New York.
Mark Sanchez completed just 9-of-22 passes against Seattle, cementing his status as the league's least accurate passer. Say what you want about Rex Ryan's faith in the QB that led him to the AFC championship game a few years ago, but the decision to keep Sanchez in the lineup is costing the team games.
When games are close and other aspects are to blame, I understand the decision to stick with "your guy." But the Jets are now 3-6, off to their worst start in recent memory and there's a guy with a headset on the sidelines that can give the team a better chance to win.
It's time Ryan let him try.
Sanchez has had his chance to lead the team. His nine games this year have been anything but successful, and the lone bright spots are wins over Buffalo and Indianapolis.
Calls from the media and fans alike are sure to put pressure on Ryan to make a change this week. Let's get real—Ryan loves Sanchez as a former draft pick and because of their past together, but he loves his job more.
Right now, Tebow helps him keep it.
Before the game against Seattle, Tebow hadn't been on the field for more than three straight plays all season, courtesy of ESPN's Stats and Information Twitter handle.
Tim Tebow has played 55 snaps this season. He hasnt played more than 3 snaps in a row in any game. When is #TebowTime?

— ESPN Stats & Info (@ESPNStatsInfo) November 8, 2012
Tebow had his most involved game of the season against the Seahawks. He ran for 14 yards and threw for eight yards on 3-for-3 attempts. Paltry numbers, but it's clear the bye week has given the coaching staff pause to think there's room for improvement at the position.
That's nothing special, but it's more about what Sanchez is doing to lose his job rather than what Tebow is doing to force his way into the lineup.
Sanchez is No. 33 in the league in completion percentage. That's right, folks, there's only 32 NFL teams. Both Arizona QBs have Sanchez beat in this department, part of the reason why the Jets can't move the ball or sustain drives.
By comparison, Tebow hasn't looked like a Pro Bowler when he's been on the field. However, that's due to the nature of his style, not what he brings to the table.
The offense that Tebow will run as the starter isn't something that works as a big gainer every 10 plays. It's based on reads, what looks the defense is giving throughout the game and making the opponent pay for making the wrong choice.
You don't see that when he's on the field right now. The offense will change if he is to assume the role of starter, because you don't ask Tebow to throw the ball 40 times a game or run a pro-style offense. It's like asking Shawn Kemp to quietly run down the court after a big jam—it just won't work.
The Jets have to make a move. Even Marcus Vick, brother of fellow QB Michael and always one to speak his mind, feels like it's now or never for the franchise to save a potentially disastrous season.
If the NY Jets don't start Tim Tebow next Sunday it's time for Rex Ryan to go...... #mythoughts

— Marcus Vick (@MVFive) November 12, 2012
So there it is, football fans. As soon as the sun rises tomorrow, Tebow will be back in the national spotlight. Fans and media alike won't let this week pass without Ryan making a choice about his future with the team.
If Sanchez remains the starter and they don't finish 8-8, Ryan's gone. If he chooses Tebow and it works, then the Jets are the new NFL team destined for a coverage apocalypse. If he chooses his current backup and it doesn't work, then he's probably out the door anyway.
What does Ryan have to lose?
T-T-T-Tebow and the Jetssssss. You can bet the public address announcer has had that Elton John classic parody ready to play since the trade was announced. If the Jets and Ryan are smart, it will be in the speakers next Sunday.
Ethan Grant is a featured columnist for Bleacher Report for the NBA, Dallas Mavericks and a member of the site's Breaking News Team.
This article is
What is the duplicate article?
Why is this article offensive?
Where is this article plagiarized from?
Why is this article poorly edited?

New York Jets: Like this team?