Phil Jackson, according to ESPN, reportedly wants virtually complete control of the Lakers in order to take over as the head coach for the third time in his prestigious career.
The Lakers are, not surprisingly, willing to acquiesce. It's not hard to envision Lakers president Jim Buss asking, "How high?"
The Lakers granting such control to the legendary coach is an easy decision. Unfortunately, the rest of the NBA isn't going to do the same. One of the biggest problems the Lakers have (age) is not getting solved any time soon.
Having control doesn't mean having a magic wand by which players can be made younger.
The Lakers have seven players over 30 years of age. Two of them, Kobe Bryant and Steve Nash, aren't going anywhere, for obvious reasons.
Then there is Pau Gasol, whom the Lakers would entertain trading, but it's hard to fathom someone making a deal for him. He's 32, his player efficiency rating is declining for the third consecutive season, and his $19 million salary makes him the sixth highest paid player this season (excluding amnestied contracts).
Moving Gasol seems improbable for two reasons. First, the contract is so large that it would require two quality, starting-caliber players be sent back for him. Based on the way that the salaries tend to work and what teams are historically looking for in trades, it's hard to envision something working out.
Gasol is a good player, and most teams would want him on their team. They just don't want to pay him $19 million, and they don't want to jettison the best years of a future All-Star to acquire those of a declining one.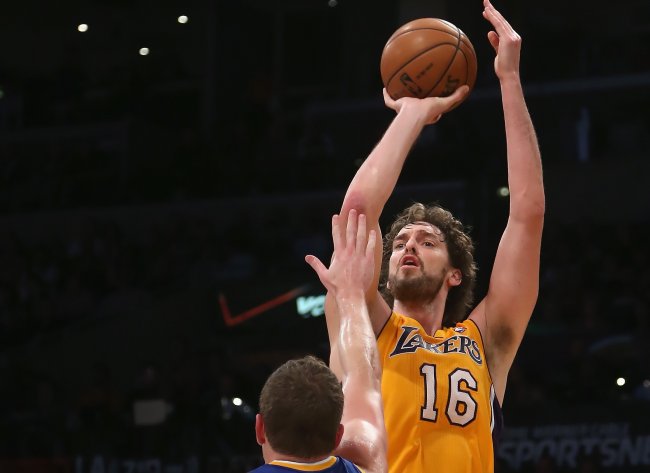 Jeff Gross/Getty Images
It's not hard to find trades that make sense to the Lakers. However, it's hard to find ones that make sense to the other team, and he's their most tradeable asset. And if you do find one that makes sense for the other team (such as Gasol to the Chicago Bulls for Carlos Boozer and Rip Hamilton), it's hard to see the Lakers wanting what would come back.
After that, they have Metta World Peace's albatross of a contract, which no one wants to entertain taking.
They have Steve Blake's $4 million contract, which might be movable, but the Lakers aren't going to get a great player for Steve Blake. Trading him is like trying to trade your rice at a grade-school lunch. He's not bad; he's just bland.
The Lakers aren't going to get any younger because signing Jackson wouldn't make their contracts any more tradeable.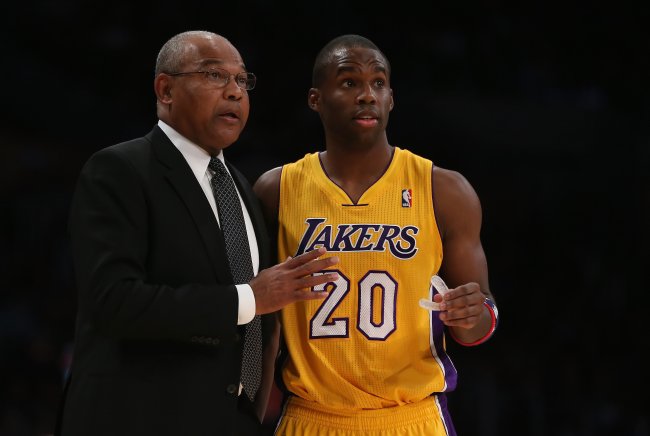 Jeff Gross/Getty Images
What it may do, though, is allow for a system that doesn't encumber the Lakers as much. He has shown a history of being able to morph his offense to match his players. It looked different with Horace Grant than it did with Dennis Rodman. It was different when Bryant was the main man than when Jordan was. It was different with Shaquille O'Neal than with Pau Gasol.
The essence stays the same, but the nuances adapt to what he's given, and Jackson is going to have some ideas on how to use the players he has. Those plans are going to take into consideration their ages.
There are also the younger players. While Phil Jackson has a reputation for just taking advantage of having great players, he has helped some players to their best seasons too, such as B.J. Armstrong, who was an All-Star during Michael Jordan's first year of retirement.
In terms of finding roles for players and helping them to fill them, Jackson has been a master.
While he won't be able to make the Lakers' bench suddenly the best in the NBA, he might be able to make it better than the worst. He might even help it to ascend to the lofty heights of average.
With the Lakers' starting five, that's all that's needed, no matter how old they are. They just need the bench to let them come and sit for three consecutive minutes without watching a lead dissipate into a deficit. After all, the starters, even under the "leadership" of Mike Brown, were the second most productive starting five in the NBA in terms of net efficiency.
Jackson won't make the Lakers any younger, but he can make their younger players better, and he can make it better that the others aren't younger.
And he can do that without a magic wand.